Between her daytime television show, clothing line and being Nick Jonas' landlord, it's hard to imagine Ellen DeGeneres has time for much else. But the talk show host and comedian is back at it, and in her latest project, she's sharing one of her unknown passions: interior design.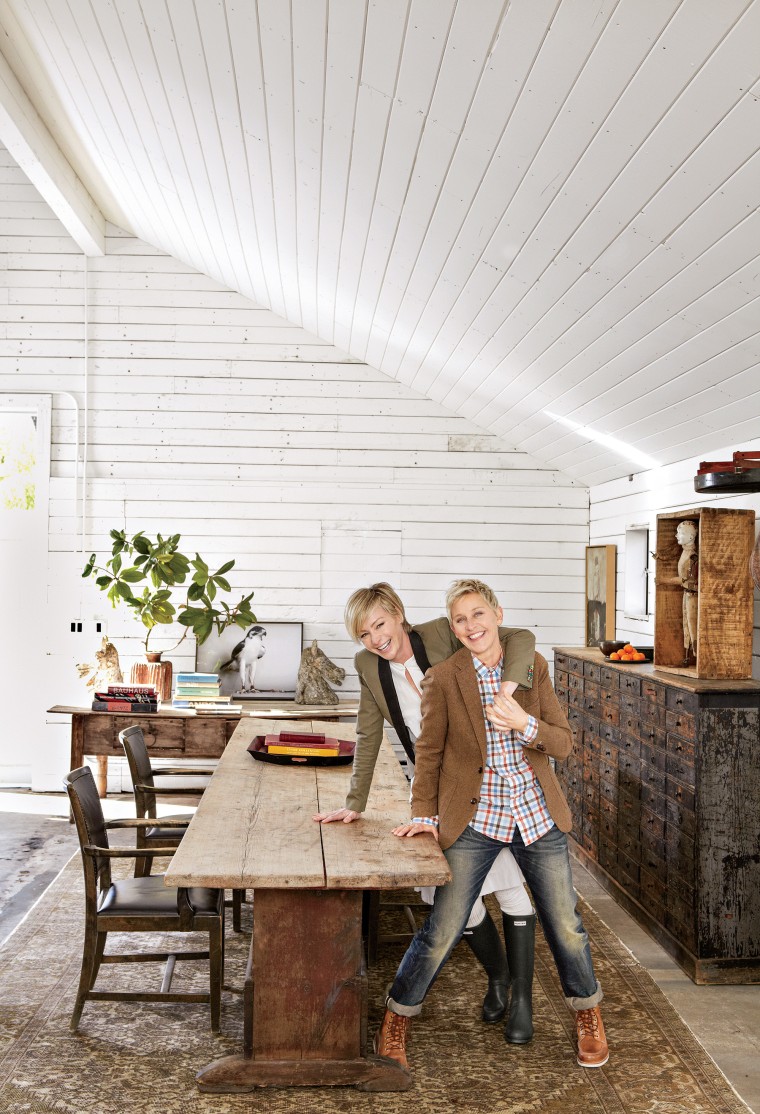 In her book "Home," she's giving a glimpse into her multiple properties and sharing her tips for achieving a similar design aesthetic. TODAY.com got an inside peek into one of DeGeneres' most gorgeous projects, her horse ranch in Los Angeles.
Here's an excerpt from the book on what DeGeneres said about the property:
Horse Ranch
Portia and I bought a 26-acre horse ranch just north of Los Angeles. Why? Why not?! It had a pretty incredible past. It was built by William Powell in the '20s as an estate — it then became a monastery, then a rehab center, and then the horses moved in (much to Portia's delight). It was an incredible piece of property, with eight individual cabins, several barns, and of course, horse stables. There were also these magnificent, giant boulders scattered about. The whole place looked like it belonged on another planet.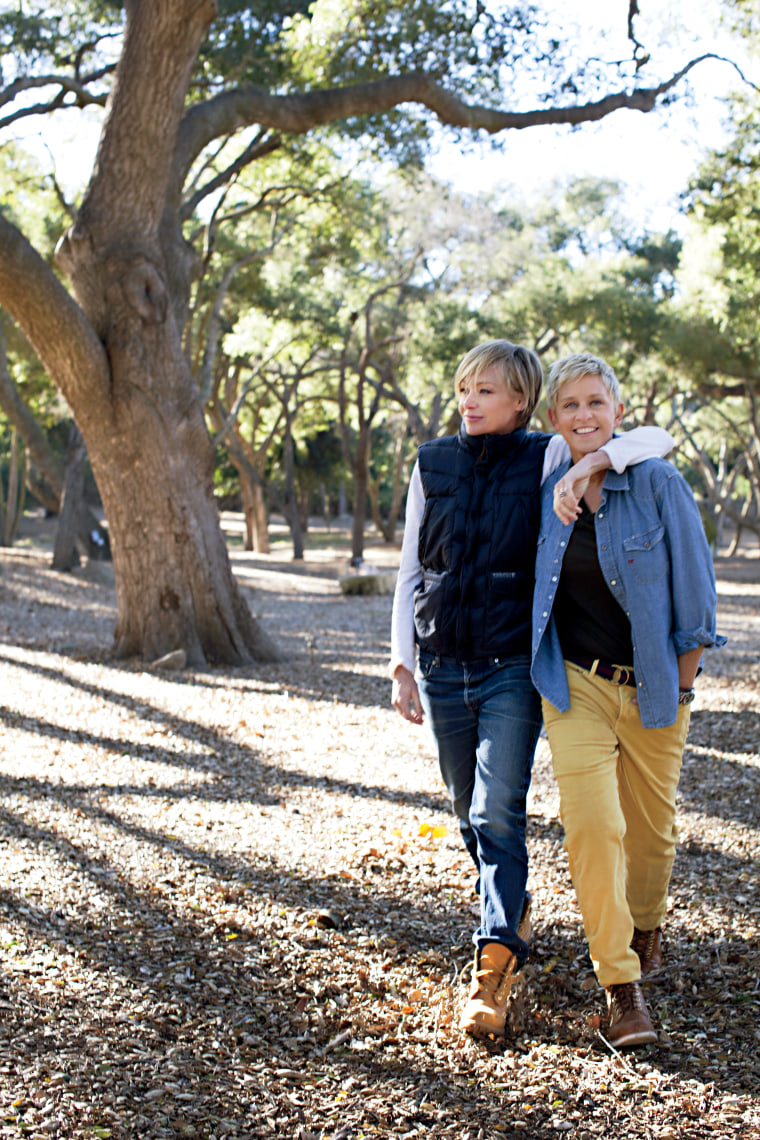 When we got it, the property had been a little neglected. It was a professional horse facility (I think parts of the movie Seabiscuit were filmed there), and the outbuildings that were occupied were really just basic offices. The boulders didn't need to be touched—which is good because, well, they were boulders. But the rest of it needed a revamp, to put it lightly. Everyone thought it would take me (many) years to get it in shape, but it actually took me twelve short months. Want me to decorate your house? I'm pretty efficient.(We'll talk about my fee at another time.)
The first thing to go were these signs that were all over the property: "Don't even think about parking there." Wouldn't dream of it. And then I moved on to the cabins and the barns. I approached it like I was designing and decorating ten different homes, giving every cabin and space its own unique identity—had I not, I think it would have started to feel a bit like a hotel. But that was a unique challenge, too, because while I wasn't fixated on making a whole "house" that hangs together as one, I also wanted it all to feel like home. The only real theme that stuck was comfort. We lived in every cabin, as we decorated and restored them one by one. When we finished one, we'd move in and begin work on the next. The first cabin we lived in didn't have a kitchen, a bathtub, or any other amenities to speak of. But it was fun. Number 8 was the biggest cabin. For no particular reason, we spent most of our nights in Number 5, which had a screened porch and a view of an epic rock (it really was epic).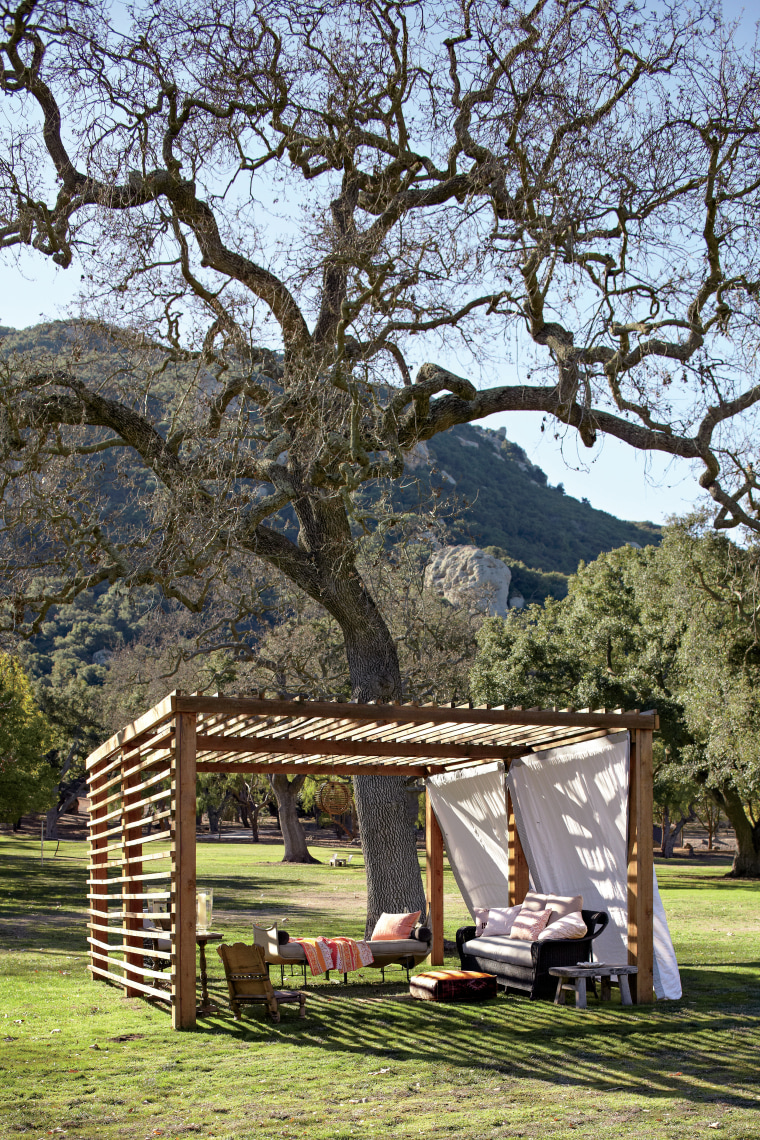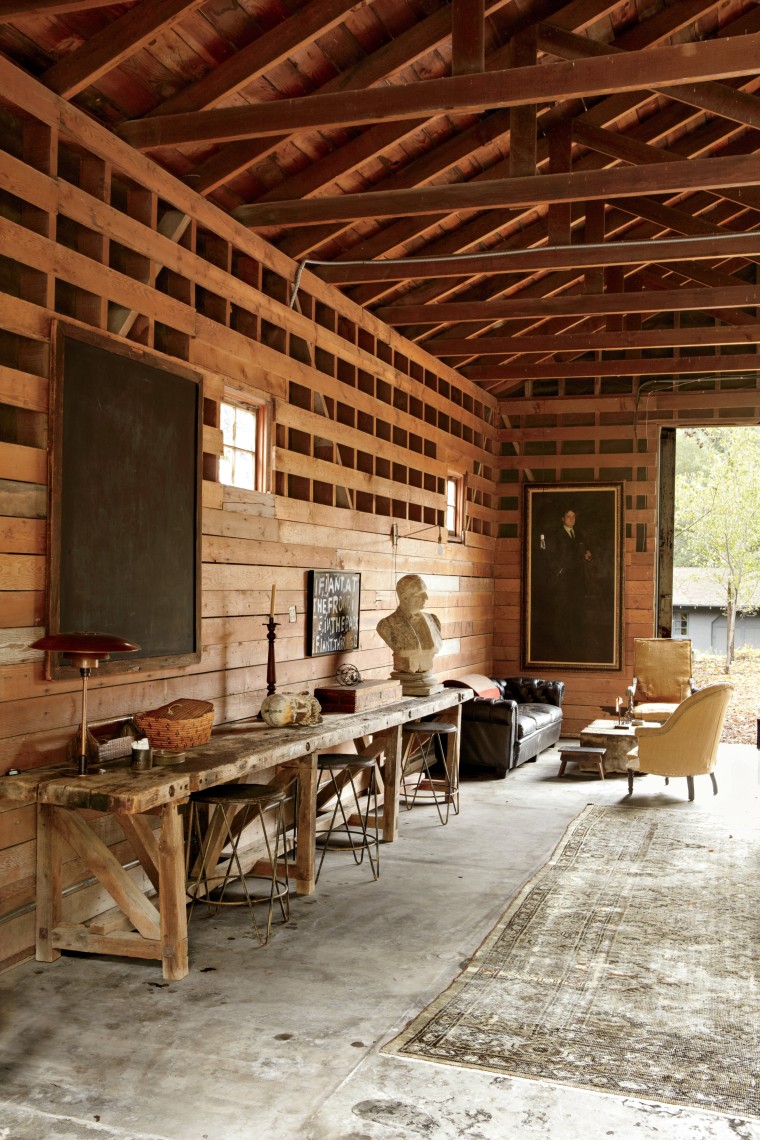 Eventually, I redid the Art Barn, which we used as a dining room for bigger parties. There was the Romantic Barn, where Portia and I celebrated our first wedding anniversary (I surprised her with some factory lights from the early 1900s that she had seen and loved), hence the name. The last thing I tackled was Portia's Barn, which I learned should not be decorated at all. Barns are dirty. Nobody wants to dust sixteen ornately framed paintings every week. But there were so many cool sculptures and art pieces that I loved in those barns and cabins; I've since moved a lot of them to other houses and even to my office and dressing room at work. My staff isn't allowed to touch anything, but they are free to admire from afar.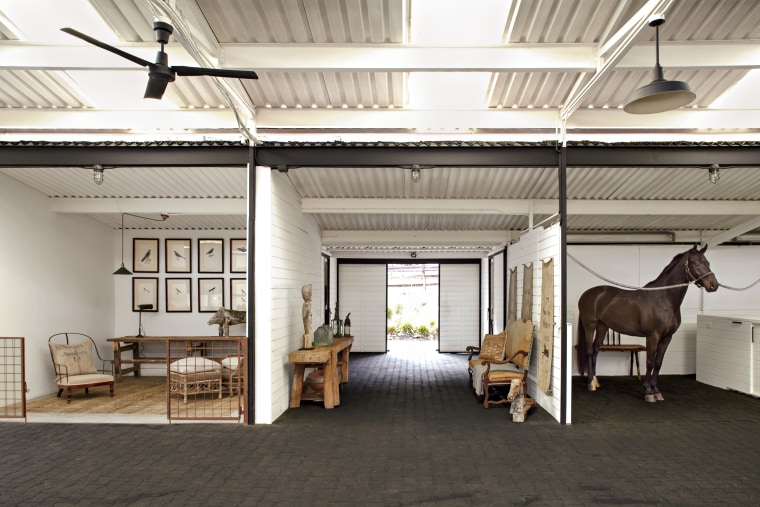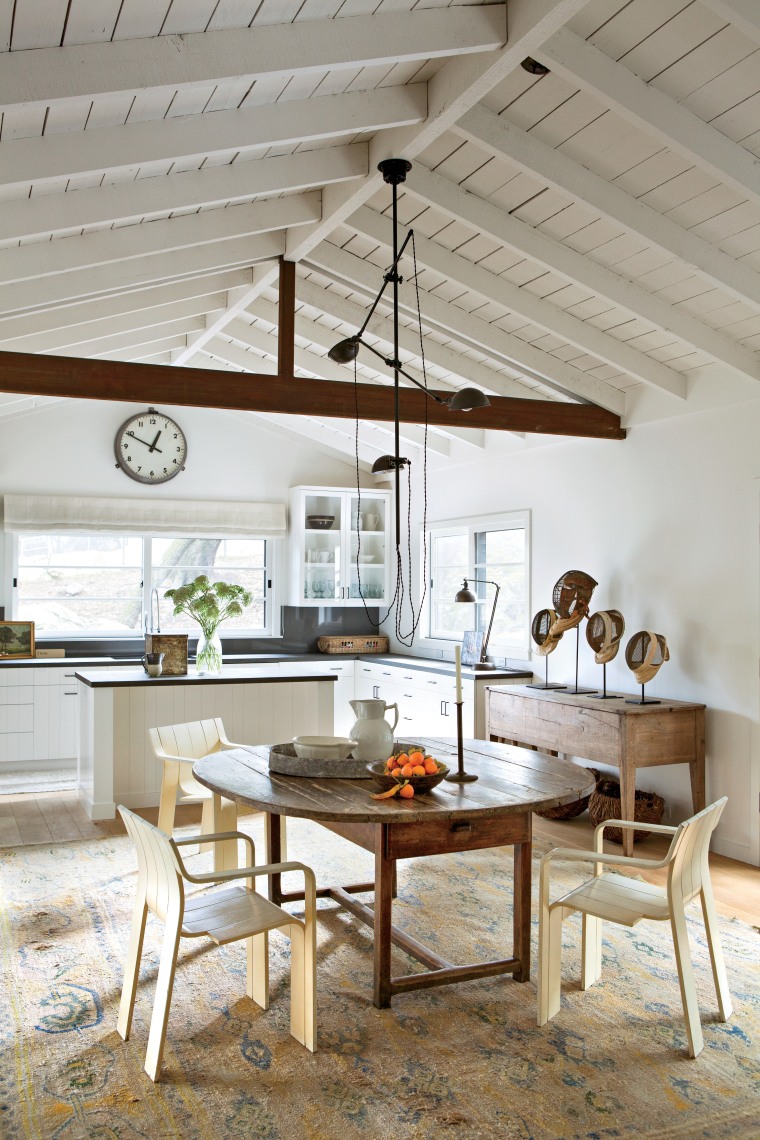 While we lived on the ranch, we tried to make use of the entire property so we could enjoy the outdoors. We put in a tennis court and put up a badminton net. It was really fun, especially when I won. And if we didn't have guests over we could always play doubles with the coyotes and skunks that roamed the property. They were a joy. That is one thing I really loved about the ranch—we were so close to Los Angeles but able to feel secluded in a natural wonderland. Portia and I would bring out big picnic blankets and just lay around, surrounded by wild flowers and huge oak trees. When we were there instead of in the city, this really felt like our home away from home. I have to say, the ranch has been one of my favorite projects to date.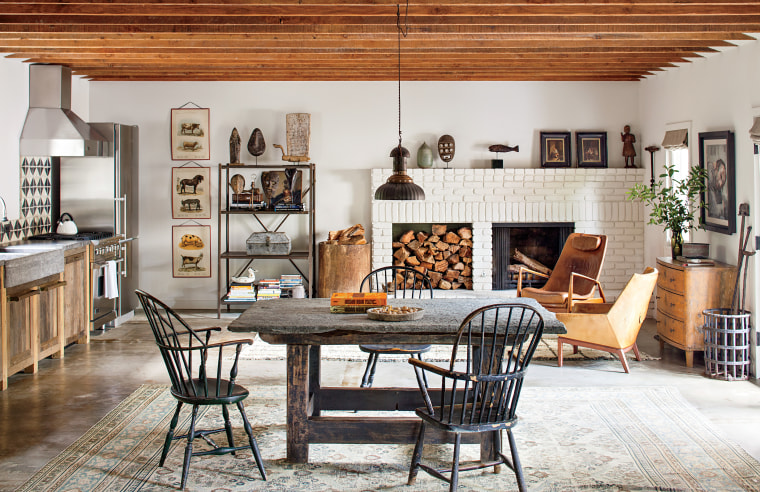 What This House Taught Me
1. If you collect things, rocks, glass artifacts, etc., keep collections grouped in a way that allows for some free space around them. That way the focus is on the collection and not the clutter.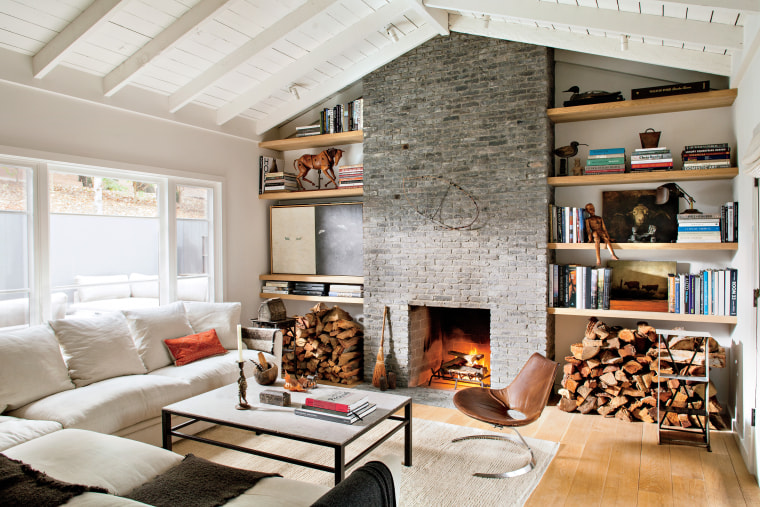 2. Any kind of art can make a great impression when grouped properly on a wall. Framing your kids' art can make a nice statement. An eccentric display can really add personality to your home.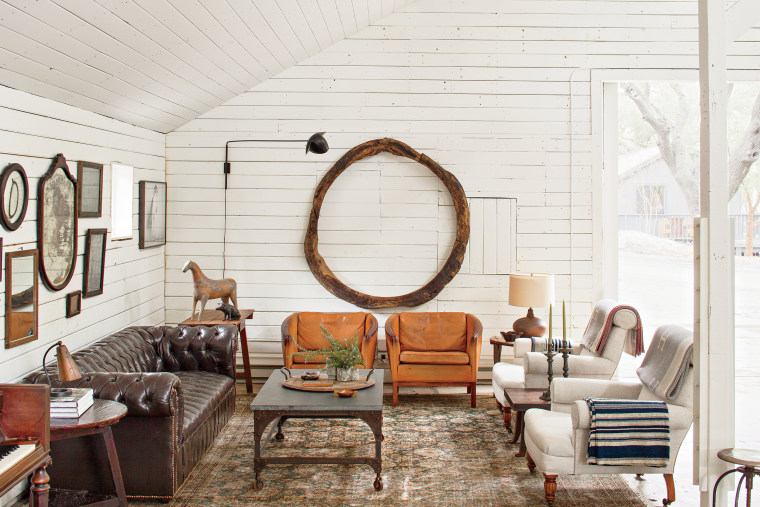 3. Sometimes trimming trees and hedges so you can see the sculptural quality of a plant is better than re-landscaping. Highlighting the beauty nature has to offer can be just a matter of editing.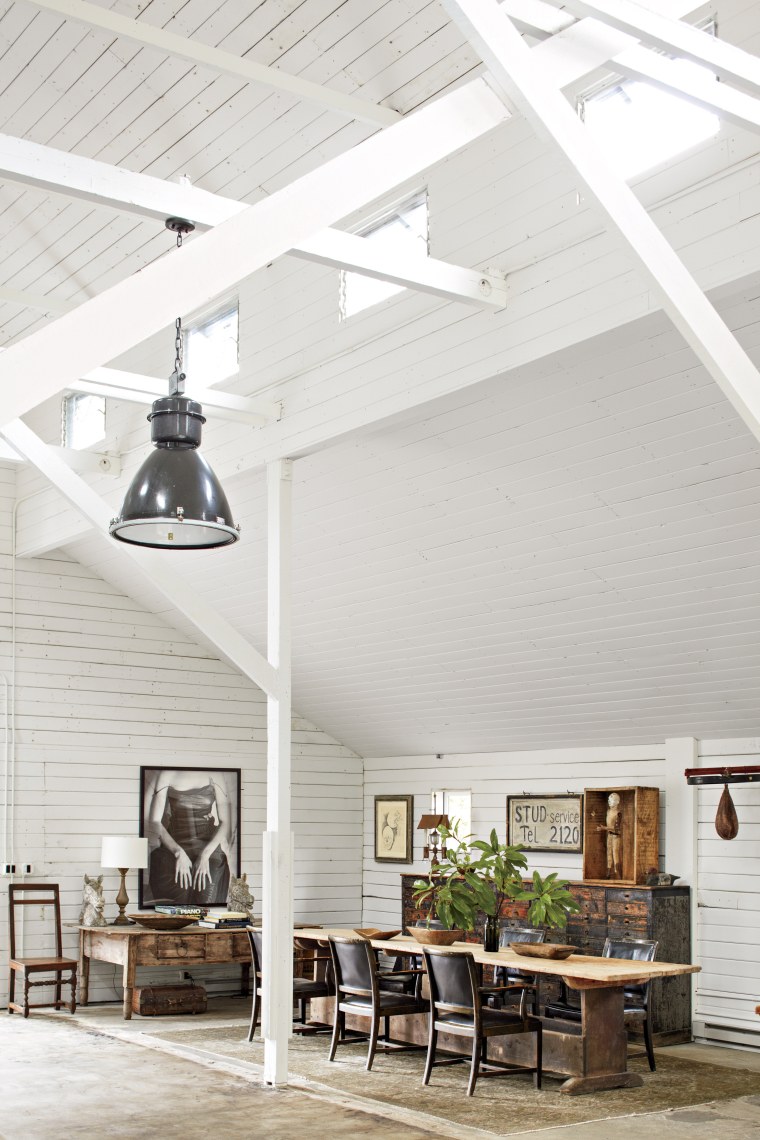 4. There are many alternative methods to kill traps and poison baits for pests like gophers, etc. Research the best option for you, your family, and your pets before choosing.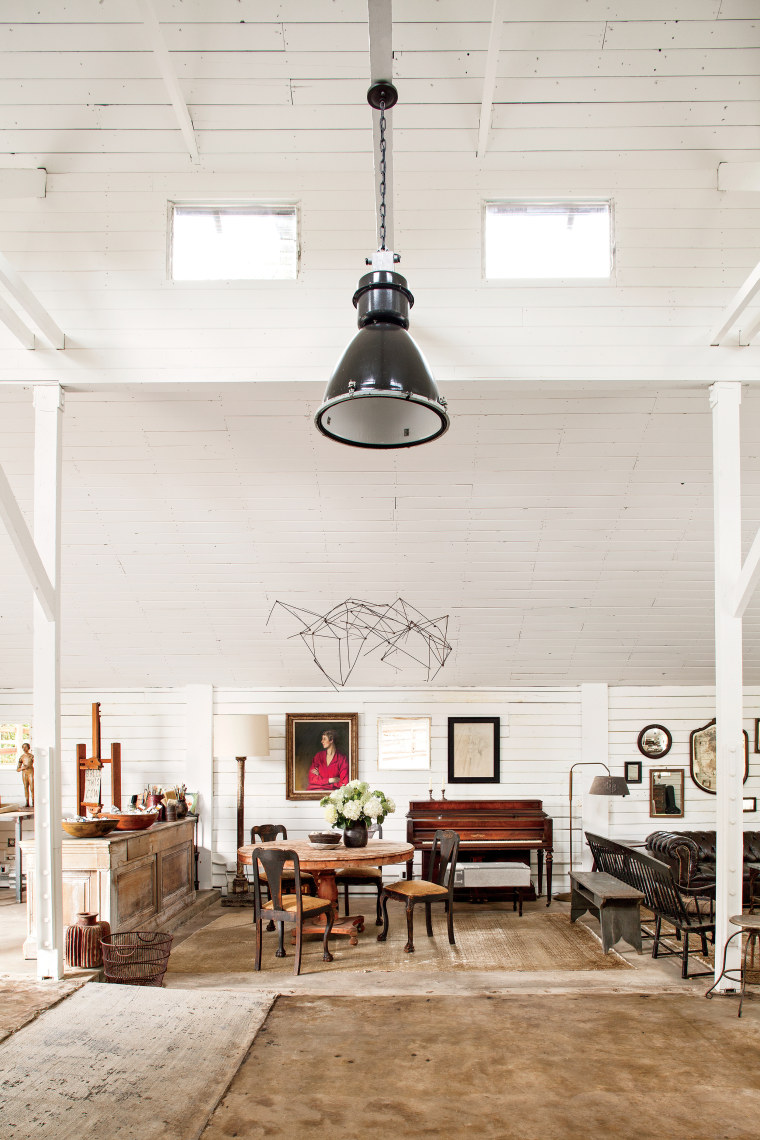 5. I love old, used easels. You can use them as art stands or TV stands or leave them to make a statement on their own. And they don't take up a lot of visual space. If you want to impress your friends when they come over, put an amazing piece of art on one, smudge some paint on your face, and make it seem like you've been working on your masterpiece.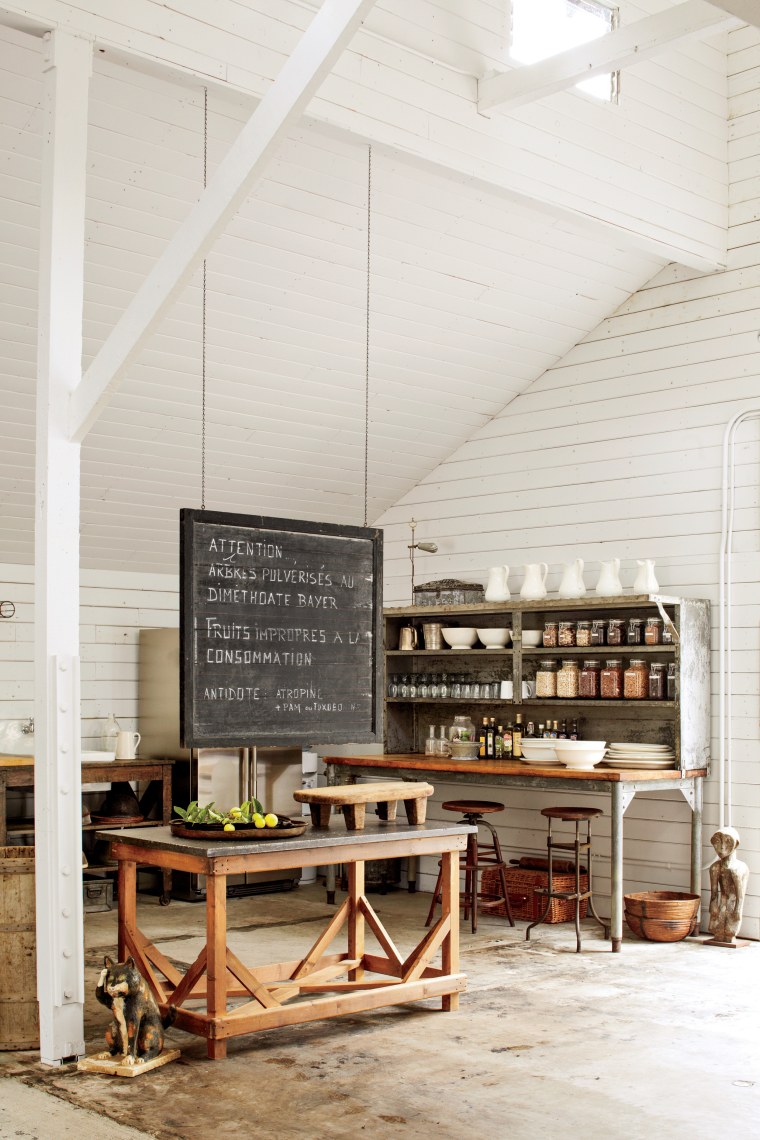 6. Chalkboards make a great, fun statement in a home. You can draw on them or use them practically to make lists or write notes. You can write something like, "Remember to put away your shoes," just as a random, not-specific-to-my-life example.
Excerpt copyright (c) 2015 by Crazy Monkey, Inc.