It's no secret: the Elf on the Shelf inspires a love/hate relationship for many parents.
The joy that Santa's little helper sparks in a child's heart and the fact that because he or she is always watching your kid (and keeping them well behaved) makes the Christmas tradition a hit. But, as parents know, it can be an annoying task to move him into a new position every night, especially when you're tired and not feeling very creative.
If you've committed to doing the tradition, there's no turning back, so you might as well make the most of it. Luckily there are plenty of parents out there who are executing well-thought-out and hilarious positions and scenes for their elves that can inspire even the biggest Elf on the Shelf haters.
Below, see 24 of the most creative displays we've come across. Some are super easy, some a little more involved, but all are likely to generate smiles.
1. Bubble Bath
After a full day of watching the kids, anyone would need a good soak.
2. Medicine Cabinet Mischief
For those nights when you're feeling super tired, a box of Band-Aids can be a quick fix.
3. Gone Fishin'
Some Goldfish crackers and a few supplies found around the house make this display a great catch.
4. Hot, Hot, Hot
Heat things up, especially on the days when it's snowing outside.
5. Helping out The Salvation Army
This elf pitches in to raise funds and awareness for The Salvation Army. He's just so charitable!
6. Staircase Rescue
Gather up the Elf's friends and stage a rescue attempt.
7. Elfie Selfie
Even elves love taking pics of themselves. #saycheese
8. Reindeer Ride
It's better than the car during rush hour.
9. Spider-Elf
If you've got the energy, this one's a hit on the web.
10. Radio City Rockette
A fun way to kick things up a notch.
11. Movie Night
Treat yo-elves to a relaxing night in.
12. Hanging Around
If he wants to venture outside, here's an easy way to let him hang.
13. Zip-Lining Fun
He's such a risk-taker!
14. Elf on Strike
Sometimes you just gotta do this.
15. Make Some Noise
Earplugs (thankfully!) not required.
16. Under the Weather
For when your elf needs a sick day...
17. Instagram Influencer
See how many likes this one will get!
18. A Day at the Aquarium
The North Pole probably doesn't have an attraction like this.
19. Grumpy Elves
Turn that frown upside down!
20. Stinky Shoes
Maybe have some yummy candles on hand for this day.
21. It's Magic!
Let's just hope he can put her back together.
22. Pageant Beauty
Beautiful on the inside and out...
23. Holiday Help Booth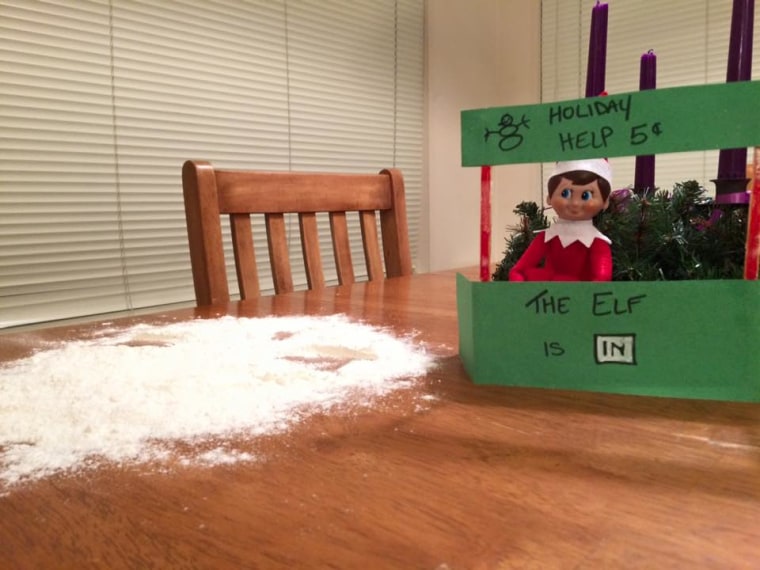 Sometimes you just need someone to talk with.
24. Breakfast Spaghetti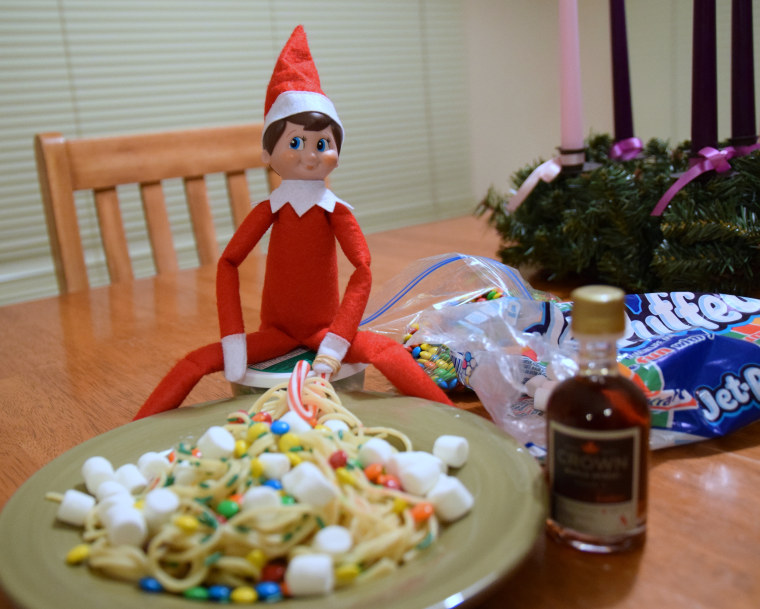 If Buddy the Elf loves it, yours will, too.
This article was originally published on Dec. 5, 2016 on TODAY.com.