Easter Sunday is right around the corner and everyone knows what that means: It's time to bring out our best outfits, light some candles and put up festive decorations. And that includes Easter eggs, of course.
Brit Morin, founder and CEO of Brit + Co, has compiled a list of do-it-yourself egg ideas with a creative mind for artwork. All you need are eggs, some household items and a bit of time to fashion these holiday crafts.
Sharpie Tie-Dye Eggs
You may never be able to traverse the stars, but you can draw your own gas planets using this neat technique.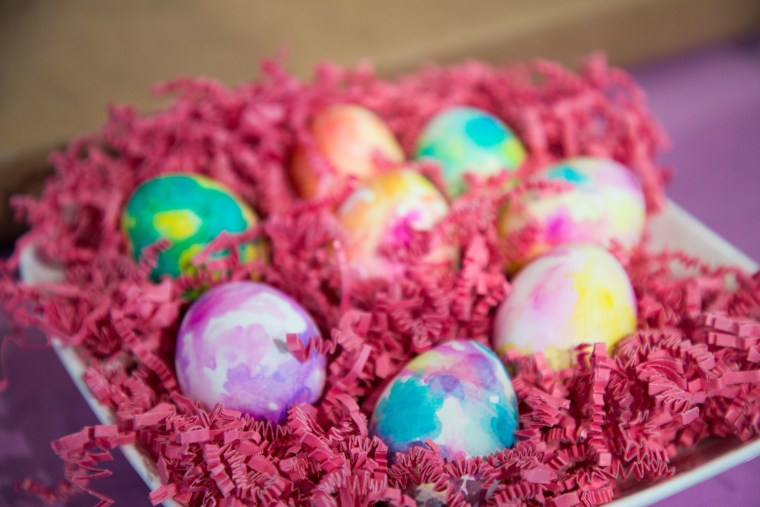 What you'll need:
Hard-boiled egg
Colorful Sharpie markers
2 tablespoons nail polish remover
Q-tips
What to do:
Use Sharpies to color-block your egg. Pro tip: Don't be afraid to use lots of colors!

Dip a Q-tip into nail polish remover and dab it on the egg. The colors will blend.

Set the egg aside and allow to dry.
Twine-Wrapped Eggs
Look no further if you're looking for a quick, fun and easy way to add color to the celebration. No paint will dirty your hands, and the wooden eggs are a perfect base for any Easter decoration. Plus, they never go rotten, can't break and there's no cooking needed.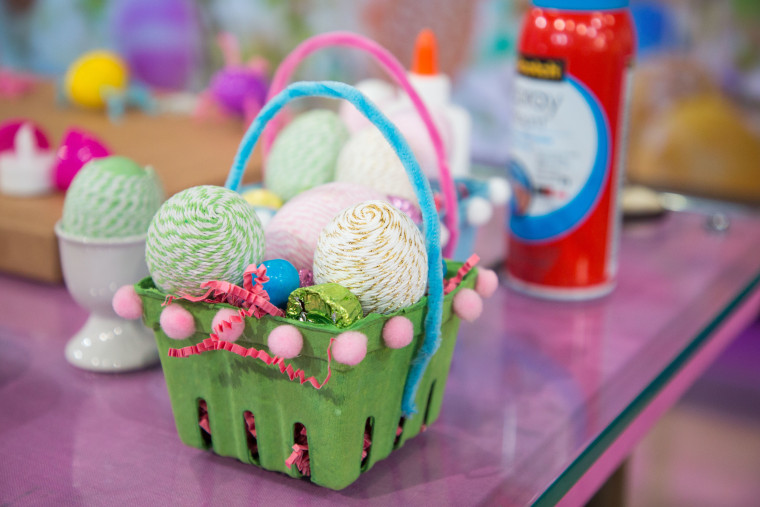 What you'll need:
Wooden eggs
Spray adhesive
Glue
Scissors
Colorful baker's twine
What to do:
Put spray adhesive on the bottom of an egg.

Starting at the bottom, wrap twine around the egg.

Once you reach the middle, spray the top of the egg with adhesive.

Wrap until you reach the top of the egg.

Secure twine with glue and cut off excess.
Temporary Tattoo Eggs
These are some tough eggs to crack. Not only does this method include hard-boiled eggs, it includes the very same temporary tattoos that could make any kid rule recess. And these eggs are pretty easy to make as they only need some water, a sponge and the temporary tattoos.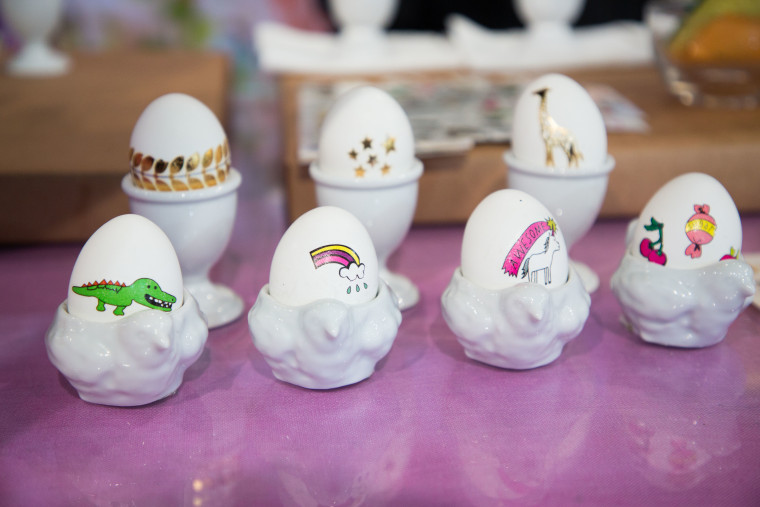 What you'll need:
Hard-boiled eggs
Water
Sponge
Cartoon temporary tattoos
Flash temporary tattoos
What to do:
Remove the clear plastic sheet from the temporary tattoo and press it onto your egg.

Cover the tattoo sheet with a wet paper towel, and hold in place for 30 to 60 seconds.

Remove the paper towel and tattoo sheet.

Let the egg dry.
Cactus Eggs
If you or your kids are really into botany but don't see how you can add to your plant collection, maybe drawing your own cactus is the way to go. This method requires the most effort out of all of these options, but the results are something to be proud of.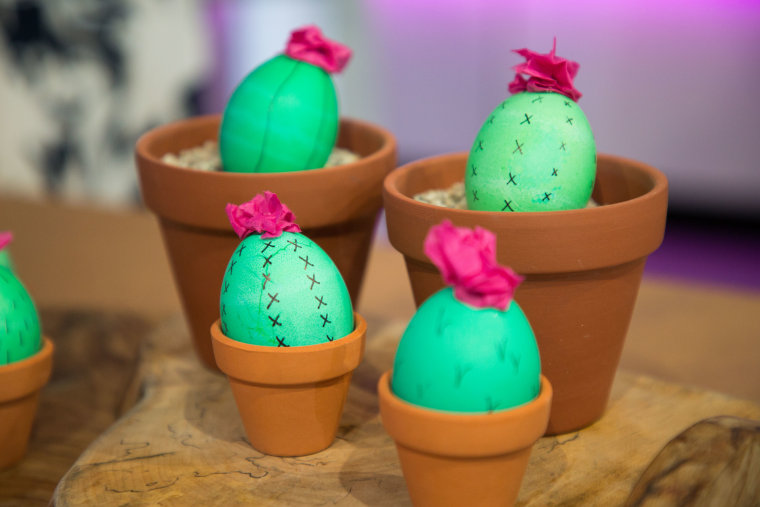 What you'll need:
Hard-boiled eggs
Green food coloring
½ cup boiling water
1 teaspoon white vinegar
Fine-tip black Sharpie
Mini terracotta pots
Pink tissue paper
Glue
Pebbles
Spoon
Scissor
What to do:
Mix boiling water, green food coloring and vinegar in a heat-safe cup or bowl.
Drop your egg into the dye with a spoon. Pro tip: For a darker color, leave the egg in dye longer.
Remove the egg from the dye and let it dry.
Draw cactus designs onto egg with Sharpie.
Glue pink tissue paper to top of the egg to create flowers.
Place eggs and pebbles in pots and top with catcus egg.
Glow-in-the-Dark Eggs
What's better than a colorful Christmas egg? A colorful Christmas egg that glows in the dark, obviously. A plastic egg and an LED tea light will suffice, but if you wish to go all out for Easter, you should also look into collecting some pipe cleaners and some dotted sticker eyes to glue on and make the egg look like a cute, friendly critter.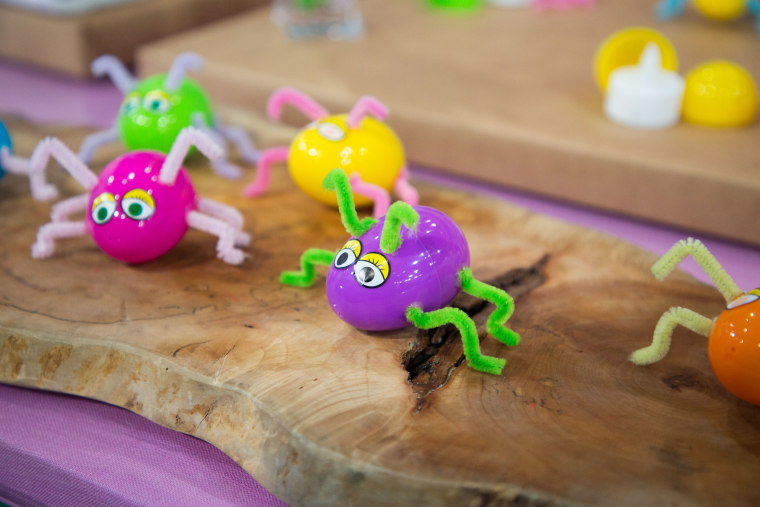 What you'll need:
1 plastic egg
1 battery-powered LED tea light
Pipe cleaners
Hot glue
Hot glue gun
Sticker or googgly eyes
Scissors
What to do:
Turn on the LED tea light and place in plastic egg.

Cut legs and antennae from the pipe cleaners.

Hot glue legs and antennae onto egg.

Add sticker or googly eyes!
Paper Plate Bunnies
Looking for a furry friend to help pick up Easter candy? This easy-to-make bunny basket will make the ultimate companion. For all the kids looking to be trendsetters from a young age, Easter Sunday with this basket may be their best bet.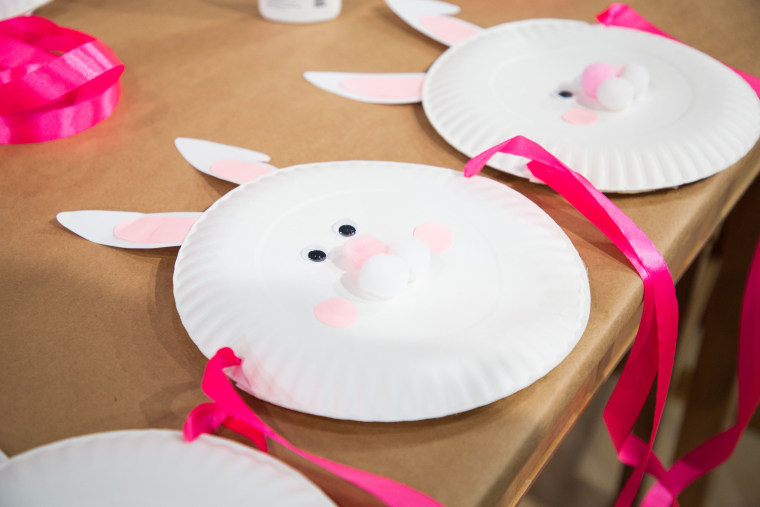 What you'll need:
2 white paper plates
Scissors
2 googly eyes
1 light pink and 2 white pompoms
Hot glue
Hot glue gun
One piece of light pink construction paper
Hole punch
24-inch pink ribbon
Candy to fill (must be thin enough to fit in pocket)
What to do:
Cut a paper plate in half and set aside.

Glue eyes onto the back side of a whole paper plate.

Glue three pom-poms on the same plate to create a nose.

Cut small circles out of pink construction paper to be cheeks and glue onto the plate.

Cut ears out of the leftover half paper plate and pink paper. Hot glue them together on the back of the plate.

Hot glue the whole paper plate and the half paper plate together along the rims to create a pouch. Let it dry.

Use a hole punch to make hole on either side of the bunny basket and thread through the ribbon to make a handle. Keep ribbon in place by making a knot at each end.

Fill with candy.
Easter Baskets
Easter is the one time you can put all your eggs in one basket. And now you can create a basket that pops with color with this simple craft project.
What you'll need:
Fruit cartons
Pipe cleaners
Floral wire
Mini pompoms
Hot glue
Hot glue gun
Crinkle paper
What to do:
Poke pipe cleaner through the outside side of the carton and bend inward to create the basket handle.

Arch the long end of the pipe cleaner over top of the basket and poke through the outside of the opposite side and bend remaining piece inward. Pro tip: If the pipe cleaner comes loose, secure with floral wire.

Hot glue mini pompoms around the top of the carton.

Fill the carton with crinkle paper and treats.