Christmas is rapidly approaching ... but is your house ready? These easy DIY projects are perfect for the home that could use an added dose of holiday spirit.
Nikki Pechet of Thumbtack.com joined TODAY Wednesday with ideas that are perfect for any home at any budget. Below, she walked us through the easy-to-try steps.
Want more great tips delivered straight to your inbox? Sign up for TODAY's Everyday Solutions newsletter!
1. Wreath trio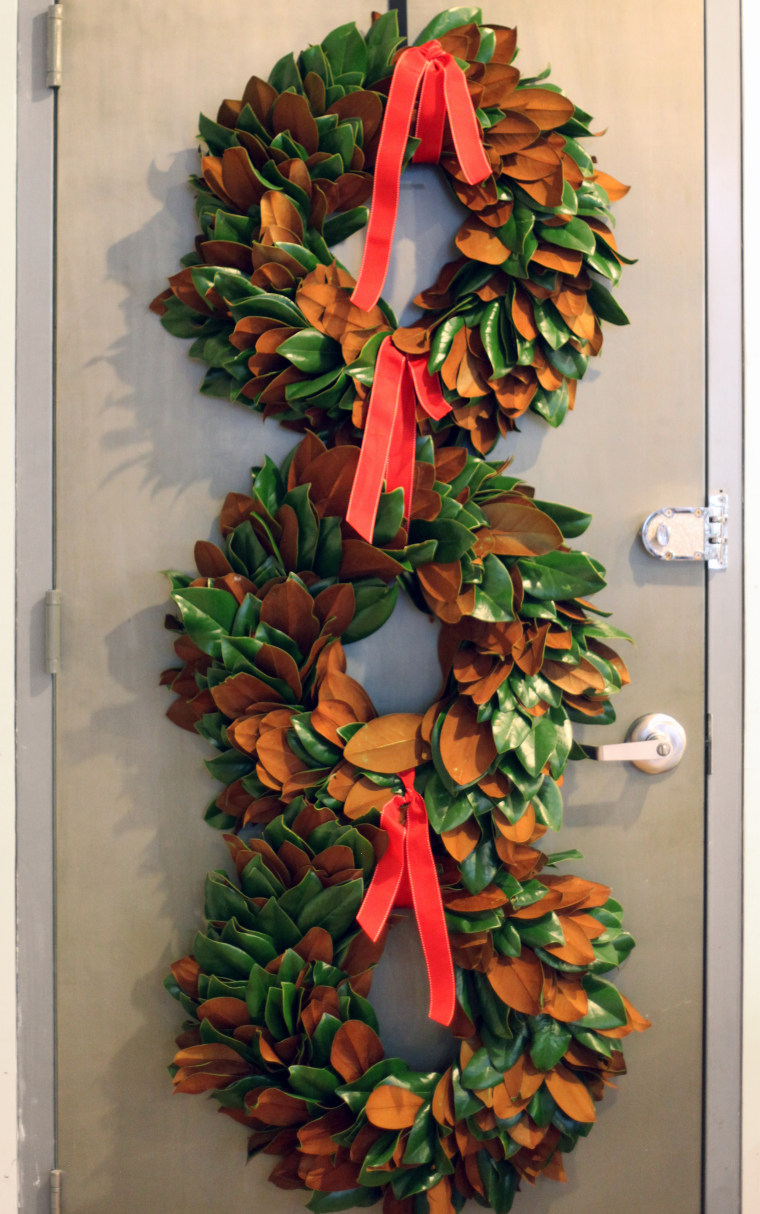 This wreath trio will spruce up your doorway in a jiffy!
What you'll need:
3 store-bought wreaths
Pretty ribbon
Door hook
What you'll do:
Tie the wreaths together using the ribbon and adjust them to the length of your door
Hang the attached wreaths on the door hook and you're set!
2. Customizable chalk ornaments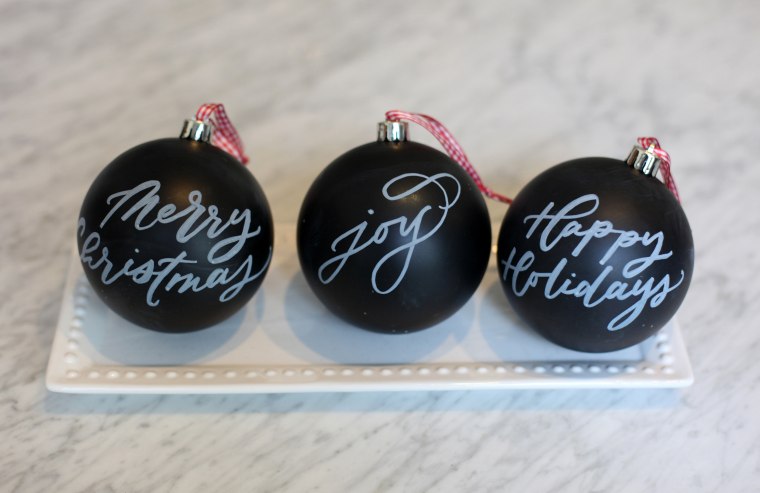 These ornaments are not only festive and personalized — they're perfect for using as a craft project with the little ones.
What you'll need:
Ornaments — any will do
Chalkboard spray paint
Chalk or a white chalk marker
What you'll do:
Spray paint the ornament in chalkboard paint and allow it to dry
Draw on the ornament to your heart's content
3. Christmas confetti balls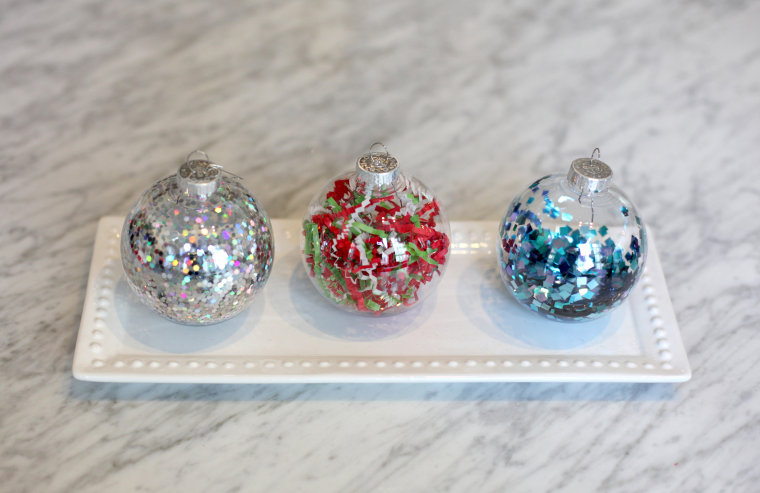 Not only will these ornaments get you in the holiday spirit — the fun confetti will carry you well into New Year's Eve!
What you'll need:
Clear plastic ornaments
Glitter dust or confetti (or both!)
A small plastic funnel
What you'll do:
Remove the top of the ornament and funnel in as much confetti or glitter as you'd like
Get ready to party!
4. Collage ornaments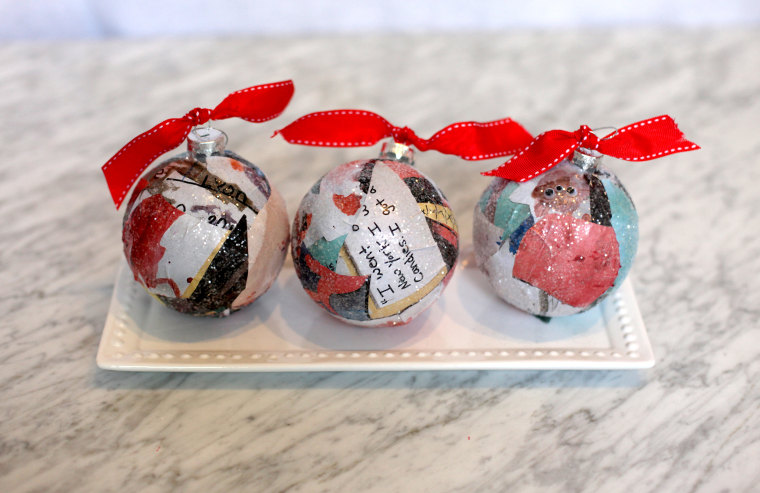 These ornaments are a perfect project for kids! They can create a work of art, apply it to the ornament and keep it for years to come.
What you'll need:
Glass or plastic ornaments
Kids' artwork or photos
Mod Podge craft glue
Paintbrush
White glitter
Silver string
Red ribbon
What you'll do:
Print a photo or piece of your child's artwork at 30 percent of its original size
Add the image to the ornament using Mod Podge craft glue
Coat an additional layer of Mod Podge and sprinkle with glitter
Once dry, tie on a fun ribbon of your choosing
Attach a small silver string, tie it into a hoop and put it on the tree
5. Gold leaf garland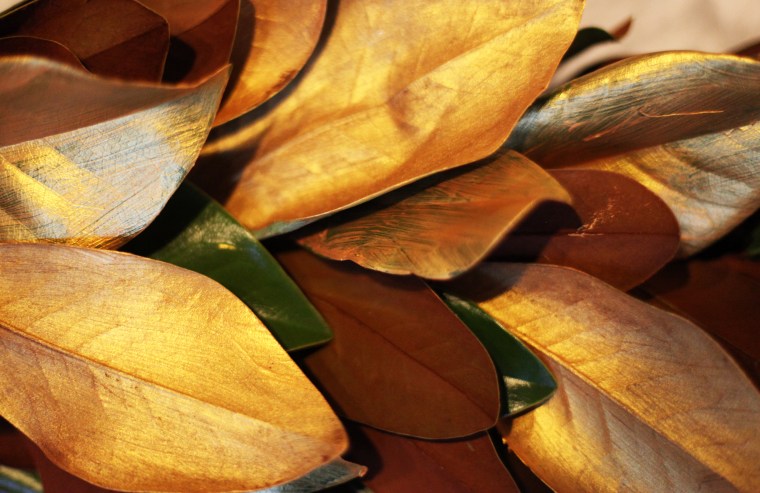 This garland is sure to make your holiday season golden!
What you'll need:
Fresh or artificial leaves
Gold spray paint
Gold 12-gauge aluminum florist wire
Green 22-gauge florist paddle wire
Fishing line
What you'll do:
Spray paint the leaves gold and allow them to dry completely
Unravel the 12-gauge wire and twist into a loop for hanging; trim to desired length and twist the end to form another loop
Make about a dozen leaf bundles by fanning our three or four leaves at a time and attaching them with green paddle wire
Attach one bundle to the top near the hanging loop by wrapping the wire ends together; make sure the stems are facing down
Work downward until you reach the center; then start from the other end and work toward the middle
Once attached, thread the fishing wire through the ends and form into a circle to hang
6. Glitter branches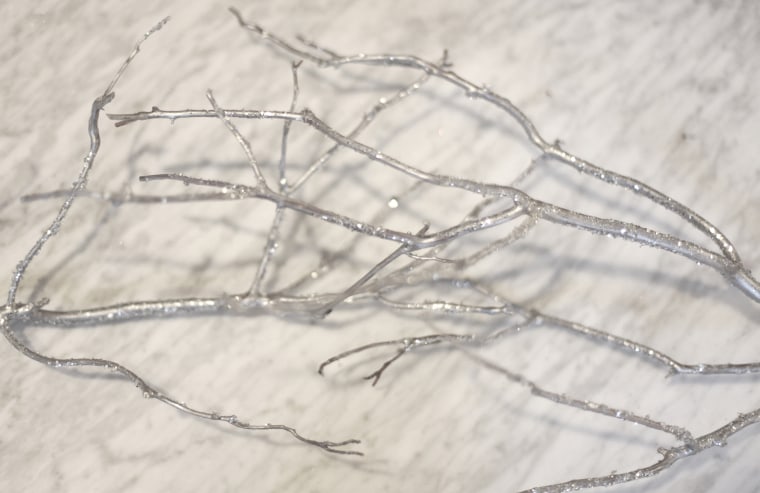 These branches are the perfect way to add some sparkle to your tree or a vase.
What you'll need:
Tree branches
Silver spray paint
Spray glue
Cookie sheet
What you'll do:
Gather tree branches
Spray with silver spray paint and allow to dry
Spray with spray glue
Lay on cookie sheet and sprinkle with glitter
7. Glitter light bulbs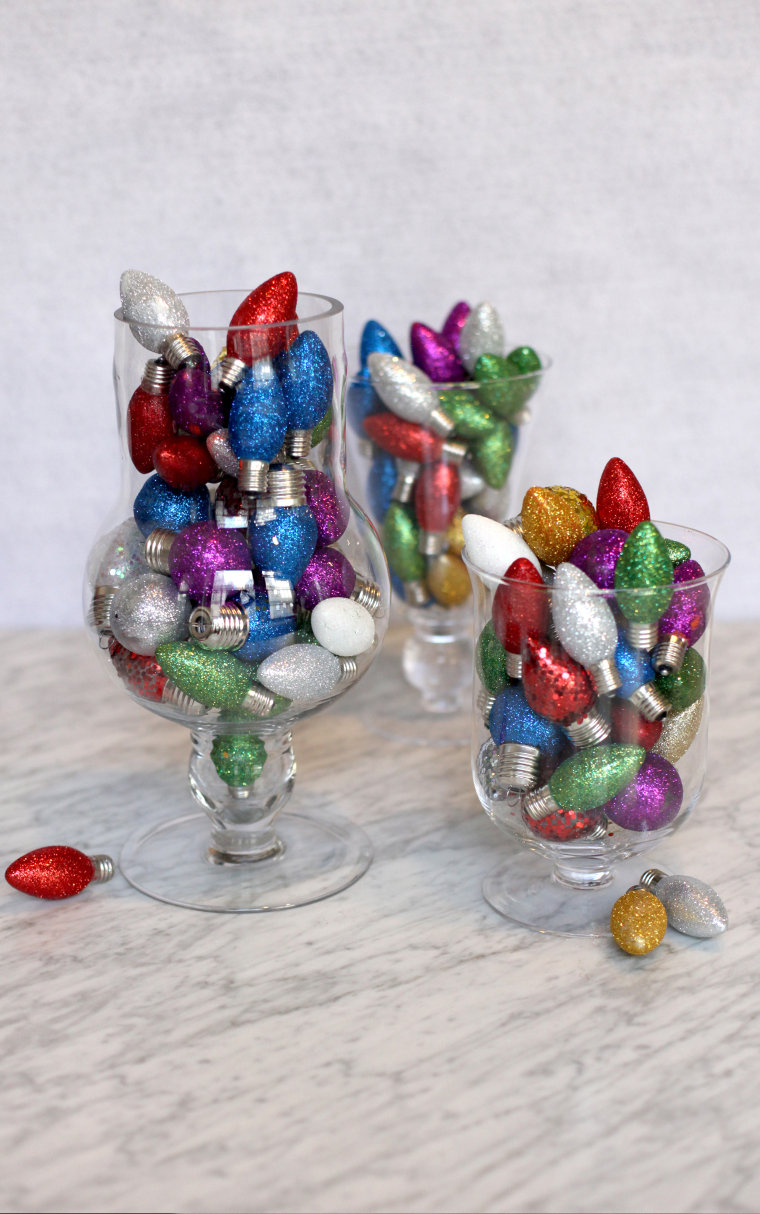 Light up any vase that with these glittery, decorative light bulbs!
What you'll need:
Christmas light bulbs
Glitter
Elmer's glue
Paint brush
Bowl (for the glue)
Wax or parchment paper
What you'll do:
Detach bulbs from the wire
Coat bulbs with glue using a paintbrush
Sprinkle glitter and allow to dry
8. Fringe Christmas trees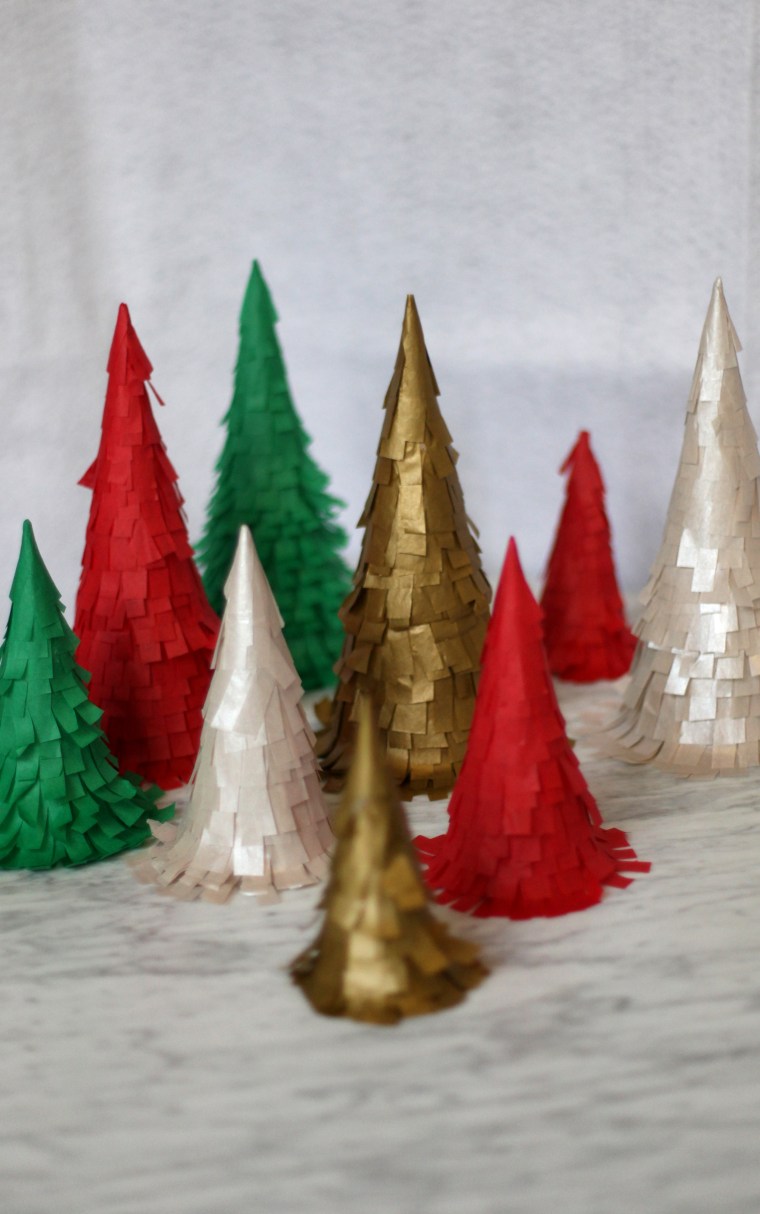 Decorate your mantle or make a statement centerpiece with these fringe-clad Christmas trees.
What you'll need:
Paper-mache cones
Tissue paper
Gold or gliter mylar sheets
Glue stick or hot glue gun
Scissors
What you'll do:
Cut 3-inch strips of tissue paper
Cut a slit every 1/4 of an inch to create fringe, leaving about 1/2 inch of space untouched
Use a glue stick to attach the fringe to the cones; add a new layer every inch until you've completed the tree
9. Eucalyptus holiday card display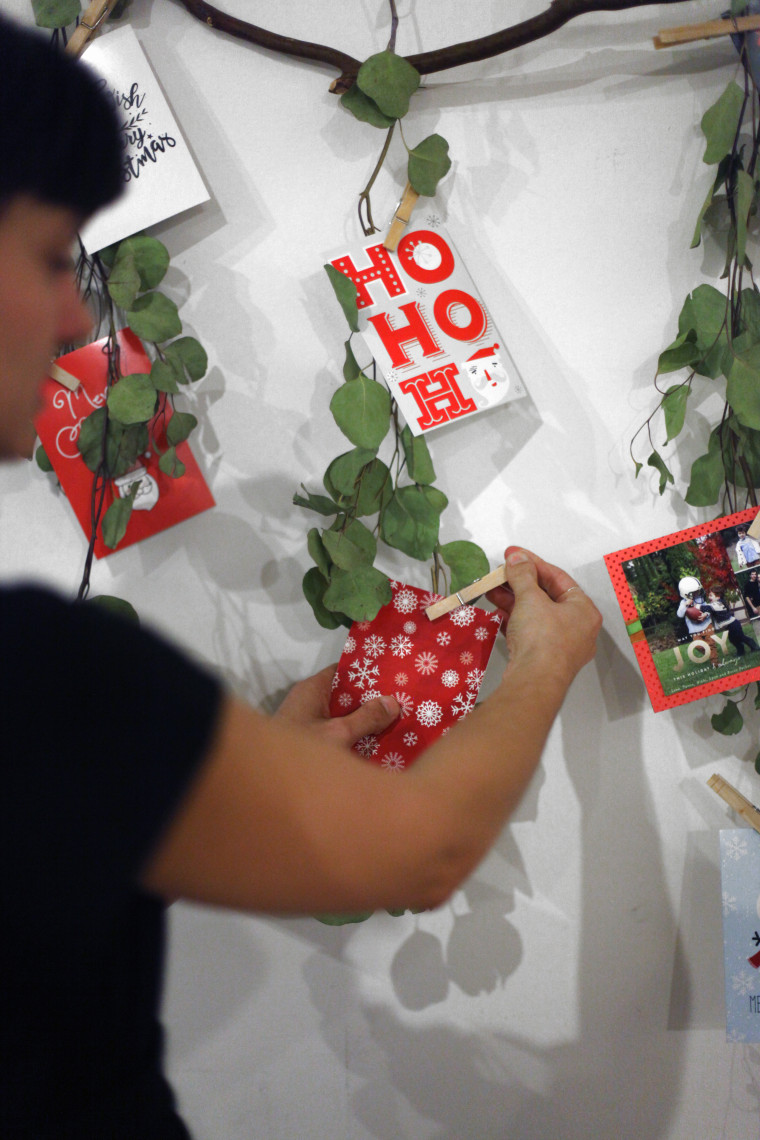 Display your holiday cards with these fresh-smelling branches for some added greenery!
What you'll need:
Five to six eucalyptus branches
Clothing pins
Wooden bar or tree branch
Green 22-gauge florist paddle
String
Holiday cards
What you'll do:
Use floral wire to wrap two or three branches together end to end
Attach holiday cards using clothing pins
Tie string to the edges of the branch to complete the hanger