It you're looking for a festive decor to celebrate Easter, we've got you covered! Nothing will beckon the Easter Bunny to make a visit more than a gorgeous and colorful carrot hanging on your front door.
We were inspired by Love the Tompkins' sweet Easter DIY and had to give it our own spin. We used artificial tulips for this tutorial, but think about how gorgeous fresh tulips would be for a more temporary display.
Give it a try, we're "rooting" for you!
What you'll need:
Six bunches of artificial tulips (or real tulips for a temporary arrangement)
Greenery that looks like carrot tops
Wire cutters
Floral wire
Scissors
Wired ribbon
What you'll do:
1. Cut the faux tulips from the original stem.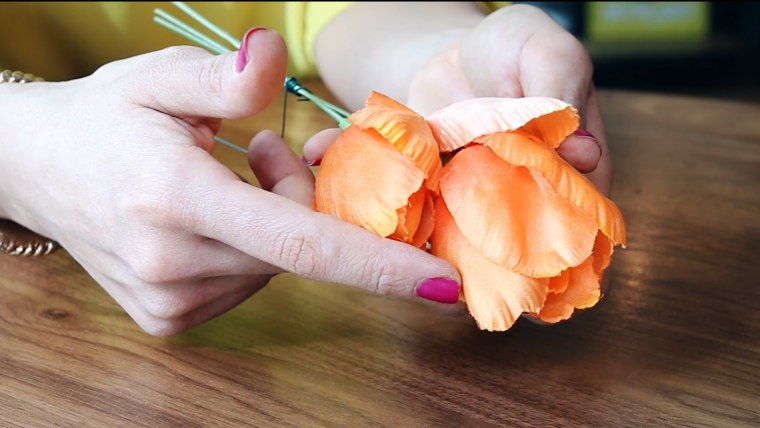 2. Gather three flowers and wrap them together with wire. This will be the bottom of your carrot.
3. Add three flowers next, one tier up and secure with wire.
4. Keep adding 4-5 flowers per tier.
5. Fan flowers out to create width that guides it to look more like a carrot.
6. Next, add your carrot top! Secure greens with floral wire at the top.
7. Add a pretty bow under the greens to camouflage the floral wire. Don't forget to curl the ribbon — that's where the wired ribbon comes in handy!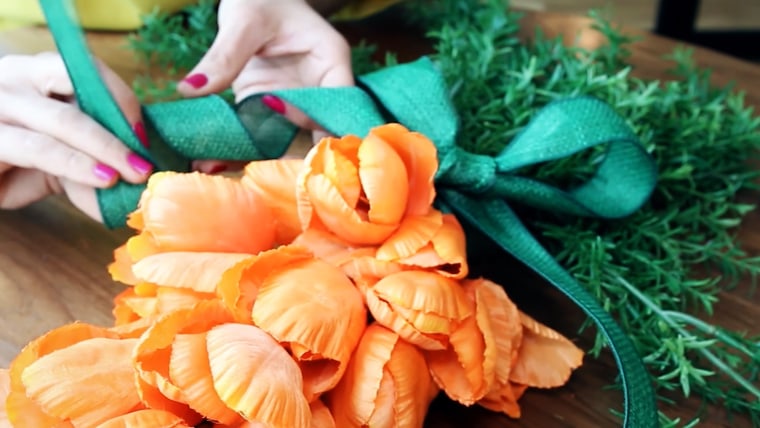 8. Finally, add a ribbon hook on the back before securing this pretty wreath to a nail.
Now hop to it! It's pretty easy, right?
(A special thanks to WeWork for letting us get messy in their beautiful space.)