A mother and daughter who went viral last year with their seriously impressive dorm room makeover have done it again — and they somehow managed to make college living feel like a luxurious retreat.
Sheila Ybarra of Houston, Texas, helped her 19-year-old daughter Skylar Bantz, a student at Texas State University, make over a new dorm room for this academic year, and the results are stunning.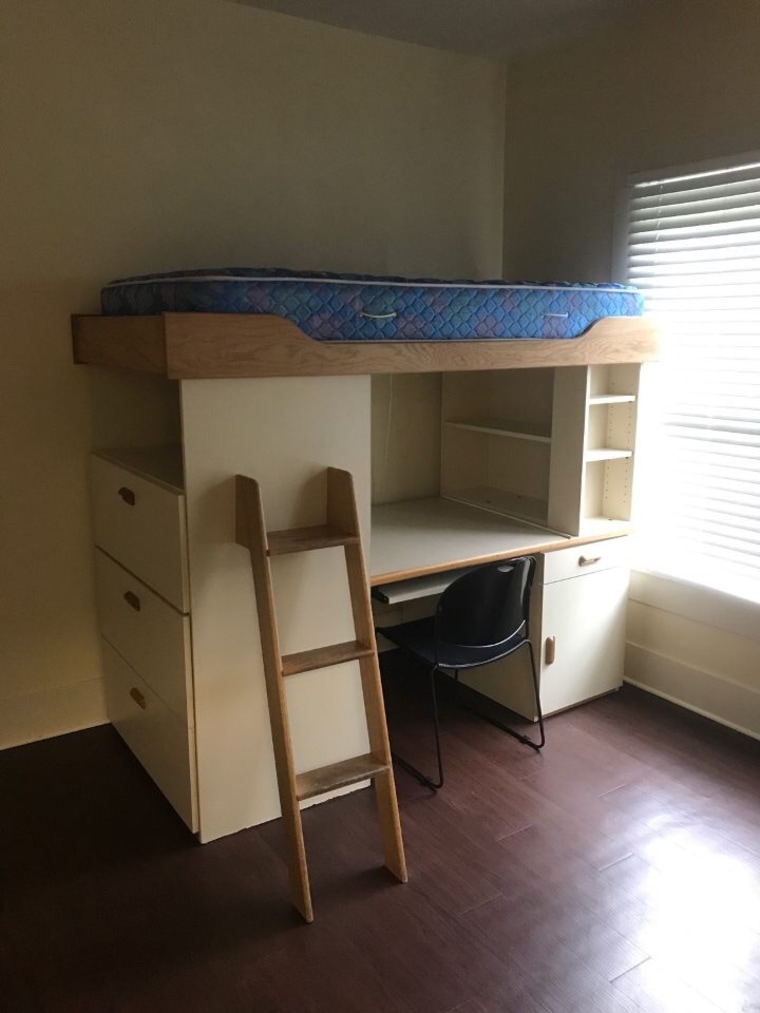 The stark room was transformed into a soft and feminine space with a living area that's on the same level as some designer homes.
"We wanted to incorporate some of the items that we had from our last room," Ybarra told TODAY Home. "We still use some of the same accessories, but the larger pieces we purchased."
Ybarra said they spent about $400 on living room furniture, which they purchased from Wayfair, adding that having everything delivered was a lot easier than going around from store to store like they did last year.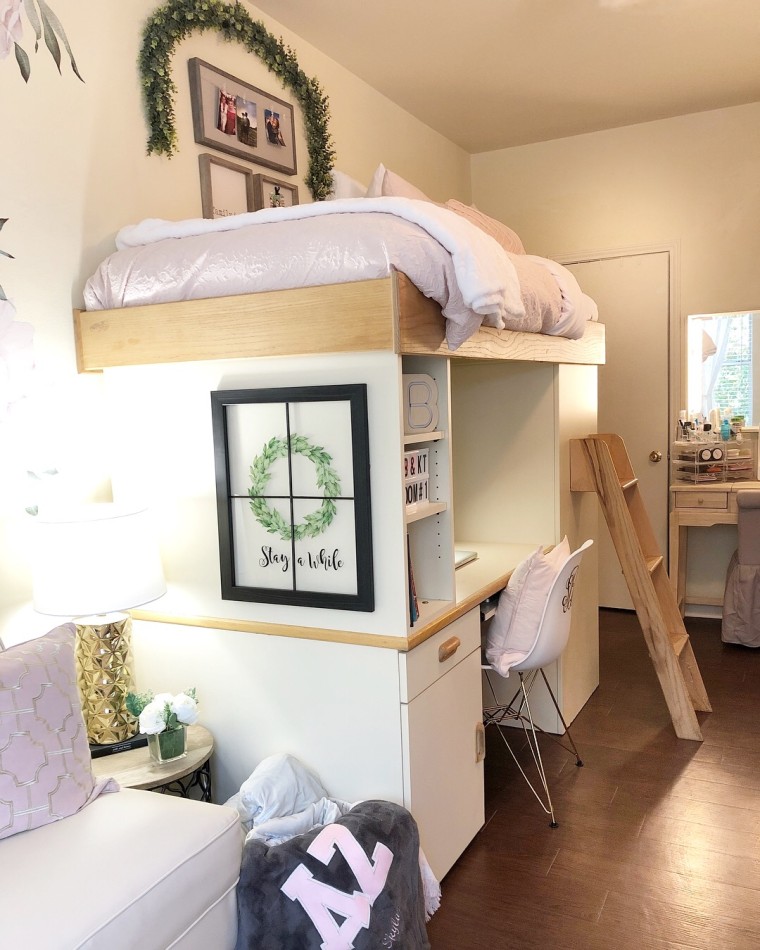 The living area features a small love seat (like this one for $360 at Wayfair) topped with cozy pillows, as well as a small glass coffee table sitting on top of a plush white rug. The wall behind the couch is decorated with oversized flower wall stickers and other accents, such as gold candle holders, a pretty table lamp and pink floor seats, add a glamorous vibe to the space.
The room's color scheme of pink and green was inspired by the logo of Bantz's sorority, Delta Zeta.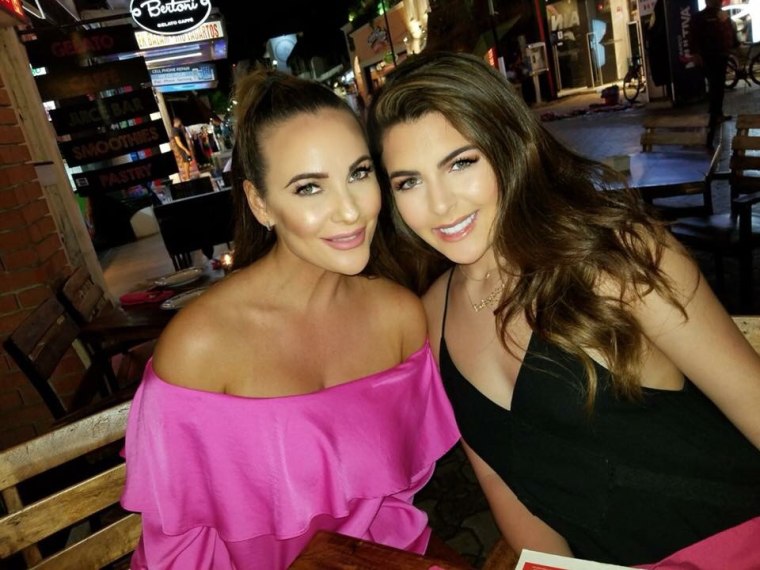 One of Bantz's favorite parts of the room is the makeup mirror which they created with a simple mirror from TJ Maxx, lining it with two LED 12-inch under cabinet strip lights that plug in. They used Command Strips to secure them on both sides of the inner part of the mirror. The vanity underneath it cost $200.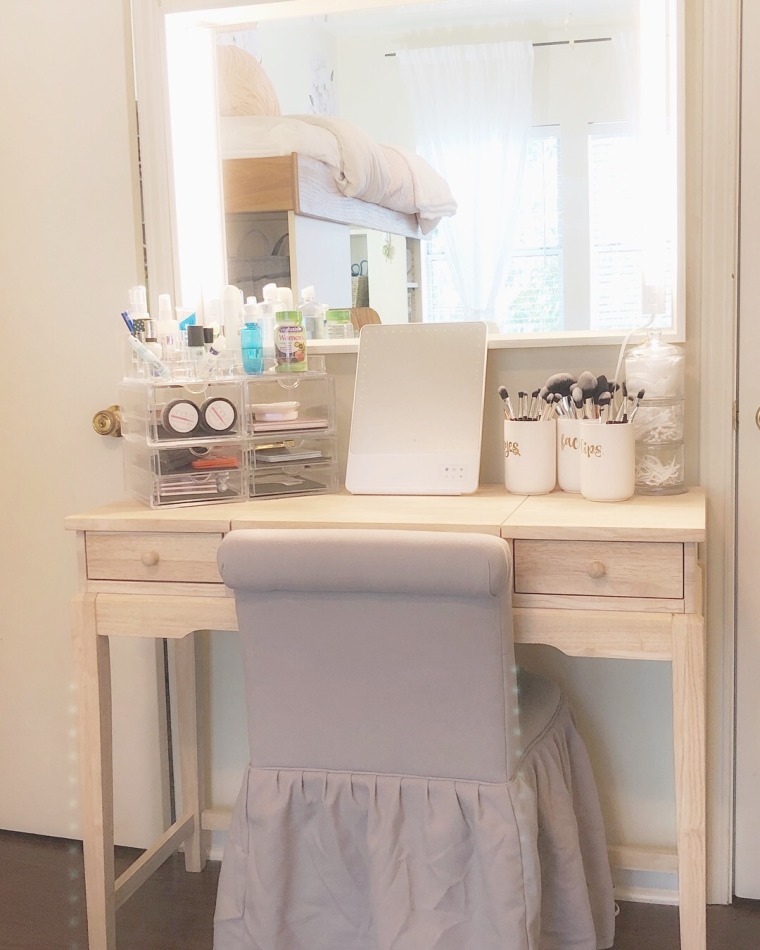 Ybarra, who used to do work in interior decorating and now works as a makeup artist, said that the trick to decorating a dorm room is trying to work with pieces that you currently already have.
"Since your child is going off to school, a lot of times they will not be using items that they currently have in their bedroom," she said. "We used a lot of items that we already had and re-recycled some items from last year's dorm room."
And if you do need to buy new items, Ybarra recommends discount stores. "You would not believe the incredible pieces you can find from the Dollar Tree and the dollar store," she said. "I found most of my smaller decorations frames and pictures and artwork from the stores."
TODAY editors, writers and experts take care to recommend items we really like and hope you'll enjoy! Just so you know, TODAY does have affiliate relationships. So, while every product is independently selected, if you buy something through our links, we may get a small share of the revenue.