Blogger Sabrina Scrivo of Pink Little Notebook views her home as her personal canvas and loves to experiment with style. So, along with husband Mike, she set out to transform an ordinary, personality-free powder room into a design-minded space with wow-worthy impact.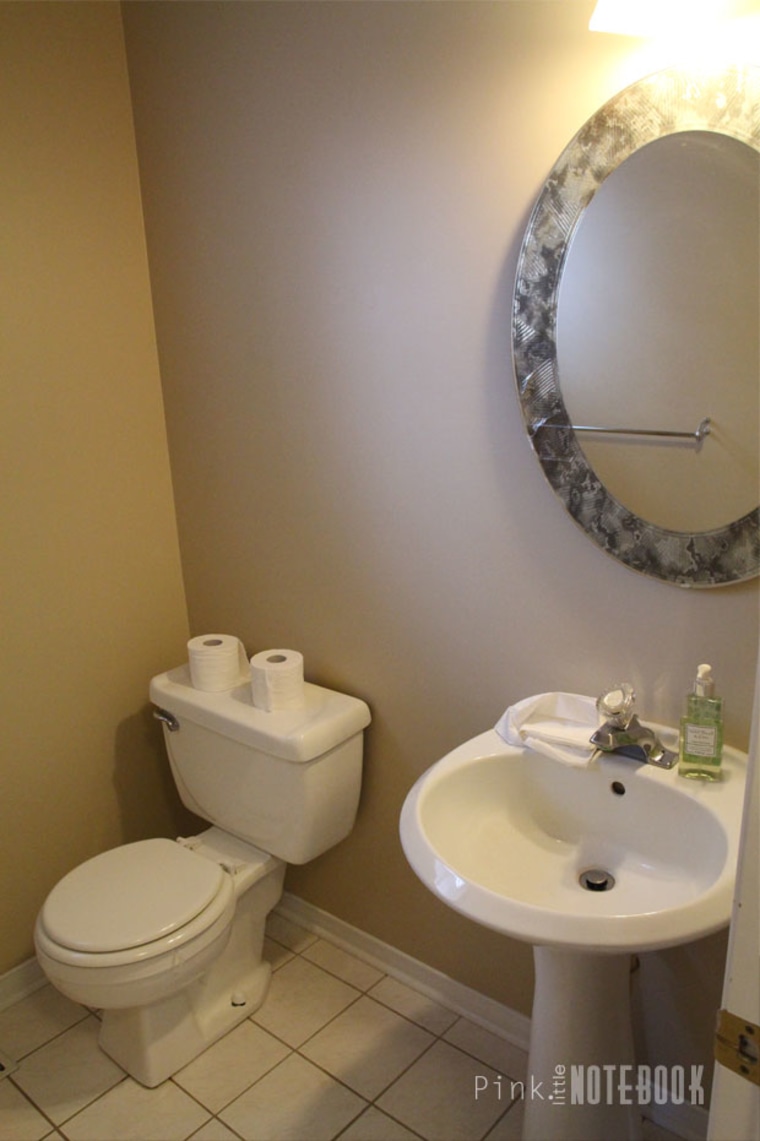 Using saturated colors and a healthy dose of DIY ingenuity, here's how the pair did it on a budget.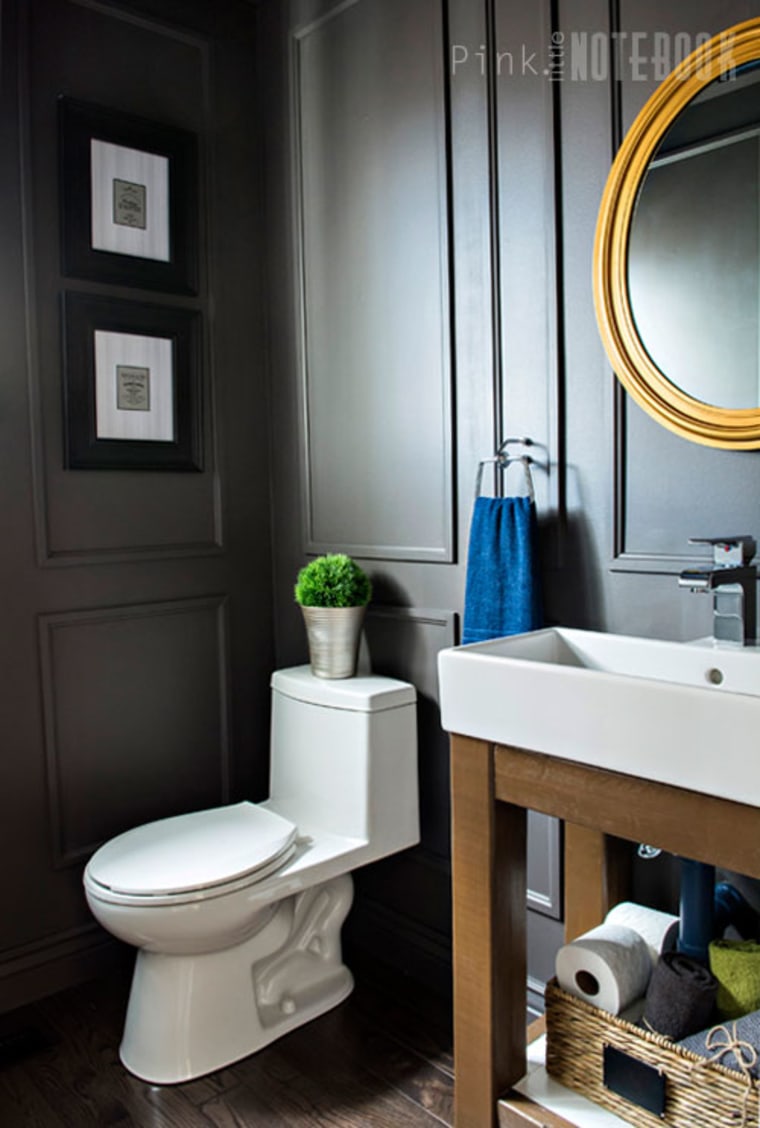 Small space, big impact
"When it came to this room, I wanted to create an inviting space that provides a ton of visual interest," Scrivo wrote on her blog. To that end, she chose a dark paint shade for the walls and trim, resulting in a monochromatic look that contributed to an intimate, sumptuous feeling in the space.
"Color plays such a crucial role in creating a room's desired mood," she wrote.
Divine details
Scrivo said that one of her very favorite DIY projects in the space is the architectural detailing the couple added to the walls. "Finding alternative uses for leftover shoe molding we had in our house not only saved us [money] but created a striking feature throughout the room," she wrote.
They also replaced the tile flooring in the room with extra hardwood they had on hand, furthering the designer aesthetic.
Look up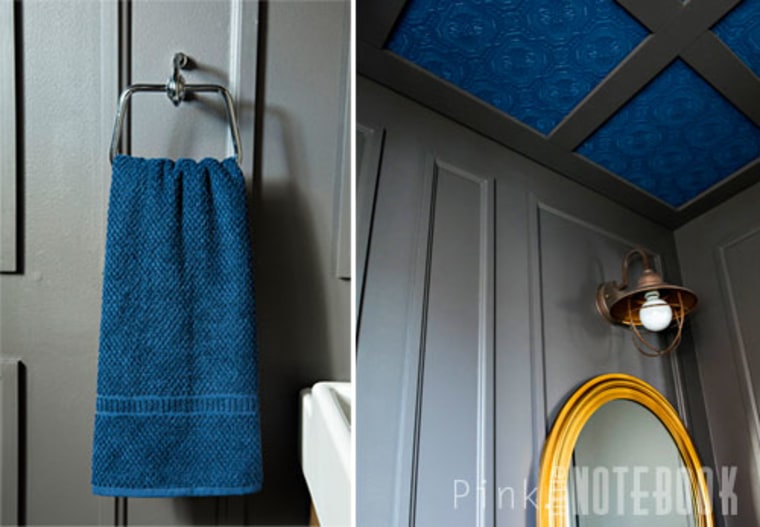 Scrivo describes painting the ceiling deep blue as an afterthought — but a brilliant one. "I love how it brings out the details in the textured wallpaper," she said. And the best part? The look cost just about $32 USD (converted from Canadian).
"The ceiling is the showstopper of this powder room," she wrote. "It's an element of surprise that draws the eye right up."
Big-box prices, custom look
Using pre-cut lumber from Home Depot and an IKEA sink, the pair built a simple DIY vanity that felt fully customized. The project created a larger surface as well as more storage — both key adds for a project meant to revamp a small room.
They also added a simple basket on the open shelf to hold extra toiletries for guests — a little touch that creates a big impression of hospitality.
Finishing touches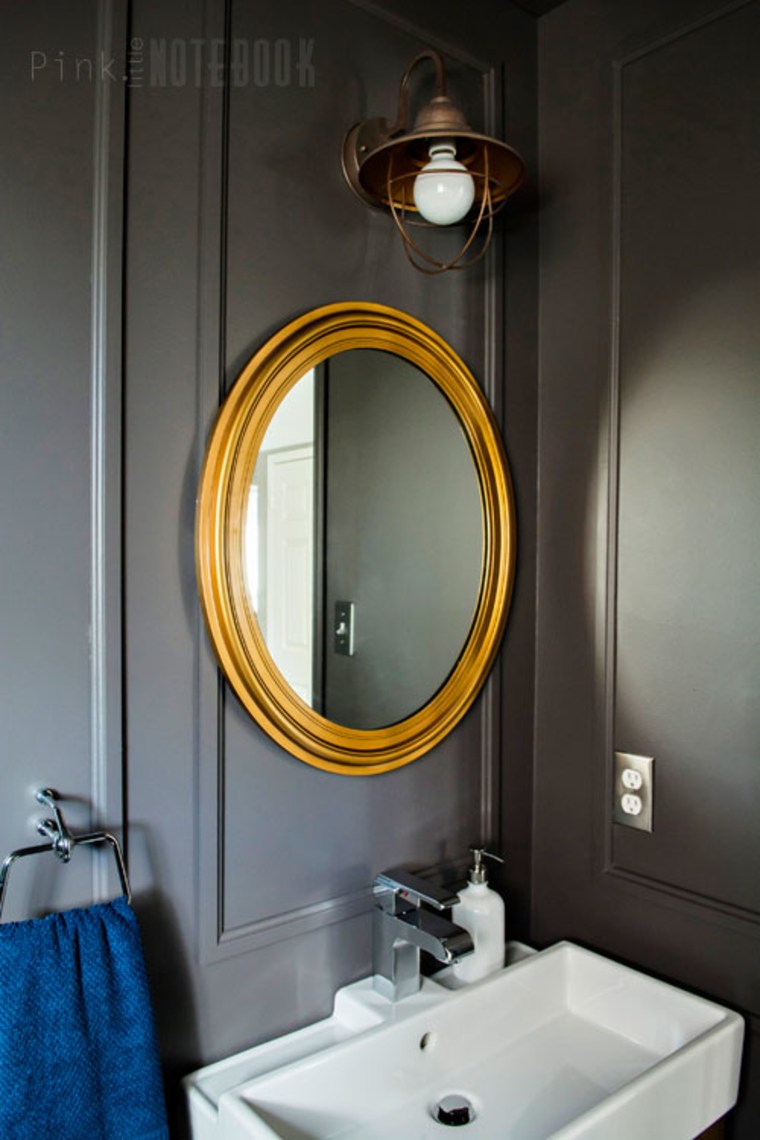 Noting that she found it challenging to source affordable and stylish lighting fixtures, she was nevertheless able to score a Home Depot fixture for under the equivalent of $28. It was technically an exterior light, but Scrivo had a custom vision for it.
"I altered the original look of this fixture by removing the glass globe that sits within the steel housing," she wrote. "I just love the charm of this lantern-style light!"
She also purchased a mirror — but in the end, she didn't end up using it in the space. Instead, she found an old mirror in her mom's house that she much preferred — and found a way to make it her own.
"Like any good daughter would do, I convinced her to swap mirrors with me — new mirror for her old one," she wrote. "I'm loving the oval shape and copper color. It mimics the interior finish of the light fixture perfectly."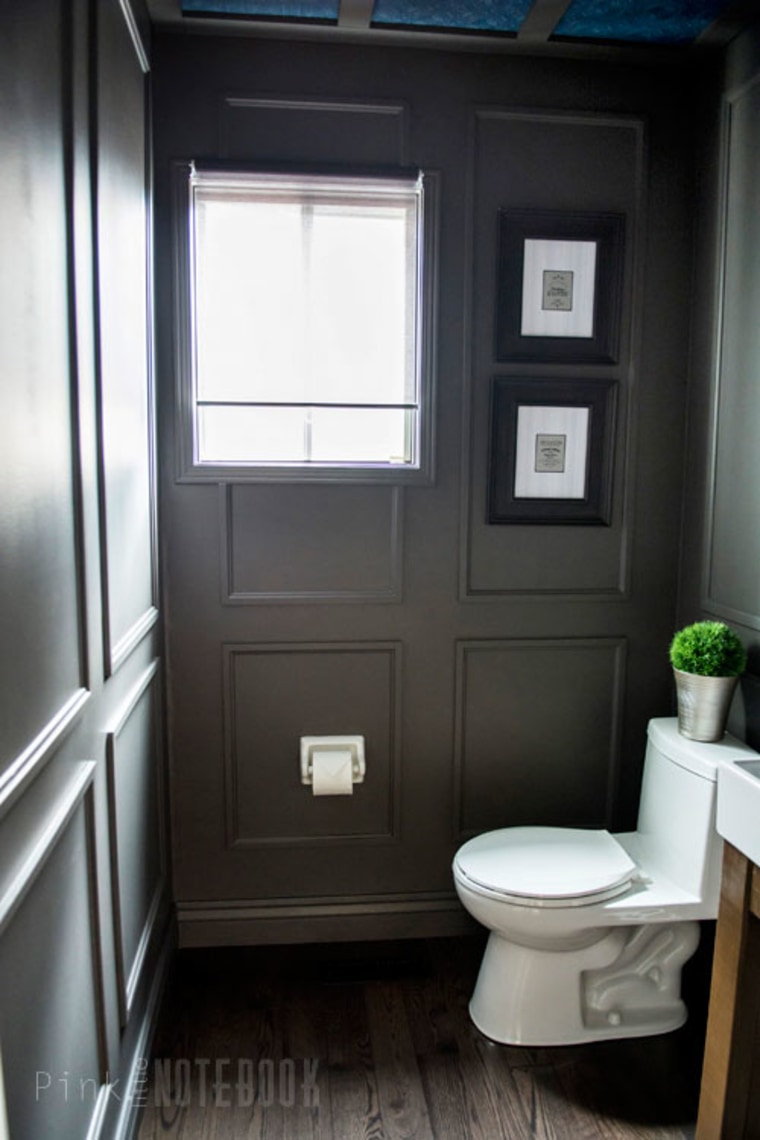 See more of Scrivo's bathroom on her blog, "Pink Little Notebook."
Alesandra Dubin is a Los Angeles-based writer and the founder of the lifestyle blog Homebody in Motion. Follow her on Facebook, Instagram, Google+ and Twitter.