The way Ronda Batchelor sees it, "If your laundry room is prettier, it's a lot more fun to do laundry."
After checking out her gorgeous new space, we'd have to agree.
A mother of six, Ronda spends an enormous amount of time in her laundry room. Naturally, she wanted to find a way to beautify the 7-by-6 ½-foot space without breaking the bank. For just about $400 (yes, you read that right), she DIY'd her way to laundry room stardom, inventing genius ways to store, hang, launder and dry clothes, ultimately creating a space that's as efficient as it is beautiful. Even her kids are happy to get in on their chores these days. Okay, so maybe "happy" isn't the right word, but certainly something close to it.
Looking to create your own laundry haven, but short on money, space or inspiration? Here's how you can steal five of our favorite ideas from Ronda's space.
1. Fold-down ironing board
This is probably our favorite aspect of the whole room. Forget the fact that this fold-down ironing board, well, folds down. It also has the ability to tilt and swivel. That's a major "must" when it comes to tiny spaces. It means Ronda's free to move in and out of the room without having to worry about bumping into the board and knocking over the hot iron or having to crawl underneath it (though it probably does have some serious limbo party potential).
Get six fold-down ironing board sources here.
2. Racks for hand-washables
Hand-washables get special treatment in this laundry room. Using a drawer frame, racks with dowels and simple mesh fabric, Ronda constructed individual drying tables for each fragile item. Then, she slips each one back into perfectly-sized pull-out drawers in one of the walls, saving tons of space.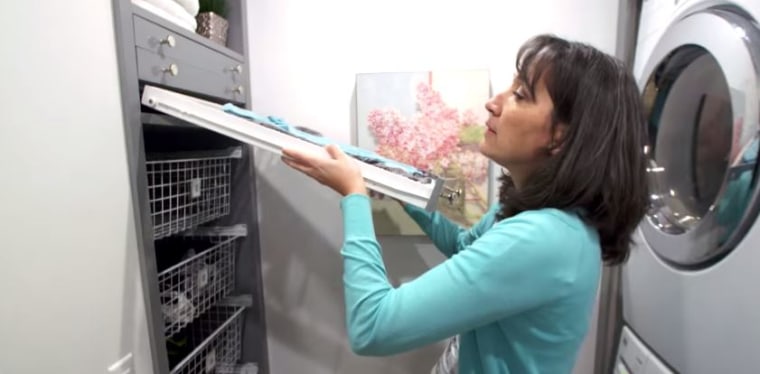 Next, she flips a switch connected to a fan in the back of the drawer space. The fan will shut itself off after an hour, and the clothes will be dry in half the time. Tada!
You can alter the tutorial for the roll-out pantry cabinet here to create pull-out drawers in your own laundry room.
3. Space-saving baskets
Once the clothes are washed and dried, they're placed into one of six removable baskets, all of which live in a vertical cupboard. Each holds a different child's folded laundry, so there's no confusion about which items belong to which kids.
That means all the children have to remember to do is remove their personal basket, carry it back to their room and put the clothes where they belong. It doesn't get much easier than that.
Learn how to create your own laundry basket "dresser" here.
4. Faux-marble countertop
Here's where Ronda outdid even herself. She painted a countertop to look like expensive marble.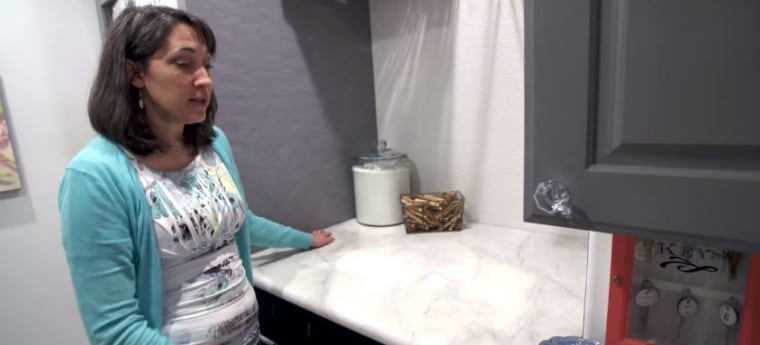 Since it's not nearly as heavy as marble, the entire countertop can pop out. This allows her and her family easy access to the pipes in the back of the machines, should they need to be serviced.
Learn the faux-marble painting technique here.
5. Full-size hanging bar
We're totally kicking ourselves for not thinking of this one. After all, it's pretty simple. A full hanging bar (and not just a few pegs in the wall) means clothes can get on hangers right after they are ironed. Fewer items end up on the floor, the kids have less work to do once they're back in their own rooms and the whole family's happier for it.