There was nothing really wrong about Tasha and Joe Agruso's kitchen, but there was nothing really right about it either as none of the cosmetic details went along with the family's aesthetic.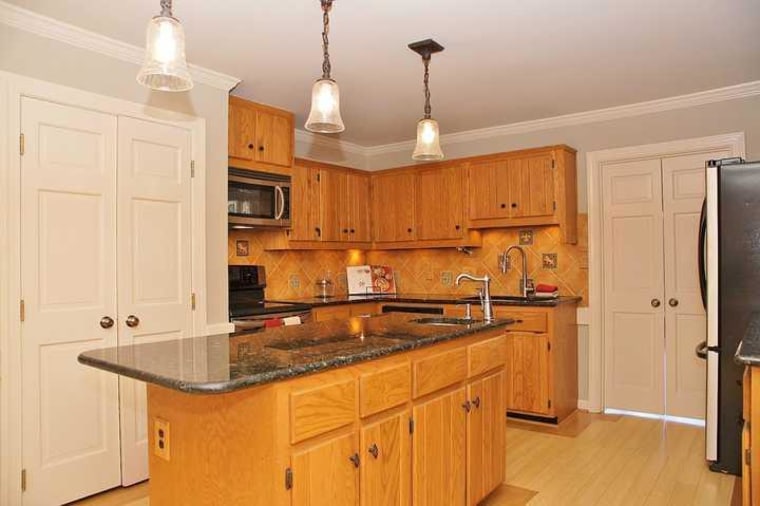 But with a little elbow grease and cleverness, they made it just their style — on a shoestring budget.
"Our kitchen had great bones and was generally in good condition, but it was not our style," Tasha said. "We completely transformed it for around $700, including furniture." See how they made it happen!
Paint to the rescue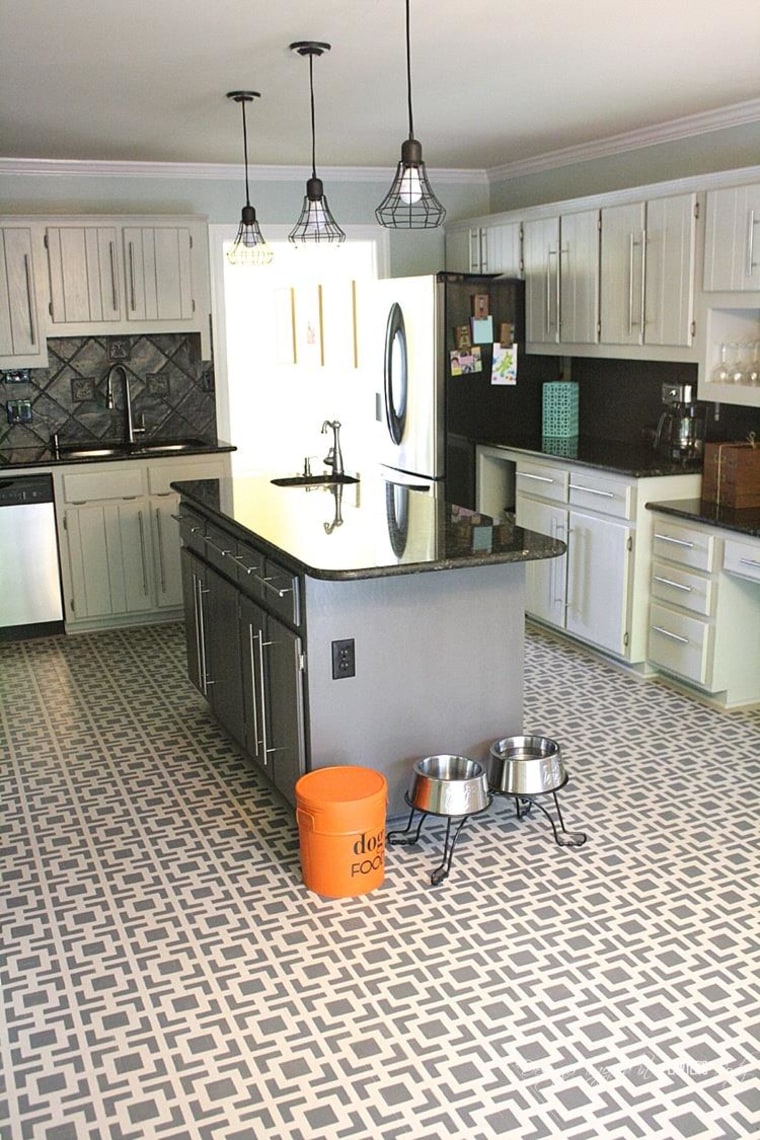 Paint was the magic elixir that made the remodel possible for so little cash.
"We were able to stretch our dollars by painting nearly every surface," she said. That included the tile backsplash, walls, trim, doors and the cabinets. They also painted and stenciled the damaged wood floor.
RELATED: From dated to darling! See this bedroom's major makeover
Paint even gave new life — and a pop of color — to such existing decorative accents like orange trays and a cute dog food storage bin that became a major conversation starter.
Mass-retailer budget with designer-like impact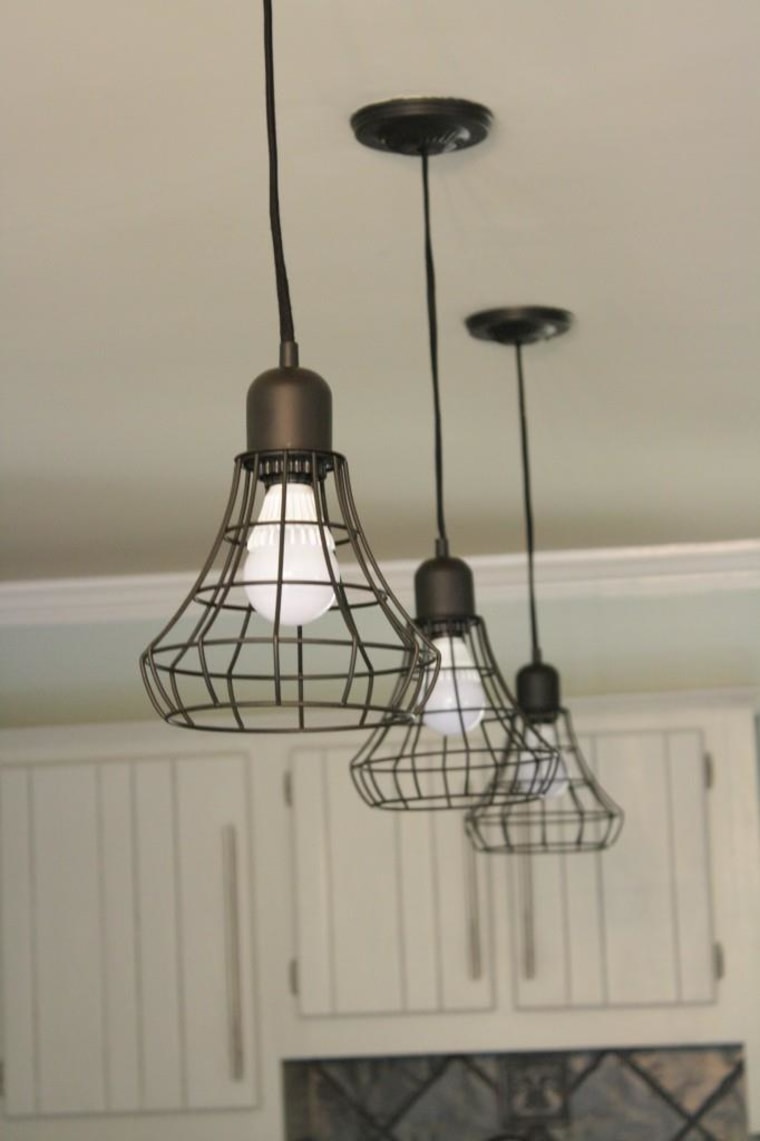 The three hanging light fixtures above the island seemed generic and ordinary. But Tasha gave the whole room a chic look with a set of cage-style hanging fixtures she purchased on clearance at Target for $20 a pop. The result was a super-rich, industrial, chic look on a big-box budget.
Strategic spending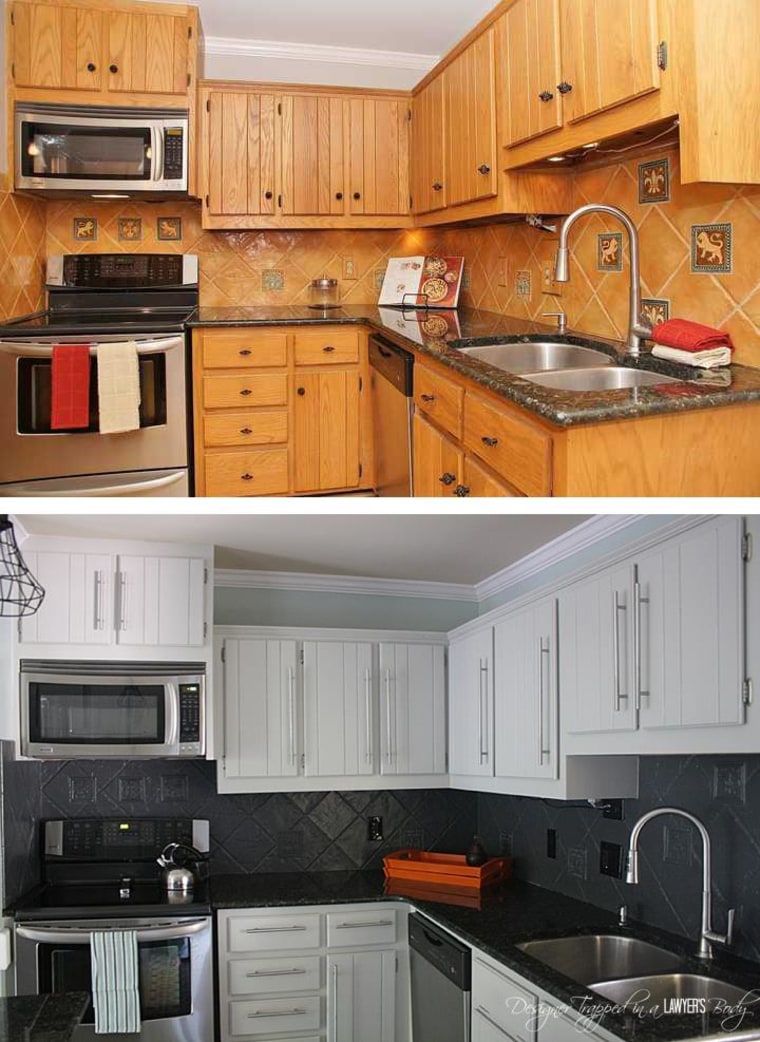 Tasha spent most of the (lean) budget on new hardware for the cabinets — long, linear metallic pieces that replaced the old knobs. She also bought chairs for the eat-in area and materials for the pipe table that the couple built themselves.
RELATED: See this storage room's transformation into a studio apartment
The freebie that became a favorite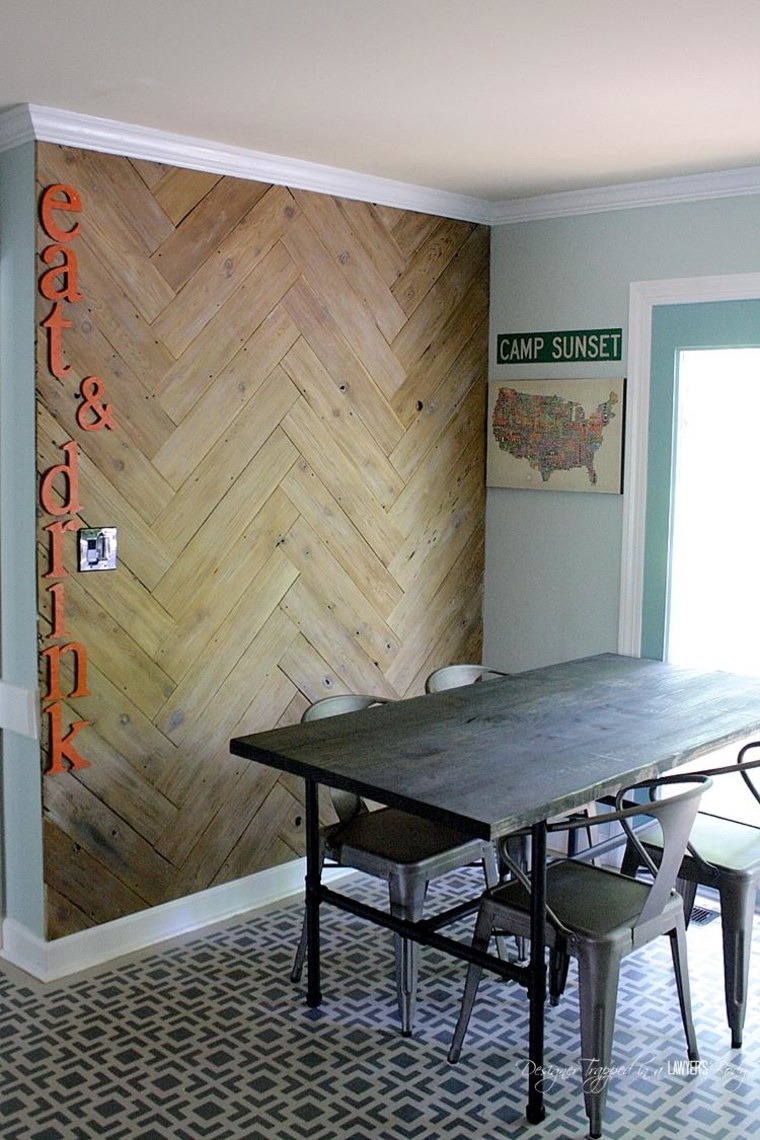 The couple knew they wanted to create a plank wall in their eat-in kitchen area, but their budget required them to brainstorm ways to source inexpensive wood to make it happen. After debating several options, they realized that they could use the cedar from the outdated fence on their deck that they planned to remove anyway. After sanding the wood and coating it with tung oil, it was ready to be applied to the wall.
"My favorite feature is now the herringbone plank wall, which we created for $0" Tasha said. "We are thrilled with how much we were able to transform the space within our tight budget."
See more of the DIY makeover on Tasha's blog.
Alesandra Dubin is a Los Angeles-based writer and the founder of home and travel blog Homebody in Motion. Follow her on Facebook, Instagram, Google+ and Twitter.