You know how we never seem to have enough storage and counter space in the kitchen? I solved that problem with a kitchen storage island that I made by hacking a 52"-wide Husky tool cabinet — yes, the kind that's made for mechanics, rolls on wheels and has nine drawers and a butcher block top.
Why would I want this for my kitchen, you ask? The answer is simple: It has an amazing 16,361 cubic inches of storage and cost only $329. And it required very little work.
If you love the color, then you're set! But I wanted to lighten things up a bit, and so the only change I made to it was to paint the black enamel white. After lightly sanding the metal surfaces and taping over the wheels and the aluminum edges of the drawers, I applied eight coats of white enamel spray paint, sanding lightly with very fine sandpaper between coats. This took three days, but it looked super! When everything was dry, I wiped down the inside of the drawers then lined them with an ultra-grip drawer liner.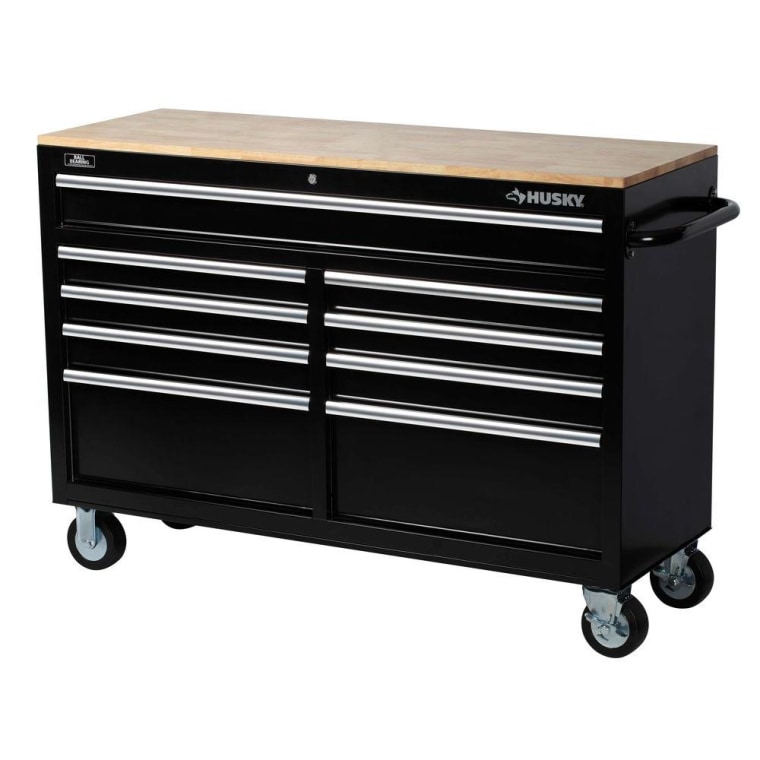 The crown jewel of the storage island is a four-foot-long top drawer. It is perfect for neatly displaying every bottle, jar, package and tin of spice and seasoning I own. And talk about convenience — the spices are easy to find and storing them in our new island freed up two shelves in the kitchen cabinets.
RELATED: See what this kitchen looks like after an $800 DIY makeover
There are eight two-foot-wide drawers of varying depths — roughly 1 ¾" and 2 ¾" for the middle drawers and 8" for the bottom drawers. I use the shallower ones for cooking tools and pans, dedicating a drawer for each group — knives, spatulas/whisks, spoons/turners/tongs and pans. Everything is in its place, so it makes finding and storing items effortless.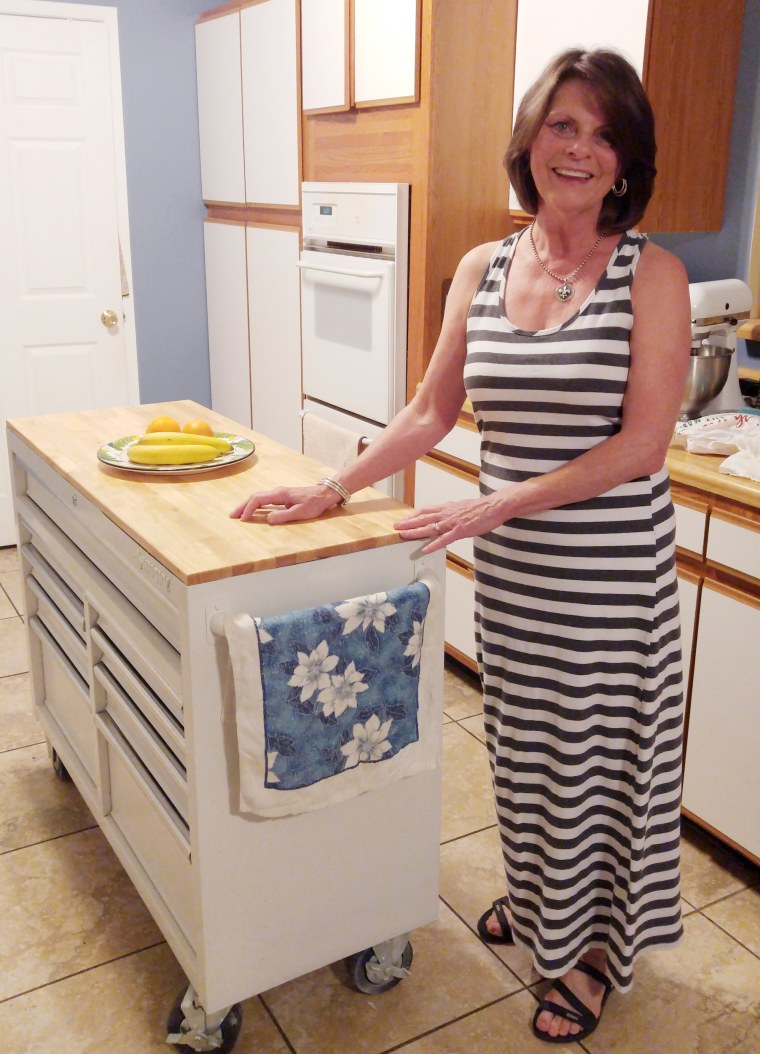 The two deeper drawers at the bottom are perfect for cast iron skillets and very large pots with lids. No more aggravation when retrieving the bottom pot in a stack.
RELATED: This DIY fanatic used spare change to create amazing floor in her spare time
In addition to streamlining the kitchen, the island provides an impressive 52" X 18" butcher block work surface, something that really comes in handy, especially during the holidays. Plus, the whole island is on wheels, so it can be moved easily when sweeping or cleaning the floors.