/ Source: TODAY Contributor
Summer is around the corner, and when school lets out, your kid is coming home — with a year's worth of school projects.
In her new book, "Design Mom: How to Live with Kids: A Room-by-Room Guide," blogger Gabrielle Stanley Blair shares tips for creating a functional family home. Here are some tips from the book for navigating that pile of school memorabilia — without mommy guilt.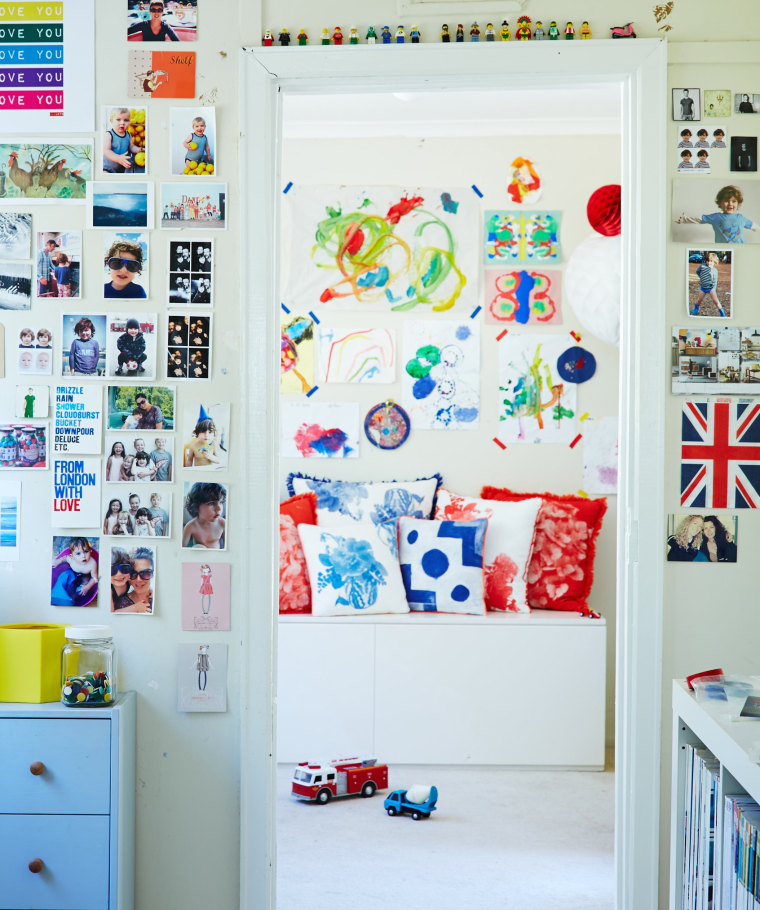 How much of your children's work can you store without being classified as a hoarder? How much can you toss without breaking the heart of your particularly sentimental child? And what should you do with the stuff that you do keep? All good questions! Though the answers might vary if you have five kids instead of one, or if you live in a city apartment rather than a suburban rambler, the same principles apply.
First, you don't need to keep everything. Once your children start their adult lives, 10 moving boxes' worth of memorabilia you've collected on their behalf will be just too much stuff to deal with, so be ruthless in your editing. Keep what's meaningful and that which your kids can't bear to part with, and Instagram the rest! Here are a few specific tips.
Homework: Save the assignments that represent challenges your children overcame, the work that made them proud—essays or writing samples are some of my personal favorites to save. Toss the rest. A handful of representative pieces from an entire year of school-work will be plenty. Five pieces of homework multiplied by twelve years of school equals a box full.
2-D Artwork: If it's a piece that the entire class made in an identical way, it's really an exercise in motor skills more than in creativity. You don't need to keep it. But if there is a piece that required imagination, and your child loves it, add it to the homework favorites you're saving.
3-D Projects: When it comes to 3-D projects (artwork or science fair or otherwise), if the objects are small, say a gymnastics trophy or a pinewood derby car, first put them on temporary display in your child's bedroom or the family room. When new triumphs come along to take their place, move the very best to a treasure box, and toss the rest. For oversize 3-D projects, temporarily display them, then photograph them for documentation before you say good-bye.
Excerpted from Design Mom: How to Live with Kids: A Room-by-Room Guide by Gabrielle Stanley Blair (Artisan Books). Copyright © 2015.