Welcome to our new series for TODAY Shopping: Deal of the Day!
Every day at 10 a.m. EST, we will reveal an exclusive deal of 20 percent off or more. This deal can only be found on our Shop TODAY Facebook page and will run for just 24 hours. There will be a new deal every day, so be sure to act fast!
Also, be sure to like the Facebook page, so you can be the first to know about deals that you can't get anywhere else on the internet!
Please click on the website links to be directed to the offers from the companies featured, and be sure to read the details. Conditions and restrictions may apply. If you have any specific questions about the details, the products' websites or inventory, please check with the retailers making the offers. You can find their contact information on the sites.
Deal of the Day: March 29
Some chefs take a utilitarian approach: a few knives and a cutting board suffice. If that's you, this is your deal.
Today, you can snag a chef knife starter set from Knork for 58 percent off. The set, which includes an 8-inch chef's knife, 8.5-inch serrated knife, 3.5-inch paring knife and an acacia wood cutting board, usually retails for $110. You'll get it for $46 with the discount code 'TODAYKNORK' (shipping is not included).
Designed with guitar pick-like finger indentations to fit comfortably in your hand, the knives are made from a single forged piece of German stainless steel with walnut pakkawood handles.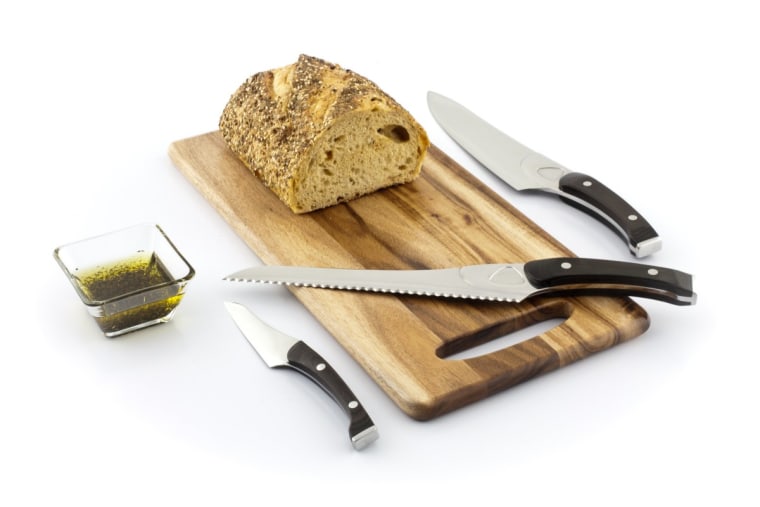 The included serrated knife slices through bread easily, the chef knife facilitates your regular chopping and the paring knife works great for more precise cuts. Plus, it comes with a solid wood cutting board to get you started in the kitchen right away!