When it was time to refresh a small, chaotic bedroom, Netherlands-based interior design journalist and stylist Holly Marder obviously had a vision. See how she and her husband transformed their dingy, multicolored space into a subdued, calming sanctuary — with a daring open closet.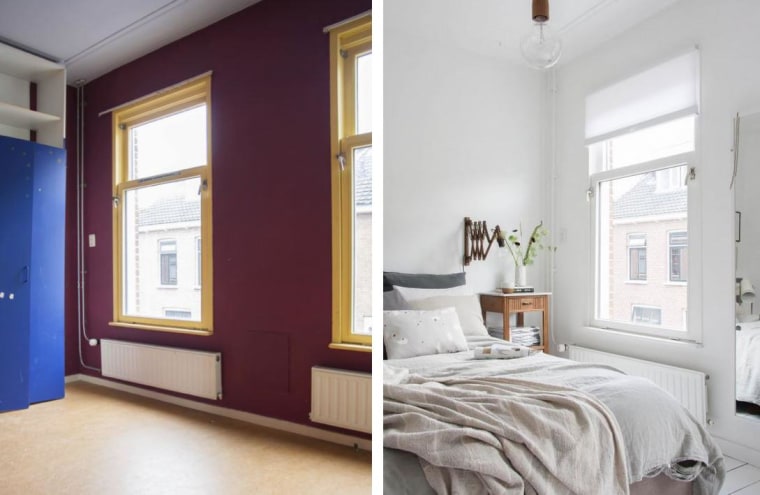 A dated bedroom in need of a revamp
The original room was outdated and painted in all sorts of bright colors — totally antithetical to Marder's serene aesthetic. "The before version was dark, dated and every single surface was painted a different color, so our main priority was getting the base — the walls, ceiling and floors — fresh and bright again," she said.
Pretty (and budget-friendly) paint
Knowing what magic a coat of paint can work, Marder splashed a fresh coat on the dirty vinyl floor — as well as the walls, ceiling, window and door frames, radiators and heating pipes. The resulting look was clean and fresh on a budget, and with minimal effort.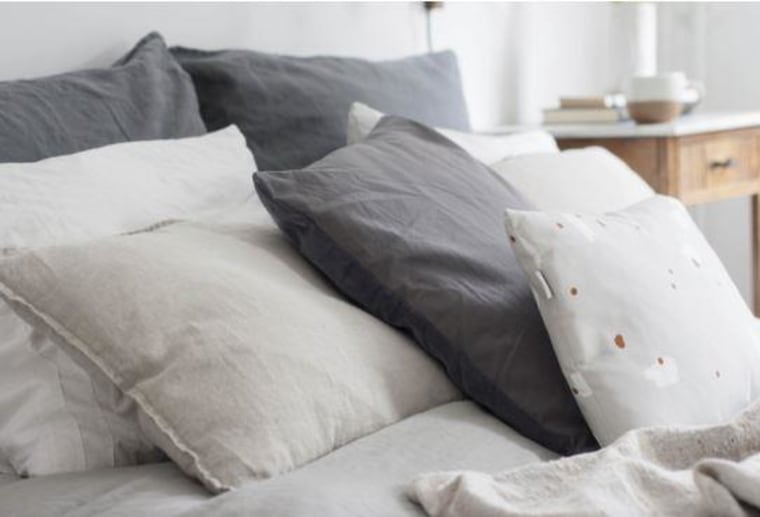 Size matters
The bedroom is not very big. The couple chose to use the larger room that encompasses the third floor of their house as Marder's work studio, so they were working with a size challenge in the smaller room they chose for sleep.
RELATED: See what this dated kitchen looks like after a DIY makeover
"Keeping the walls, floor and ceiling white would keep the space feeling fresh and light, and not emphasize how little the space actually is," she said. A visual trick for making the space feel larger? They placed a high shelf near the ceiling. "It draws the eye upward and lengthens out the room," she said.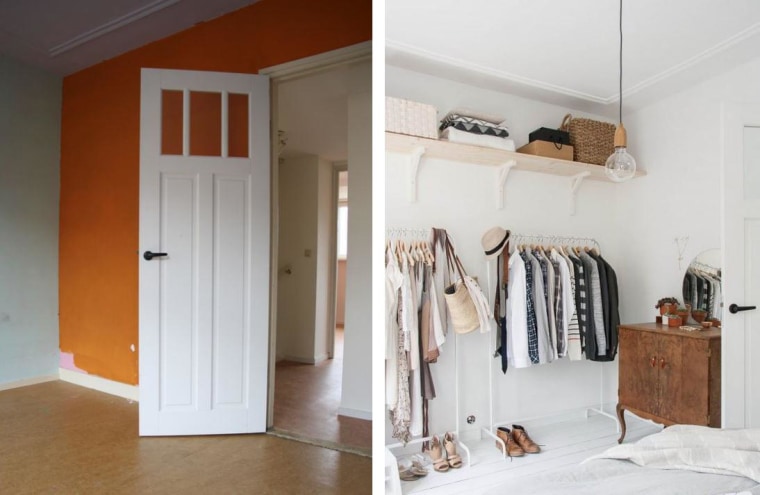 Nothing to hide
While already a tidy person, Marder said she's long wanted an open closet for the look and ease of it. So the couple chose IKEA rolling racks and open shelving with baskets to store their clothes instead.
"Not only was it a cost-effective option, but if we have put in a built-in closet the room would have reduced drastically in size — it's just too small. [The open closet is] now my favorite aspect of this room," she said.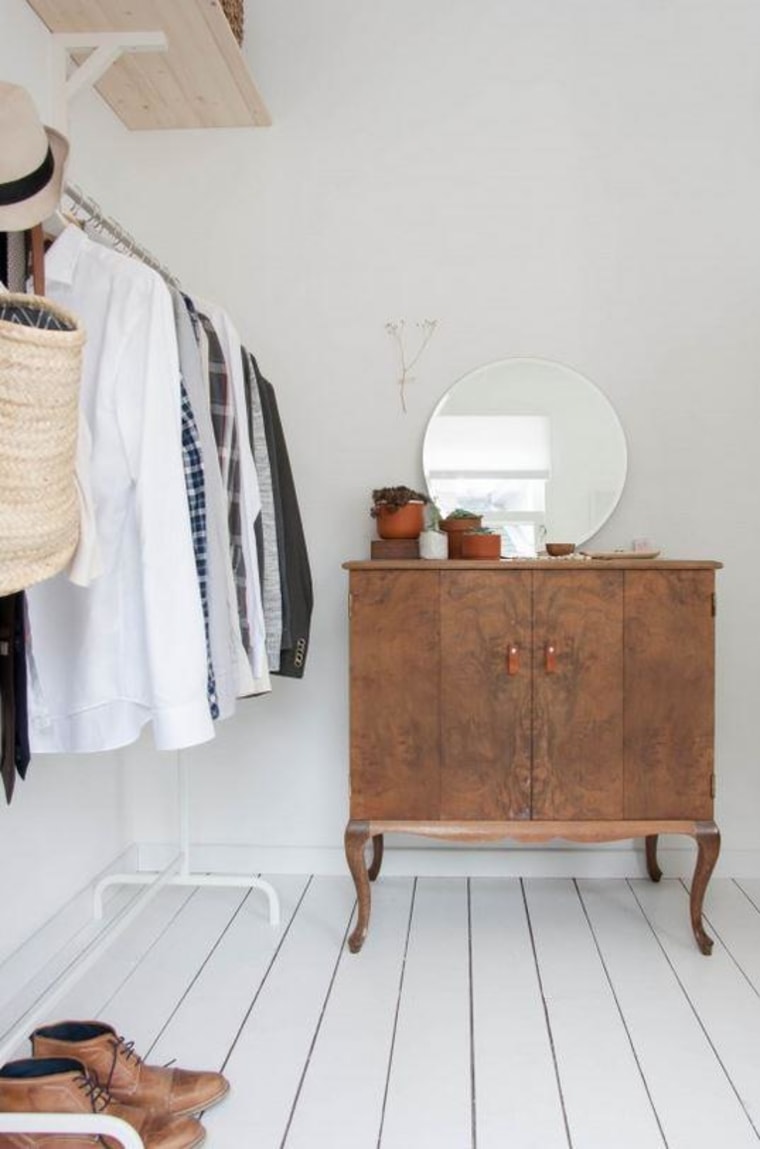 DIY timeline
The couple worked in phases, completing the job in about two weeks of work. "Some days, [we were] so exhausted with renovating that we couldn't even bring ourselves to attempt any work, but stripping, cleaning, sanding and painting the original wooden floors took my husband several days to do," she said. "It was a big job!"
RELATED: Storage room transforms into studio apartment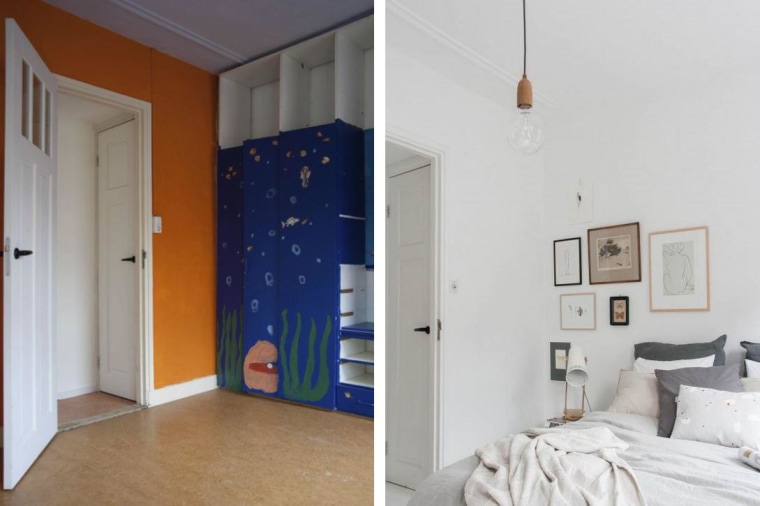 Curated walls
Above the bed is a gallery that mixes old and new, original and prints — even a framed set of real butterflies. Most of the artworks were antique market finds (Marder said she's addicted to vintage art). An accordion lamp on the wall is another one of her favorite vintage finds.
RELATED: Airstream trailer gets a hipster makeover
Found furnishings
Marder describes her style as a mix of both old and new aesthetics. To that end, she loves scouring for vintage or antique pieces to mix with contemporary elements — and lives for the thrill of the chase. She found a pair of marble-topped tables, and uses just one as a bedside table for a sense of asymmetry.
"It gives me joy to give a lovely old thing a new lease on life. Living in the Netherlands, we have access to lots of antique shops and vintage markets, so every summer I'm out on my bike hitting the markets in the hopes of finding treasure."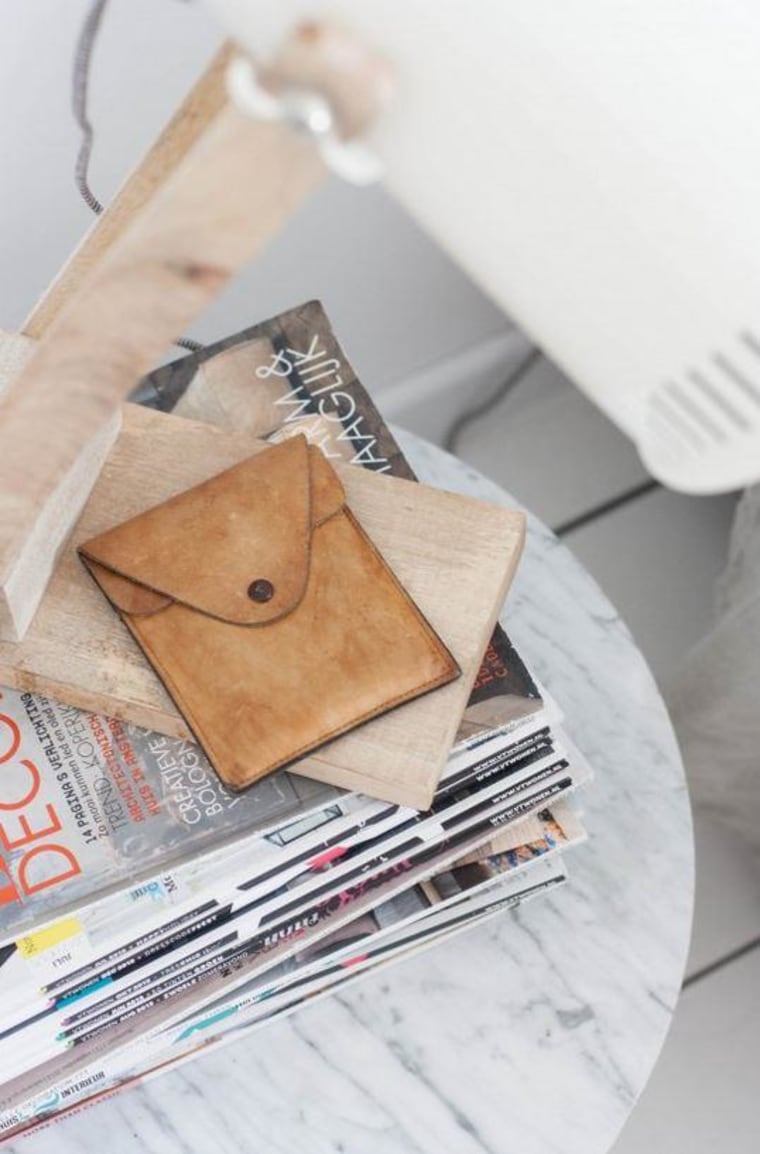 See more of Holly's bedroom makeover on her blog.
Alesandra Dubin is a Los Angeles-based writer and the founder of home and travel blog Homebody in Motion. Follow her on Facebook, Instagram, Google+ and Twitter.