A couple remodeling their bathroom found a 23-year-old hidden message from the previous homeowners that asked one hilarious question.
"What's wrong with the way we did it?!?!"
Alex and Jessica Monney were sent a photo from the contractor working on their home in San Jose, California, after pictures of the former owners and their pet rabbit were discovered during the renovation.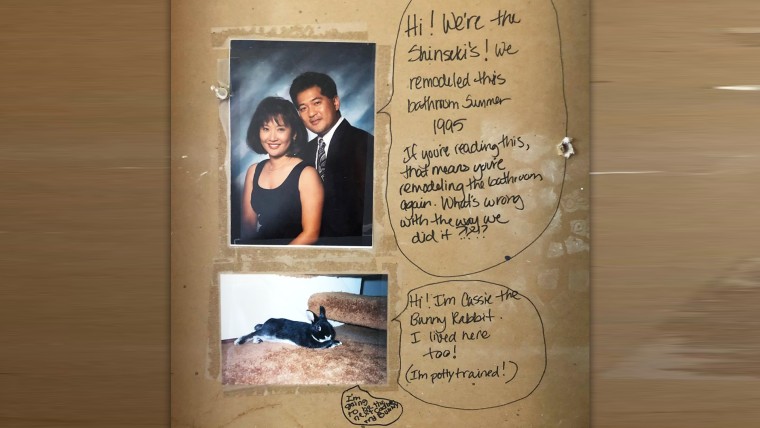 "Hi! We're the Shinsekis!" it said. "We remodeled this bathroom Summer 1995. If you are reading this, that means you're remodeling the bathroom again. What's wrong with the way we did it?!?!?'"
Below it was a photo of their black-and-white rabbit.
"Hi! I'm Cassie the Bunny Rabbit. I lived here too! (I'm potty trained!). I'm going to be the next Cadbury Bunny" it read.
Alex initially tweeted the photo in response to a message Jessica's wrote about remodeling the bathroom four weeks before she is due to have a baby.
Alex later deleted his tweet, but not until after a search was underway to find out where the Shinsekis, and their bunny, ended up.
A Rev. Jay Shinseki from Sunnyvale, California, chimed in on Twitter saying the man in the photo is his brother, Troy, but did not have any further information.
The hidden message also prompted others to share what type of time capsule items they found in their homes that were left by previous owners.
Still no word from the Shinsekis themselves, but Jessica and Alex now plan to put their own message in there for the next owner to find.
Follow TODAY.com writer Scott Stump on Twitter.