Fashion designer Christian Siriano showed off his "pink, pretty, dreamland" to Natalie Morales, letting her take an exclusive look inside his new, multilevel boutique and workspace just off the fashionable Fifth Avenue in New York City.
The eight-story building, originally constructed in the 1800s, has had multiple high-profile owners and occupants, according to Siriano.
"The building's amazing," he told Morales. "The Rockefellers owned it at one time. It's been everything. It used to be Faberge's offices. Cary Grant had an office here."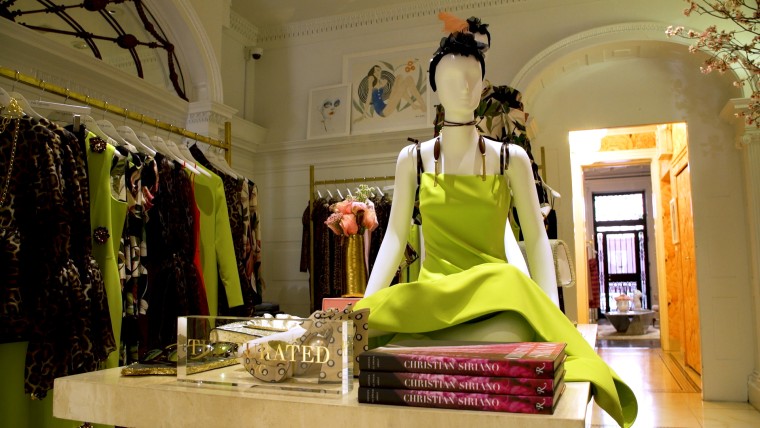 The front room of the building features a collection of accessories and clothes by a variety of designers, personally selected and curated by Siriano.
"I took brands that I really love, (with products) that I didn't do ... and I wanted to curate it all in one place," he said. "So you get clothes, shoes, bags, everything. It's almost like playing dress up here. It's like we wanted it to feel like your own closet, in a way."
The next stop of the tour led into the redesigned back room of the building, which has been renovated and features plenty of pink.
"We wanted to keep the architecture original to what it was," Siriano said, pointing the ornate ceiling. "It was super dark, really kind of grimy, and we just wanted to bring it to life and make it pink and beautiful."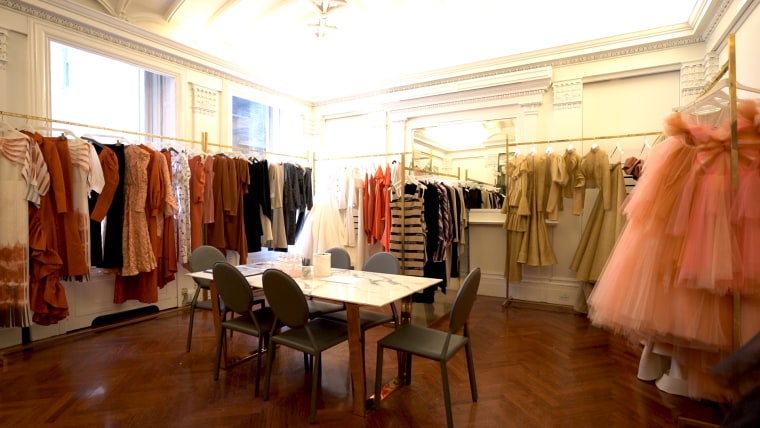 Morales and Siriano followed the glamorous staircase up one level to find the designer's studio. He said that having the atelier directly above the store adds an extra sense of excitement to the space.
"This is one of my favorite rooms," he told Morales, adding that having an atelier of his own had been a dream since he was young. "You know, playing dress up with my mom and sister, I really loved this idea, this world and I wanted, like, my customer to have that same feeling, that fantasy feeling."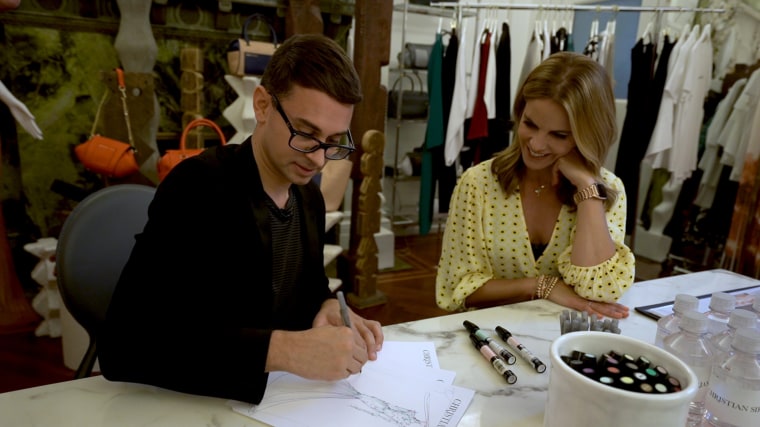 The workroom is similar in style, but is also where famous clients and celebrities come to view new collections, which can range from red carpet-ready gowns to ready-to-wear, affordable styles. Here, he's dressed everyone from Leslie Jones to Taylor Swift, and it's one of his favorite places in the building to sit and work on sketches for upcoming designs.
"I'll sit here and sketch, talk about my next projects," he said. "It's great. It's a little dream world."
The designer just launched a line of sophisticated, size-inclusive clothing for J. Jill. From sheath dresses to winter coats, the collection features flattering wardrobe staples for every body type.
Siriano also mentioned that much of his inspiration for designs comes from architecture and glamorous locations.
"It really comes from everywhere," he explained. "I'm really (obsessed with) art, architectural, I don't know, travel, everything ... Sometimes it's almost like, a dream, in a way. That's really what I think inspires me, always."