"Fixer Upper" stars Chip and Joanna Gaines have invited a congregation that worships beneath a Texas overpass to relocate to their nearby Magnolia Market at the Silos before the church is displaced by upcoming road construction.
The former hosts of the popular HGTV program offered the Silos lawn for Sunday services to the Church Under the Bridge, which draws between 200 to 300 worshippers who include the homeless and other marginalized worshippers who may feel uncomfortable elsewhere.
The church will will be displaced by a $300 million, multi-year widening project along Interstate 35 in Waco that begins in March.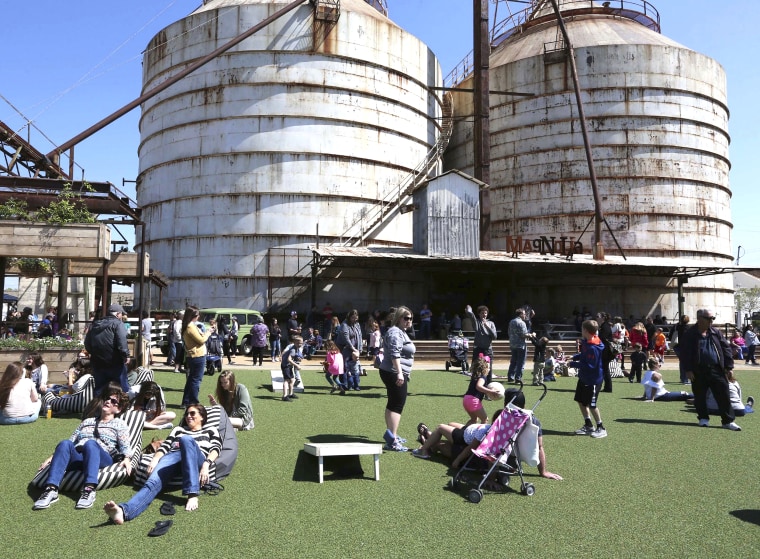 Chip Gaines reached out to the church's pastor, Jimmy Dorrell, after learning about how the construction project would impact the congregation.
"I was sitting in my office one day, day-dreaming, thinking about making a commitment, and we reached out to Jimmy," Gaines told the Waco Tribune-Herald. "He came over to the Silos, and we agreed it would make a great fit geographically. We said, 'Let's do it,' and shook hands on it."
Gaines said he's known about the ministry since he was a college student at nearby Baylor University and has long been an admirer.
Dorrell told the Tribune-Herald that he recently visited the Silos to outline an agreement to help facilitate the gathering of hundreds on the Magnolia lawn every Sunday morning. He said he looks forward to leading worship on property that is more tranquil than he's used to, away from pigeon droppings, yapping dogs and the threat of interstate traffic.
"It was amazingly quiet, with no 18-wheelers above," he said with a laugh.
Dorrell said he has entered into a one-year agreement with Magnolia to use the Silos at no charge, after which the parties will revisit the arrangement. Ultimately the church will return to its home under the bridge, he said.
Chip and Joanna Gaines recently ended their popular television renovation program to spend more time on their Waco-based businesses and their newly expanded family. They welcomed their fifth child, Crew, in June.