For the right price at an April auction, one Harry Potter fan literally can be on the edge of the seat J.K. Rowling used to write the first two books in that series.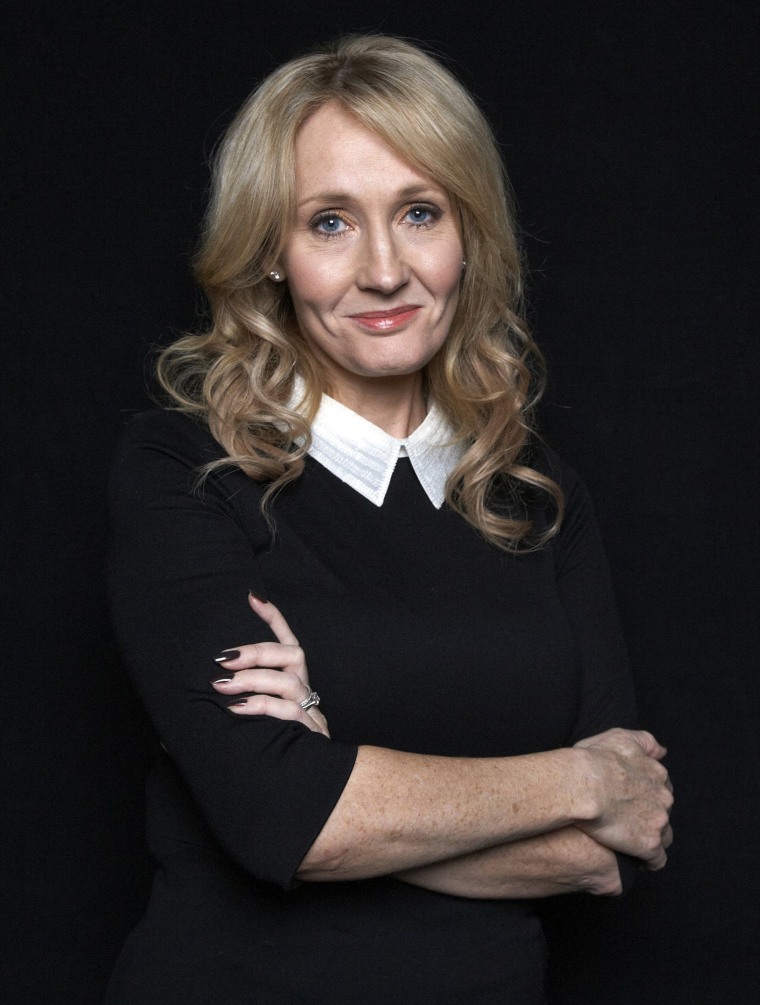 The wooden chair is accented by Rowling's brush-stroked sentiments in "gold, rose and green paints," according to a press release issued Monday. In 2002, it was auctioned off for $21,000 to raise funds for the United Kingdom's National Society for the Prevention of Cruelty to Children, and in 2009, it sold on eBay for $29,000, according to the Associated Press. Heritage Auctions will put the author's chair up for bid again April 6 in New York City, where live bidding is expected to top an opening offer of $45,000, AP reported.
RELATED: New J.K. Rowling stories 'History of Magic' explore American side of wizardry
"The international phenomenon that would become, and still is, 'Harry Potter' had its humble beginnings in this modest old chair," James Gannon, Heritage Auctions' director of rare books, said in a statement. "It's inspiring to imagine the young mother and author settling down at her desk, seated in this chair, typing out the original manuscripts of her first two books."
Noah Fleisher, also of Heritage Auction, confirms via a YouTube video posted Friday that the chair is indeed the one in which, "word for word, page for page," Rowling wrote "Harry Potter and the Philosopher's Stone" — released in America as "Harry Potter and the Sorcerer's Stone" — and "Harry Potter and the Chamber of Secrets." Adds Fleisher, "The [chair] comes with absolutely rock-solid provenance, which is a letter from Rowling herself."
RELATED: J.K. Rowling offers kind words to 'sad' fan on Twitter
With a masthead of "BY OWL POST," that letter reads, "Dear new-owner-of-my-chair, I was given four mismatched dining room chairs in 1995 and this was the comfiest one, which is why it ended up stationed permanently in front of my typewriter, supporting me while I typed out 'Harry Potter and the Philosopher's Stone' and 'Harry Potter and the Chamber of Secrets.' My nostalgic side is quite sad to see it go, but my back isn't. [Signed,] J.K. Rowling."
Added Fleisher, "This is not just a chair; it's a work of art. It's hand-painted by her. She chose to transform this chair. It's representative not only of how her books changed the landscape of young-adult fiction — and also of pop-culture in general, with all the spin-offs and the influence of Harry Potter — but it also is representative of a transformation of Rowling, herself: from a young, single mother, unemployed, into the greatest force that young-adult fiction has ever seen, changing the landscape of books as we know it."
RELATED: Alan Rickman dies at 69: J.K. Rowling, Emma Watson, more share tributes
The auction house says the author autographed the backrest; painted "You may not / find me pretty / but don't judge / on what you see" on the slats comprising the back of the chair; decorated the wood surrounding the seat cushion with the phrase "I wrote / Harry Potter / while sitting / on this chair"; and emblazoned the legs' cross-stretcher with the word "Gryffindor."
Online bidding begins March 18, according to the Associated Press.
Follow TODAY.com writer Chris Serico on Twitter.