Now that we have kids, those days of jetting off to Vegas with pals, partying until 5:00 a.m. or, heck, even staying up much past midnight to see the ball drop on New Year's Eve are long behind us. Even if we could find a babysitter for the festive holiday, who has the energy—or time—for a post-celebration hangover?
Sure, New Year's Eve is really a "grown-up" night, but it can still be fun for the whole family. We asked moms across the nation for advice on how they make the evening special when little ones are involved. So get that sparkling cider (and champagne for you and Dad, natch) on ice and try one of these fun ways to celebrate. It's party time!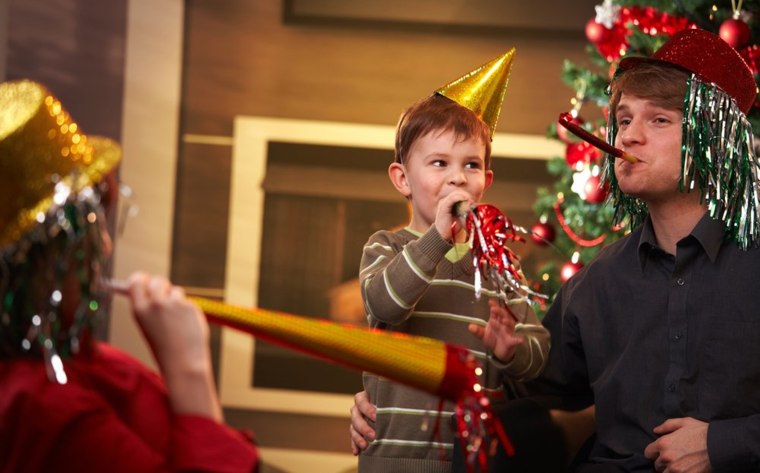 RELATED: 10 tips for a kid-friendly New Year's Eve bash that's also a blast for parents
"We rent hotel rooms with another family. We swim, play board games and snack on junk food all night."—Amanda
"We have a Just Dance marathon on the Wii. It gets everyone active and we get to make fun of each other's skills and laugh. Plus, all kids from age 5 to 69 get to play!"—Amanda
"When I was little, my parents used to let my sister and me run down the street banging pots and pans on New Year's Eve. It was kind of crazy, but so fun, and now we let our kids do the same thing. Sorry, neighbors!"—Danielle
"Every year we get together with our friends who also have kids and prepare a messy but yummy potluck dinner—everyone prepares a dish. Afterwards we play board games and then are in bed by 12:05!"—Kelly
RELATED: It's party time! 5 DIY tips for your New Year's bash
"We let our daughter have friends over. She's 14 now, so it's co-ed. The girls can spend the night and the boys leave by 12:30. They play music, watch movies and we set up a table with pizza and snacks. At midnight, we let them have sparkling cider and noise makers. This year, she'll have an Xbox, so I'm sure there will be games played."—Linda
"Fondue dinner and a movie followed by a concerted effort to stay up until midnight!"—Claire
"We alternate spending Christmas with my parents and my in-laws, so for the last few years, we've celebrated a late Christmas with the other family on New Year's Eve. We go sledding, cook a big meal, open gifts and give the kids sparkling cider at dinner, since they can't quite make it to midnight—although they give it their best shot."—Kathleen
"I let them have junk food like chips and soda, and we listen to music and just act goofy, playing games on the Wii and dancing around—just like it's a huge slumber party."—Tonya
"We always let them invite one friend over for a sleepover, serve some sparkling cider and let them beat pans together at midnight—and eat a bunch of junk food, of course!"—Lori Ann
"We used to drive to a bank parking lot to watch the time turn to midnight, then we'd turn up the car radio and dance around banging pots and pans, kissing and singing. It's like having your own little Times Square—such a blast!"—Lainey
"When my kids were younger our evenings were full of charades and Yahtzee. We set the clocks ahead so they thought it was midnight at 10:00 p.m.!"—Joan
"Our town has a kids-oriented First Night, complete with a circus, face painting and lots of fun activities. It's a blast and we feel like we can still partake in a celebration even if our hard partying days are over."—Mark
RELATED: 7 last-minute party ideas for your New Year's Eve ball drop celebration
"As far as I'm concerned, our twins give us a great excuse to stay in and be cozy away from all the chaos and hubbub."—Brenda
"We just made a point to have the party at our house each year so we can put our kids to bed and save on babysitters. Ends up being families with kids, and we all have a blast paying Guitar Hero and karaoke."—Jeffrey
"For the first few years (as in, five), it became just another night and I went to bed like normal because when he was a baby, he didn't understand midnight celebrations. Until a couple of years ago, he insisted on ...waking up at 6:00 a.m. Now that he's older, he stays up for it, and we play games and watch movies."—Allyson
"I throw my kids a pj party with a junk food dinner. They love it."—FantasticMomma
Lesley Kennedy writes for ShopAtHome.com's Online Shopping Report. Follow ShopAtHome on Twitter @shopathome and Lesley Google +.
A version of this story originally appeared on iVillage.
This story was originally published Dec. 13, 2013 on TODAY.com