We are days away from a holiday weekend – and the last hurrah of summertime. So gather friends and family to bid summer adieu with these clever DIY party ideas from founder and CEO for Brit + Co. Brit Morin.
Can't get enough of Brit? She's taking over TODAY's Instagram and Snapchat accounts Thursday. Follow along to join in the fun!
Hot dog bar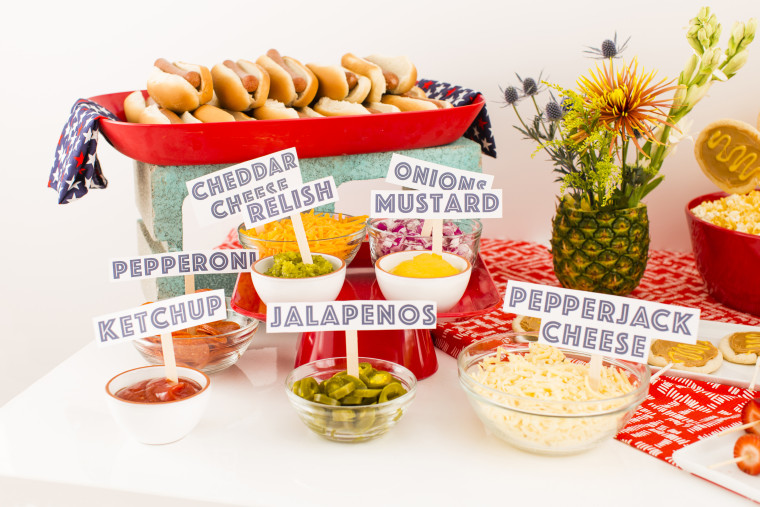 Hot dogs are a staple of summer, so give them one last run before slow cooker chili and pumpkin carbohydrates take over your kitchen. I suggest having a hot dog bar at your Labor Day party, filled with expected toppings, like ketchup and mustard, and surprising additions, such as jalapenos and pepperoni.
Watermelon grill and fruit skewers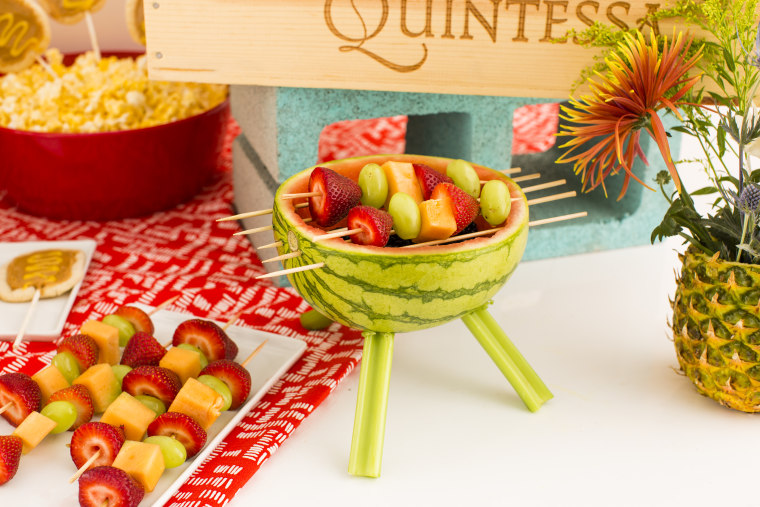 Savor the last days of that delicious seasonal fruit by making fruit skewers. You can stick them on the grill — or place them on this "watermelon grill." Simply hollow out half of a watermelon with a melon baller, then poke three holds in the bottom. Insert celery sticks in the holes to hold the watermelon up. Put some blackberries in the watermelon to look like coal, and place the skewers on top!
Corn dog cookies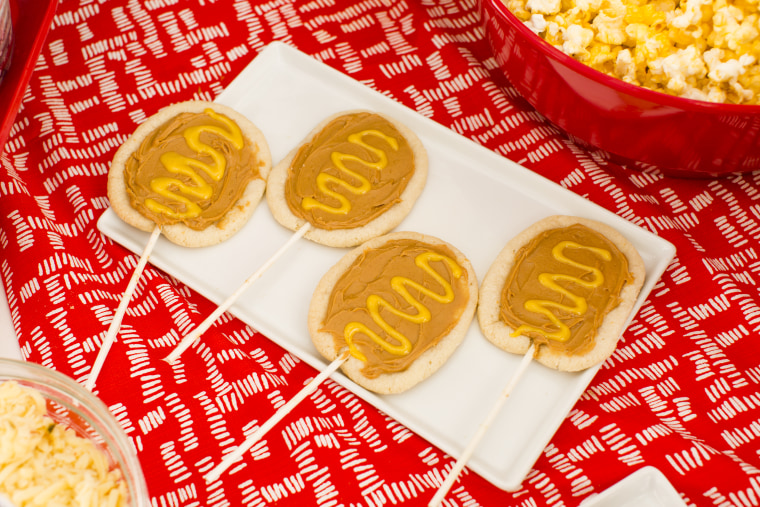 It's not a party unless there's dessert, and these cute corn dog cookies add some variety to the dessert table. Just bake sugar cookies and add a bamboo stick before they go in the oven. Then frost with peanut butter and a swirl of yellow frosting.
Popsicle garland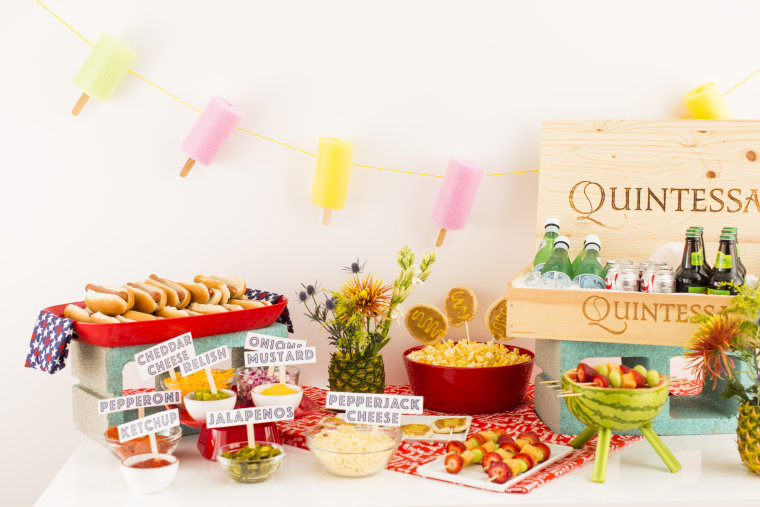 Now that we've covered the food, let's talk décor. I suggest making this fun Popsicle garland using another summertime staple: pool noodles! Cut up a used pool noodle into 5-inch portions. Attach Popsicle sticks to each noodle using hot glue, then hang your "popsicles" on a string that you can hang as garland.
Pineapple vase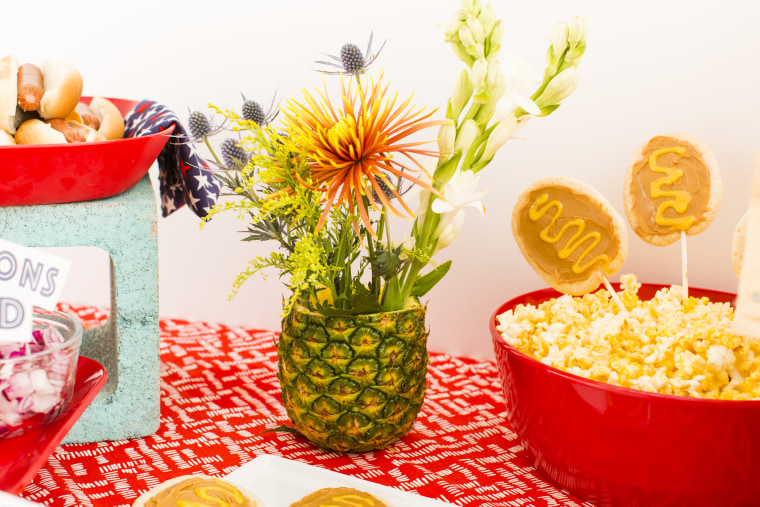 Flowers add a welcoming dose of color to tablescapes, but give yours a tropical flair by using a hollowed-out pineapple as a vase. (And you can add the pineapple to your fruit skewers!)
DIY cooler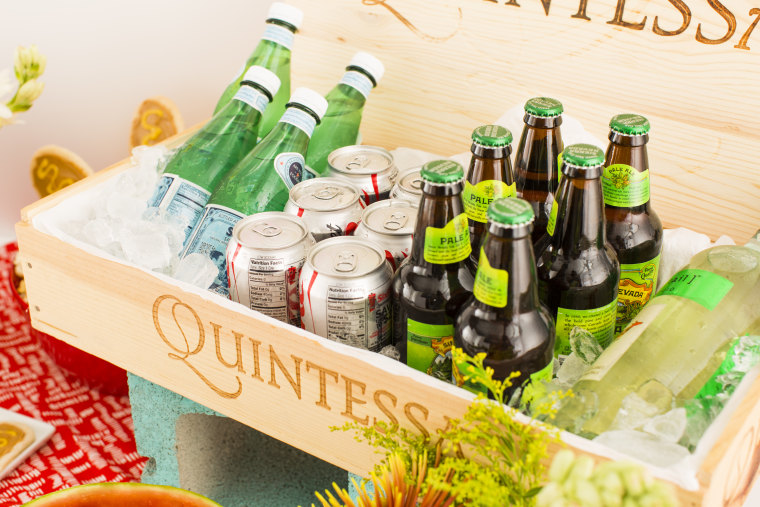 A top priority for any summer party is the drinks, so let's make sure those are in good shape. Instead of sticking a massive cooler on your tabletop, re-purpose a wine box as one. Just add ice!
Floating pool cooler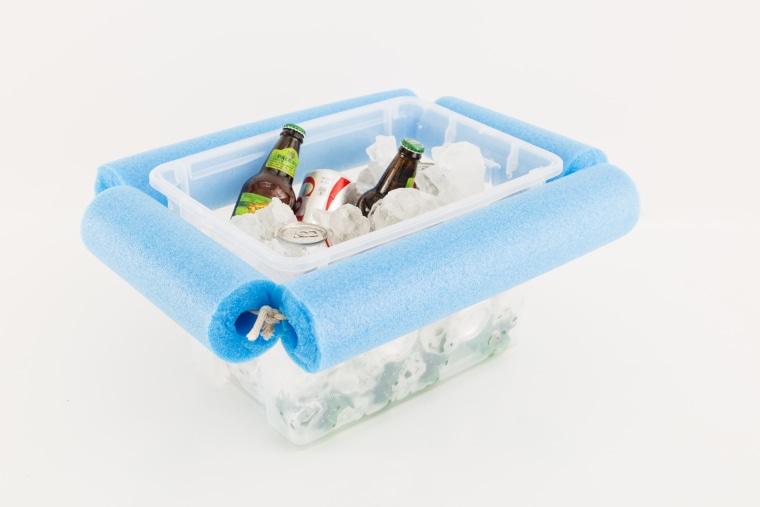 If you want to take those drinks in the pool, you can do so with this floating pool cooler. String pool noodles onto twine and tie it around the exterior of a plastic container. It'll float alongside you as you relax in the pool.
Lawn dominoes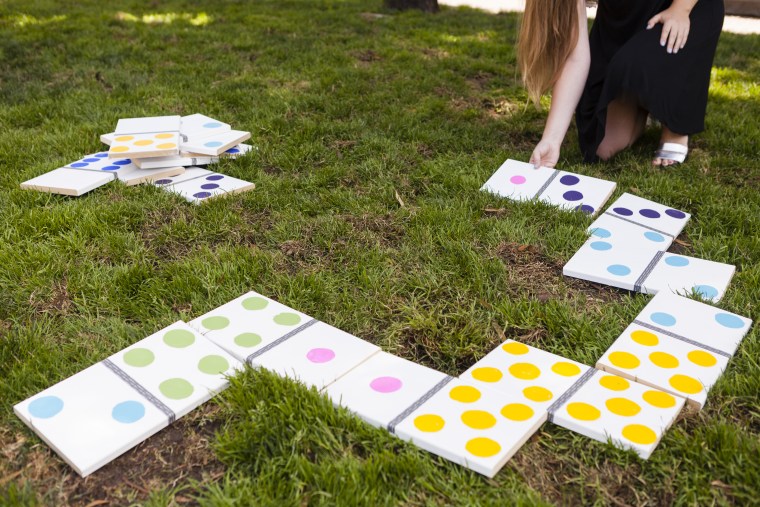 Dominoes aren't only an indoor game! Make these giant versions for guests to play with on the lawn. Take three 10-foot 1-inch by-4-inch pieces of wood and cut each piece into 7-inch rectangles. Paint them, add some dots and you're ready to roll.
Scrabble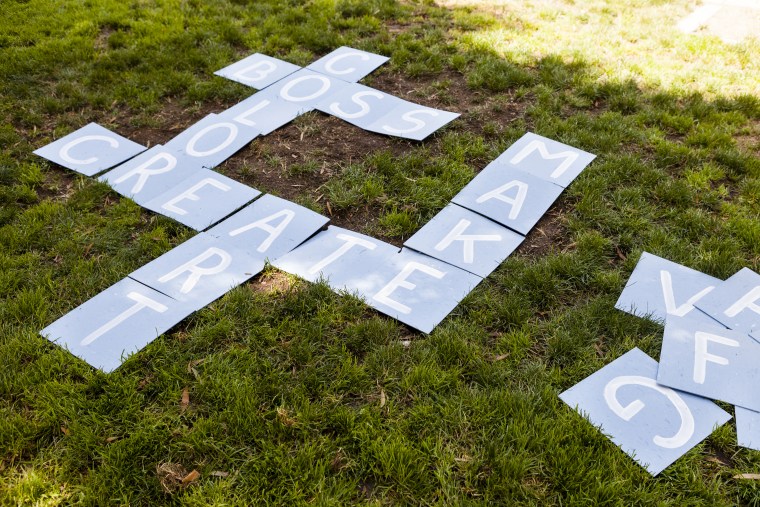 Take your favorite word game off the board and onto the lawn with this edition of Scrabble. Use old linoleum flooring to create giant Scrabble pieces — just make sure you add the right number to each letter. We take Scrabble scores seriously!