Say what you want about the Jolie-Pitt family, but one thing is true: They are movers in every sense of the word. Remarkably nomadic in their international house hopping, the family has inhabited multiple, lush properties all across the globe. While so different in style and personality, these properties all have one common thread: they're beautiful, spacious and perfectly outfitted for Hollywood royalty. Here are just a few of the amazing properties they've called home over the years:
RELATED: Angelina Jolie files for divorce from Brad Pitt
Modern day digs: London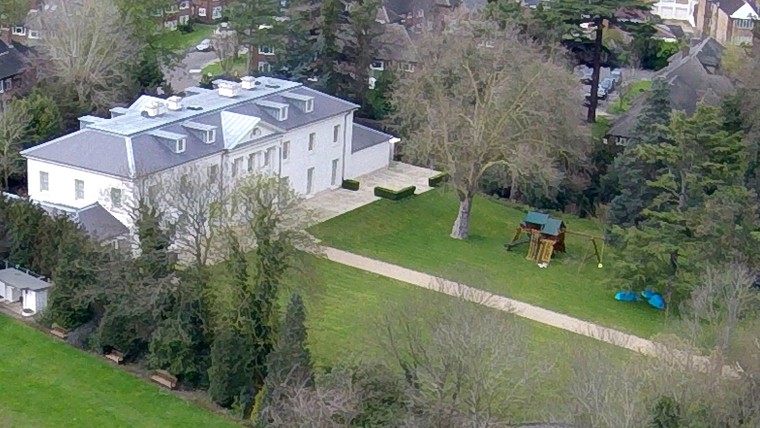 Currently, the Jolie-Pitt clan is reportedly living large along the River Thames in an eight-bedroom, $21,000-a-month (or £14,700-per-month) rental in Surrey which includes an indoor pool and gym. They moved in at the end of February so that Pitt could finish his role in zombie blockbuster World War Z.
Life in the Big Easy: A French Quarter Mansion in New Orleans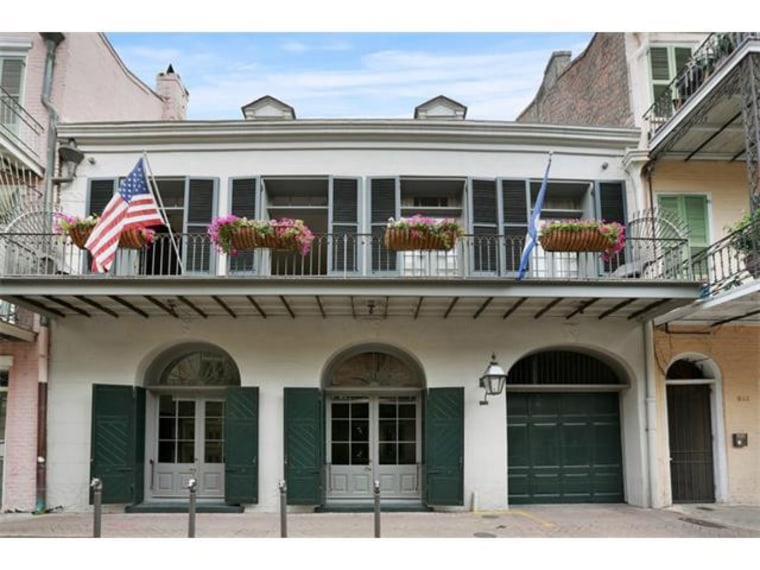 While they recently listed their stunning Big Easy dwelling this past May, Brad and Angelina made ears buzz when they purchased the renovated mansion back in 2006. It was originally listed for $6.5 million, but the price was slashed to $5.65 last December. The property is now off the market.
The 1830s home spans 7,000-square-feet and features five bedrooms, five bathrooms and all the architectural grandeur you'd expect from a New Orleans stunner: Venetian plastered walls, marble mantles and fireplaces, floor-to-ceiling windows, crown moldings and a grand spiral staircase. It also features an elevator and two-story guesthouse for visitors.
RELATED: Brad Pitt and Angelina Jolie list their New Orleans home
Bonjour! Life at Chateau Miraval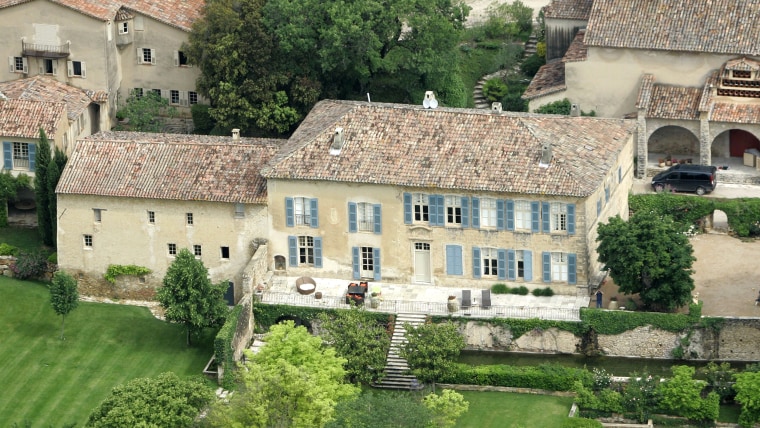 When not globe trotting around the world, there was a period of time where the Jolie-Pitts could be found living in the Provence region of France. Since 2008, the couple, along with their six children, have called Chataeu Miraval home. However, it wasn't until 2012 that the Hollywood powerhouse purchased the 35-room estate for $60 million, according to PEOPLE.
Over the years, the Jolie-Pitts have been hard at work updating the property to include everything from multiple swimming pools to a movie theater to a helicopter pad. If you think the home looks familiar that's because it was the location of their 2014 nuptials.
RELATED: First photos of Angelina Jolie and Brad Pitt's wedding emerge
Hollywood headquarters: Living in Los Feliz, California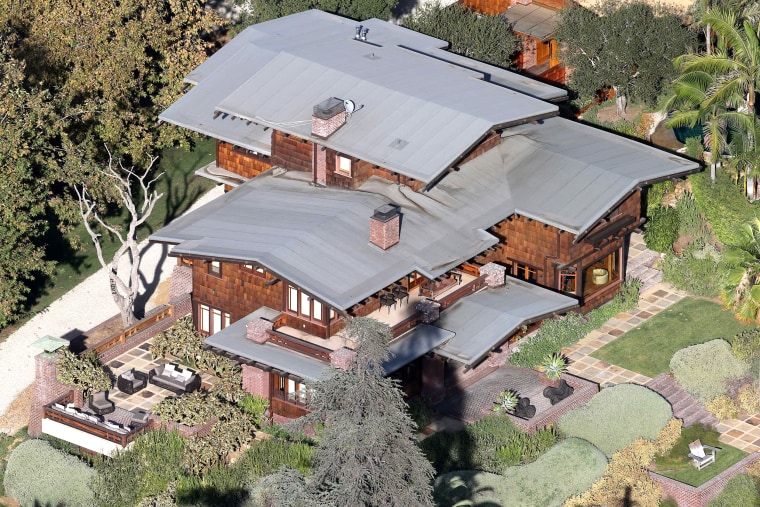 When in Hollywood, the family has their HQ in the 'hood of Los Feliz, close to the popular Griffith Park and Observatory and downtown Hollywood. Pitt purchased the traditional Craftsman house in 1994, and reportedly purchased adjacent properties to expand their privacy and create more play space for the children.
RELATED: Angelina Jolie, Brad Pitt divorce news breaks internet's heart, sparks flood of memes
Spanish Escape: Paradise found in Majorca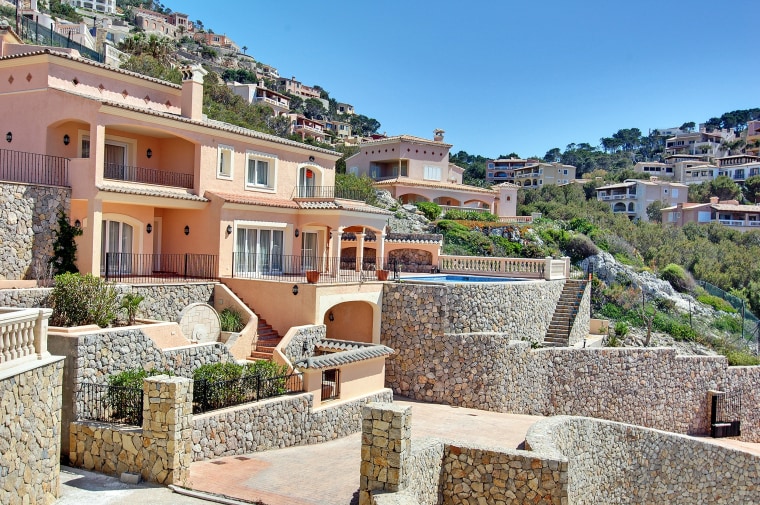 With the Jolie-Pitts spending more and more time in Europe, it might come as no surprise that they were also expanding their roots abroad.
In June, the couple paid a cool $2.65 million Euros for a luxurious villa on the Spanish island of Majorca where Pitt has filmed scenes for his upcoming movie "Allied." The eight-bedroom home includes a swimming pool overlooking the Balearic Sea, making it perfect for much needed R&R after filming. Plus it's just a short flight from England.
RELATED: Angelina Jolie and Brad Pitt's very best quotes on love and family
Before Brad: Angelina's childhood home in upstate New York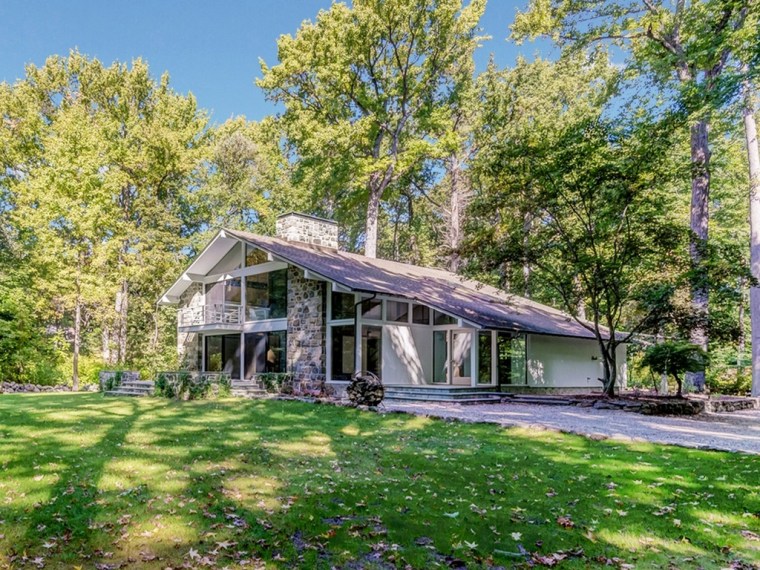 Prior to landing in Hollywood, Jolie spent part of her childhood in Palisades, New York – a charming enclave just 25 minutes from NYC – in a mid-century modern inspired beauty called The Whitney House. It's currently on the market for $1.895 million.
RELATED: Angelina Jolie's childhood home hits the market — see inside
Set on a secluded 2 acres, this 4,000-square-foot family dwelling boasts a high-pitched gable roof featuring overhanging eaves and exposed redwood roof beams throughout. The home features four bedrooms and 3 and a half baths. Inside, a 30-foot ceiling delivers warmth from above, and gorgeous natural stonework on the walls and floors add textural layers to the space. The realty agency representing the property suggests that the backyard is wide enough for a tennis court, swimming pool, or garage.
Bachelor Pad: Brad's Malibu home from his single days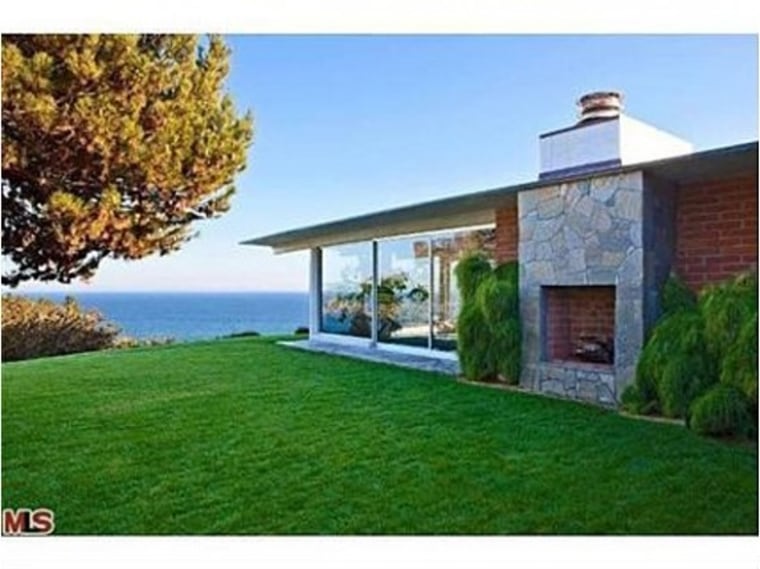 The actor purchased this mid-century modern ocean-front pad for $8.41 million after divorcing Jennifer Aniston in 2005, according to Zillow.
Besides the incredible views, the home includes a tennis court, swimming pool and beach access. It's said that Pitt kept himself busy during his single days by renovating the home, which Ellen DeGeneres ended buying from him in 2011.