The stars of HGTV's hit show "Fixer Upper" have opened their homes and their lives to millions of fans. Today, Chip and Joanna Gaines share even more of their life together — in front of and behind the cameras — with the release of their joint memoir, "The Magnolia Story."
We got our hands on an excerpt from the book, which recounts the details of their first date.
The Magnolia Story, $13, Amazon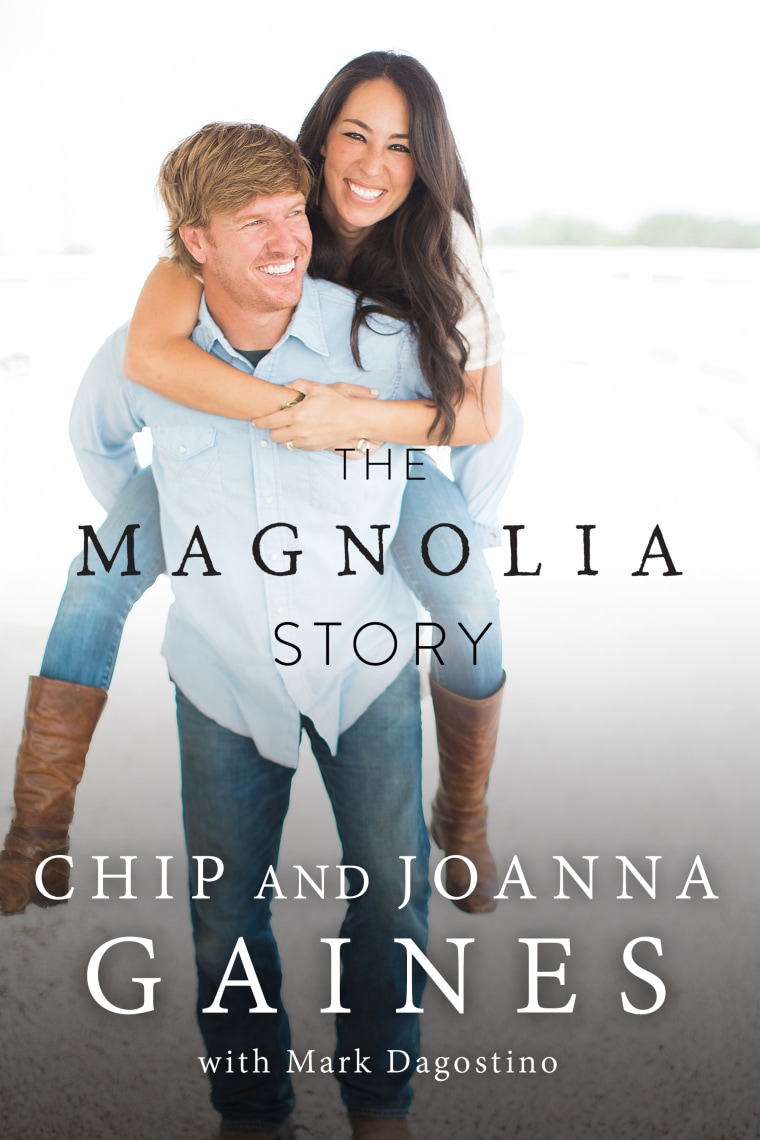 RELATED: At Home with TODAY: 'Fixer Upper' Joanna Gaines shares her 2 most favorite spots
Clearly, Chip remembers things differently from Joanna. Read all about it here:
When the night of our big date came, I was giddy and a bit anxious. I got ready at my sister's apartment. She and her roommates, Sarah and Katiegh, were all there for moral support, and Chip was supposed to pick me up at six. Six rolls around. No Chip. Then six thirty — still no Chip. I thought, Well, maybe he thought the date was at seven, so I gave him the benefit of the doubt. But when seven came and went, I was officially done.
Finally, at seven thirty, a full ninety minutes late, he knocked at the door. "Don't even answer it," I whispered to my friends. "I don't want to go anywhere with this idiot."
"But we want to see what he looks like!" they said, and so one of them finally opened the door while I hung back out of sight.
"Well, hello, ladies," Chip said as he pushed his way into the apartment. I could tell that he charmed every one of them in about two seconds flat. I finally decided to step out and at least take a look at him. He was not like I remembered at all. This guy had no hair. I'd imagined he had hair under the baseball cap, but nope. Just stubble. And his face was weathered and flushed red, like he'd been working outside in the hot sun all day long. He was wearing a reddish-toned leather jacket, too, and I thought, Is this red guy even the same guy I was talking to at the shop? It turned out that Chip had shaved his head to support a friend of his who was battling cancer.
A bunch of us shaved our heads for a good friend of mine. It was growing back, but it was just about a buzz cut at that point.
I still don't remember what he said that convinced me to walk out the door with him. He didn't even have a plan for our date. He said, "So, Joanna, where do you want to go eat?" He didn't apologize for being late, either. He had so much confidence. I don't know. I can't explain it. Only Chip could be an hour and a half late and have no one mad about it.
I wasn't an hour and a half late. She's making that up. I was, like, twenty minutes late.
Chip was an hour and a half late to everything. If I'd known that then, maybe I wouldn't have taken it personally.
Read more about Chip and Joanna's first dates and second chances in "The Magnolia Story."