Thinking about purchasing a new car? You might want to think twice about the color you pick as it can give insight into your personality. While back is said to be a power color, dark blue exudes confidences and gray screams practicality.
Take a look at the list below to see which color best matches your personality.
Black: Powerful, classic, elegant
It's the ultimate power color. "So it's a person who is not easily manipulated," says color consultant and trend forecaster Leatrice Eiseman."They love elegance and appreciate that which is classic. And they're usually this way in everything else that they choose. This is a person who probably wears a lot of black in their wardrobe because that color really speaks to empowerment."
Best car in this color: Jaguar XJL
White: Pure, pristine, direct
White car owners are hard to please. "There's a degree of fastidiousness," says Eiseman. "These are people who generally like things to be very pure and pristine and clear and direct. There's nothing you can hide under the color white." The woman who chooses a white ride is more likely to keep her car super clean. And she lives the rest of her life this way, too.
Best car in this color: Ford Escape in Oxford White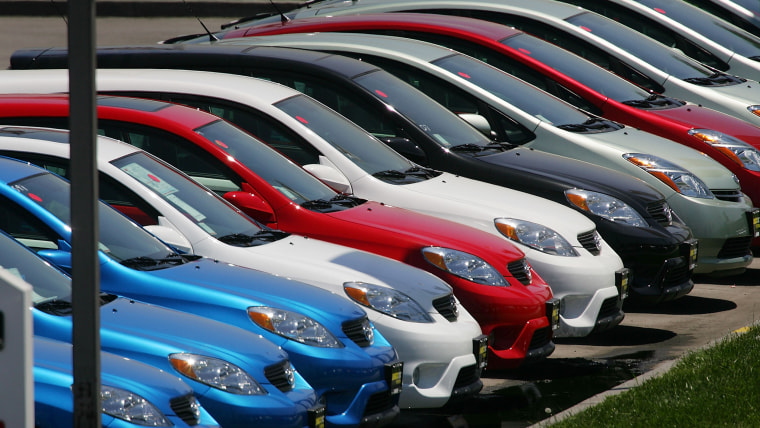 RELATED: 4 ways to add paint to your home this year
Pearl: Glamorous, exciting, sophisticated
Not to be mistaken with white, pearl adds some glamour to your game. "We're not talking about a white matte finish," Eiseman explains. "There's something chic going on here, even a little excitement. Because whenever you add a metallic surface, you're giving it a jewel-like quality and a subtle kind of drama."
Best car in this color: Lexus RX in Starfire Pearl
Silver: Futuristic, prestigious, elegant
Those behind the wheel of a silver whip have several things going for them. "Silver has a rather cool, futuristic connotation, yet with a dash of preciousness," says Eiseman. "Because anything that's a true metallic - like silver or gold - there is this perception that it's worth more. So this is not the kind of person who would be satisfied with gray. They would have to have that metallic finish because they want it to look more prestigious. This is the kind of personality that appreciates elegance with a bit of flash."
Best car in this color: Nissan Altima in Brilliant Silver
Red: Sensual, dynamic, outgoing
There are two different kinds of reds: vibrant and deep-blue. Both express the same traits. But those who go vibrant are bolder. "There's definitely an element of sensuality that goes with red," Eiseman says. "There's that dynamic quality and high energy. They like to be seen as someone who really stands out and they like to call attention to themselves. They don't shy away from it. It's definitely an outgoing individual."
Those who ride around in a deeper bluish-red (wine or maroon) have the same inclinations, but are more subtle. "They want to be perceived the same way as the red but they're far less obvious about it," Eiseman explains. "It's not in your face. It's underlying. You have to look a little deeper to find the true meaning of who they are."
Best car in this color: Ferrari California
Gray: Neutral, sober, practical
What you see is what you get with the straight-forward owners of gray cars. "It's a color that is obviously very neutral," says Eiseman. "So it's really rather sober. The person who chooses it is usually very practical, very pragmatic. They're people who make lists and talk things out."
RELATED: Need more energy? Try painting your room these colors
Best car in this color: VW Tiguan in Pepper Gray Metallic
Light-mid blue: Calm, faithful, true; Dark blue: Confident, credible, authoritative
It's probably safe to trust the driver of a blue car, no matter what the shade, though there is a distinct different between light and dark hues.
"Light-to-mid blue is always considered cool to the touch, cool to the eye," says Eiseman. "Those who drive this shade like the coldness of it in the metal. And they're the kind of people who have a calm demeanor to the point of really being unshakable. They're very faithful. This is the kind of person that if it's your friend, they're going to be your friend forever."
And "NYPD Blue" wasn't just a show title. "The dark blues are much more confident," Eiseman says. "The drivers like being credible, an authority figure."
Best car in this color: Scion iQ in Pacific Blue Metallic
Orange: Artistic, individual, complex
An orange car screams unique. "It's one of the most interesting colors because people who choose orange are usually very artistic, creative, original," says Eiseman. "And they're very individualistically charming. There's a certain complexity to this kind of personality as well."
Best car in this color:Toyota Prius C in Habanero
Brown: Powerful, unique; Beige: Natural, down-to-earth
Cars in these colors have multiple meanings. "It used to be that a brown or beige car meant a no-nonsense down-to-earth person because those colors were most associated with common sense," explains Eiseman. "However, in the last 15 years, there's been some new connotation in brown because of its association with rich chocolate and coffee browns."
RELATED: The best bedroom color for a good night's sleep is...
The new browns are complex. They can mean the driver is down to earth, or she is someone who craves the same elegance, power and high style that black carries but wants to come across as more unique. "It's a more glamorous take on a neutral dark color," says Eiseman. "And that's because of the connotation of coffee and chocolate."
Beige, like brown, is also a no-nonsense color. But it doesn't have the strength of the darker shade. "It's really very down to earth," says Eiseman. "Natural is the key word."
Best car in this color: Volkswagen Jetta in Toffee Brown Metallic
Yellow: Joyful, sense of humor
Expect the owner of a yellow car to be young at heart. "They have a sunny disposition," shares Eiseman. "A person who chooses yellow really knows that they're going to be noticed and they usually have a great sense of humor."
Best car in this color: Chevrolet Camaro
Dark green: Well-Balanced, trustworthy, traditional; Light green: Organic, no-fuss, understated
Someone seated in a green ride usually leads a well-balanced life. "Green is the most-balanced color in nature," says Eiseman "The deeper the green, the more trustworthy, and also the more traditional. Unless it's a year where teal is big - and that lasts for a few years and then goes away. But I'm talking about Jaguar green. That was a classic color and that feeling of traditional still hangs on with that particular green." Anyone opting for a lighter, yellowish green has a connection to nature. "So you've got a person who likes to be thought of as no fuss, very simple and understated," says Eiseman. "There's nothing artificial about it."
RELATED: The top 2 paint colors for creating a relaxed vibe at home
Best car in this color: Dodge Dart in Citrus Peel Pearl
Gold: Warm, intelligent, glamorous
Gold is considered the most precious of all materials. "There is an implied warmth," Eiseman explains. "But there's also a certain kind of intelligence attached. And those who fancy gold also love comfort and will pay for it. It's an attention getter, but a very glamorous one."
Best car in this color: Toyota Sienna in Sandy Beach Metallic
A version of this story originally appeared on iVillage.
This article was originally published Oct. 28, 2013 on TODAY.com