It's 10,000 square feet and has its own basketball court and nightclub … no, it's not an NBA player's mansion (good guess, though). It's the world's biggest bounce house, and it's coming to a city near you!
The Big Bounce America is a giant, candy-colored structure that's a kid's dream come true — but adults are welcome, too.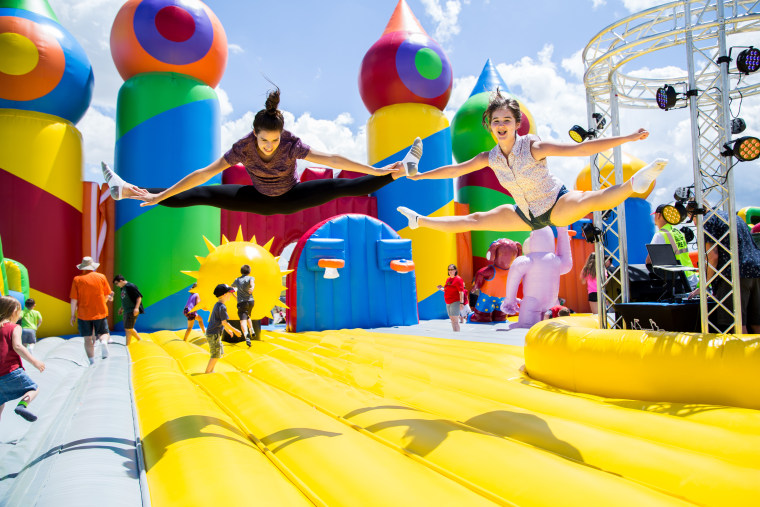 Co-founder Cameron Craig told TODAY Home that he and his partner, Grahame Ferguson, came up with the idea when they were producing an event at a music festival in the U.K.
"There was a children's play area on the side, and it had your usual bounce house," he said. "When the sun started to set and the children went to bed, we had a few beers and played on it."
It was so much fun that they dreamed of a bounce house big enough for adults or the whole family.
"Because of our background in entertainment, instead of just having a standard bounce house, we thought, 'Let's put (in) a basketball court and a ball pit,'" he said.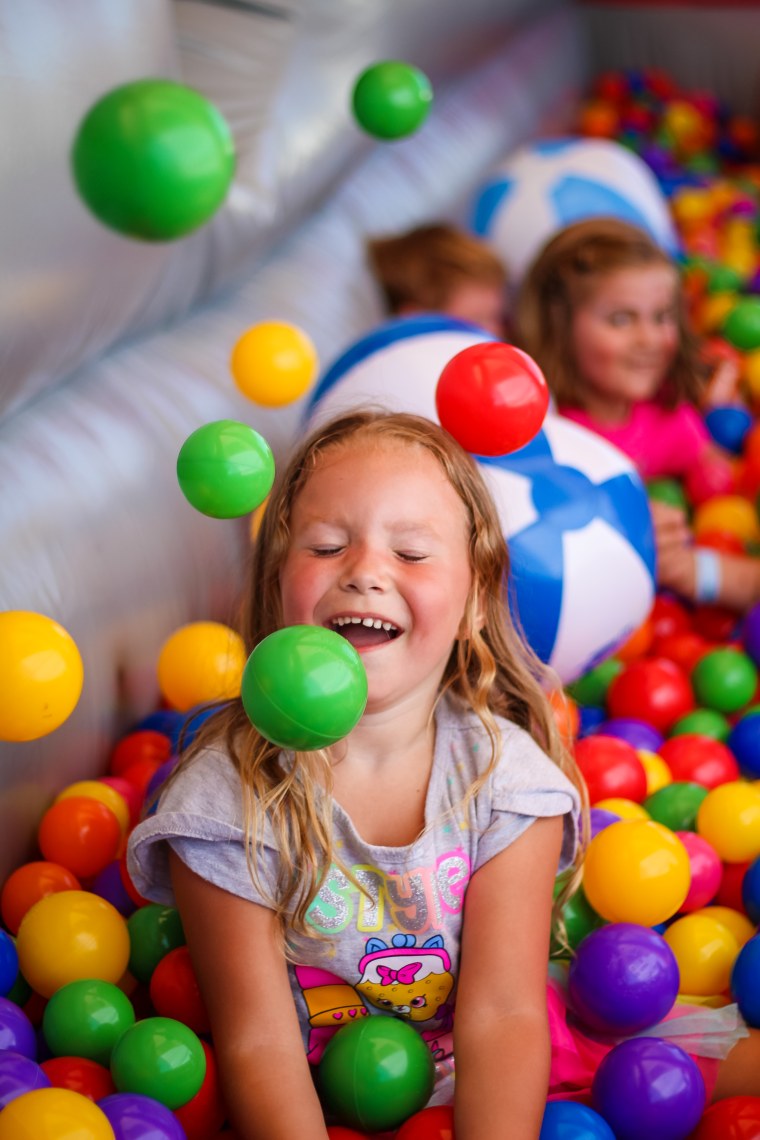 And they wanted to go big, so they set out to make the world's largest one — which they accomplished. The Big Bounce America holds the title for the Guinness World Record and has a legal capacity for up to 200 people on it at a time (although they limit it to 180 at events.)
While a typical bounce house uses one blower to inflate, this one requires 28.
It should come as no surprise that it also took more than 18 months to plan and build. They worked with their creative team to design it and a company outside of Cleveland, Ohio, made it come to life. Craig said that during the process, someone at one of the bounce house building companies they submitted it to said it couldn't be done. "We sure proved them wrong," he said with a laugh.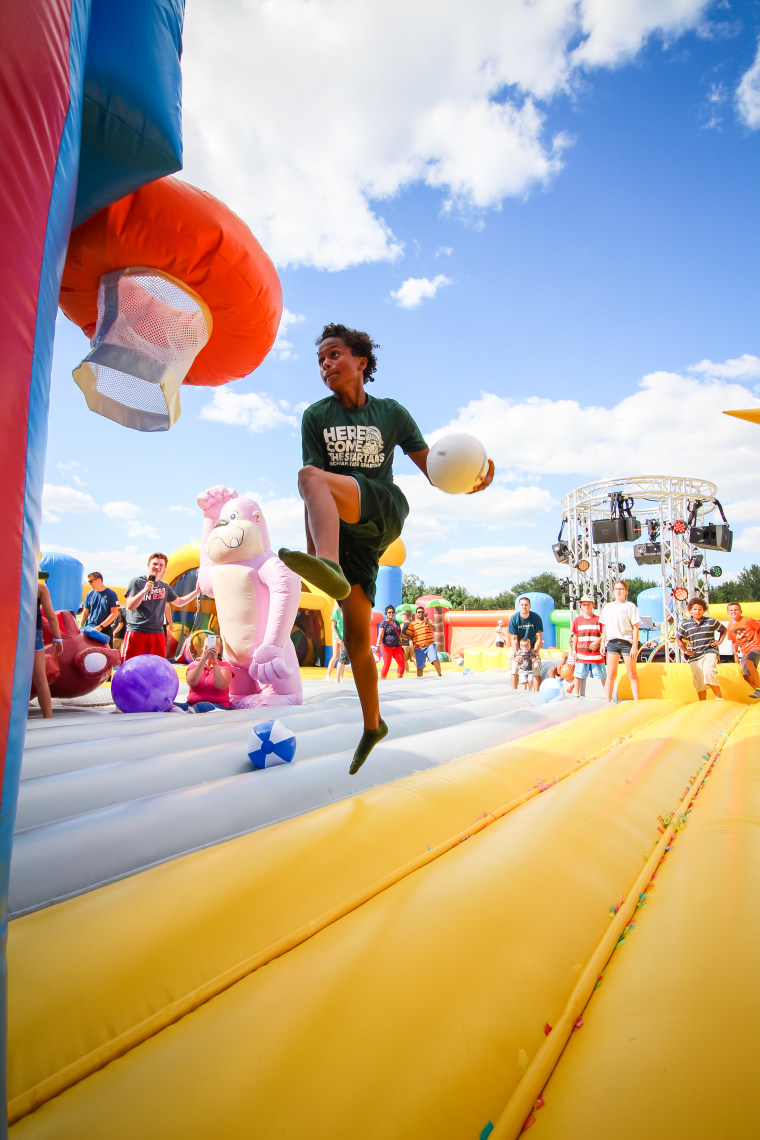 The bounce house is shaped like a castle on the outside and features an open square layout on the inside with different sections of activities.
There's an obstacle course, where you can compete against your friends, and a basketball court, where you can get some major air. You can slide down the giant slide into the ball pit or just jump around with the inflatable beach balls.
There's even a DJ spinning tunes and blasting confetti in the middle. And since you're already not wearing shoes (they're not allowed on the inflatable structure), imagine how comfortable your feet will be for the dance party!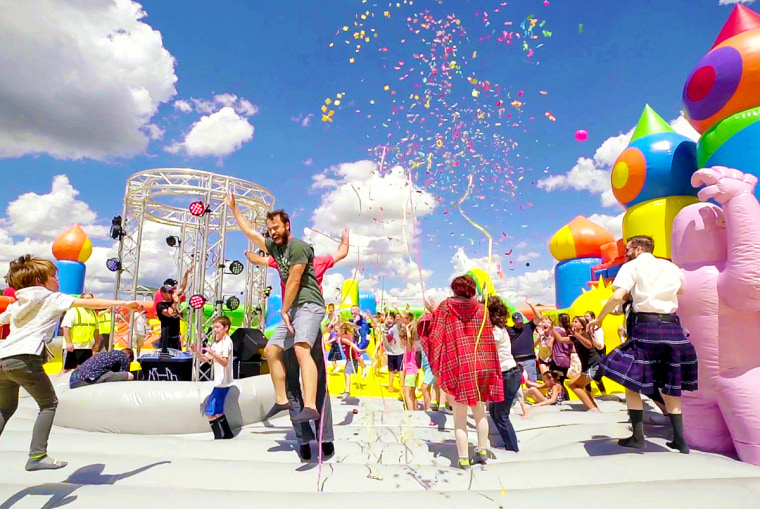 If you need to catch your breath during one of the hour-long bounce sessions (which are grouped by age), you can take a rest at one of the inflatable chill-out areas that have oversized sofas, palm trees and boats.
And, yes, you can even take a selfie with the inflatable animals and characters that are hanging out too. Cameras and phones are allowed inside, but you might want to hold on to them tight.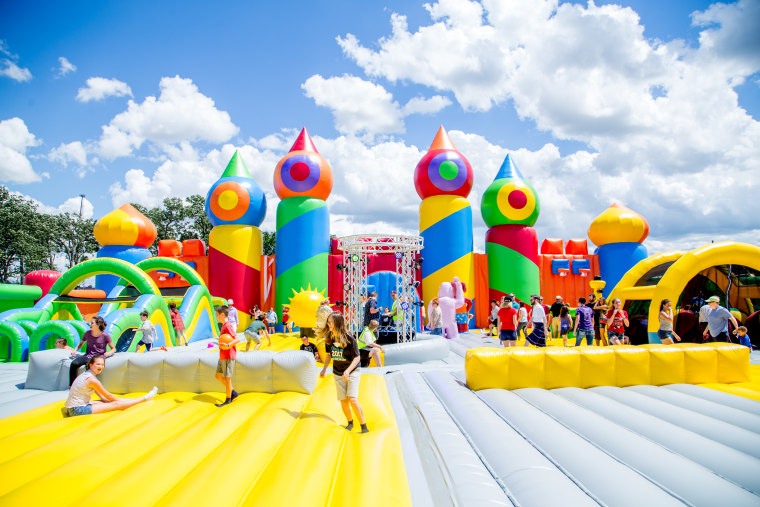 Once you're done with the main bounce house, you can check out the Bounce Village, which has additional bounce structures, including a four-piece inflatable obstacle course called the "Ninja Run," giant ball pit, slide and separate bounce house for smaller kids.
Are you jumping for joy at the thought of this cool attraction? The structure will be making its way around the country, stopping at 59 major cities through November 2018. (Though you might want to get your tickets soon since last year's inaugural tour sold out in all 15 cities it visited!
Check out The Big Bounce America website to see if the giant bounce house will be stopping by your city this year.