Look out! Flying beach umbrellas are once again threatening to ruin beachgoers' fun in the sun.
In the latest case, a toddler narrowly missed being struck by a flying umbrella on a South Carolina beach last week.
Ashton Duggan was recording her 1-year-old son, Henry, playing in the sand at Myrtle Beach when a gust of wind sent a large blue umbrella flying, local WFLA-TV reported.
The boy moved out of the way, just missing the umbrella's spiked tip. He wasn't injured.
Duggan shared the video to encourage people to make sure their umbrellas are properly secured.
Every summer, umbrellas injuring people is a big problem. According to the Consumer Product Safety Commission, about 3,000 people each year are rushed to emergency rooms for injuries involving umbrellas.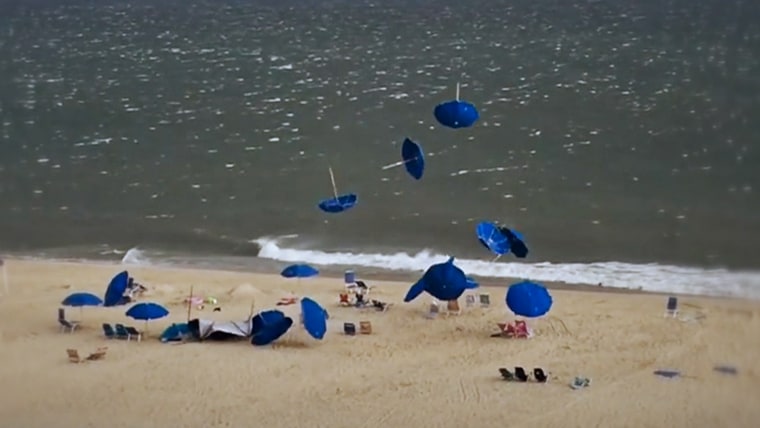 Last year, TODAY's consumer investigations team visited the Insurance Institute for Business & Home Safety in South Carolina to demonstrate how even modest winds can enable these umbrellas to come loose.
We also spoke with several lifeguards and industry experts to demonstrate a few ways you can avoid having your seaside vacation turned into a big beach bummer.
Here's the best way to properly secure a beach umbrella:
Take your umbrella and bury it in the sand by using a rocking back and forth motion. DON'T just stab it into the sand. The rocking motion is key; plus, you should always make sure to read the instructions on your beach umbrella. A good rule of thumb is to bury the umbrella post at least 1/3 of the way down in the sand.
Once it's sufficiently buried into the sand, open the umbrella and tilt into the wind so the wind pushes the umbrella into the sand, instead of lifting it out. Keep in mind that the direction of the wind will change throughout the day, so make sure to change the tilt of your umbrella as well.
Finally, we found a gadget that can give you an extra layer of protection — a sand anchor. Just put your umbrella into the holder, and it will keep it from moving back and forth in the wind.
Beachr Beach Umbrella Sand Anchor, $20, Amazon
From close to 600 reviews, the Beachr anchor has received a 4.3-star rating, and many reviewers highlighted its ease of use. It's designed to withstand up to 50 mph winds, according to the company, and the sturdy plastic won't rust when exposed to salt and sand.