If owning a home is high on your bucket list, you might want to think twice before jetting off to too many destination bachelor or bachelorette parties.
We know, you've already been told that giving up avocado toast and coffee will set you on the path toward saving for your dream home. But a study from real estate website Zillow shines a light on the money going toward lavish pre-wedding bashes instead of the savings account.
The study found that attending nine destination bachelorette parties in your lifetime can set you back upwards of $13,788. In other words, you could spend up to 35 percent of a down payment on a median-price home (in certain areas of the country) celebrating a friend's nuptials.
Zillow pulled statistics from wedding website The Knot's 2016 Wedding Guest Study, which estimated at the time that a destination bachelor party averaged $1,532 and $1,106 for a bachelorette party. Fast forward to 2018 and experts at The Knot have actually seen a decrease in the cost, but an increase in the number of people attending them.
"According to our most recent study of wedding guests and wedding party members — The Knot 2018 Wedding Guest Study — members of the wedding party spend, on average, $584 attending each bachelor or bachelorette party. This price includes their costs to travel, accommodations and gifts," Kristen Maxwell Cooper, The Knot editor in chief, told TODAY Home. "Additionally, our study found that members of the wedding party aren't the only ones attending bachelor and bachelorette parties — in fact, one in four guests who aren't part of the wedding party are also attending these pre-wedding parties."
In the age of "The Hangover" and "Bridesmaids," over-the-top destination bachelor/bachelorette parties are becoming a common reality, and while they're a total blast, they're not exactly easy on your wallet.
"Today's couples are all about experiences, so it's no surprise many brides and grooms-to-be (or their maids of honor and best men) are planning unforgettable trips for their pre-wedding getaways," Maxwell Cooper said. "As with their weddings, couples want their individual pre-wedding celebrations to be as unique as they are and a reflection of their interests and personalities, which can sometimes result in pricey bachelor and bachelorette parties."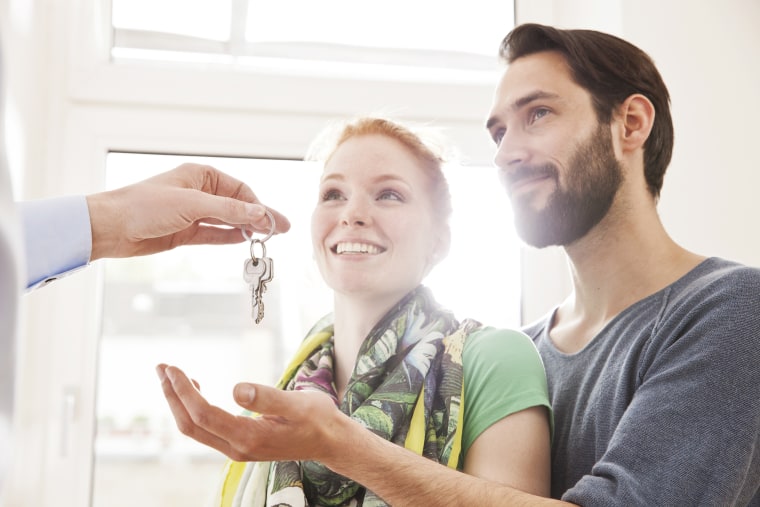 Dropping a thousand bucks on a bachelorette party trip here and there might not sound like a lot in the heat of the moment. But when it all adds up, travel expenses can definitely slow your savings momentum.
Naturally, other powers-that-be are also making it more difficult for millenials (and others) to afford a home.
"Millennials still want to buy homes just like any other generation, but they have to deal with obstacles like crushing student debt, sky-high rents and slower income growth," said Seattle-based Redfin agent Shoshana Godwin.
The rising price in homes and a lack of affordable houses can also make it harder to afford a down payment.
"Home values have risen significantly over the past year — up 8.3 percent from June 2017 to June 2018. Saving for a down payment may feel increasingly difficult for first-time buyers," a Zillow spokesperson told TODAY Home.
If you take all monetary considerations off the table, younger people still are often at a disadvantage in the housing market.
"Looking by age, we've seen sales to younger buyers slip in 2018 while sales to buyers over 55 have trended slightly higher," Danielle Hale, chief economist for realtor.com. "Realtor.com survey data shows that in today's competitive housing market, older buyers, who tend to have more experience and more built-up home equity, are breezing through the competition while younger buyers are having to adjust, Danielle Hale, chief economist for realtor.com, said. "In fact, 77 percent of home buyers under age 35 reported making some change to their search as a result of higher home costs."
Editor's note: This story and headline were updated on July 30, 2018, to clarify Zillow's 2017 study stating how spending on things like bachelor and bachelorette parties have the potential to impact those saving for a home downpayment.