It would be an unlikely sight anywhere, let alone in the English countryside. But nestled among rural homes with manicured gardens is a mansion covered entirely in cartoon-like doodles.
Nothing is spared. Everything outside and inside the house is covered in black-and-white squiggles, a riot of video-game and comic-book inspired cutesy characters. The sofa, the stove, the fridge, the television and even the car parked outside have all been painted on. 
The six-bedroom property in England's Kent County is home to Sam Cox, 28, an artist who goes by the moniker "Mr. Doodle." 
Cox told NBC News during a visit to his mansion Wednesday that after doodling over his bedroom at his parents' house when he was 15, he knew he wanted "to live in a completely doodled environment.   
"So my dream was to have a doodle house and doodle over everything within that house," he said, adding that he funded his current home through sales of his increasingly popular doodle art.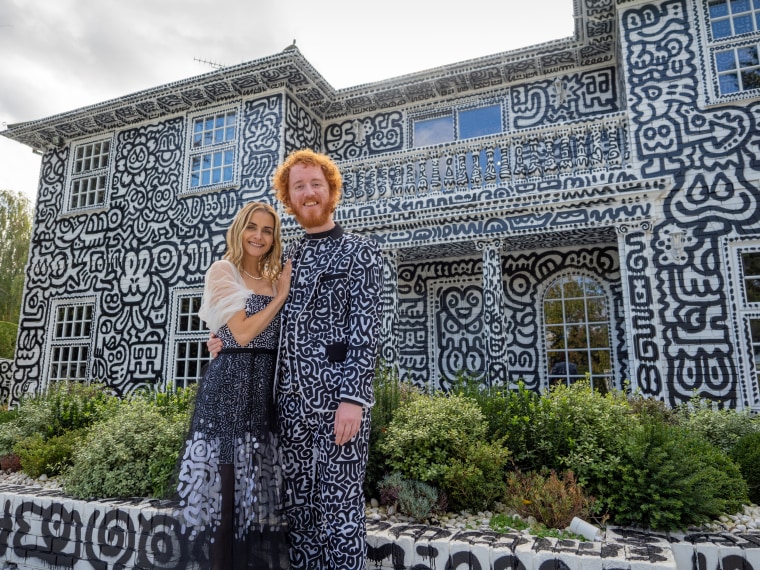 Cox, whose soft-spoken demeanor belies his wild red hair and bespoke black-and-white suit — covered in doodles, of course — has previously said that he once bartered his artwork for food as a student. 
His career took off in 2017 after videos of him spooling out doodles using thick black paint in a seemingly never-ending stream of consciousness went viral, netting him 2.7 million followers on Instagram. 
Today his pieces sell for tens of thousands of dollars and feature in promotional tie-ups with major brands such as Puma, Fendi and Samsung. Crowds quickly form when he works in public.
Cox said his playful works were often compared with those of the late U.S. artist Keith Haring, whom Cox called "an amazing, great artist."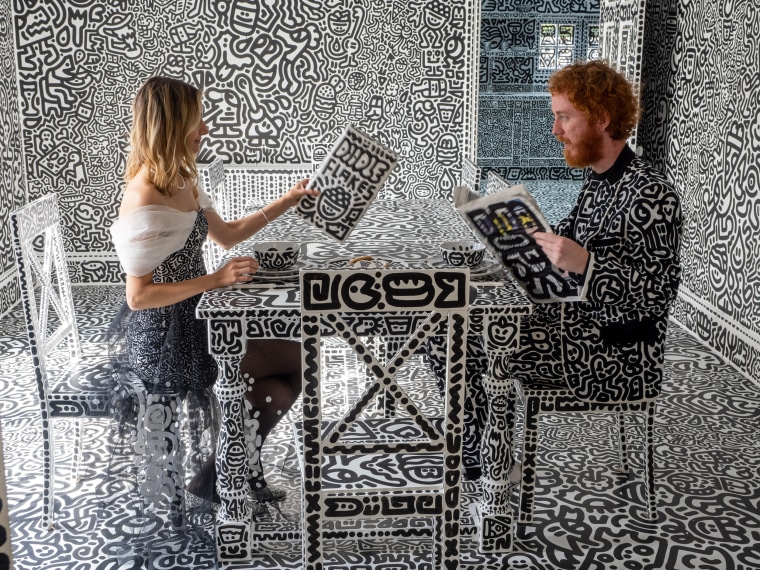 He said that plenty of other street and graffiti artists had also influenced him along the way, "as well as cartoons and video games that I played as a kid. 
"None of it's ever sketched or anything like that because I find that when I add a sketch or pencil out something, it just kills the flow of the organic nature of a doodle," he said 
Cox, who frequently showcases his work in time-lapse videos spread across walls and canvases, refers to his doodling as a "virus."
"When I was young, maybe about 16 years old, I realized that doodling was just kind of taking over my life. … I started drawing on my parents' furniture and everything around me. I wanted my doodles to take over everything," he said. "So I just became obsessed with it in the best way possible. And it's been like a happy obsession ever since really."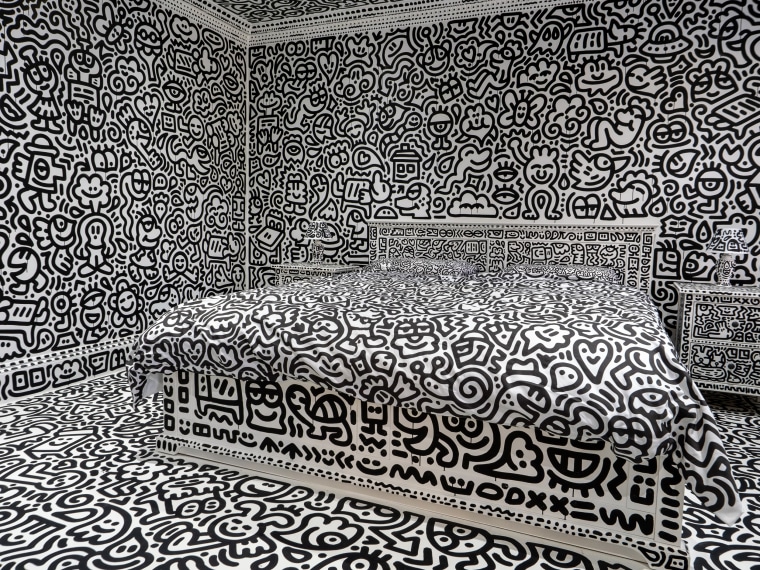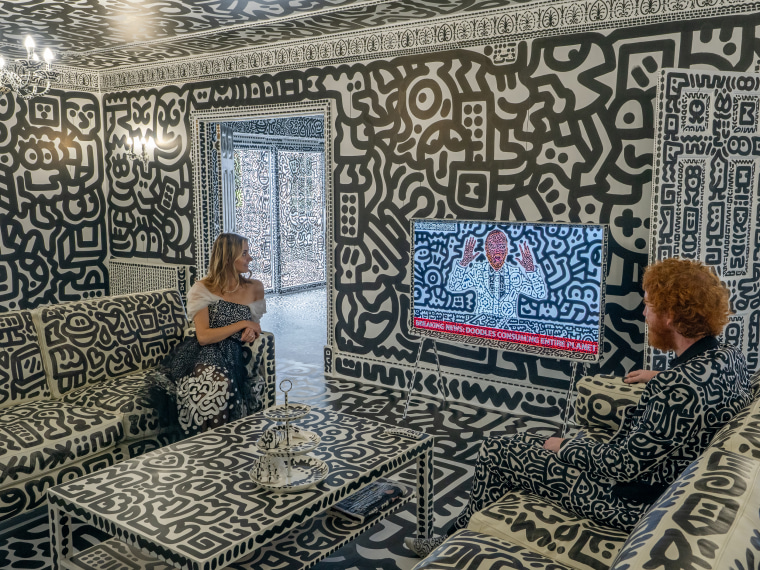 Success, however, took its toll in 2020, when Cox said he was hospitalized for six weeks owing to stress brought on by the administrative side of his work.
"I went through a wave of hallucinations and delusions from thinking that I was speaking to God to being hired to doodle all over Donald Trump's wall," Cox wrote on his Facebook page shortly afterward.
He has since recovered, and now has the support of his Ukrainian-born wife, Alena, 32, who is also an artist. They married last year.
They collaborate on some projects, with Alena introducing color to Cox's hitherto monochrome creations.
"Mrs. Doodle likes to color in my doodles so we sometimes work together on canvases or big pieces of work," Cox said.
"In the future we've got plans for maybe projects on the scale of this," he said, gesturing at the mansion. "We could work together and create a colorful creation, or something new or something different, so watch this space."
This story first appeared on NBCNews.com.