Amazon really knows the way to a home aficionado's heart. After the success of Handmade at Amazon — a one-stop shop for handcrafted goodies — the online retail giant has another trick up its sleeve: a brand-new collection of handmade ceramic dinnerware.
Amazon joined forces with Dorotea Ceramics artist Carolina Silva for the stunning collection, which includes everything from coffee mugs and serving platters to soup bowls and dinner plates, all in a beautiful floral design.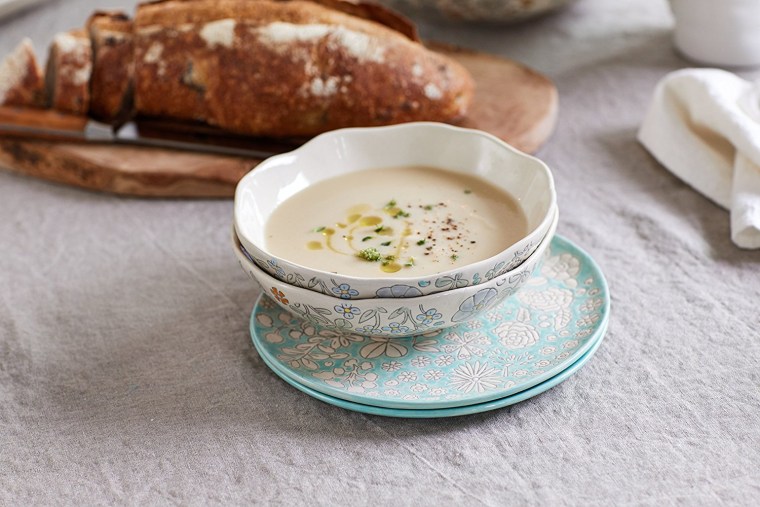 The Spanish-born, Seattle-based artist was inspired by nature while designing the patterns for each piece, and coats each of the items in the collection with a lead-free glaze. That means the ceramics are both pretty and safe!
Amazon shoppers seem to be equally as excited about this launch as we are, because several items in the Dorotea collection are selling out quickly!
Want to scoop up your own Dorotea Ceramics? Check out our favorite items from the collection!
Dorotea Hand Painted Salad Plate
The pretty floral pastels on these dainty salad plates have us dreaming of spring.
Dorotea Hand Painted Small Fruit Bowl
We can definitely envision using this as a fun candy bowl for Easter!
Dorotea Hand Painted Vegetable Serving Bowl
Eating your veggies is a whole lot easier when you've got a gorgeous bowl to serve them in.
Dorotea Hand Painted Mug
Raise a glass and usher in warmer temps with this delicate floral design!
For more affordable home decor, check out this huge Wayfair sale that's happening right now and this article on the best places to buy cheap home decor.