At least once a week, I participate in an elaborate race to make it to work before the clock strikes 9 a.m. — and it's all because I hit snooze a few too many times.
I used to embody a moody teenager in the morning, but not anymore! As part of "The Check Out," a new TODAY video series, I tried a rolling alarm clock and it helped break my snooze-hitting habit.
Clocky, the original alarm clock on wheels, was invented in 2005 but it was all new to me when I unpacked it on a recent Saturday night. I expected that I would need to clear off my entire bedside table to make room for the clock but it was surprisingly pretty petite and the wheels didn't make it bulkier. I was worried it would look too goofy for an adult's room, but the chrome color and sleek design are rather stylish.
Clocky: The Original Alarm Clock on Wheels, $46, Amazon
You can snag a baby blue version for $40.
After years of using my smartphone to wake up, there were a few growing pains when I started using Clocky. The first night, I set the alarm for p.m. instead of a.m. and ended up getting an extra 30 minutes of sleep. Whoops!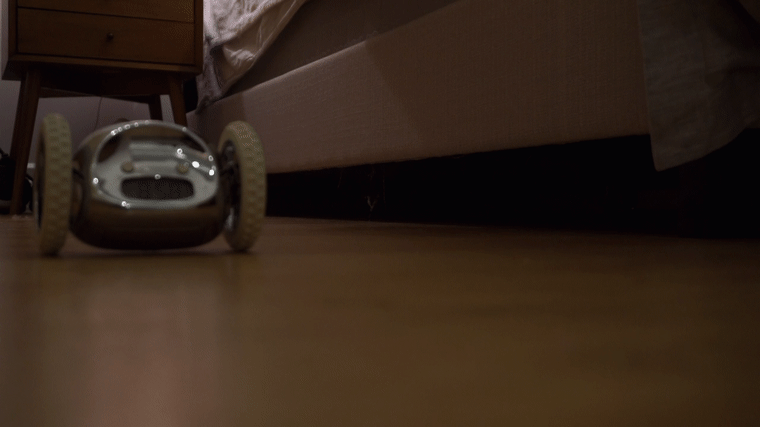 The rest of the week, however, it was smooth sailing. The sound of the alarm is jarring and when it rolled off my bedside table I was startled awake every single time. It sounds scary, but that's kind of the point! The jolt of being dragged from slumber to race around after a clock basically guaranteed that I wouldn't be spending the rest of my morning lounging in bed trying to get a few extra z's.
The clock also includes a setting that allows users to disable the wheels with the click of a button, so you can still enjoy using it even if you're not up for an early morning jog every day.
Clocky does come with a snooze function that can be programmed to ring again between one and nine minutes after the first alarm, but I found the other qualities of the clock were so effective that I didn't need to use it. It turns out breaking that snooze habit could also leave you feeling less groggy in the morning according to some experts. Even though I only tried it out for a few days, I definitely reaped the benefits!
If you or the sleepy teenager in your life could use an alarm clock like this, you can buy Clocky through the link below.
Clocky: The Original Alarm Clock on Wheels, $46, Amazon
New episodes of "The Check Out" are released every other Wednesday at 12 p.m. Eastern time on TODAY's YouTube channel. For more like this, be sure to subscribe here.