This gorgeous treehouse sits in a backyard in Atlanta, Georgia, but it looks like it's a world away.
Peter Bahouth built the treehouse 18 years ago, but it wasn't until AirBnb came about that he considered sharing it with other people.
"I didn't really know how I would feel about having people stay out here," Bahouth told TODAY Home. "But I began to realize that people were having these amazing, great experiences and it was meaningful (to them), and it therefore became meaningful for me."
Meaningful, indeed — Bahouth's treehouse is now AirBnb's most wished-for listing in the world, with over 300,000 site visits per month and 147,052 people saving it to their Airbnb "wish lists." It costs $375 a night, enough to stay at a hotel with a few more amenities, but that doesn't seem to bother the visitors.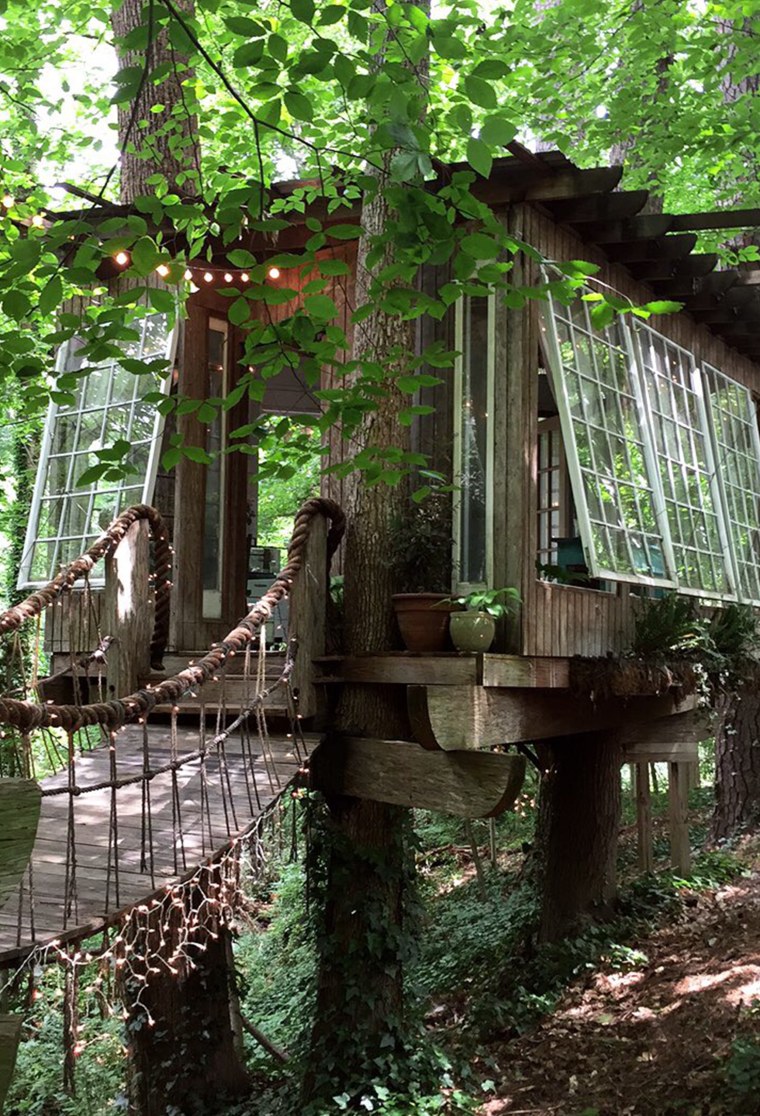 Having held roles as the executive director of Greenpeace USA, the Turner Foundation and the U.S. Climate Action Network, Bahouth has established himself as an environmental activist.
In fact, it was this line of work that led him to build a treehouse immersed in nature.
"For 30 years I did environmental advocacy," said Bahouth. "At the end of the day, you feel you've done good work, but what do you really have to show physically for it."
Bahouth put his creative pursuits to the test by scouting out seven trees in his own backyard, and building three connected treehouses, each with a theme: the mind, body and spirit.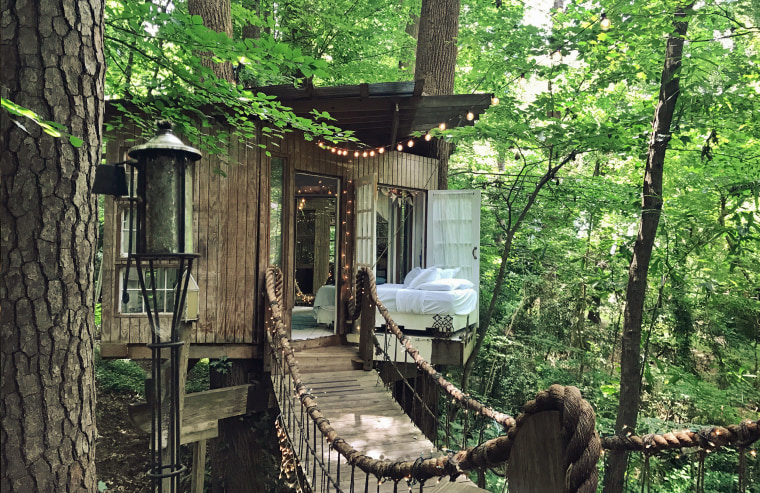 He categorizes the houses based on what people typically do in each, and always begins his tours, which he insists on giving every AirBnb guest, in "the spirit" area.
"This is the old man — he's a 165-year-old southern short leaf pine," explained Bahouth, gesturing to a majestic tree. "He watches over the place — he's got a big, calming influence on everybody that stays here."
The tree boasts a wrap-around deck that provides benches and a hammock so that guests can look up into the green canopy.
Connected by a swinging bridge swathed in twinkle lights, Bahouth heads to "the body."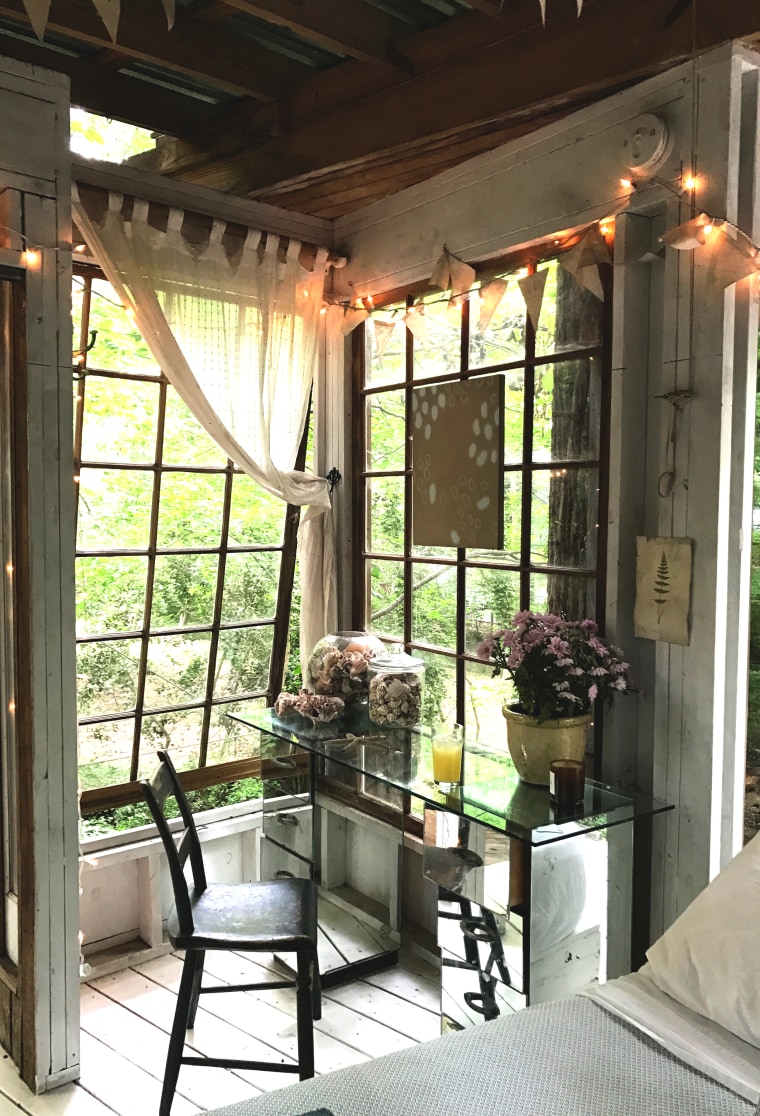 This room houses the bed that can roll outside, allowing guests to quite literally sleep under the stars. Bahouth explained that summer is one of the best times to stay since the forest sparkles with lightening bugs in the evenings.
Bahouth refers to "the mind" area of the treehouse as the room that houses the couch, the deck and the guest book, which has been around since the very first guests visited.
"People come here and they write and they think," said Bahouth. "They leave great stories and they have things happen to them here. Sometimes, they leave after two days and they just look different — they look like they just needed to simmer down a little."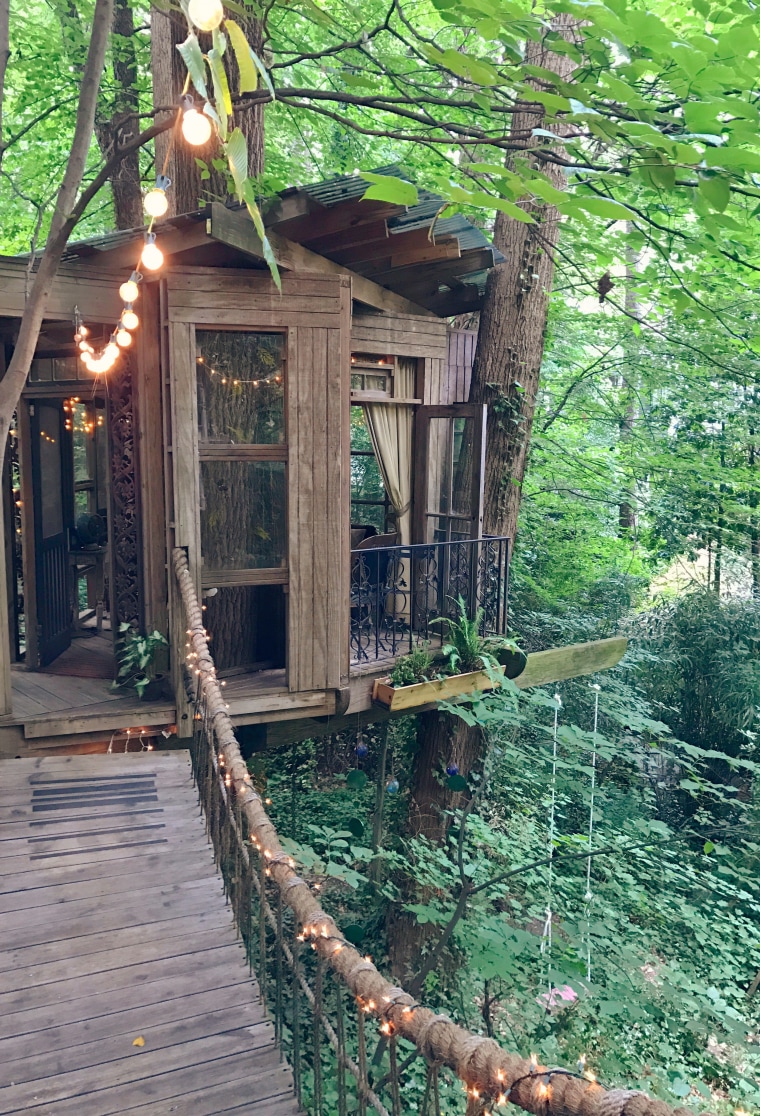 Bahouth has learned of his guests' stories primarily through their guestbook entries. These entries include people who are escaping from tragedy, celebrating honeymoons and even those planning to propose.
The treehouse has also been the site of wrap parties for casts of "The Hunger Games," and "Dumb and Dumber To" — and even a few weddings.
"I've tried to understand why it's been so popular," said Bahouth. "I think it's a simple response to a complicated world for a lot of people."
Obsessed with tiny homes? We are, too. See inside some of our favorites from across the country.