The interior designer and blogger at Addison's Wonderland has spent countless hours over the past two years transforming a recently-constructed home into something magical, each room a piece of art if you will. And now the six-bedroom, five-bathroom home in Monroe, Georgia, is for sale.
"When we first saw this house, it was the property that we loved," she told TODAY Home. Sitting on 10-acres of private and quiet land, the two-story house was a bit plain.
"But my husband said, 'If I can have the land, you can do whatever you want with the design." And she did just that.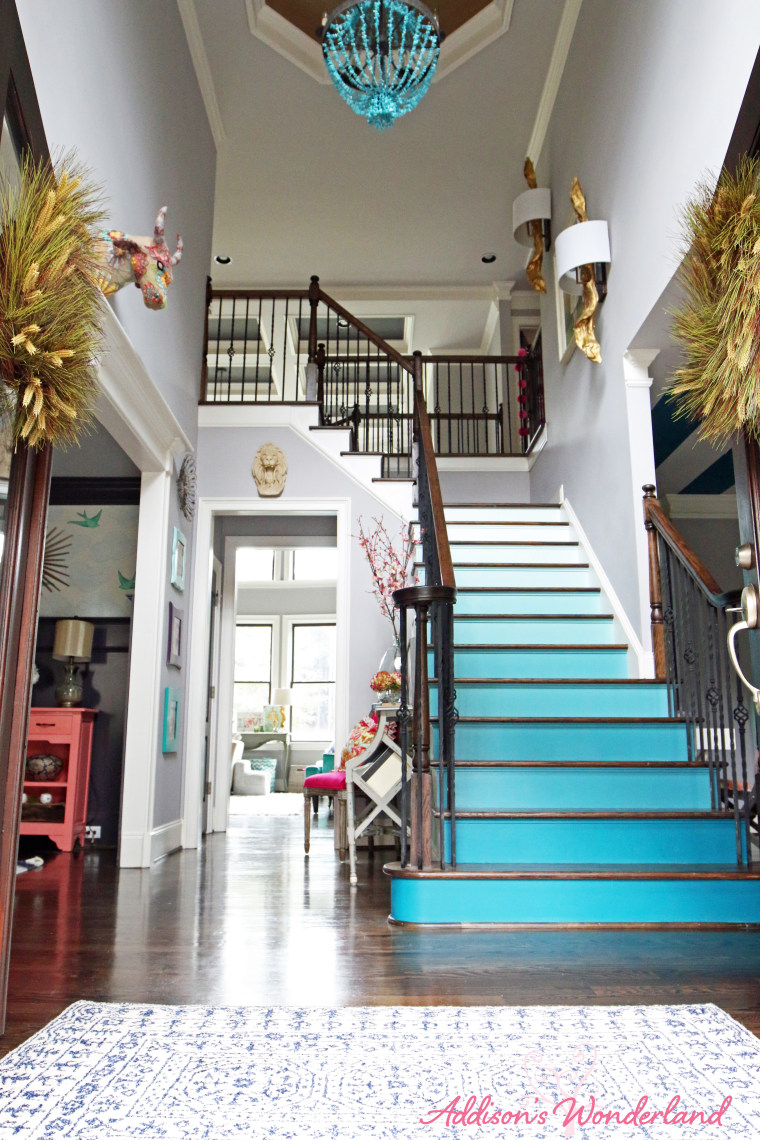 New floors, colorful paint on the walls, creative wallpaper, funky chandeliers…the list goes on and on. "I have trouble leaving anything just white," she said.
RELATED: Tour Chip and Joanna Gaines' very own 'Fixer Upper' farmhouse
When you first enter the home, you're greeted with a fresh pop of color thanks to the teal ombre staircase.
"I felt like when you walked in the door there was just a big blob of wood, so I played around with some ideas and came up with that," she said.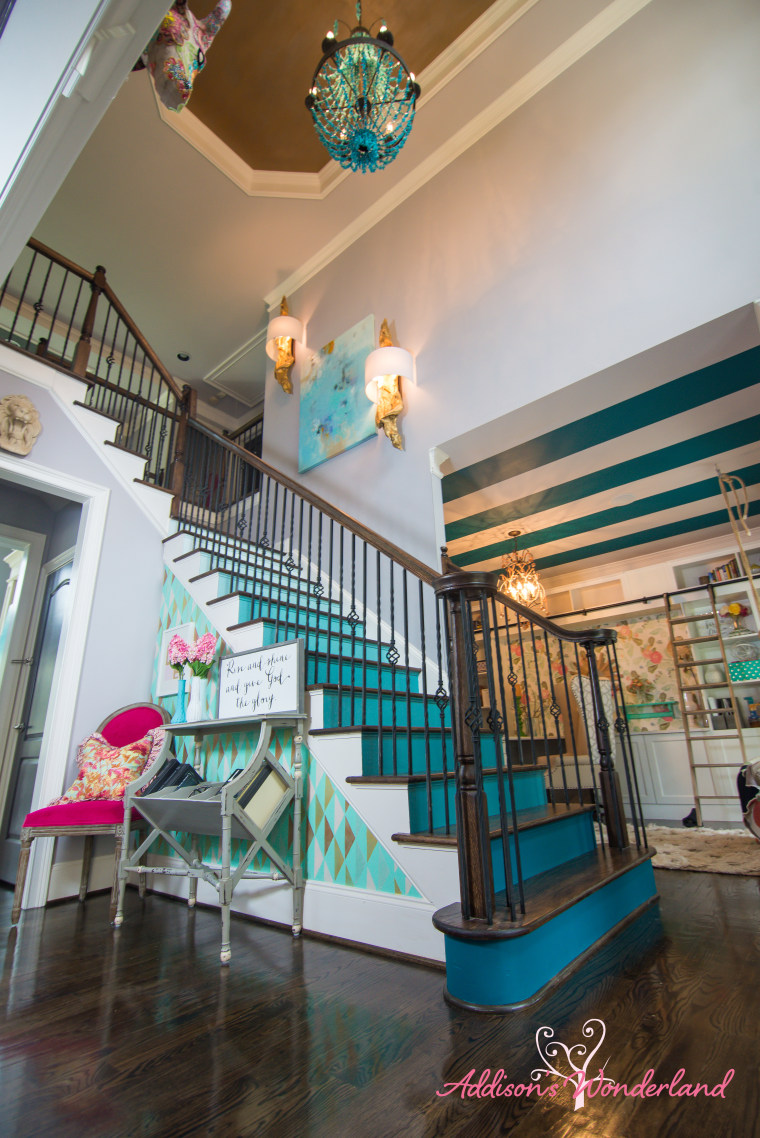 She also stenciled metallic triangles on one of the walls to give it texture. "It's a fun [space] without having to commit a whole room to color."
Also on the ground floor is the open living room, kitchen and breakfast room, where the family of four spends a lot of their time. The dark kitchen was brightened up with new white cabinets and a fun teal-painted island.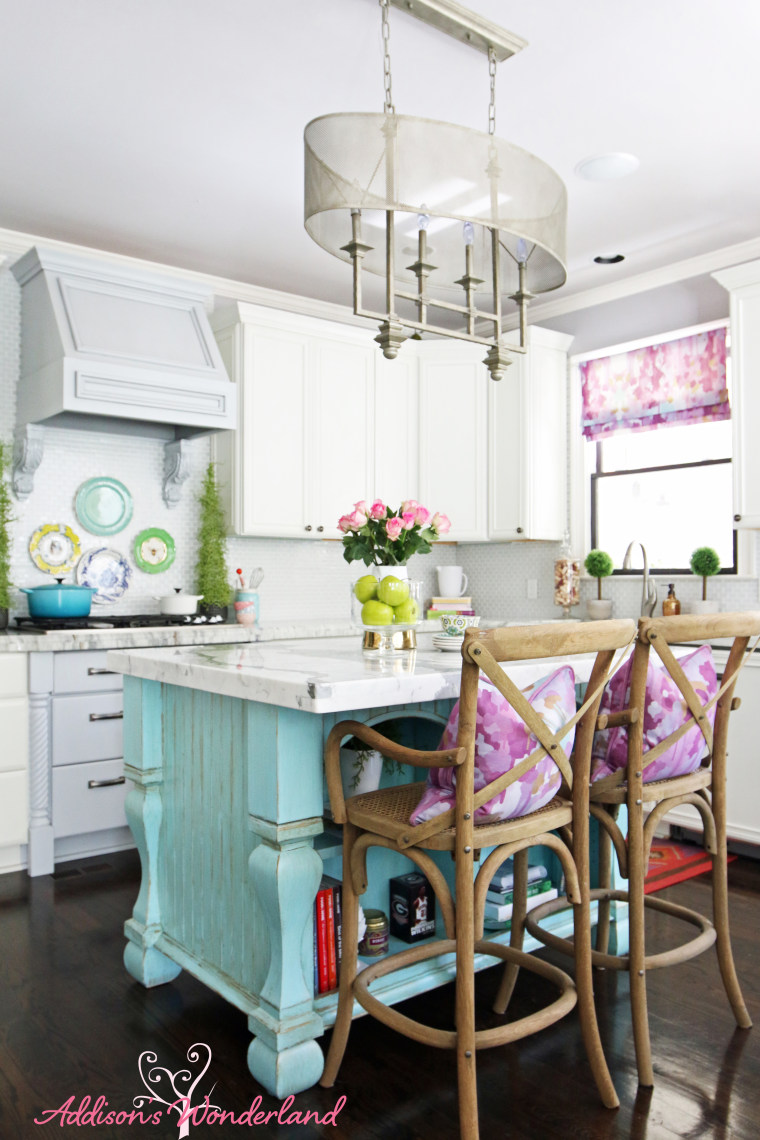 Since the breakfast room has no walls around it, she used large bold chairs to give it a pop of color.
Hayes calls the dining room the signature room of the house. "It's the most eclectic," she said, pointing out the mix of chairs, bird wallpaper and dark paneling.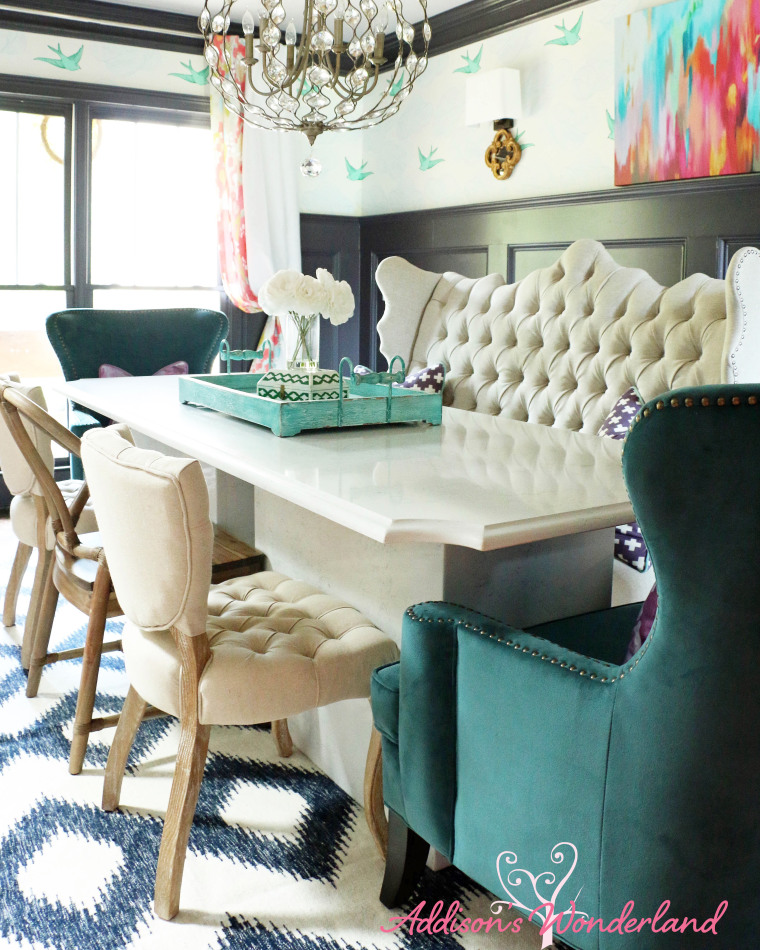 The dramatic two-story living room features a stunning wood beaded chandelier and several colorful touches including a black-coffered ceiling and wallpapered side walls. "There are little surprises everywhere," she said.
RELATED: See what this dated home looks like after a storybook makeover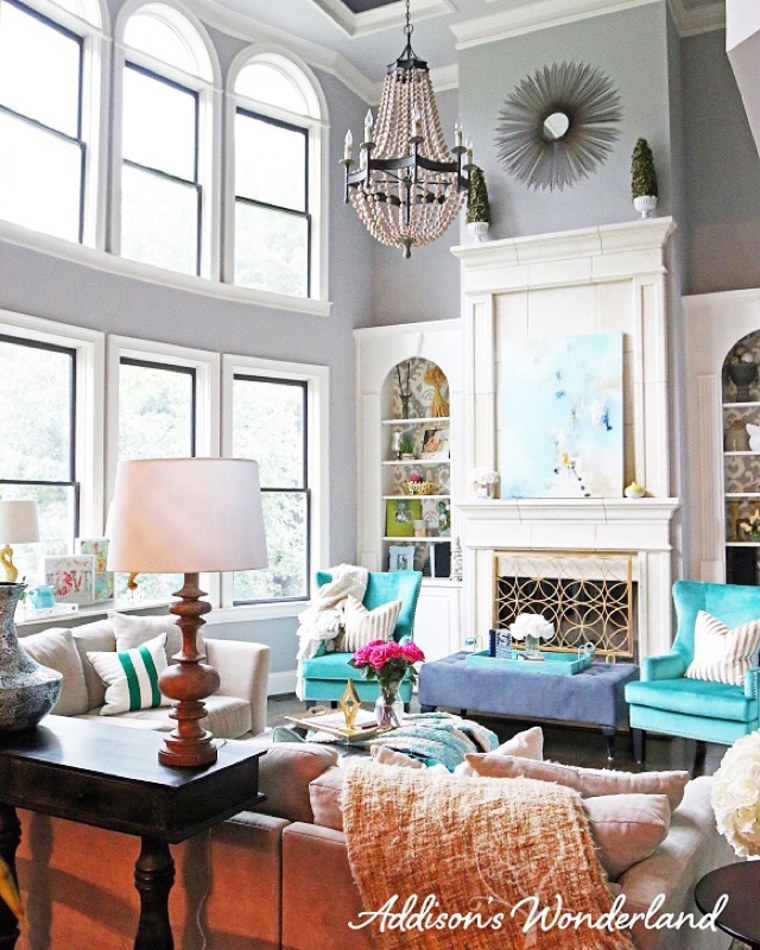 In the home office, there's a striped ceiling and chic floral wallpaper.
"When I first pulled out the wallpaper, my husband said, 'Are you sure?'" she said with a laugh. "But it was an extra room and I wanted to make it into fun space. The kids love to fight over the swing in corner."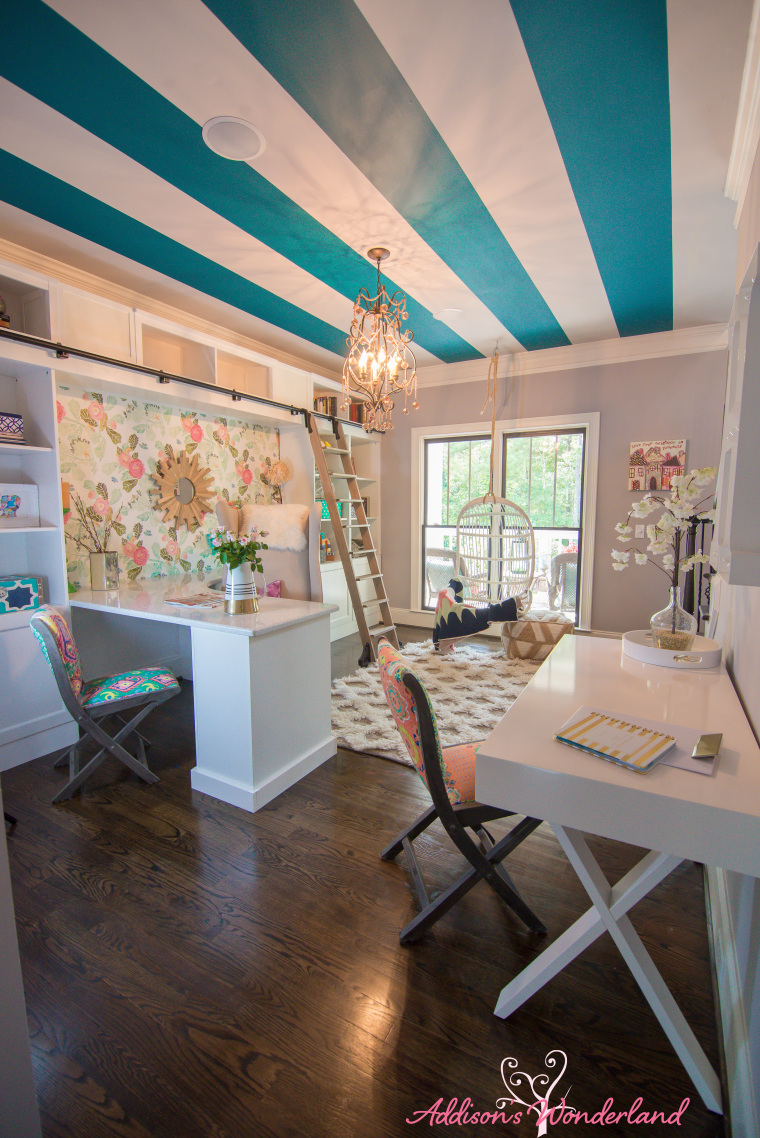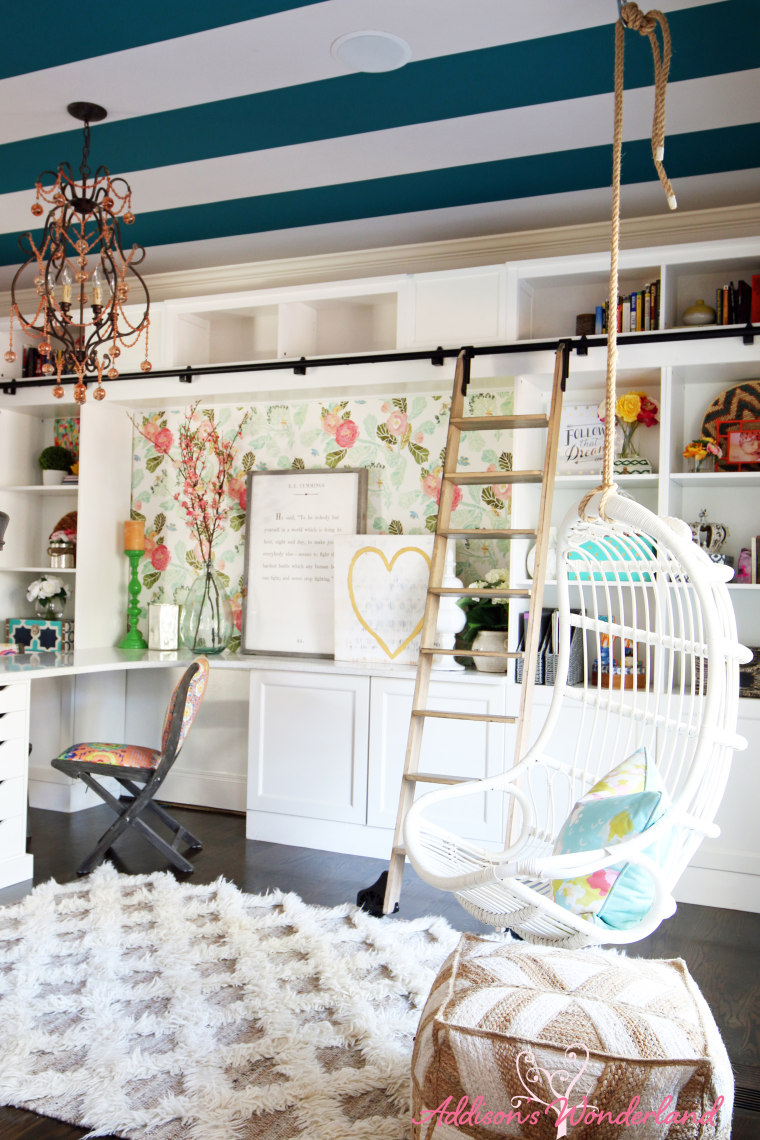 Upstairs a whimsical hallway that's lined with white and gold carved ogee wallpaper leads to the bedrooms. Hayes admits her favorite room in the house is her daughter Winter's because it's so sweet with the soft and airy color scheme.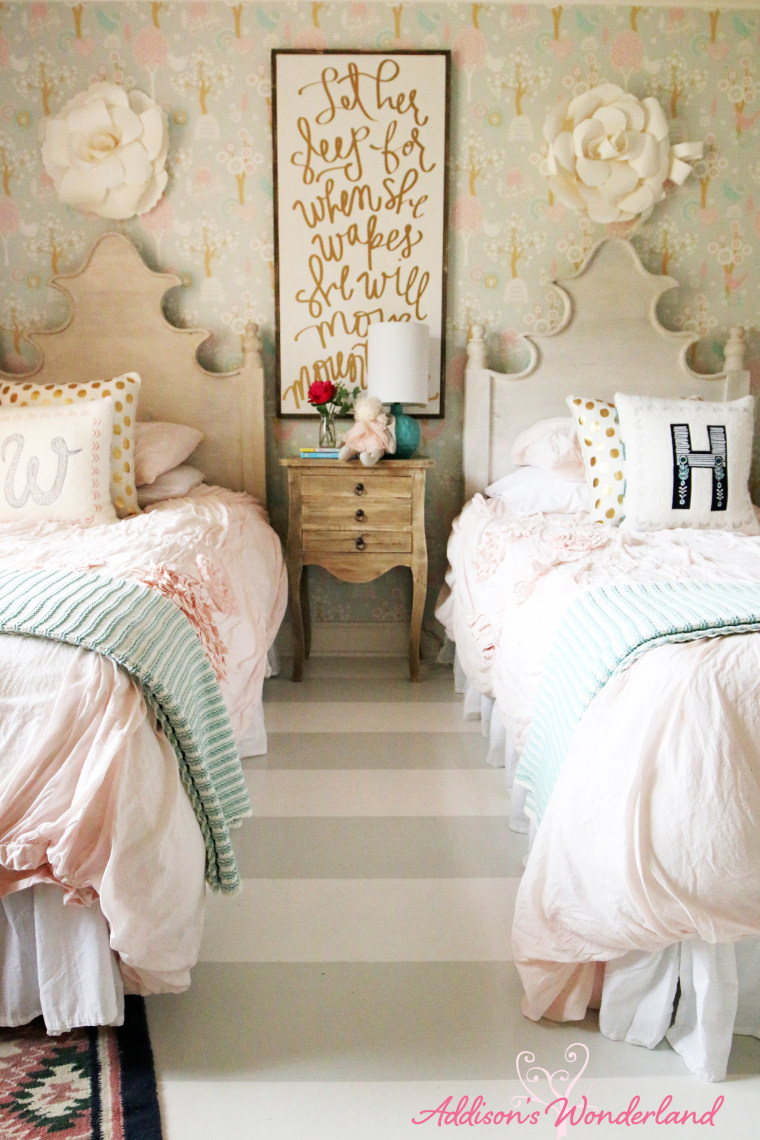 One of her favorite projects also came out of that space: "We installed raw unfinished oakwood flooring, and I spent five nights painting it all white, then with gray stripes," she said.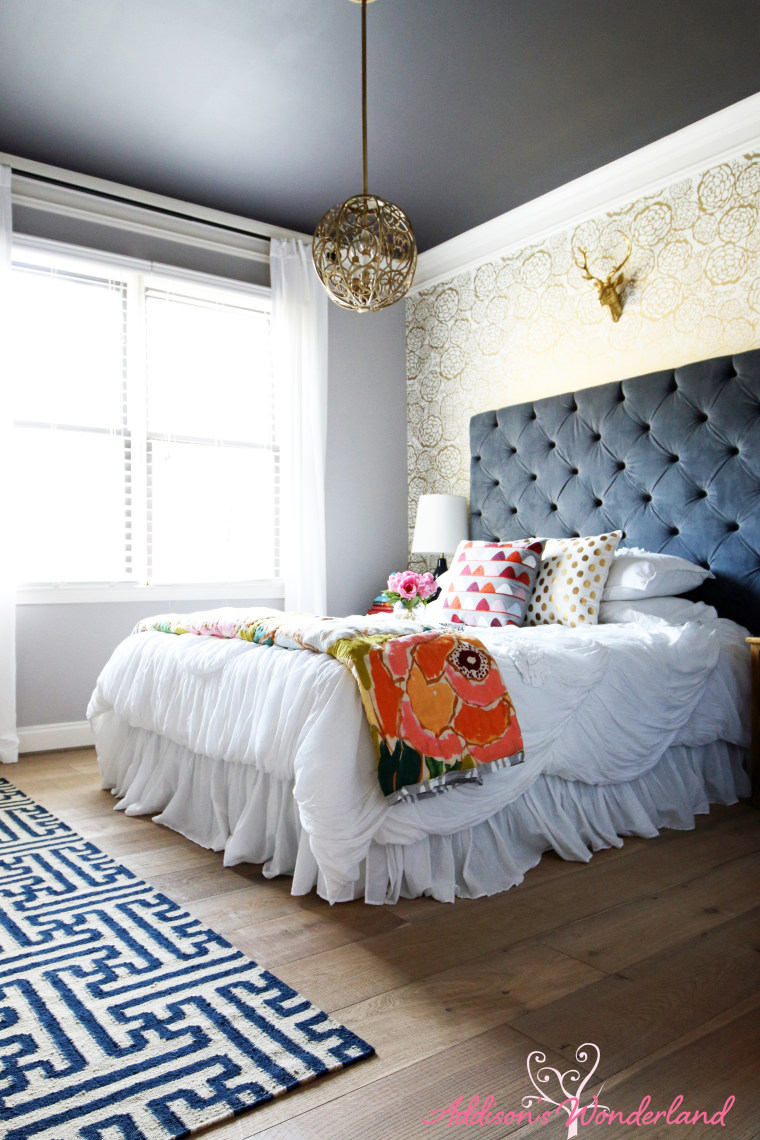 Now that they're selling this masterpiece, what's next? Hayes says they'll be chronicling their renovation adventures with their new home which they lovingly call their "Historic Wonderland," a charming home built in 1908.
To see more pictures of their current home or to inquire about purchasing it, visit Hayes' blog.