Halloween is just a few weeks away and it's officially time to start getting your home ready for some ghoulish fun.
While pumpkin carving and decorating with cobweb make for lots of family fun, you can take your Halloween home decor to a whole new spooky level with some easy DIY crafts.
Deputy Editor of FamilyFun Magazine Ayn-Monique Klahre stopped by TODAY to share some of her favorite projects that will make for a freakishly good Halloween.
1. A scary swarm at the door
Visitors will stop in their tracks once they see you're decked out door.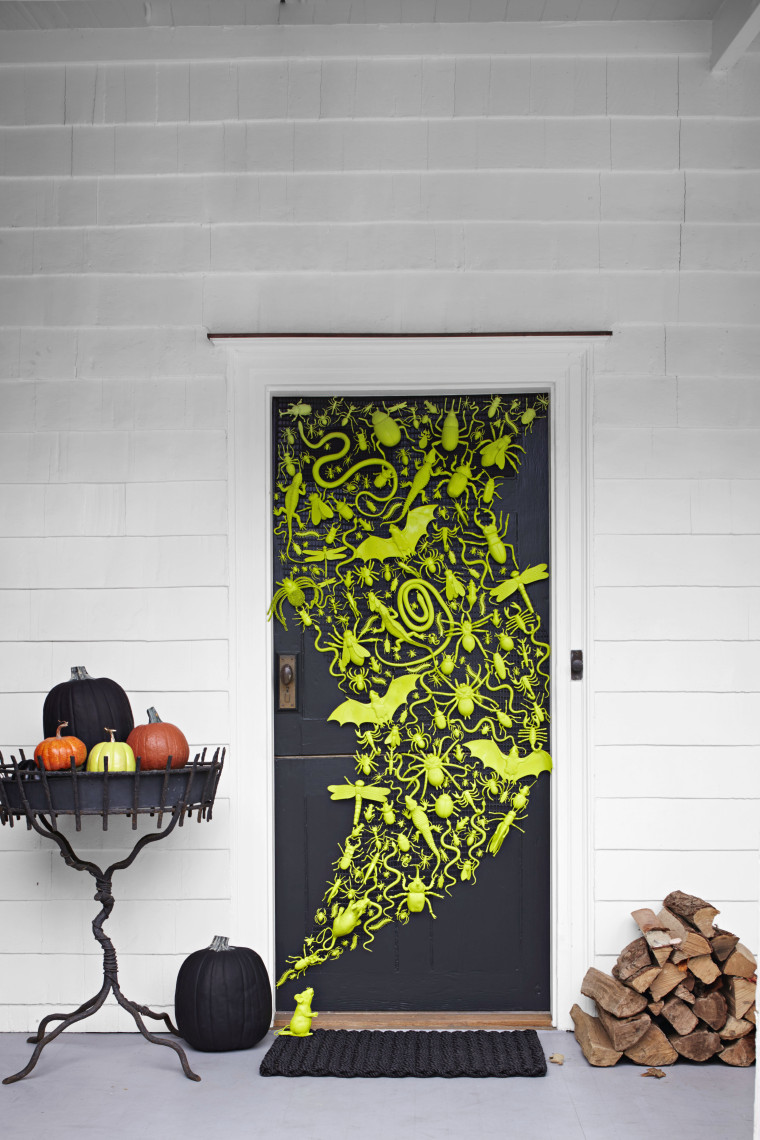 What you'll need:
Drop cloth
Acrylic spray paint
Plastic toys
Gift wrap
Thumbtacks
Heavy-duty scissors
Plastic hardware cloth (find it in the gardening department)
Parchment paper
E6000 glue
20-lb. fishing line
Heavy-duty duct tape
What to do:
1. On a protected surface, spray the tops of the toys with two to three light coats of paint, letting it dry in between. Don't paint the undersides.
2. While they're drying, use old gift wrap to make the swarm template. Tack it to your door, and draw on your desired shape (it can be any size). Remove and cut out. Use this template to cut the hardware cloth.
3. Cover your work surface with parchment paper, then place the hardware cloth on top.
4. Have the kids arrange the toys on the cloth, largest ones first. Glue them down. Let them dry overnight.
5. To hang, loop eight to ten lengths of fishing line through the top of the cloth, spaced about three inches apart (depending on size). Use thumbtacks or duct tape to secure the loops to the door.
2. Box Bat
Give this a spooky nocturnal critter a home on your mantel or porch.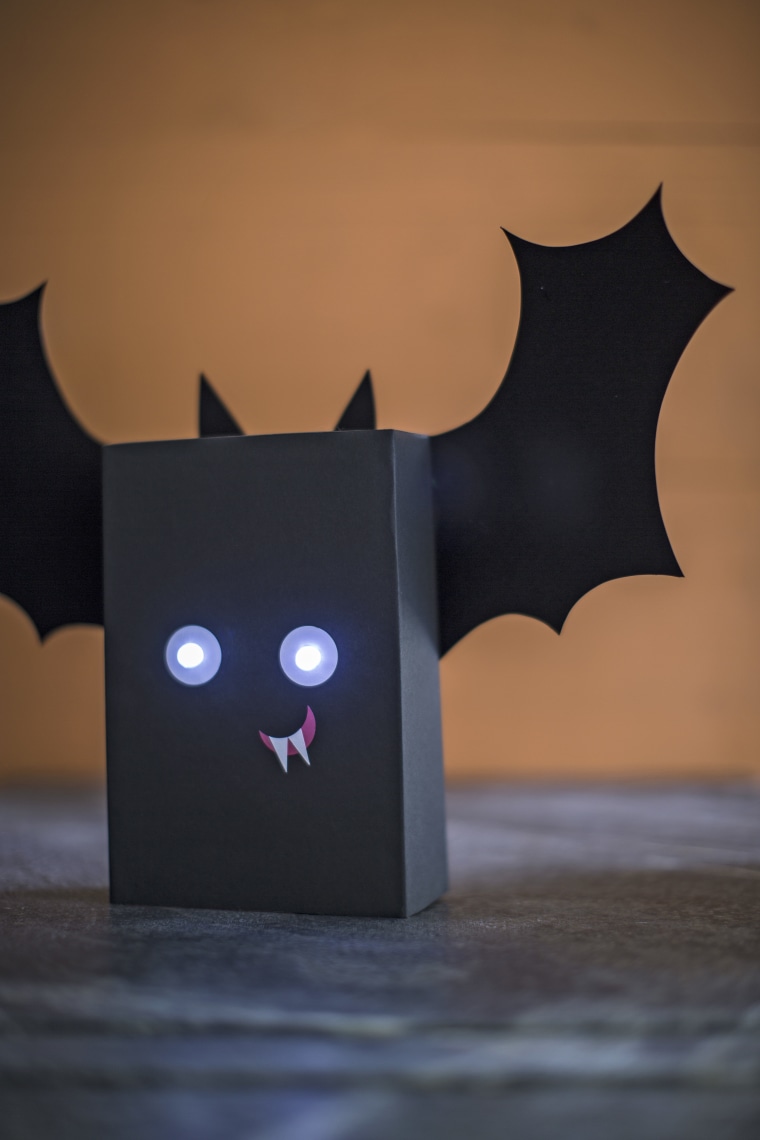 What you'll need:
16-ounce pasta box
Glue stick
Black wrapping or construction paper
Craft knife
Battery-operated tea lights
White paper circles
Pink paper
Double-sided tape
What to do:
1. Cut the top flaps off a box, then flip it over. Use a glue stick to cover the sides and bottom with black wrapping or construction paper.
2. Halfway up the front, mark spots for eyes two inches apart. With a craft knife, cut an X for each eye (an adult's job), then widen each of the holes to measure 3/8 inch across. Insert battery-operated tea lights into the box so that the "flames" protrude through the holes.
3. Cut white paper circles for the eyeballs, piercing small holes in the centers. Glue on the eyeballs, paper fangs, and a pink paper mouth as shown.
4. Draw and cut out black ears and wings; attach them to the back of the box with double-sided tape.
RELATED: 4 fun ways to dress up your front porch for fall
3. Spider Nests
Give traditional Halloween backyard cobwebs a freaky update.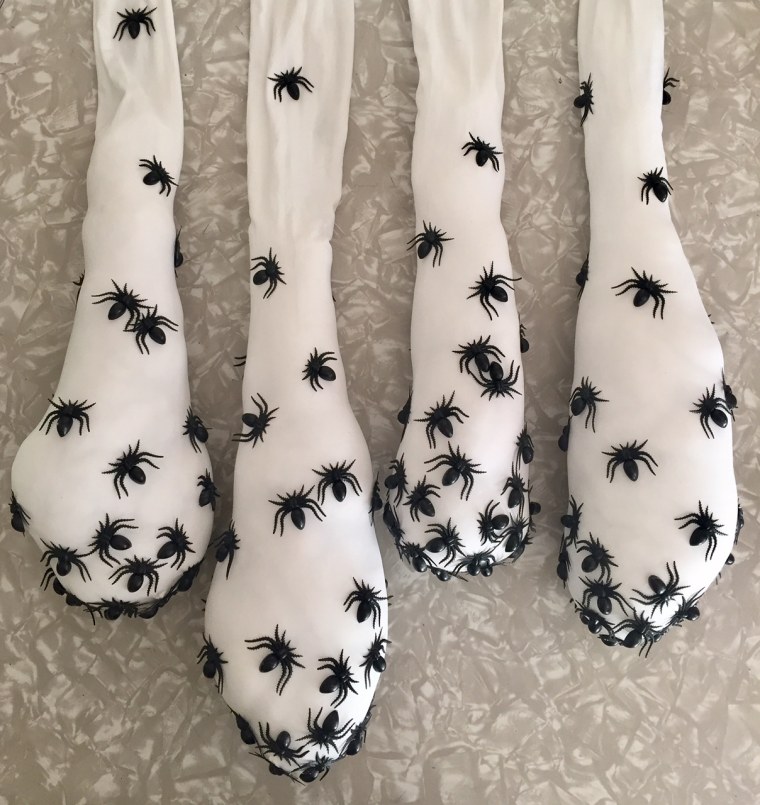 What you'll need:
White stocking
White stuffing
Hot glue
Plastic spiders (or DIY daddy longlegs)
What to do:
1. Stuff a ball of white stuffing into the foot of a pair of white tights.
2. Hand from a curtain rod or 3M hook.
3. Hot-glue sliders to the tights.
4. Spook-ified Pillows
Add some frightening flare to your home with this easy update for your throw pillows.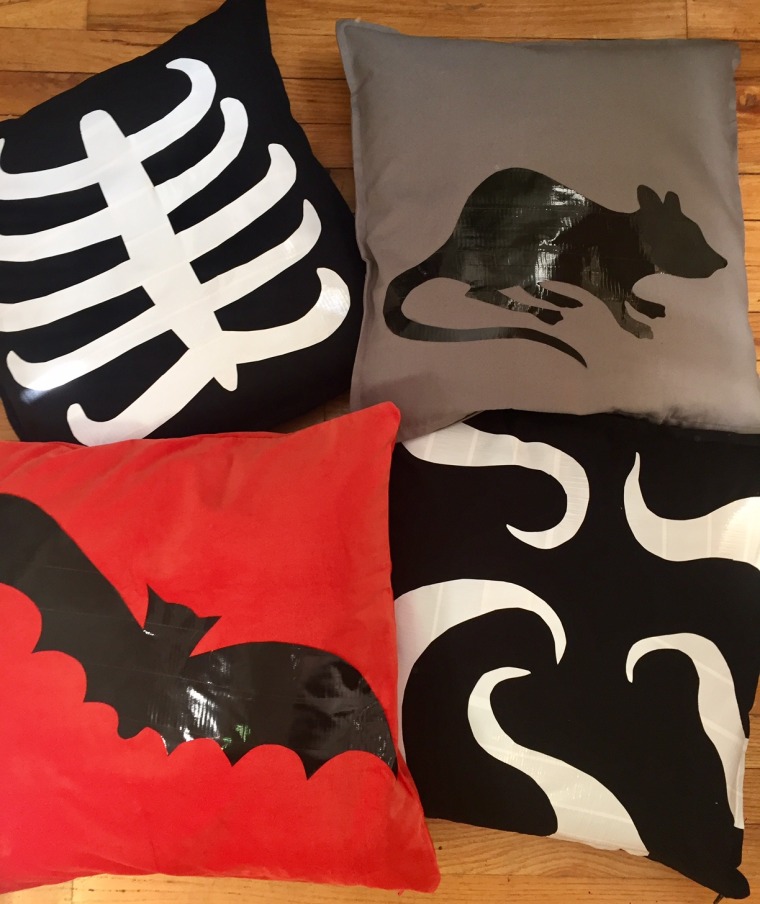 What you'll need:
Duct tape
Fabric pillows
Parchment paper
Scissors
What to do:
1. Stick the duct tape to the parchment paper. Layer a couple strips to get a sheet of tape.
2. Cut out your design.
3. Peel off the parchment paper and stick it to your pillow.
RELATED: 10 amazing Halloween party ideas
5. Monster Legs
These will give the whole table a fright!
What you'll need:
About 2 yards faux fur
Hot glue gun & glue
Batting or recycled material
2 to 3 sheets of craft foam for toenails
Duct tape
Tablecloth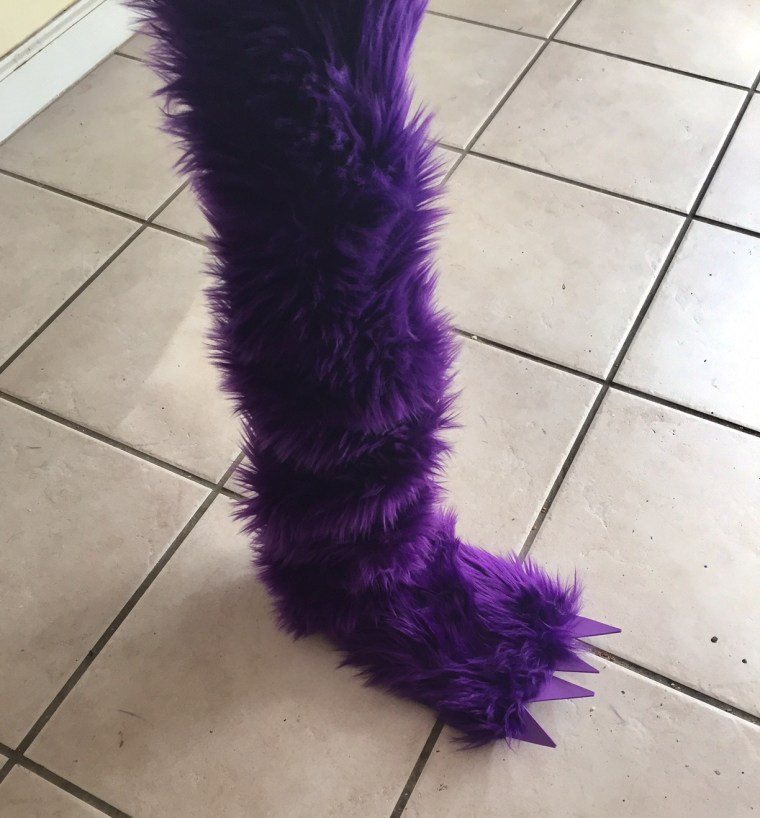 What to do:
1. Cut a piece of fur tall enough to cover your table leg, plus six inches in width. Fold it in half inside out, then cut a curve into both side edges. Repeat for all four.
2. Hot-glue the edges together, let dry, then flip right-side-out. Hot-glue triangles of craft foam onto the bottom for feet.
3. Thread onto the table leg, the stuff with batting until it holds its shape. Use duct tape to secure to the underside of the table. Repeat for all four, then lay a tablecloth on top of the table.
6. Bug Runner
Things are getting creepy crawly on the dinner table.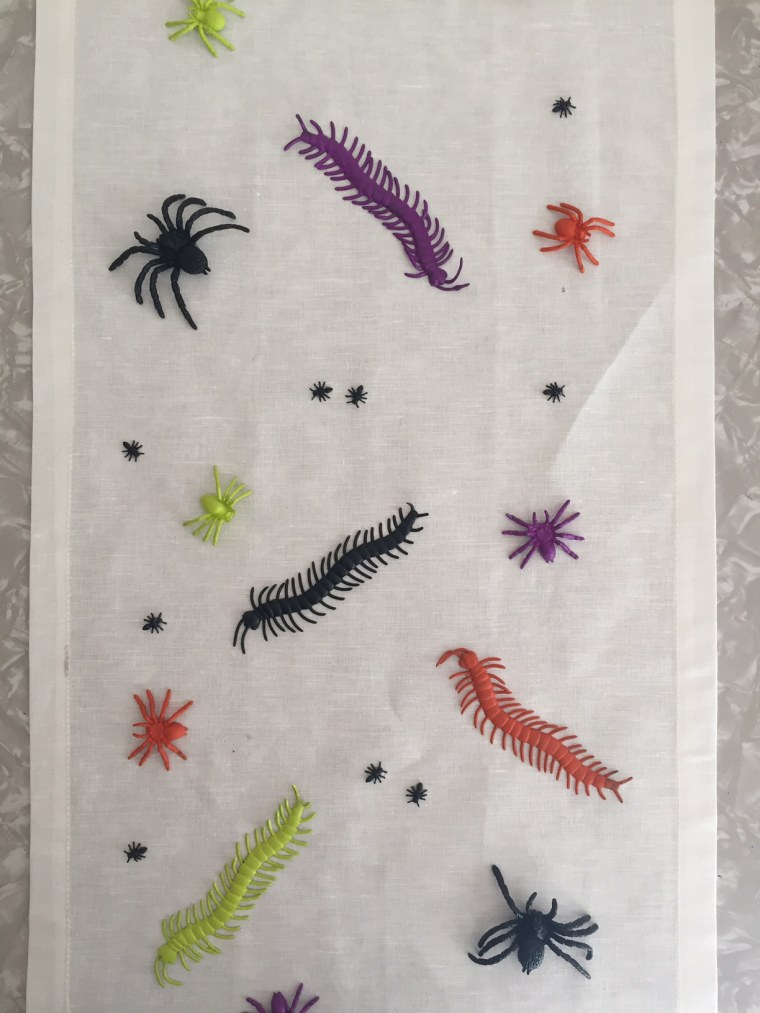 What you'll need:
Hot glue
Plastic bugs
White runner
What to do:
1. Hot-glue plastic bugs to the runner. Let dry.
RELATED: No porch? No problem! 7 ways to decorate for Halloween inside your home
7. Mighty Spideys
You'll create a fright around the house with these critters.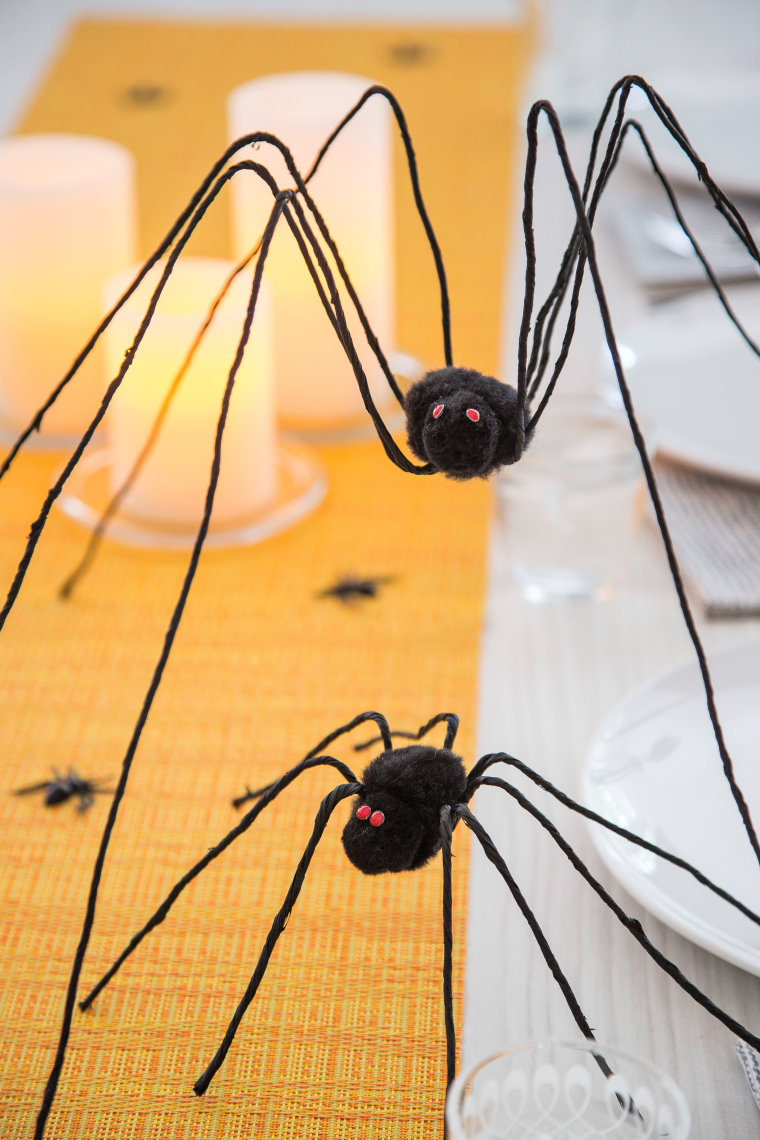 What you'll need:
Small & large black pompoms
Tacky glue
2 small jewels
Wire cutters
18-gauge paper-wrapped floral wire
Waxed paper
Black acrylic paint
Brush
What to do:
1. To make each spider's head and body, use tacky glue to join a small and a large black pom-pom. Glue two small jewels to the smaller one for eyes, then set the pom-poms aside to dry.
2. Use wire cutters to cut four equal lengths of 18-gauge paper-wrapped floral wire and carefully straighten the wires. Set them on waxed paper, apply black acrylic paint with a brush, and let dry.
3. Twist the strands together at their center points to create an eight-pronged starburst. Bend the joined wires to resemble spider legs, as shown.
4. Glue the spider body atop the legs' center point and let it dry.
8. Cardstock Serpents
The kids will love creating these creepy-crawlers.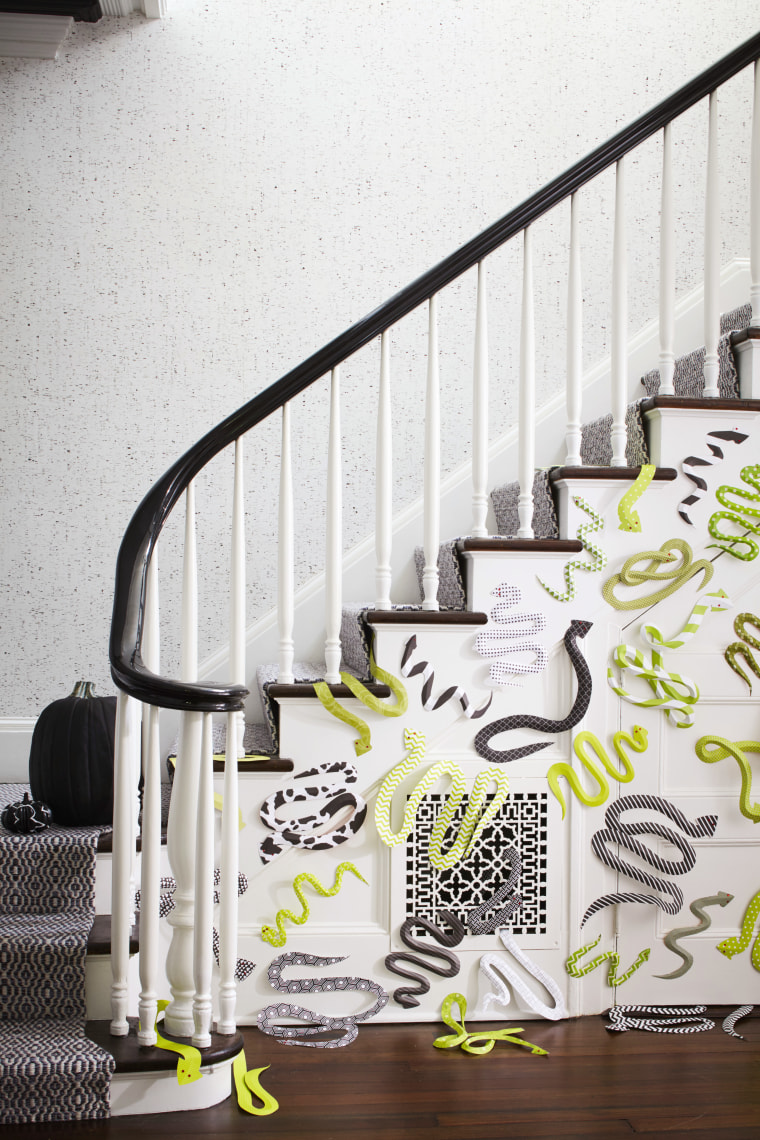 What you'll need:
12 x 12-inch scrapbook paper
Pointy object like a blunt pencil or ballpoint pen
Adhesive jewels
Removable mounting adhesive
What to do:
1. Place the paper facedown on a padded surface (like a folded newspaper).
2. Use the pointy object to press a long, curvy line into the paper from one end to the other.
3. Cut out the snake, leaving about 1⁄2 inch on either side of the line; taper one end for the tail and cut a wide triangle on the other for the head.
4. Flip the paper over and pinch along the scored line; the snake will start to curve.
5. Add adhesive red jewels for eyes.
6. Attach snakes to the wall with removable adhesive.
9. Bat Mobiles
The ultimate creepy and cool Halloween craft to fill your home with some spooky spirit.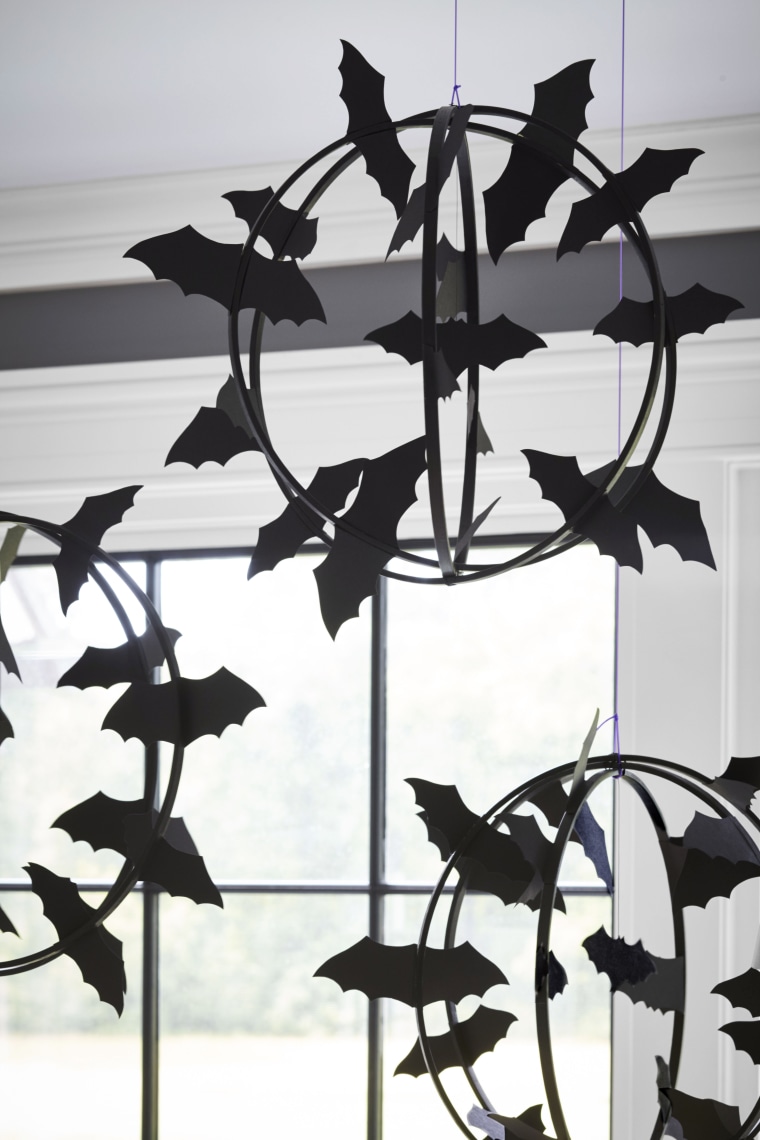 What you'll need:
Three 14-inch wood embroidery hoops
Black acrylic paint
Heavy-duty black thread
Black cardstock
Double-sided tacky tape (we used Aleene's)
Removable adhesive hooks (optional)
Bat Mobiles template
What to do:
1. Set aside the outer rings of the hoops. Paint the inner rings black; let dry.
2. Interlock the rings into a globe; secure with thread.
3. Following our template, cut out six pairs of 3 1/2-inch single bat wings and 14 pairs of 3-inch single wings from cardstock.
4. To make one complete bat: Add tape to the straight edges of a pair of wings. Stick one to the outside of a hoop and the other to the inside. Place three to four bats on each spoke.
5. Hang from a light fixture or suspend from the ceiling with thread and hooks.
RELATED: 9 no-carve (and very chic) pumpkin DIYs from Pinterest
To see the full article, pick up the October issue of FamilyFun Magazine.