We all know those effortless party people — they ooze charm, flitting from group to group, always saying exactly the right thing. Then there are the rest of us — the socially shy, the awkward, the introverts — who haven't mastered the art of small talk.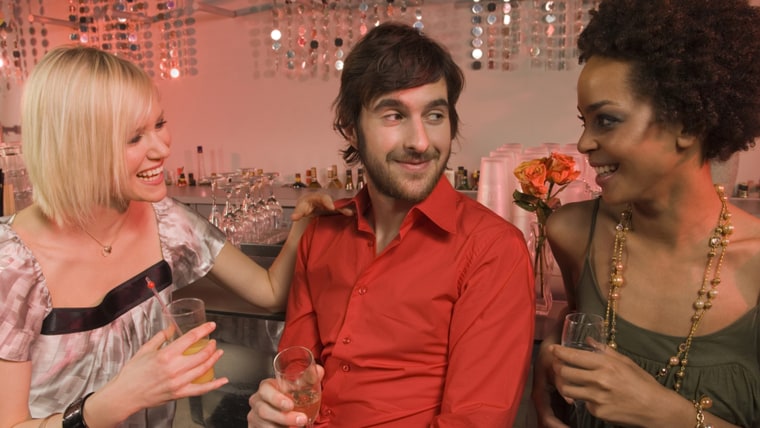 It's a dilemma: Our egos want to have a calendar full of festivities, but we dread the psychic pain of standing alone in a room of merrymakers or verbally stumbling in front of a boss. 
So, here's an expert-approved party survival guide.
1. Realize you're not alone.
Introverts make up about 20 to 30 percent of the population, says Dr. Simon Rego, director of psychology training at Montefiore Medical Center/Albert Einstein College of Medicine in New York. That means, at any given party, three out of 10 people will be in the same boat. 
2. Prepare, prepare, prepare
It may seem a little like cheating, but Allison Hemming, CEO of the recruiting firm The Hired Guns and an enthusiastic hostess says coming up with a topic you'd like to discuss beforehand can help grease the social wheels.
"People have a hard time being interesting because they haven't thought about what they want to talk about," she says. "If you think about it ahead of time, you can be a natural networker."
3. Speaking of prep work ...
What to wear can be one of the most daunting aspects of party-going — at least for women. 
Jacqui Stafford, style expert and author of "The Wow Factor: Insider Style Secrets for Every Body and Every Budget" warns: "This isn't the time to try out that sample sale purchase with the short hemline you weren't sure about." 
"Use accessories instead to punch up a trusted LBD [little black dress]," she advises. "Think about adding splashes of style that serve as talking points — an unusual print on your hosiery, a watch with an interesting design or a silk scarf in a bold shade."
Think of it this way: Unusual or eye-catching accessories give other party guests something to approach you about and compliment.
4. Be first!
It may seem counterintuitive to arrive early, but Hemming points out that it has its benefits.
"You can help the host and by doing that you meet a lot of people in a non-awkward way," she says. "And if you're one of the first to arrive, people have to come to you because no party cliques have formed yet. You're the go-to person, even if you're not the belle of the ball."
5. Seek out the extroverts.
The only thing extroverts love more than talking is a rapt audience. Ask the center of attention for a piece of advice and watch them go. Hopefully you'll be joined by others close enough to overhear and you'll be part of a garrulous group.
"The big talkers and joke tellers like to have people who listen and ask questions. Introverts do that quite well," says Rego.
People enjoy talking about themselves and get a brain reward from sharing small personal details, according to a 2012 Harvard study. Getting people to share their opinions and small personal details, like whether they enjoy winter sports, is "intrinsically rewarding," Harvard researcher Dr. Diana Tamir found. It makes the speaker feel good — and takes some of the heat off you.
But don't ask about a divorce or get too personal during casual conversation. And don't feel hurt if the social butterfly eventually looks over your shoulder for a more exciting guest. They just can't help themselves.
6. Try some party psych tricks
Schmooze experts tout all kinds of tricks, like bringing a friend, repeating the last few words someone says or being aware of your body posture.  
Don't overdo the eye contact, Janine Driver, president of the Body Language Institute, told TODAY earlier this year. Instead aim for eye contact 60 percent of the time and look in the upside triangle from the forehead to the nose for the ideal focus spot. That will make you and the person you're talking to more comfortable.
7. Know your liquor limits
A nice stiff drink can feel like a delicious best friend when you're thrust into a potentially awkward situation, but do your best to keep yourself in check. "Ask for a cocktail, but don't ask for one that you're not used to," says DailyWorth CEO Patrick Williams. Bearing in mind that that in these times of disappearing bonuses there can be a temptation to make it up via the boss's bar tab, Williams advises not to go there. "Sip it slowly and maybe after two cocktails, ask for a sparkling water with some lemon in it so people still think you're drinking."
8. Speaking of drinking ...
Williams also advises that you not engage in salary negotiations or — worse — attempt to amuse the work gang with real party tricks at the annual office bash.
"The worst I ever saw was the balloon-through-the-nose trick done with prophylactics," he says. "He put it in his nose, got it to dangle down through his throat, and then pulled it out of his mouth."
But, Williams concedes, that there is one thing even worse than pulling a sideshow stunt. 
"Making out with a coworker is probably the worst thing you can do," he asserts. "And I've seen management do that." Sober(ish) people are less likely to commit such faux pas, so sip on that seltzer.

9. Come up with an exit strategy
If you've ever been trapped in a corner by a Party Cling-On, as he or she envelopes you in a cloud cheesebreath and kills you slowly with meandering tales, you know how imperative it is to plot an escape route. 
Gossip columnist/journalist extraordinaire Michael Musto says, "Holiday parties are the easiest events at which to extricate oneself from a dull conversation. No one will question you as you look across the room and exclaim, 'Oh, there's so and so!' before running over there to talk to someone else." 
Musto adds, "Of course once you're across the room, it helps to find someone there to talk to, just in case the people you dumped are tracking your journey."

And if there's nobody you know on the other side of that room, there's always the exit.
Which is all you really wanted anyway.