Granite is great. No one is denying that.
Its use in residential applications has skyrocketed in recent years. A 2012 survey conducted by Harris Interactive on behalf of The Marble Institute found that 75 percent of homeowners who intend to remodel their kitchens in the next two years indicated they want granite countertops.
Granite's durability, longevity and good looks make it ideal for kitchen countertops and other heavily used surfaces, including table tops and floors. Still, it's expensive (typically $60 to $100 per square foot installed), it's extraordinarily heavy (requiring reinforcement of base cabinets) and requires considerable upkeep.
Beyond granite, there are a multitude of countertop options available and their number just increases over time. If you're in the market for a kitchen makeover, you may find one of these great, non-granite surfaces is just what you need:
Carrara marble
Marble is softer than granite, which means it stains and scratches. "But it creates its own patina when it does that," says Alan Zielinski, immediate past president of the National Kitchen and Bath Association (NKBA) and president and CEO of Better Kitchens Inc. in north-suburban Chicago. "That aging process gives the marble a nice, warm look. That warmth appeals to some people – if you're not one of them, you probably should avoid marble."
Wood
Wood countertops are enjoying a resurgence in popularity, largely due to their durability and style. Adding a wood top to an island, while using a contrasting material for perimeter counters is a great way to add interest to the kitchen.
Butcher block is the most common type of wood countertop, but slabs can be crafted from a variety of woods, ranging from cherry and bamboo to zebra wood and iroko. Wear will give wood counters a charming patina, but you'll need to periodically oil them to prevent drying.
Soapstone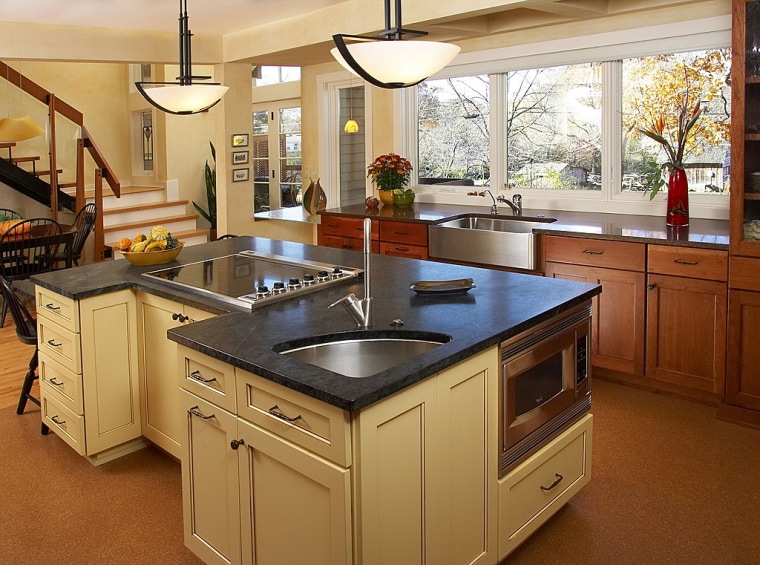 Soapstone is a smooth, matte natural stone that comes in hues ranging from soft gray to charcoal. It is one of the only natural surfaces that is not affected by acids, so spilled coffee or orange juice won't leave a stain. Soapstone is also heat resistant.
No special cleaners are needed to keep soapstone clean but mineral oils can be used to enhance the stone's natural beauty.
Engineered quartz
Although some quartz countertops are actually made of quarried slabs of stone, the new engineered material is created through a manufacturing process that mixes approximately 95 percent ground natural quartz with 5 percent polymer resins. The result is a super-hard, low-maintenance, natural looking countertop that's available in a wide range of colors.
"Because quartz is a composite material, it brings with it both the practicality of natural stone and the consistency of a manufactured product," says Zielinski. "It's resistant to scratching, but it can be scratched and it's resistant to heat, but you don't want to set a hot frying pan on it."
Concrete
New colorizing and stain techniques have made concrete counters more popular than ever. Skilled craftsmen can create beautiful concrete countertops in any color, shape and size. Embedded stones, tile or even silicone chips can be added to the mix to create a piece of art. The result is a beautiful counter that's durable as well as scratch- and heat resistant.
The counters, which can be extremely heavy, are susceptible to damage from acidic liquids and must be sealed and regularly maintained to resist stains.
Glass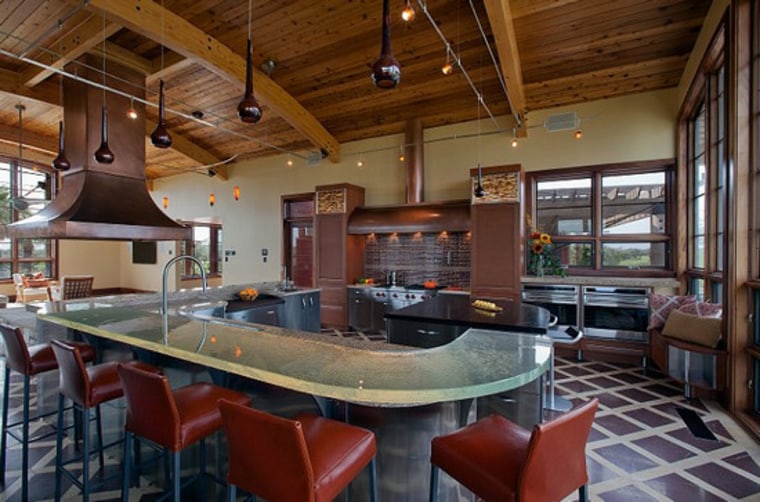 Glass countertops can endure high heat without cracking or scorching, they won't stain and they're non-porous, which makes them very hygienic. 
"I really like glass because it's so versatile," says Zielinkski. "You can laminate three pieces together and use a crackled surface or other art layer between the top and bottom. They can be painted on the back, or lit. They're very high-end and very versatile."

Glass counter tops are typically three-quarters to one-and-a-quarter inches thick. Glass is tempered; polished square edge finishing or edge banding is generally recommended. Under-mount sinks are not recommended due to the transparent nature of glass.
Stainless steel
Stainless steel countertops can be found in any style of kitchen, from contemporary to traditional, because they complement many of today's appliances. Stainless steel is stain- and heat-resistant but it can be scratched or dented. Of course, steel isn't the only metal countertop material on the market. You might also consider copper, pewter or zinc.
Solid surfaces
Solid-surface countertops can look like natural stone but they're generally less expensive and require less maintenance.
"Another big advantage," says Zielinski, "is that solid surface counters can be created with virtually no seams. That can be a plus not only in terms of appearance, but it also makes cleaning much easier." These counters are heat- and moisture-resistant and easy to clean. They can, however, be scorched and scratched.
Get more kitchen ideas on Zillow Digs.
More from Zillow:
5 Ways to Improve Your Home's Curb Appeal
14 Ways to Reclaim Lost Counter Space