Nothing gets me more excited than horror movie marathons, haunted houses, costume contests and, of, course decorating with Halloween gadgets. Here are some choice spooky selections to help you celebrate one of my absolute favorite holidays.
Life-sized Animated rocking bat 
This motion-activated bat hangs from any tree limb, swaying back and forth in waiting. Hang several together for the ultimate effect — the LED eyes and terrifying sounds are even better by the colony. $39.99, Spirit Halloween (available online only)

Coat rack monster
I'll just set my hat on this — ahhh! Beware, a monster lurks in this coat rack and will likely scare the crap out of you. If the sudden motion-activated movement doesn't get you, the loud roaring will. It runs via batteries or plug it in. Easy set up. You can purchase an optional foot pedal activator for $9.99. $139.99, Spirit Halloween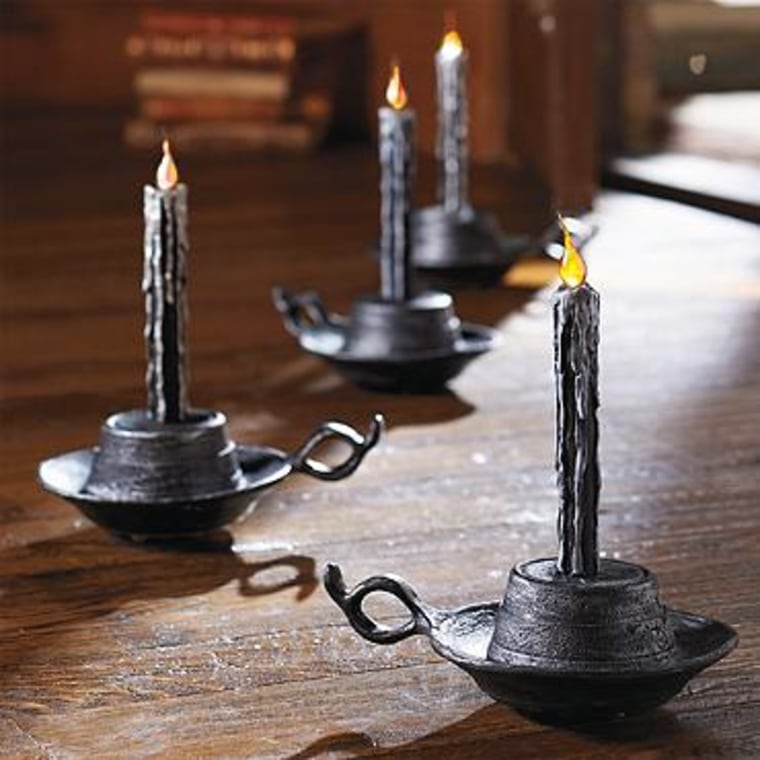 Floating candles
These eerie candles will be a hit as they run around like free spirits (pun intended). Complete with flickering lights and creepy music, the candles are motion activated and can wander around any flat surface. Three AA batteries required (not included). $19, Grandin Road.

Candy corn lights
Light up any mantle, doorway or party scene with Halloween's most popular candy! These cute mini sets come with 50 lights. $2.49 each, Home Depot

1,000-watt Halloween fog machine
What's a spooky setting without a fog machine? If you're looking for quality you will not be disappointed with this model. Use the timer or operate manually. Just don't forget the extra fog juice. $99, Grandinroad.com
Ice cube tray with gummy eyeballs
I've never eaten so many eyeballs! Just add water to this eyeball-filled tray, freeze and then toss into your beverage of choice. The yellow, red and green gummy eyeballs are a cute — and tasty — enhancement to any cocktail! $5.99, CVS
Webcaster spiderweb gun
No haunted house (or costume) is complete without a few cobwebs. Cast your own with this handy gun. Comes with (6) sticks — additional sticks in different colors available. $64.99 in store, $49.99 online, halloweenadventure.com
Transforming robot costume
Is it a car? Is it a robot? It's both with this transforming costume from morphsuits.com. Talk about the ultimate prank: what appears to be a red vehicle stands and becomes a robot, or vice versa, with this five-piece morph suit. Bonus: It's a great way to get out of an awkward conversation. Just squat and morph into a car. $64.95, Morphcostumes

Follow technology expert Katie Linendoll on Twitter and Facebook.