Winter is on its way out, which means it's time to welcome spring!
One of my favorite parts about this season is all of the flowers in bloom. With that in mind, I'm sharing eight easy floral-themed projects that are great to make both solo OR with your entire family. From home decor to recipes, we've got your spring DIYs covered. Check out the projects below — and don't forget to head to TODAY's Pinterest page, where I'm taking over for the day!
Front door
We all know that April showers bring May flowers — and now we have this adorable front door wreath to remind us!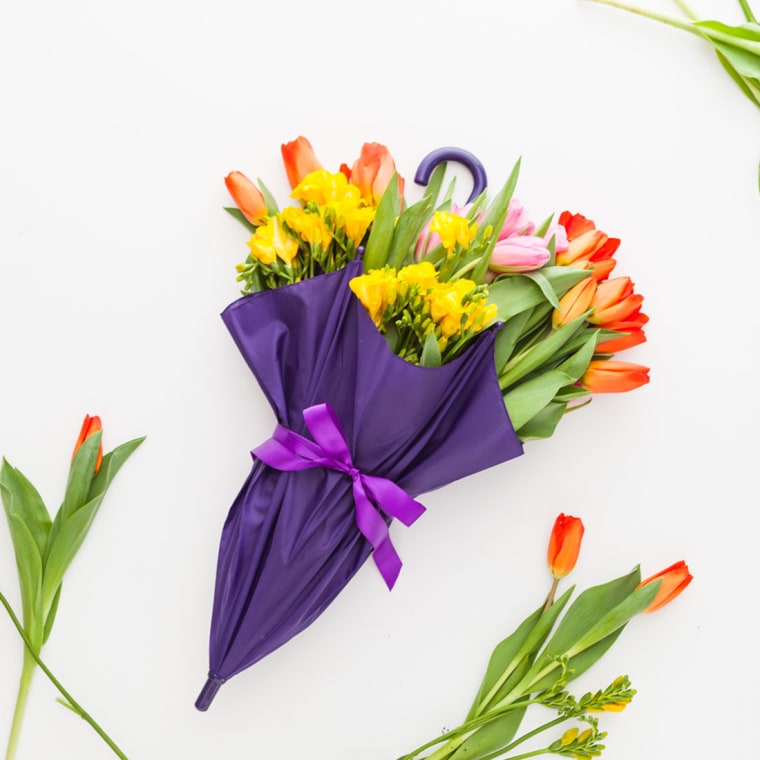 This is perhaps one of the easiest ways to get into the spring spirit. All you need is an umbrella with a hook handle, some ribbon and beautiful florals. Fill the umbrella with flowers, arranging them around the inner skeleton of the umbrella. Then just wrap it with ribbon and hang it on a nail on your front door. If you want it to last longer than a week or so, we recommend using silk flowers. (Inspired by One Good Thing by Jillee.)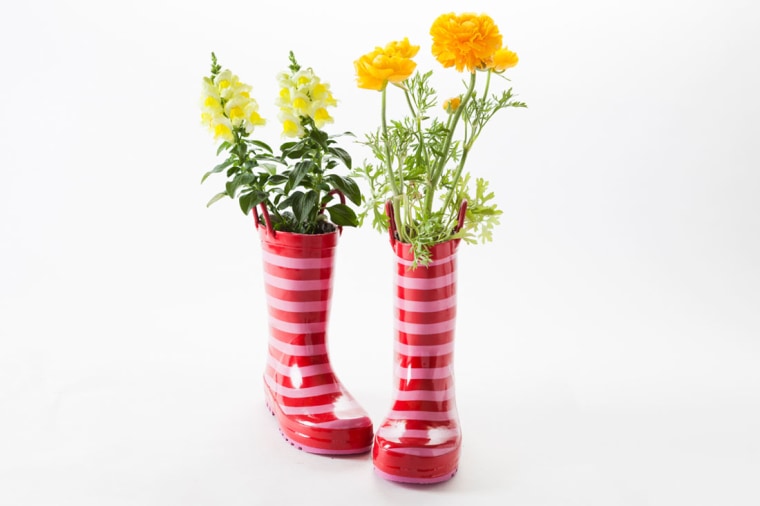 Take the rain boots your kids have grown out of, or the pair you no longer wear, and fill them with potted plants. Of course, you'll need to cut a small hole in the bottom of the boot to let the water drain. Together with the umbrella wreath, these are perfect props to decorate your front porch.(Inspired by Rosy~Posy.)
RELATED: The 16 prettiest and most colorful indoor flowering plants
Home decor
Let's not just stop at the front door! Here are a few more fun ways to bring a colorful spring vibe into your home.
String light flowers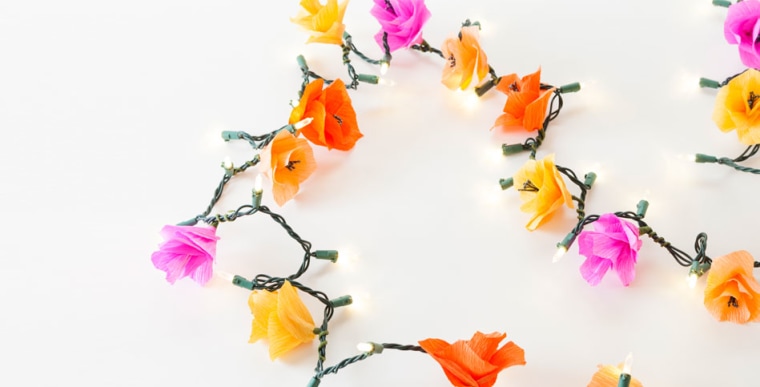 These floral string lights are perfect for indoor use. They're also a great way to repurpose all those strands of holiday lights you probably have lying around the house. Don't know how to make a paper flower? Follow our paper flower crown tutorial for the basics.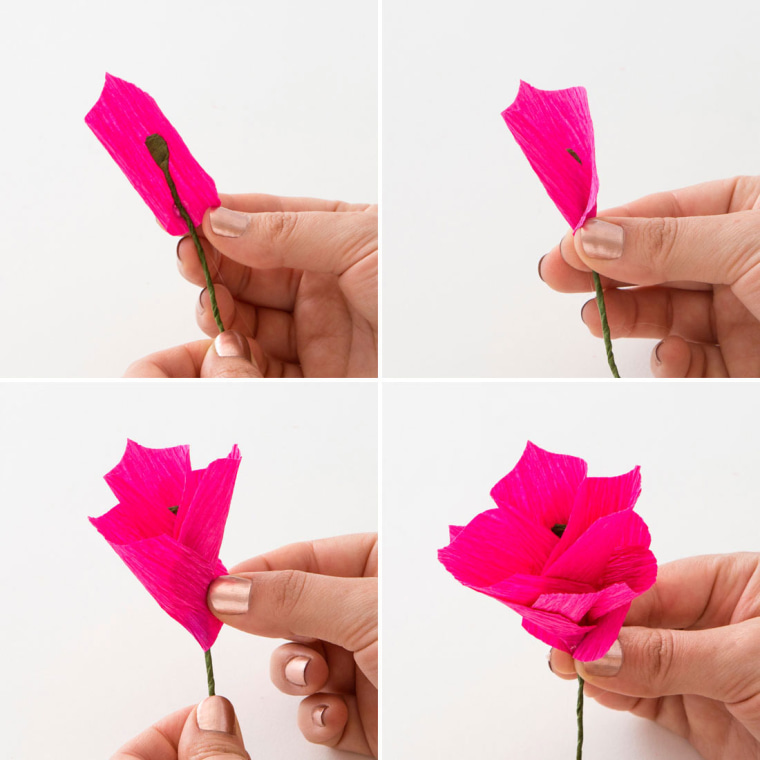 Simply twist the flower around your string lights using wire to complete the project. If you don't want to make the flowers, you can also purchase silk flowers, and wire them around the lights.
RELATED: The best places to shop online for cheap home decor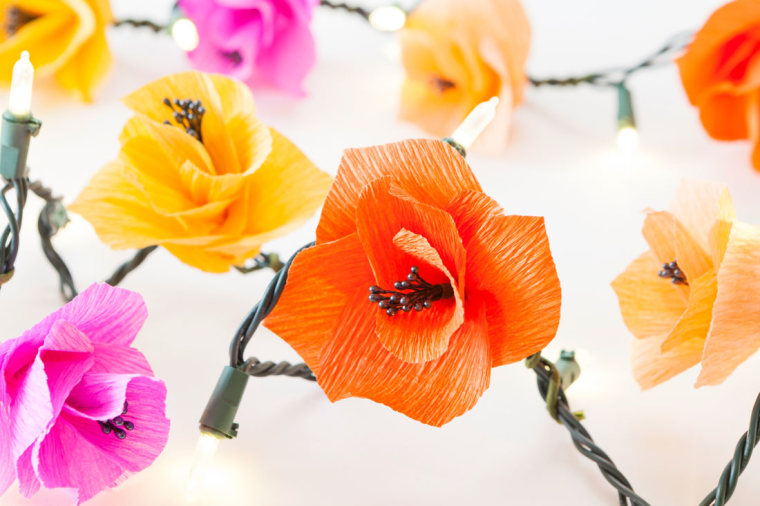 Repurposed egg carton wreath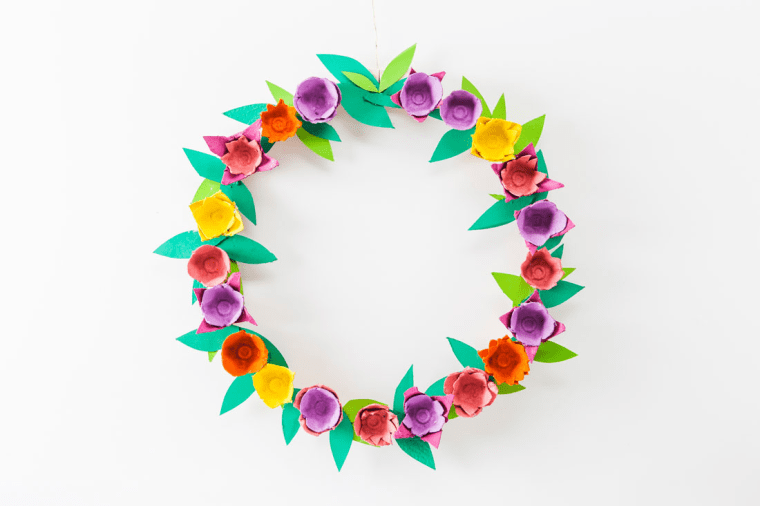 Next, we've got a floral wreath made from leftover egg cartons. This is perfect for those of you getting a head start on your Easter eggs. (I hope you've tried out all 40 of these egg-dyeing techniques.)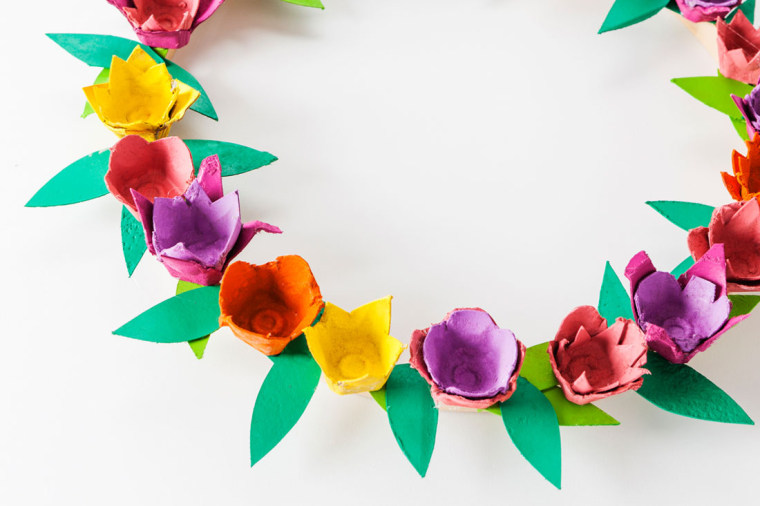 Cut through the cartons with scissors or a box cutter, then shape the edges into petals. We made rounded petals and some angular ones for variety. We also cut some leaves out of the carton lid. Paint your pieces and then hot glue them to a hoop. We used an embroidery hoop, but you could easily use a more traditional wreath base or anything around your house that's the right shape — even cardboard could work! (Inspired by Homemade Serenity.)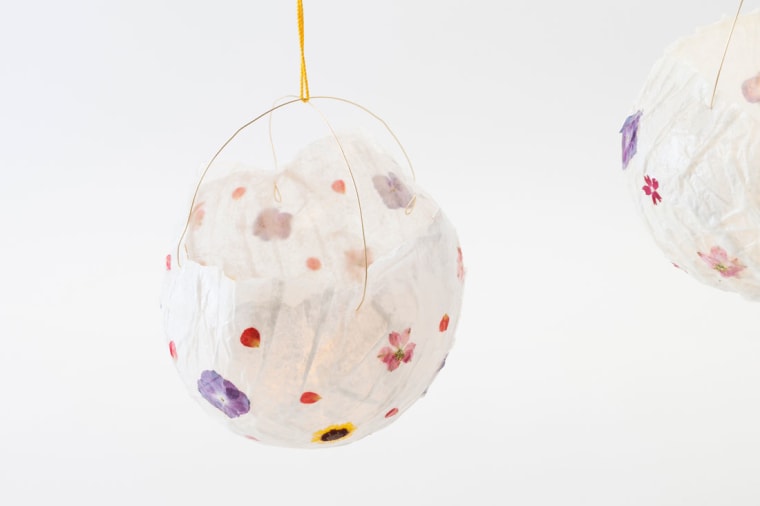 These lanterns are so fun and easy to make, and your kids will love the final step: popping the balloons!
To make them, we got really creative. Instead of using traditional paper mâché materials, we used coffee filters. Simply coat a balloon with Mod Podge, then add a single layer of tissue paper followed by a coffee filter. Add a layer of Mod Podge on top to seal the materials. The coffee filters are great because they create a nice petal shape, which goes well with our floral theme. Once you've added a couple of layers, adhere dried pressed flowers and gently paint Mod Podge on top. Once they dry, poke the balloons with scissors or a pin, and you've got yourself a lantern! To hang them, add wire by poking it through the dried lantern. Drop a few LED tea lights inside, and hang them up.(Inspired by Garten Zauber Magazin.)
Food
We can't forget about all the fun and delicious treats to make for spring. Follow along to see some of our favorite floral inspired ideas.
Fruit on a stick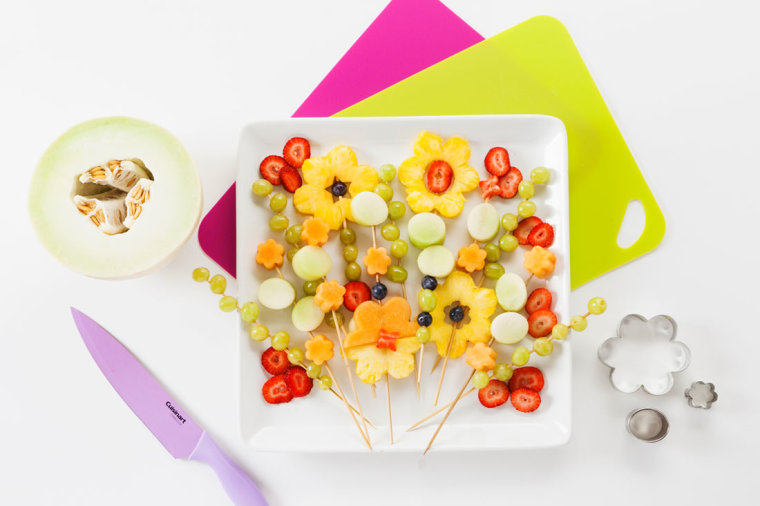 This is another project that's super fun for the kiddos. Get a variety of floral cookies cutters, including leaves and flowers, then cut out fruit like cantaloupe and honeydew.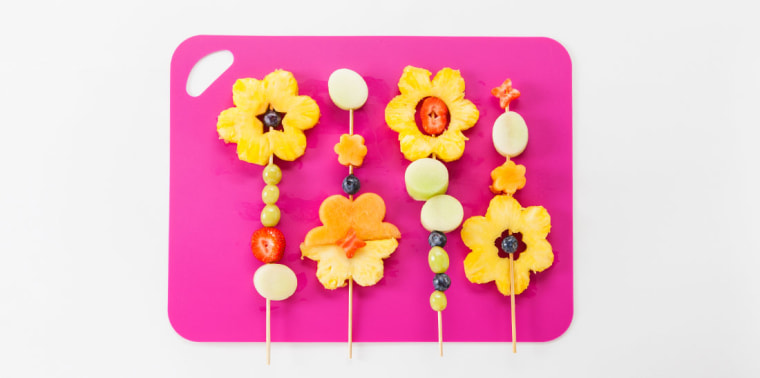 Add these to skewers along with strawberries, grapes and blueberries to make floral kabobs. Arrange them on a platter for a floral display.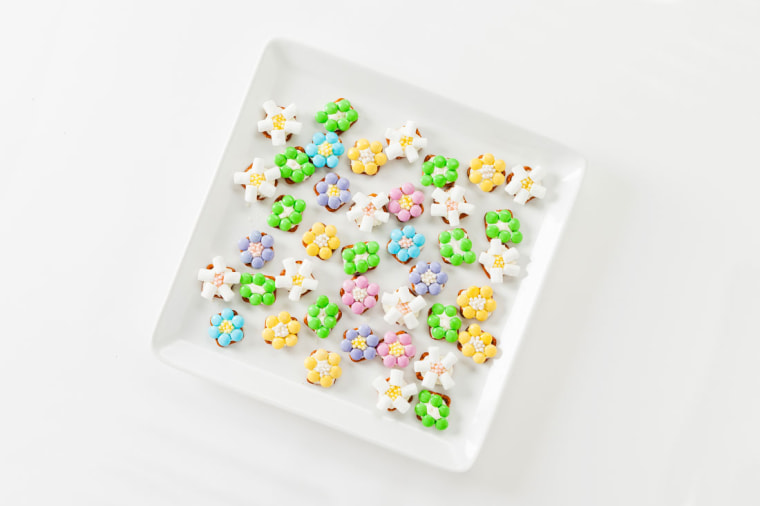 For a floral dessert, pipe frosting onto square pretzels, and then add M&M's or marshmallows with pearl sprinkles in the center. The green M&M's are perfect for creating leaves! (Inspired by Two Sisters Crafting.)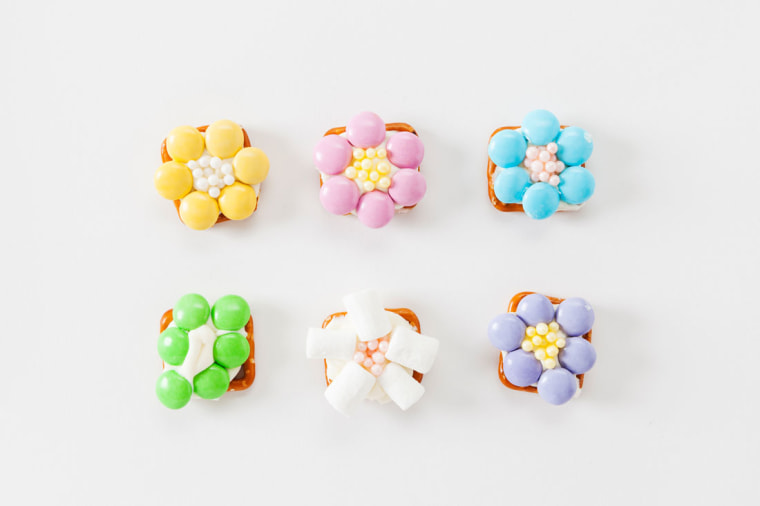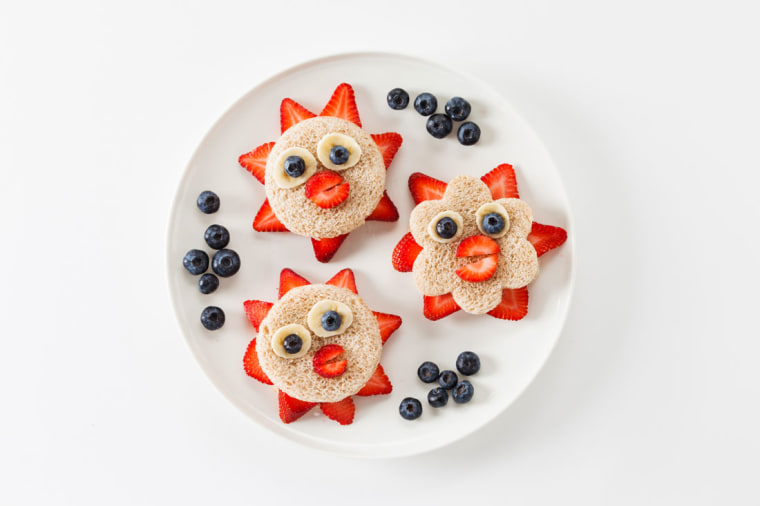 Finally, we have floral sandwiches. These are so cute — the kids will bepumped to eat them. Cut away your bread crust (this is great for kids who don't like crust) using a cookie cutter or the top of a glass. Make a peanut butter and jelly sandwich, and then add strawberries for thepetals and a fun face in the center of the flower. (Inspired by Little Food Junction.)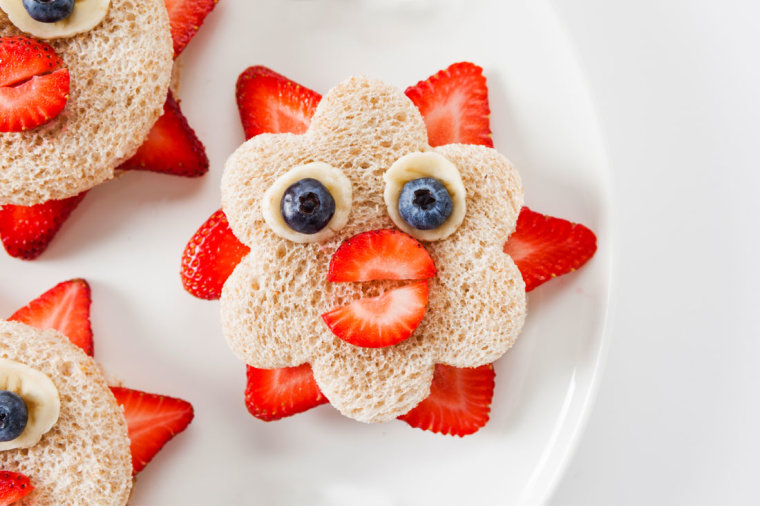 We got really creative in house and made some TODAY host sandwiches for Willie, Al, Tamron and Natalie. Can you tell who is who?