Pumpkins aren't just for carving. Here are some ideas that go beyond the traditional jack-o'-lantern. Southern Living shares some clever ideas about how to use these festive gourds in decorating and entertaining. These ideas are easy to do and can add style to your home without costing much time or money. Since pumpkins are in season, you can pick them up at your local farmers market or grocery store or make a day of it and go pumpkin picking.
These ideas are hip and contemporary:
1. Create spooky spider coolers as a festive way to keep drinks coldThis is an easy DIY project.
The idea here is to cut a top off the pumpkin and hollow it out.
To create the legs, you can buy copper tubing and a copper tube cutter at a hardware or home improvement store. You'll need to make eight legs for your spiders, so measure and mark them out before you cut, then cut them. If there are rough edges, you can file down with an emery board.
To make curved legs, simply bend them and poke a hole in the pumpkin and insert. This can also be fun for the kids to help you create.
If you're putting the spider pumpkin on a piece a of furniture that can get damaged, simply line the pumpkin bottom with a plastic bag before pouring the bag of ice in and putting in your drinks!
See the how-to video on the Southern Living Web site.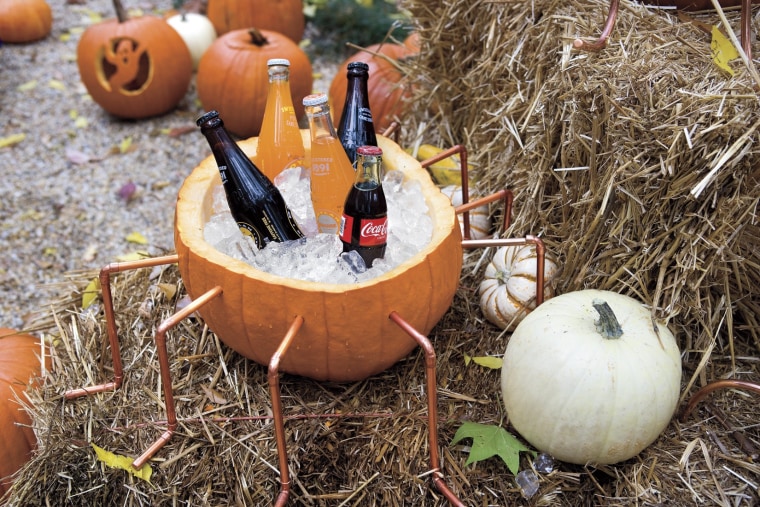 2. Another fun, entertaining idea: pumpkin bowlsFill a small pumpkin or winter squash with dip if impromptu guests come over or for your next party.
You will need a platter to put the pumpkin on. Cut the pumpkin in half and scoop out the inside. Put onion dip inside (any kind) and some colorful clips next to it (as shown in video above).
3. Use a pumpkin as a vase for a festive flower arrangementHollow out a pumpkin and put a clear glass vase inside and flowers. It makes a great centerpiece or hostess gift.
4. Pumpkins with other colorful fruit for a gorgeous centerpieceThis is an elegant and unexpected way to pair pumpkins with other colorful fruit for a gorgeous centerpiece for a dinner party. It's like decorating: See what colors would best complement each other. Take creative license, mix and match, have fun. Mix smaller, deep orange pumpkins with pomegranates, berries and cherry tomatoes for an eclectic arrangement.
5. Create a flower arrangement with things you already have in your homeUse a household copper pot, twigs or berries from your backyard, place the pumpkin inside and surround with sunflowers and greenery. Place florist foam at the bottom of the pot, the pumpkin in the center and the vines around it. The foam acts as a watering agent and gives the pumpkin height.
6. This twinkling pumpkin is a fun way to welcome trick-or-treatersThis is best for a Cinderella pumpkin, which refers to its shape. All you need is a knife, painters tape, a drill to make the holes and one strand of Christmas lights.
Cut a circular hole at the bottom of the pumpkin scoop and out the inside. Then use painters tape to mark the middle of the pumpkin. With an electric drill and a 5/16 drill bit, drill holes in the pumpkin, around then up the sides.
Poke Christmas lights from the inside out for a scary pumpkin. This can also work with an artificial pumpkin so you can keep it from year to year.
See the how-to video on MyHomeIdeas.com.
7. Wreath of small pumpkinsUse tiny pumpkins to create a pretty autumn wreath that makes an inviting entry to your home. It's a great use for those mini pumpkins you see in grocery stores and at produce stands this time of year.
It's easy to do: Just wire the tiny pumpkins to the wreath form and use sheet moss to fill in the spaces between them. Then cap the wreath with a big black bow and hang it on the front door. Here's how to do it:
Step 1: Use the end of heavy-gauge florist wire to make a hole near the bottom of a miniature pumpkin. Run wire through pumpkin and out the opposite side. You could also use a nail to make a hole on either side of the pumpkin, and then insert florist wire.
Step 2: Place the miniature pumpkin on the form; on underside of wreath, twist wire ends together to hold the pumpkin in place. Continue threading and attaching pumpkins with wire until wreath form is completely covered.
Step 3: Cover exposed areas of wreath form with pieces of sheet moss, securing with florist pins.
Step 4: Twist a piece of florist wire around the top of the wreath to make a loop for hanging. Make a large bow from wide black ribbon, and attach it near the wire loop. Hang the wreath by the wire loop from a nail or hook inserted in the front door.