This may be season of giving ... but let's not forget it's also the season of saying thank you. One of the loveliest ways of expressing gratitude is being sidelined by the convenience of email. In fact I think we can all say that sending a hand written note is the most sincere form of saying thanks. TODAY lifestyle editor Elizabeth Mayhew addresses in six ways how to write the perfect handwritten thank you note:
There is no question that the thank you note has gone the way of the 8-track tape — it's a relic of a time gone by. More and more people rely on cell phones, email, and text messaging to communicate and acknowledge their appreciation — this is totally unacceptable. Thank you notes should take some time and thought. After all didn't the gift giver spend more than a couple of minutes buying a gift for you? Don't underestimate the power of a proper hand-written thank you note. The act of sitting down with pen in hand (that's right a PEN) and writing a thoughtful note of gratitude will not only make the receiver feel good, but it will also make you feel good.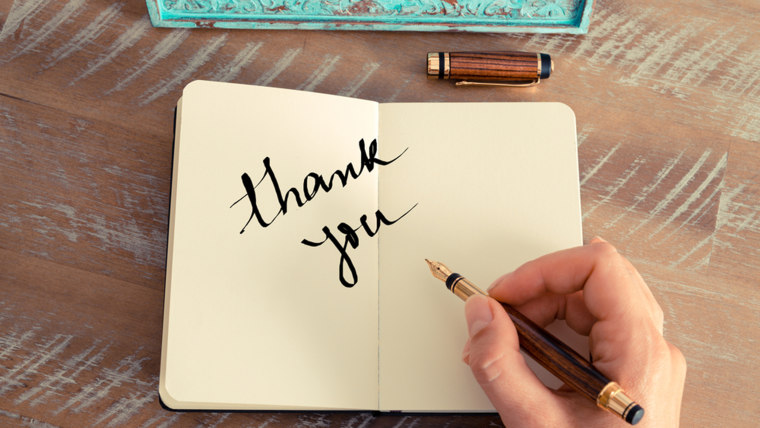 RELATED: Smart or tacky? Busy brides outsource wedding vows, thank-you notes
A note of thanks should be written for gifts of all kinds including holiday, wedding, birthday, shower, and birth. Hospitality, dinners, or parties should also be acknowledged.
Job interviews, referrals, and references also require a proper thank you, as do condolences and other acts of kindness or generosity. Two websites that offer really nice stationary are: Smythson.com andCrane.com.
Invest in simple note cards, not sheets of stationery (these are traditionally considered more formal and should be reserved for condolence notes, recommendations, and business correspondence). Note cards with monograms or icons are fine, but avoid cards that are too styled; the focus should be on the writing more than the paper design. Write in blue or black ink (I sometimes use chocolate brown) and never — even if you have chicken scratch handwriting — never print thank you notes off your computer. Make sure you act in a timely manner and write the note as soon as you can. I find the longer you wait the more difficult it is to get the note written. I try to practice what I preach to my children: you can't use, wear, eat, or drink the gift until the thank you note is in the mail. That being said, a late thank you note is better than not sending one at all.
RELATED: 5 essentials for writing a thank-you note
So now that you know when, for whom and the color ink to use, let's get writing! Follow these tips:
1. Acknowledge the giver
Aside from beginning your note "Dear Uncle Robert" you should mention how grateful you are for the giver's effort and generosity.
"Dear Uncle Robert, You always seem to get me exactly what I need!"
2. Keep it simple and specific
Don't get too flowery or general with your prose. Acknowledge a gift directly by saying "thank you so much for the ______." It is good to state early on what you are thanking someone for that way you connect the gift with the giver.
If you were given money, do not list the exact amount instead write "thank for the check."
"Thank you so much for the new red sweater."
3. Discuss use
Let the giver know how you will use the gift and say something nice about how the gift has impacted your life.
If you like the gift then this should be easy to do, but if you hate it then try to find some redeeming attribute that you can mention — just don't go overboard.
If you were given money then tell the giver how you plan to use it.
"The color is so cheerful and it will certainly keep me warm this winter."
4. Link to time
You should always end a note with a mention of seeing the giver in the past or future.
For example, "It was great to see you the other night at dinner. I hope we can do it again soon!" This will link the giver to you and acknowledge your past, present, and future relationship.
"I loved seeing you at Christmas and I am looking forward to your visiting us this spring."
5. Don't blab
Thank you notes are meant to show your gratitude for someone else's kindness.
They are not the place to discuss what's going on in your life — save it for an email or phone call.
6. End with love
Or end with any salutation that you feel comfortable with but make sure you sign the note clearly. There is nothing worse than getting a note and not knowing whom it's from.
"With love and best wishes, Name"
Other tips:
When you receive a gift from a number of givers, you must write to each person separately, unless of course the gift was from a family or a collective group of coworkers. In that case, you can address the givers collectively and request that your note be circulated or posted.
Sometimes a thank you note is not enough. If a friend goes out of her way for you or friends invite you to be their houseguest for the weekend then you need to more than a note.
This article was originally published Dec. 7, 2007 on TODAY.com.