/ Source: 90 Degrees by Reflex
Whether they feature family photos or gorgeous winter scenes, the holiday cards you receive deserve to be showcased. Create a display that highlights the greetings from friends and relatives arriving in your mailbox this season — and makes you smile every time you pass by.
1. Design a washi tape tree

A blank wall is the perfect canvas for some temporary holiday decor that also functions as a giant card display. Dani of the blog "Thyme Is Honey" created a fir-shaped tree with strips of washi tape, alternating tinsel and string on each "layer." Curtain clips attached to the string make it easy to attach holiday cards as they arrive.
2. Adorn your banister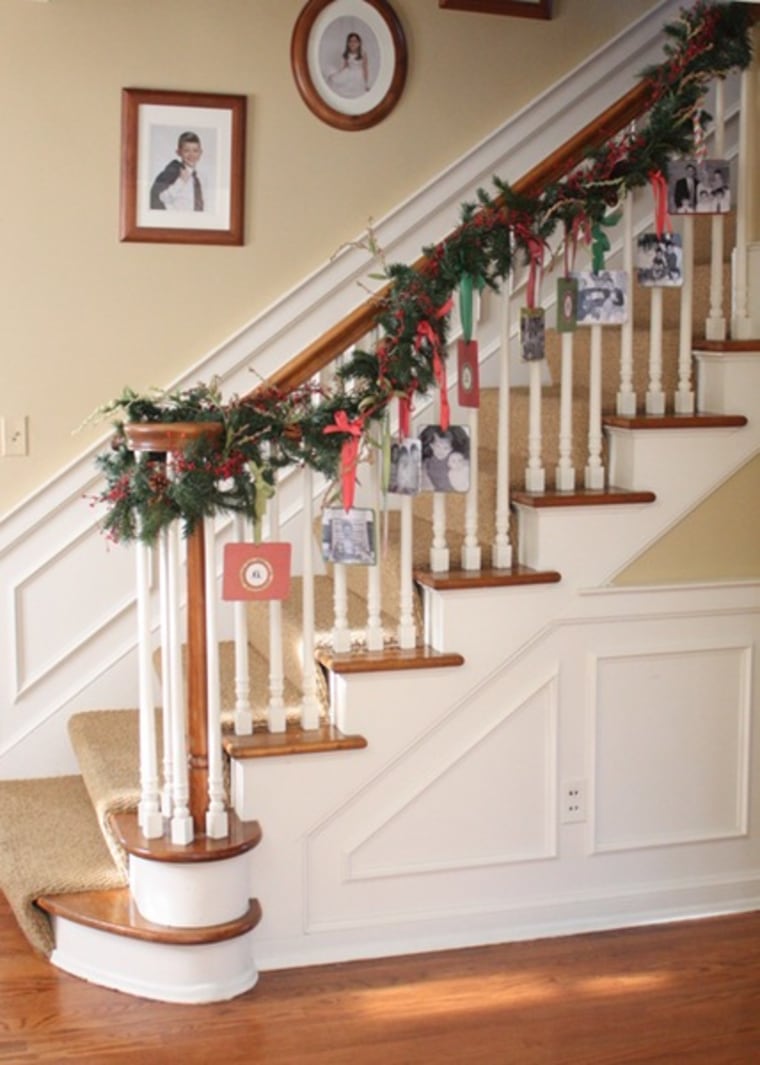 A banister adorned with holiday greenery makes an even more festive statement when it features the thoughtful cards you've received from friends and family. Use the gorgeous staircase display that Sarah of "Clover Lane" created as your inspiration: Simply punch holes through holiday cards and tie to the garland with pretty ribbons.
3. DIY a hanger tree
Instead of stuffing those cards away in a drawer where they'll probably never see the light of day, you can create a hanging wall display using a few things you can find around the house. It's easy!
4. Decorate a door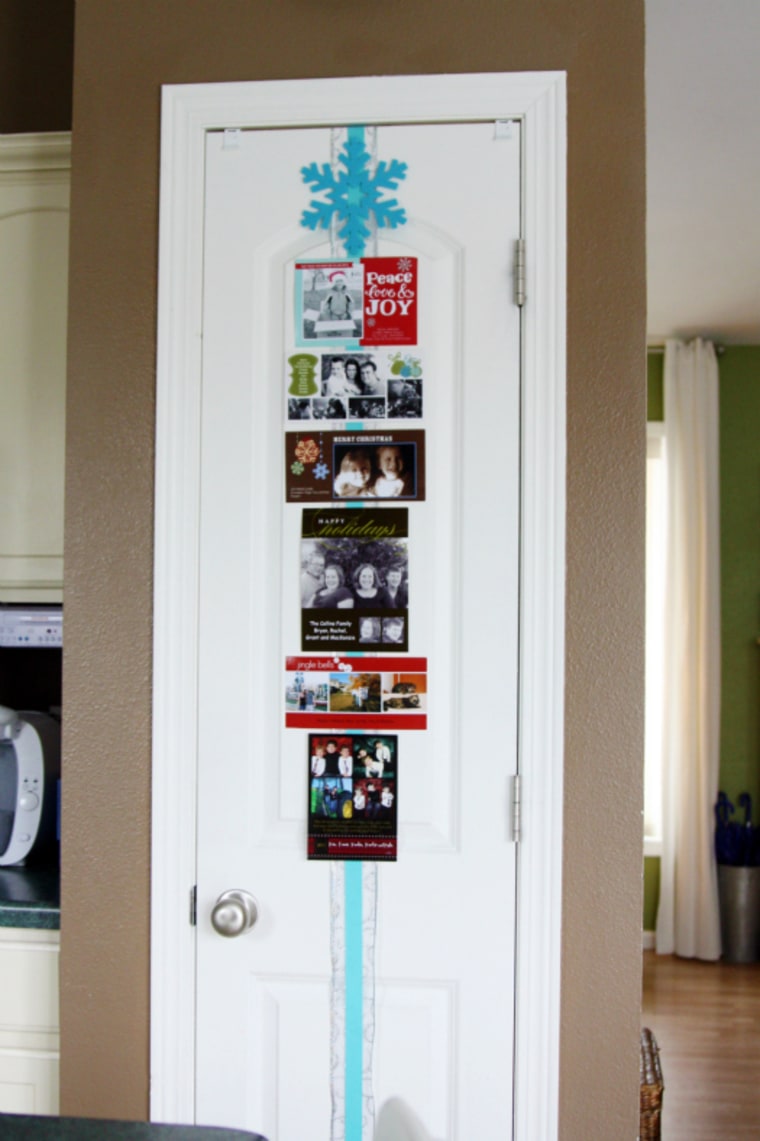 Make a pantry or closet door do double duty by decking it with a simple ribbon onto which you can attach your holiday mail. Jennifer at "I Heart Organizing" tied a sparkly ribbon to the door, layered it with a solid blue ribbon for texture, and topped it with a big felt snowflake. Just attach cards with clips, clothespins or mounting putty as the mailman delivers them!
5. Repurpose a ladder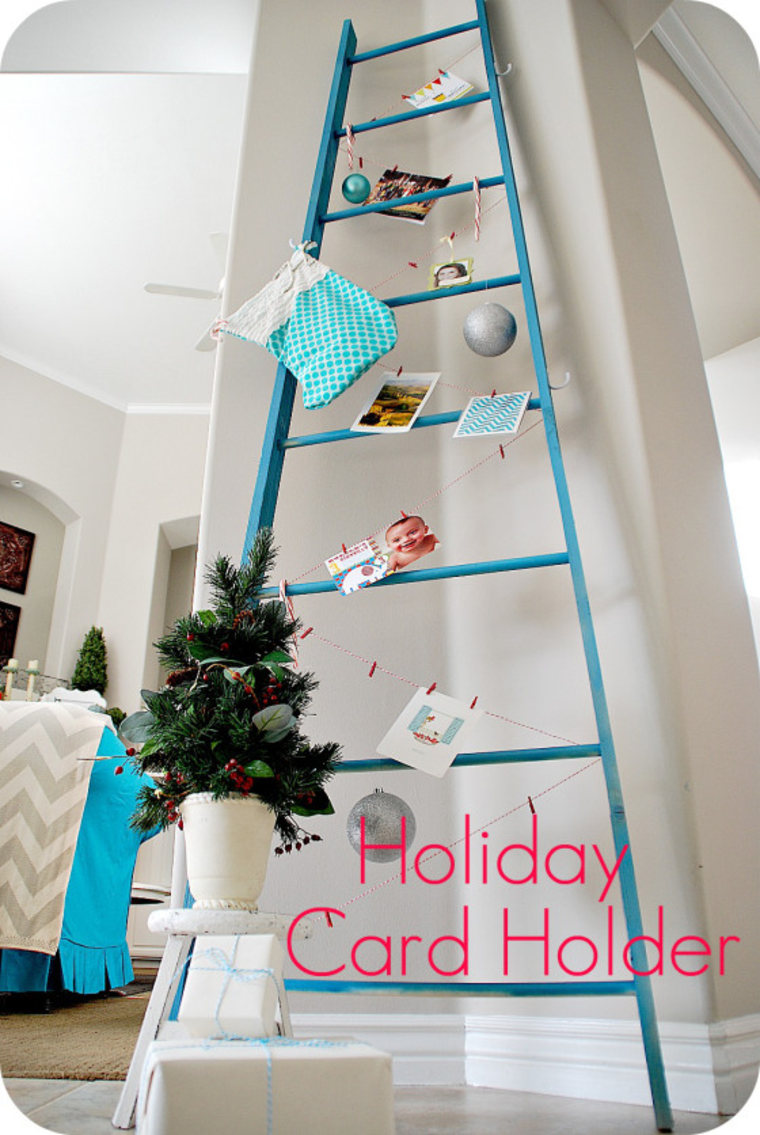 Ring in the holiday cheer on the rungs of a ladder like Jennifer at "Tatertots and Jello." String some baker's twine around the structure and clip the cards on it with mini red clothespins—you can even add ornaments, stockings and candy canes to the ladder's rungs. Bonus: Post-holidays, repurpose the ladder as a magazine or quilt rack.
6. Transform a piece of plywood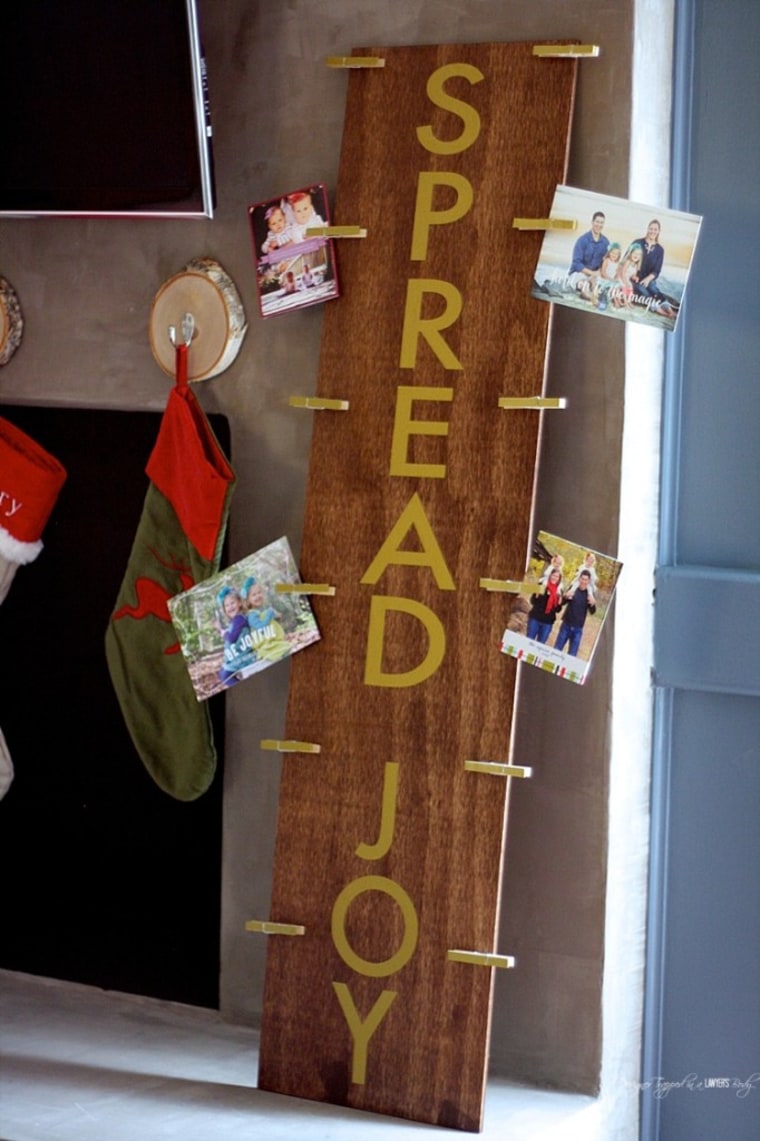 Feeling crafty? This simple DIY card holder looks so cool that all your holiday guests will be asking where you bought it. Tasha at "Designer Trapped in a Lawyer's Body" simply stained a piece of plywood and then applied gold vinyl letters to spell "Spread Joy." Glue on some clothespins covered in gold washi tape to the board's edges, and your display is ready to receive all the season's greetings.
7. Make a holiday card ring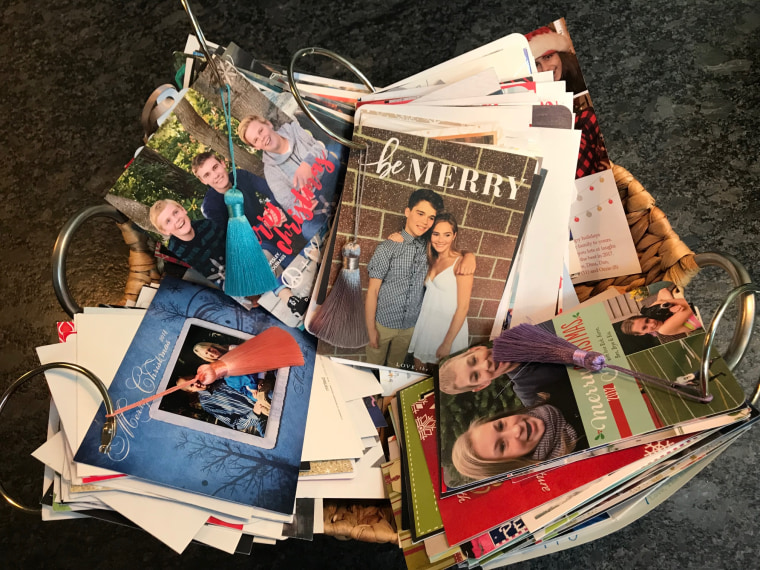 This trick is easy! All you need are 3-inch metal loose leaf rings (the kind you find at an office supply store), a hole punch, some silk tassels (like these here) and all those past holiday cards you've been saving for years. Once all cards are facing the right way, punch a hole into the corner of each and put them on the rings. Then, just attach the tassel to give it some holiday pizzazz.
Ellen Sturm Niz is a freelance editor and writer in New York City. Follow her on Twitter, Instagram, and Pinterest.