Renovating your home could be an intimidating and expensive project — but it doesn't have to be!
HGTV star Brian Balthazar has spent years working on various home renovations and other projects. He stopped by TODAY Wednesday to share some of his tops tips for redecorating your home on an affordable budget.
Balthazar knows from experience; he's been renovating a cottage in upstate New York. While the building had a good structure and floor plan, he wanted to update a lot of the surface-level features.
"What I always start with is, 'What can make the most significant change with the least amount of money and still look great and be attractive and efficient?'" Balthazar told TODAY Home. "I'm always looking to see what's the most impact I can make, at the most affordable cost."
1. Make an entrance
The exterior is the first part of the house that your visitors will see, so put a little extra effort into making a good impression.
"I was so eager to get my hands on the outside of the house, because what you see from the street makes such a big difference, whether you're living there or whether you're planning to sell," he said.
For Balthazar, that meant repainting the entire house, a project that he said was much easier than it sounded.
"The easiest and most fun (part) was picking an exterior color that was really happy and bright and cheerful," Balthazar said. "The house just soaked that paint in."
By using a paint sprayer, he was able to paint the exterior himself, saving money and getting the job done in just a few days.
"If you do big jobs, (paint sprayers) are a lifesaver," he said. "They save so much time!"

2. Spray it, brush it, roll it
A fresh coat of paint can update the look of any room or piece of furniture, usually for a low cost.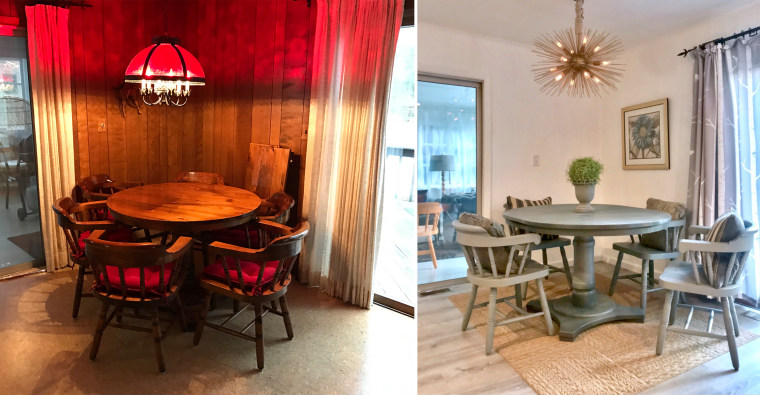 "I think people are also terrified of choosing the wrong color," he said. "I think that's where the internet is such a blessing. I go to design sites like HGTV.com, Houzz and Pinterest to look for rooms with the exact color I like, and those sites often say the actual name of the color and where to buy it. Designers are putting amazing rooms on their social media pages and they provide endless inspiration to me. Don't be reluctant to re-create a look inspired by your favorite designer!"
To update the kitchen, he spent some time repainting the kitchen cabinets to change the surface from a dull brown to a stunning navy blue. While he said the kitchen was the most difficult part of the renovation process, the detailed work paid off in the end.

"It just requires a lot of attention to detail," he said. "When you're painting kitchen cabinets, you have to sand, you have to prime, you have to take them off the wall and then you have to take the doors off the cabinets. That's a lot of attention to detail and you don't want to take a shortcut on finishes like your kitchen cabinets. If you're going to paint them, you really have to take the time to do it right."
If you want to try this at home, Balthazar recommends keeping the color handy after the project is complete.
"I always keep a little bottle of that paint and a small brush for touch-ups in the top of one of the cabinets," he said. "Martha Stewart gave that advice years ago and I never forgot it."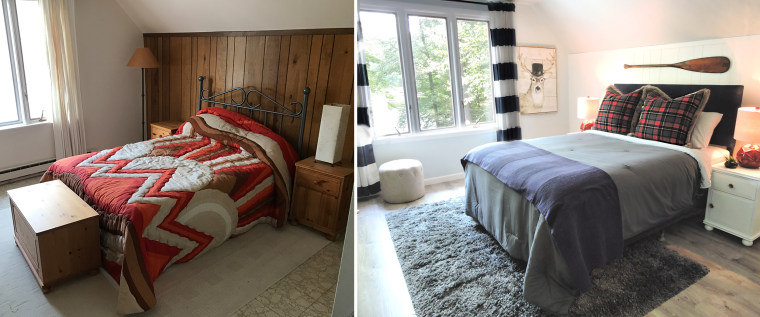 He also painted the wood paneling seen throughout the house. For that project, patience and primer are key.
"You definitely need to prime a wood-paneled wall, and you're not going to get it on one coat. No matter what a can of paint says, it's going to need more than one coat," he said.
3. Make bolder moves in smaller spaces
Breaking down a huge project, like the cottage, into several smaller projects helped Balthazar get everything done without becoming discouraged.
"Don't get overwhelmed in the massiveness of an entire project," he said. "Map out smaller projects that will give you that satisfaction of getting something done."
For this renovation, the smallest projects were the foyer and the laundry room. The laundry room got new cabinets and a colorful, patterned paint job, while the foyer was updated with a ceiling decal and a welcoming coat of blue paint.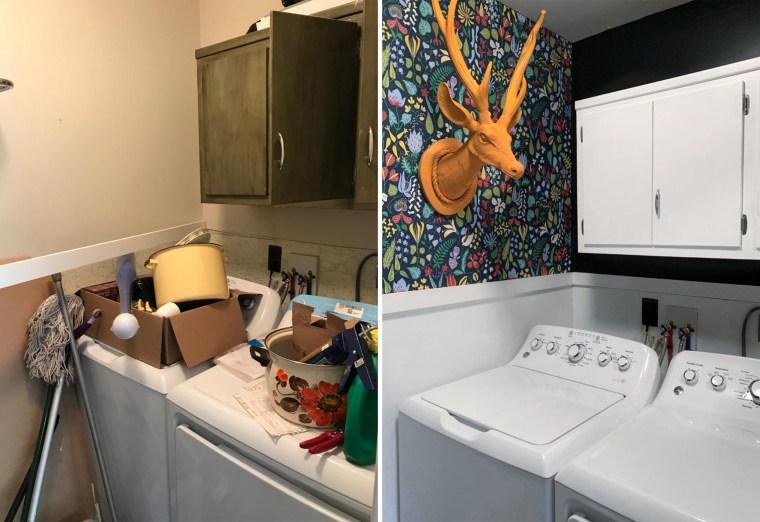 "I thought, 'You know, I just want to feel that gratification of getting something finished,'" he said. "So I chose the smallest rooms and did those first. (The foyer) was one that I was like, 'This is easy to do. It's going to make me feel excited about all of the bigger changes to come, and I can do this in a weekend.'"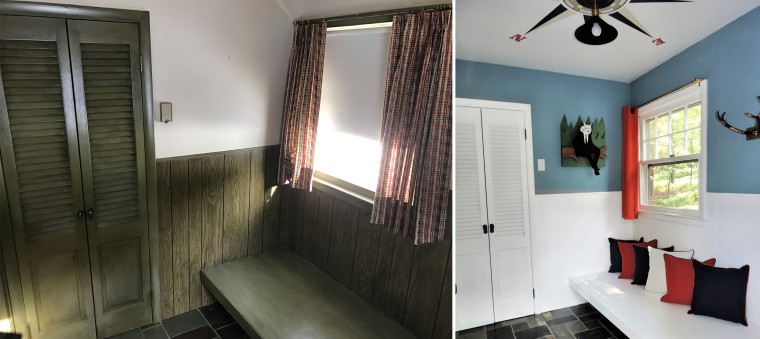 4. Power wash, then deck it out!
Updating an existing deck can be a great way to make a home feel like new. Of course, an outdoor deck will be more exposed to the elements than the interior, so it can help to break out a pressure washer (aka a power washer) before painting.
"A power washer is great to have," Balthazar said. "It's a Zen-like experience seeing dirt and grime come off of anything."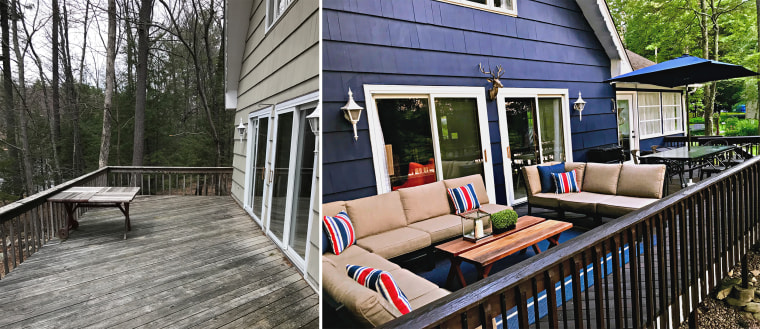 After cleaning, Balthazar restained the wood panels of the deck and added plenty of outdoor furniture and pillows.
5. Use what you already have
Renovations aren't restricted to just paint and new finishes — instead, try updating an already existing feature.
In the cottage, Balthazar updated a chandelier by removing the light bulb covers and wrapping burlap twine around it to give a soft, rustic look.
"I use (burlap twine) for so many things," he said. "From wrapping lights and candlesticks to bunching up flowers and plants, I love its organic look."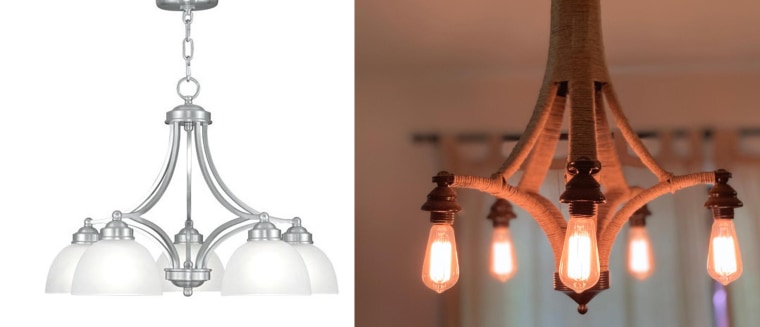 Balthazar also painted some of the furniture itself, often using spray paint to quickly change the color of a piece.
"Don't be so quick to discard things that might get a whole new life with a new coat of paint," he said, adding that furniture can also be quickly updated with new upholstery or other details. "I have saved so many pieces of furniture that I thought looked old and dated by giving them a really upbeat, fresh color. From dining room chairs to footstools, I ended up finding the pieces that you revitalize are often the ones you love the most."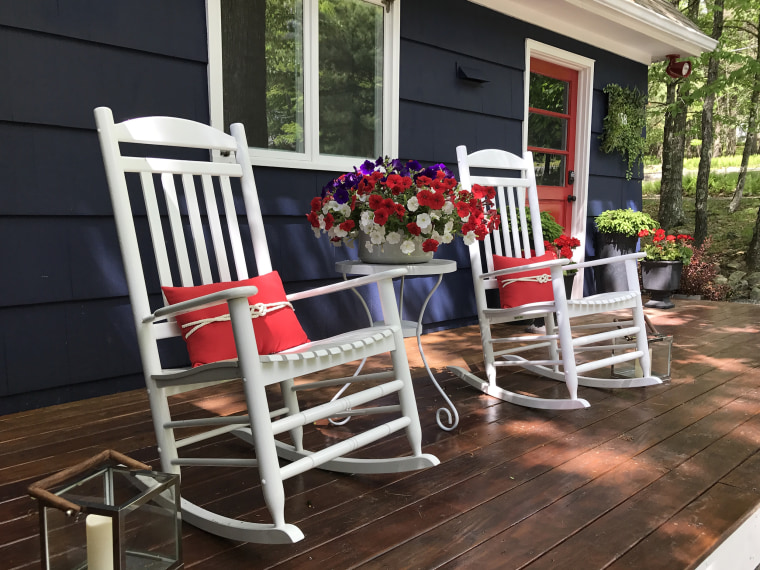 No matter how big or small your renovation might be, Balthazar advises not being afraid to experiment or change something up.
"I think the unknown is really what scares people," he said. "For some inexplicable reason, when I first wanted new countertops, I was crazy intimidated! I was so worried that something was going to go wrong and my kitchen was going to be all torn up. It ended up being painless."
His final tip is to never forget how the house started.
"Always take before photos," he said. "You'll be so glad you did when you transform something. It will remind you how far you've come with all your hard work."