Don't host another uninspired soiree again. Here are four fantastic ways to celebrate summer from some of our favorite party pros.

Theme: Backyard bonfire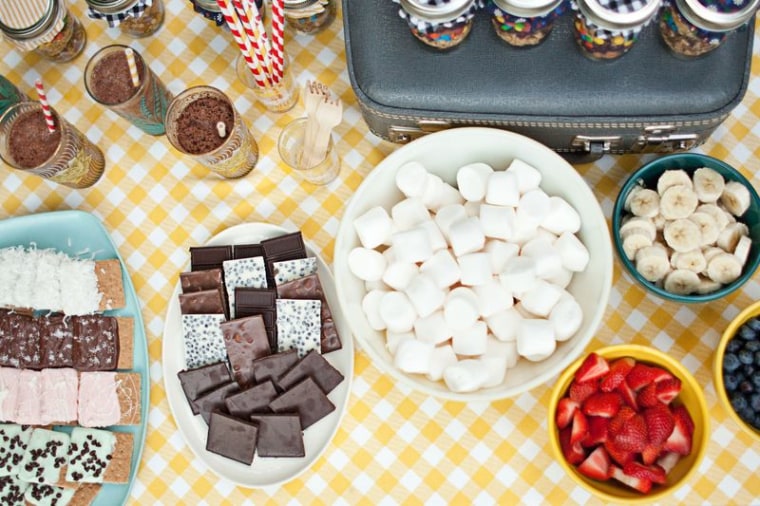 Is there a tastier way to celebrate summer than host a party devoted to its most iconic sweet—the s'more? We think not. 
"For our back yard bonfire we attempted to take this classic treat and fancy it up a bit," says Emma Chapman, co-owner and editor of A Beautiful Mess. 
To set the scene, she strung up yellow and black patterned fabric that coordinated with a bright checkered cloth, which topped a food table boasting a bounty of s'more fixins' ready to be skewered and toasted over Chapman's backyard fire pit. Assorted chocolates, plus graham crackers coated in mint chocolate chip, coconut cream and other tasty favors were served alongside plain graham crackers, marshmallows and fruit. To wash it all down, icy hot chocolate was served in floral glasses with colorful straws, some garnished with marshmallows. 
DIY tips for throwing a s'more bash:
Love frozen hot chocolate? Here's the recipe.

For party favors, fill a mason jar with layers of your favorite granola, nuts, dried fruit and candy (like M&Ms). Top each jar with a circle of fabric then seal. Voila! 

Theme: Potted potluck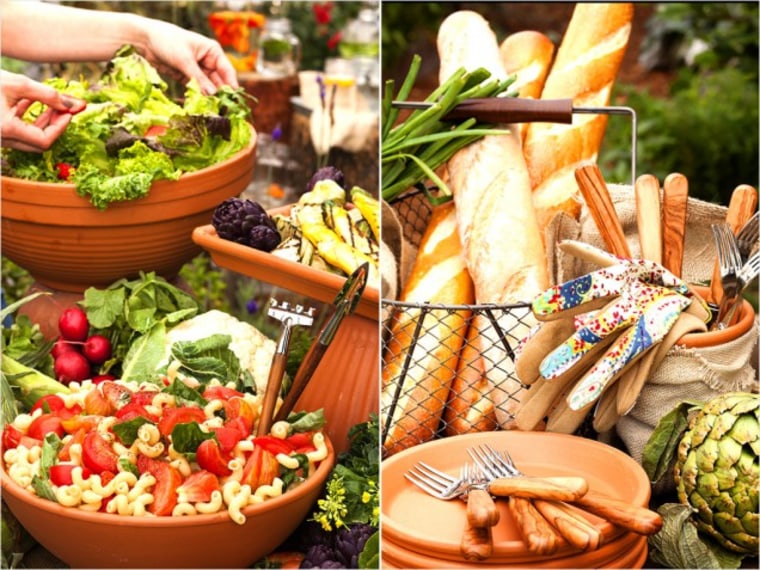 "Say goodbye to boring, predictable and Tupperware-strewn potlucks with this charming garden-themed party," says Cheryl Najafi, author of You're So Invited: Panic Less, Play More, and Get Your Party On! 

 "Bedeck your buffet table with an assortment of garden pots — some upside down to hold dishes and platters, some right side up and lined with food-safe plastic liners to take your guests' eclectic dishes and unify them into a single beautiful presentation (help your friends transfer their dishes into pots before they are brought to the table)." 
Accent with a colorful assortment of seasonal fruits, veggies and flowers, along with garden gloves, boots and gear, ready-to-plant color spots, bags of potting soil and burlap — perfect as a rustic chic table runner.
DIY this potluck party:

Mix pot elevations to add interest, then place moss and vegetables around each to complete the earthy look.

Repurpose brand-new trowels and terrarium tools as serving spoons.


Use garden stakes to hold recipes and mark dishes. If needed, place masking tape on stake to write the name of the dish.


Mason jars with handles are perfect for serving lemonade—or something stronger.

Theme: Citrus dinner party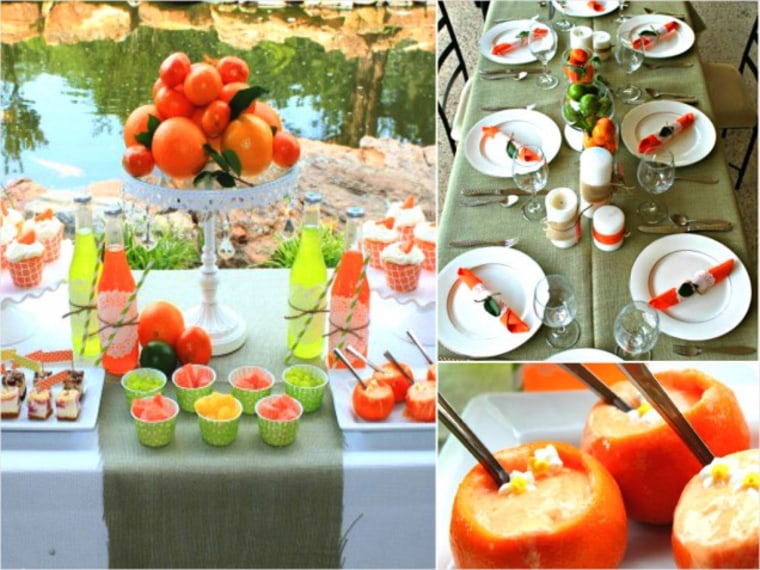 "A vibrant and refreshing dinner party using citrus fruit as inspiration is a great way to unwind and enjoy the company of good friends during the warm summer months," says Mariah Leeson of Giggles Galore. 
To keep things both chic and intimate, she set the table with fine white china, good silver and crystal water goblets offset by colorful, nature-inspired accents such as green burlap fabric, which served as a tablecloth and dessert table runner. 
The simple but oh-so-stylish dessert table featured orange creamsicle cupcakes, orange sherbet cups, mini cheesecakes, citrus candies, and citrus flavored soda, all charmingly displayed. "I piled oranges on top of a beautiful cake plate to serve as the focal point of the dessert table. It's an easy and inexpensive way to reinforce your party theme."

DIY your citrus bash:
Create a simple centerpiece using vases and bowls filled with oranges and limes, and white candles wrapped with burlap, orange paper and coordinating patterned paper.
Orange napkins wrapped with small doilies and tied with twine get a pop of color from a green leaf accents.

Whip up orange sherbet cups

Theme: Hawaiian luau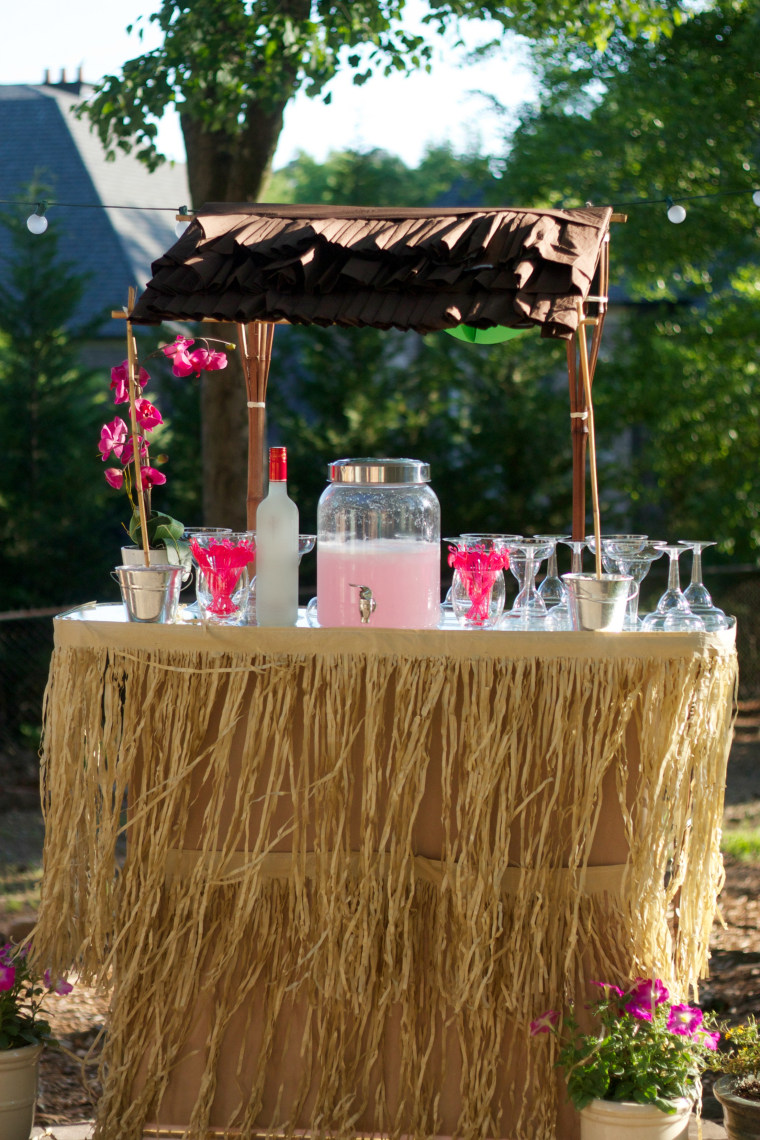 Say aloha to Heidi Rew of Partiesforpennies.com's glam update on an always on-trend summer soiree—the luau. 
"I wanted a fresh take on the classic party theme," says Rew, who stuck to a few main decorating items (and a lot of DIYing) to keep this party budget-friendly. Inspired by beautiful flower-patterned fabric (which became a tablecloth), Rew went heavy on palm fronds and hibiscus flowers, which adorned everything from coconut vases to a cookie tower. Drinks were served from a homemade Tiki Hut, while a parasol topped luau table held fruit, kebobs, shrimp tacos and mini-mousse treats for grown-ups. As a final touch, she sent guests home with a party favor: packets of homemade lime salt for topping popcorn.

DIY your luau:
Use coconuts as vases. Drill a hole in the top end, drain the juice and fill with tropical blooms.

What's a luau without a Tiki Hut? Make yours here. 

String DIY paper party balls along white lights for a colorful statement. Find out how here.