Sure, your favorite cleaning products get things squeaky clean and make your house smell awfully nice, but they could actually be creating more harm than you think.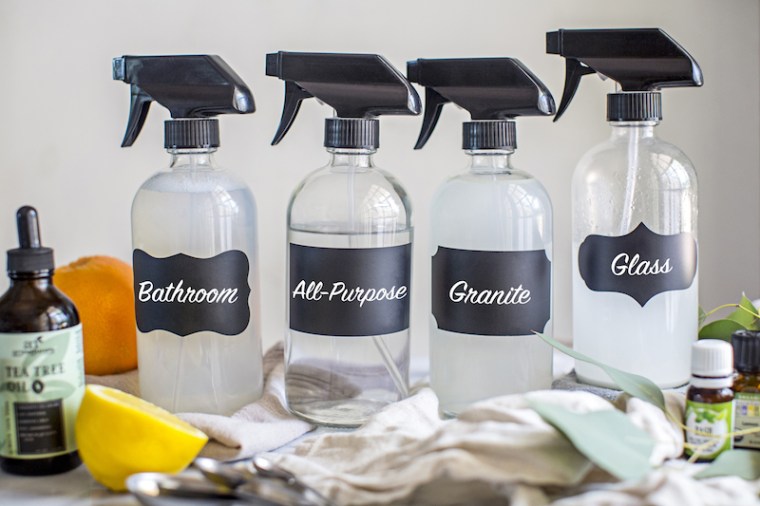 In my time running my food and wellness site Root + Revel, I've learned that all it takes to green your home scene are a few basic (and cheap!) products available at every grocery store. While the reasons to go green are endless, here are my top four tips for creating easy, DIY cleaners:
It's cheaper
One of the best reasons to DIY your own cleaning products is to save money. Who doesn't love that?! In fact, most DIY cleaners cost less than $1 to make. Compare that to $5-$15 per bottle for most store-bought products, and you'll quickly find that you really can't afford to not make your own cleaning products.
To get started, stock up on these essentials:
white vinegar (buy a gallon to save even more money)
liquid castile soap
baking soda
rubbing alcohol
hydrogen peroxide
various essential oils (we especially like citrus oils like orange and lemon)
Believe it or not, with these few items, you'll be able to make dozens of products to green clean your home.
RELATED: DIY natural cleaners that actually work
It's easy and fun
Intimidated by the process? Don't be. If you can measure liquid into a tablespoon or a cup, you can make your own green cleaners. What's more, in less than two minutes, you can whip up multiple DIY cleaning products that will last for months on end.
It's much safer (and lessens your exposure to icky chemicals)
While there are a handful of safe store-bought brands out there, even the best ones often contain dozens of toxic ingredients, upping the amount of chemicals we put into our homes and the air we breathe and onto our skin (and thus into our bloodstream) every day. Think known carcinogens, nasty hormone (including birth defects and infertility) and respiratory disruptors, skin irritants and asthmagens, among other ills. Some common toxic chemicals to watch out for include fragrance, sodium borate, ammonium, glycol ethers, sodium laureth sulfates, formaldehyde, artificial colors/dyes and bleach.
Compare that to most DIY cleaning recipes which typically contain three or less natural ingredients. When you can get the job done just as effectively with just a handful of safe, food-grade ingredients, why take the risk?
RELATED: Cleaners you can make in five minutes or less
It's better for the environment
The chemicals found in conventional cleaning products aren't just toxic to humans. They also have an extremely negative impact on our environment, particularly sea life. These chemicals are only partly removed by wastewater treatment plants, don't readily break down, are persistent in the environment and toxic to aquatic life. Dryer sheets are especially damaging -- they not only coat our clothes with these harmful chemicals, but also vent out into the air, further damaging our environment.
Kate Kordsmeier is the founder of Root + Revel, a food and wellness site delivering natural living inspiration, without sacrifice. With a focus on delicious real, whole foods and non-toxic beauty, cleaning and lifestyle tips, Root + Revel helps readers strike the balance between good and good for you.