Want to make your bathroom feel more like a luxury spa? Try a shower plant. It's one of the hottest home decor trends taking over Pinterest right now and besides being absolutely beautiful, it can bring some major benefits.
Shane Pliska, president of Planterra Interior Landscaping in Detroit, said that plants in the bathroom are becoming the norm.
"Whenever we do a home, we will always put a plant in the master bedroom spa area," he told TODAY Home. "Even in small spaces, plants can work quite well in the shower."
The daily habit of showering will help your bathroom plants thrive, he explained. Plus, it's a great way to conserve water. Here are a few other reasons why you should consider adding some green to your powder room.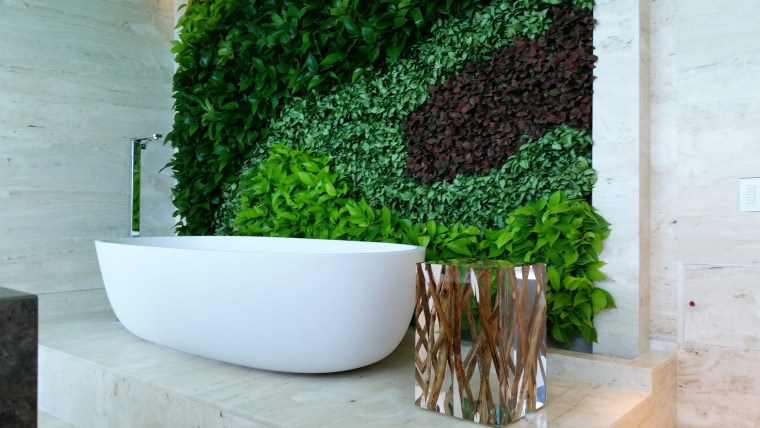 1. Create better air quality
Want cleaner and better air in the bathroom? Plants can help with that, too.
"NASA researchers have reported that a group of common house plants can remove or scrub indoor air of various pollutants" said Dr. Clifford Bassett, MD, clinical assistant professor of allergy and immunology at NYU Langone Medical Center. When it comes to air-cleaning plants that would do great in a bathroom, Bassett suggested Mother-in-Law's Tongue, English Ivy and the Peace Lily (which also helps increase oxygen).
"As an allergist, I may prescribe certain plants to help improve indoor air quality," Bassett said. "This is, in addition to traditional and evidence-based therapies for their allergic and respiratory conditions."
2. Increase energy
Need a boost first thing when you wake up? While a shower is a great way to energize you for the day, a plant in the bathroom could also help. Studies have found that house plants can help increase your vitality and give you a feeling of extra energy.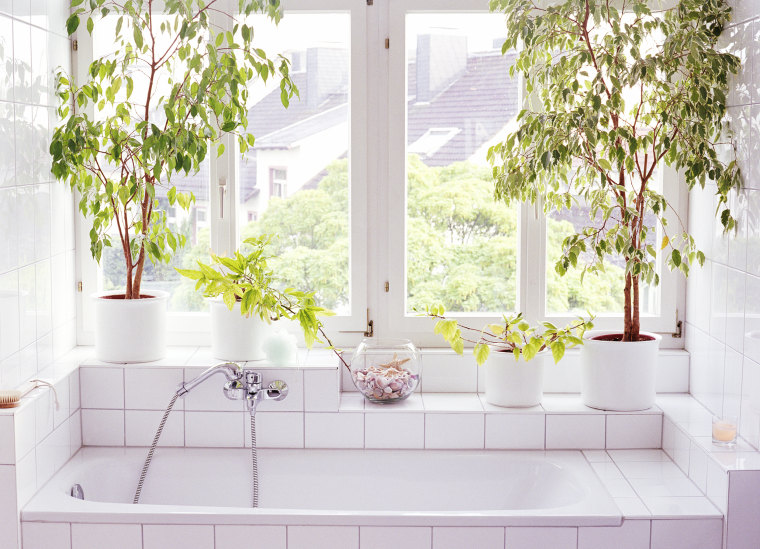 3. Improve mental health
Besides physical health benefits, living with plants comes with other amazing perks. Studies have shown that plants can have a positive effect on your mental health, help improve relationships and communication and give you a perception of a higher quality of life.
So, now that you know you want a plant in the bathroom, which one should you consider? Air-cleaning varieties, like those Bassett mentioned above, are great. Pliska also suggested the staghorn fern.
"The coolest plant to put in the shower is a staghorn fern," Pliska said. "It thrives on humidity." Bromeliads are also good for the bathroom and pretty easy to take care of, he added.
How does one take care of a shower plant? First off, make sure there's enough natural light from a window in the bathroom. If there's not, you'll need to commit to an artificial-lighting system for your plants or rotate them out. "Some people will rotate their plant to a sunny place in the home and then switch it back out in seven days," Pliska said.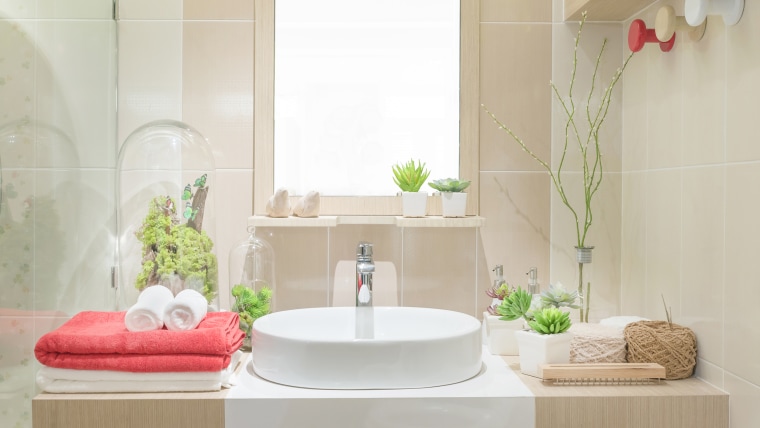 Humidity is the second thing you'll need to make sure the plant stays alive, but Pliska notes that the light is even more important than the humidity.
One more tip: If you are going to place a plant in the shower, be sure to put it in a spot where it's not going to get covered with soap.
The best part about shower plants is that even though they're trendy right now, plants never go out of style. "It's still going to look as beautiful 20 years from now," Pliska said. "From a style and longevity perspect, plants are always a safe bet."
From Meg Ryan's shabby chic pad to the Obama's home after the White House, here's your look inside celebrities' fabulous homes.