When life hands you lemons, clean.
What other fruit deodorizes, bleaches, cuts grease and smells great, too? No wonder so many people are incorporating these citrus gems into their everyday DIY cleaning routines. Take a look at some of the ways lemons are scoring big points in today's households.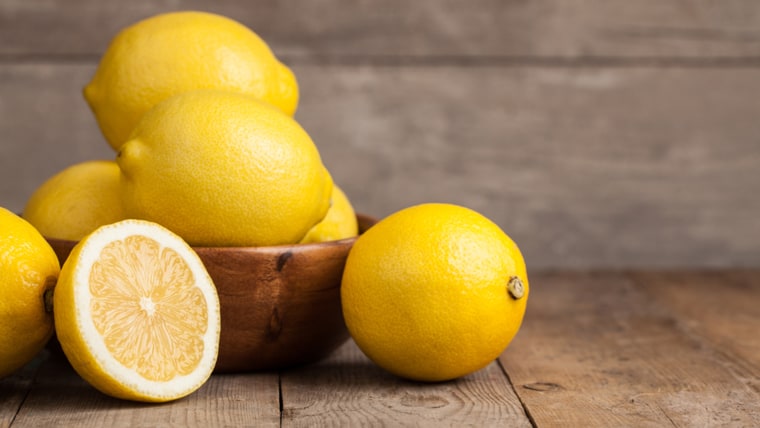 1. Freshen the vacuum. If running your vacuum cleaner leaves your house smelling stinky, add a few drops of lemon oil next time you change bags or clean the dust cup. You'll notice the difference right away.
2. Remove perspiration stains. You just bought that white T-shirt and already the armpits are looking yellow. Try scrubbing the area with equal parts of lemon juice and water and, if the garment's white, place it in bright sunlight to dry. For light-colored garments, scrub with lemon juice and water and then wash as usual.
3. Clean the microwave. This is an easy way to clean the entire inside of the microwave. In a microwave-safe bowl, mix 1-2 tablespoons of lemon juice in 1 ½ cups of water. Microwave on high for five to 10 minutes. The steam will loosen grease and dried-on bits of food. Wipe with a cloth.
4. Refresh wooden utensils and bowls. You've cleaned your wooden rolling pin but it still smells like the onion biscuits you made for dinner. No problem. Rub it with a piece of lemon and don't rinse. The lemon will remove the odor as it dries. (Note: Lemon juice is not antibacterial so make sure the rolling pin or wooden bowl has been cleaned before rubbing it with lemon.)
RELATED: Make this all-natural multi-surface cleaner in only 30 seconds
5. Keep fruit salad fresh. You love homemade fruit salad but those brown apple pieces make you think twice. Keep your fruit salad looking just-made fresh by squeezing the juice of one lemon into 2 quarts of fruit salad. No lemons on hand? Sprinkle with an individual-use packet of powdered lemonade mix instead. Add extra water until it's the perfect balance of sweet and tart.
6. Freshen a vaporizer/humidifier. No matter how often you change the water, the damp environment of a humidifier is a veritable petri dish for funk. To prevent the sour smell that comes with repeated usages, pour a few tablespoons of strained lemon juice into the water. Repeat weekly, especially if the humidifier is used every day.
7. Make your hair shinier. For shiny hair, rinse it using the strained juice of one lemon and 8-12 ounces of warm water.
8. Freshen the garbage disposal. To leave your garbage disposal smelling fresh, place one lemon, cut into eighths, in the disposal while running lots of water. If you don't have a whole lemon, small pieces of lemon peel will do the job, too.
9. Polish the furniture. Mix 1 part strained lemon juice to 2 parts olive oil. Apply to furniture with a soft cloth, rubbing gently in the direction of the grain. Allow to dry.
10. Freshen the fridge. Ever put a piece of raw onion back in the fridge without covering it? Whew! To remove the strong smell, pour lemon juice on a sponge and set in the fridge for a few hours or overnight.
11. Remove mildew on clothes. Remember that damp T-shirt that was left at the bottom of the dirty clothes hamper? Mildew city! To remove the mildew, rub it with a paste of lemon juice and salt. Dry it in the sunlight. Repeat until the mildew's gone.
12. Add a fresh fragrance to a room. The fresh smell of lemons makes them a natural choice to freshen a room. For hours of fragrance, simmer them by themselves or with some cinnamon sticks or cloves on top the stove or in a simmer pot. Add water as needed.
RELATED: How to clean your showerhead, makeup brushes, kitchen sink and more
13. For a DIY air freshener spray, mix the strained juice of one lemon, a few drops of lemon essential oil and water in a 16-ounce spray bottle. So easy!
14. Make potpourri by drying thin slices of lemon and orange, rosemary, mint and rose petals on a large cookie sheet. When dry, add a drop or two of your favorite essential oil then place in potpourri dishes.
15. Make drawers smell more fresh. Dried lemon and orange peels also make excellent drawer fresheners.
16. Freshen up your fireplace. Next time you use your fireplace, toss a few lemon peels in the fire for a pleasant fragrance.
17. Clean metal. To clean solid brass (not brass-plated items), apply a paste of lemon juice and salt or baking soda. Let it sit for five minutes then rinse in warm water and dry and buff to a shine with a soft cloth.
18. Clean copper pots in a jiffy by rubbing them with a half lemon and some salt. Rinse and dry. This works best if done regularly.
19. Restore the shine to aluminum pots by rubbing them with a cut lemon, inside and out. Rinse and buff with a soft cloth.
20. Make chrome faucets gleam by rubbing them with the rind of a lemon. Rinse and dry to a sparkling shine.
21. Clean cheese graters. To remove gummy cheese residue from a grater, grate a half lemon over the build-up. To remove dried-on cheese, wet the grater then grate a lemon dipped in salt. Rinse and dry.
22. Remove watermarks on flatware. Rid your flatware of water spots by rubbing lemon juice on the spot using a cloth or a paper towel. Rinse, dry well and you'll be spot-free.
23. Freshen your hands. After chopping onion or garlic, remove the smell from your hands by first washing them with soap and water. Then rub them with lemon juice. To get under your fingernails, scrape your nails across the outside of the lemon peel to release the oils. Wash again with soap and water. Your hands should be nice and fresh.