Spring has finally sprung! And with the change in season, let's give your home decor a change, too. Here are 22 DIYs to help bring the fun of the season indoors.
1. Make your kitchen happier with these washi tape spatulas. Rule number one of spring re-decorating: Washi tape (relatively inexpensive, colorful, cheerful, easy to use) is your new best friend. Check out this DIY here.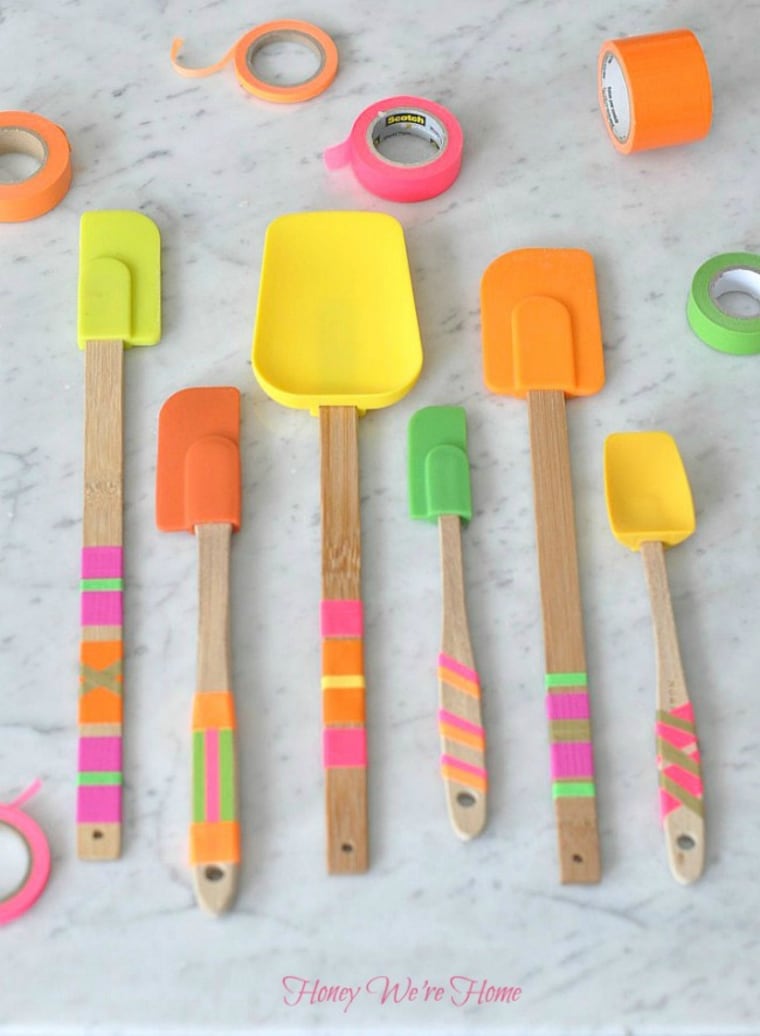 2. Bling out your office supplies. This DIY will brighten up your desk — but it's perfect as a gift, too. Check out the DIY here.
3. House your plants in painted tin cans. A little spray paint and a few spring flowers later, you've got yourself the cutest set of planters in town. And if your karma isn't doing too hot, just remember: You're upcycling. The universe will thank you. See the DIY here.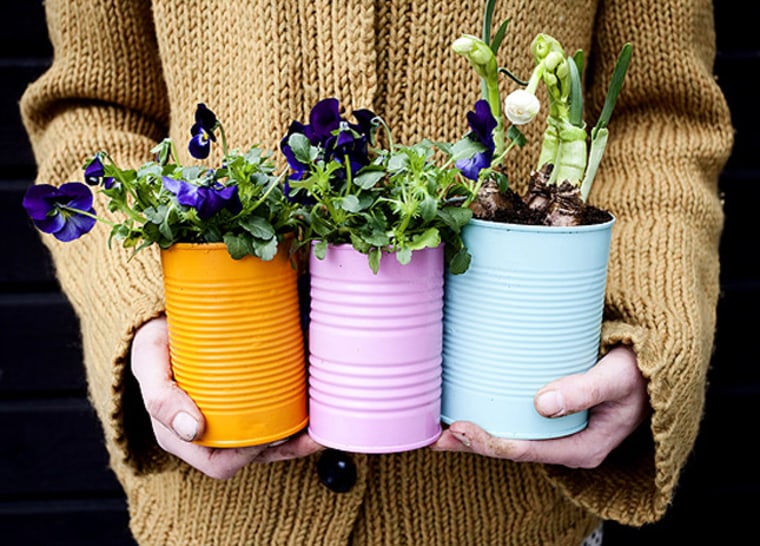 4. Make this three-tiered planter to highlight your favorite things. Talk about easy. This one's actually an IKEA hack — which means half the work's already been done for you. (Of course, you can still take all the credit.) See the DIY here.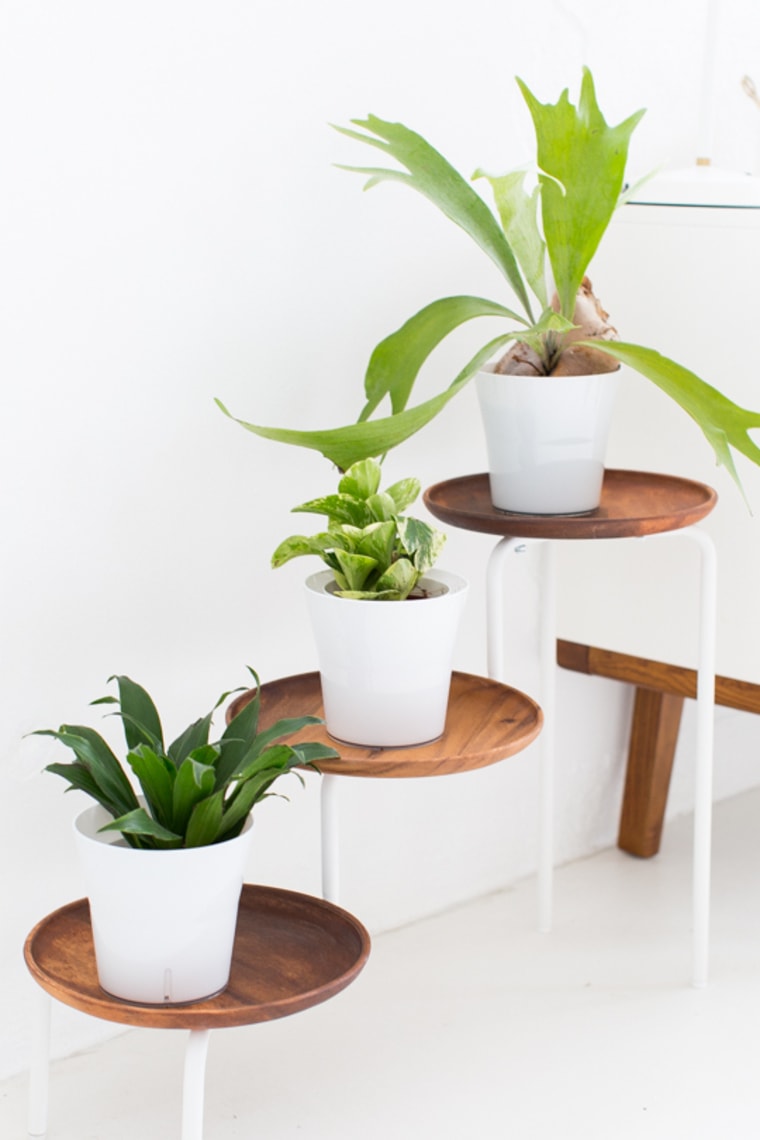 5. Upcycled jewelry trays. What else are you going to do with extra box lids? And how cool is it that this painted project requires no paintbrush? (Yes, really!) See the DIY here.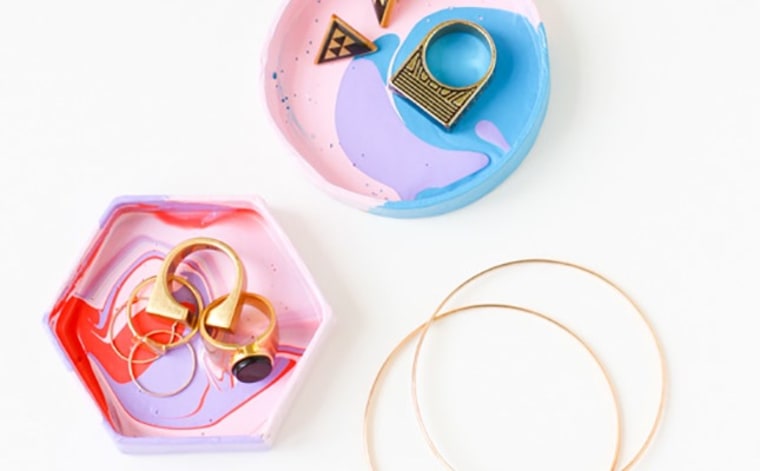 6. Add some bling to your bedroom or office with faux brass drawer fronts: On that note, how about we just go ahead and put gold foil on everything we own? Does that work? Find the DIY here.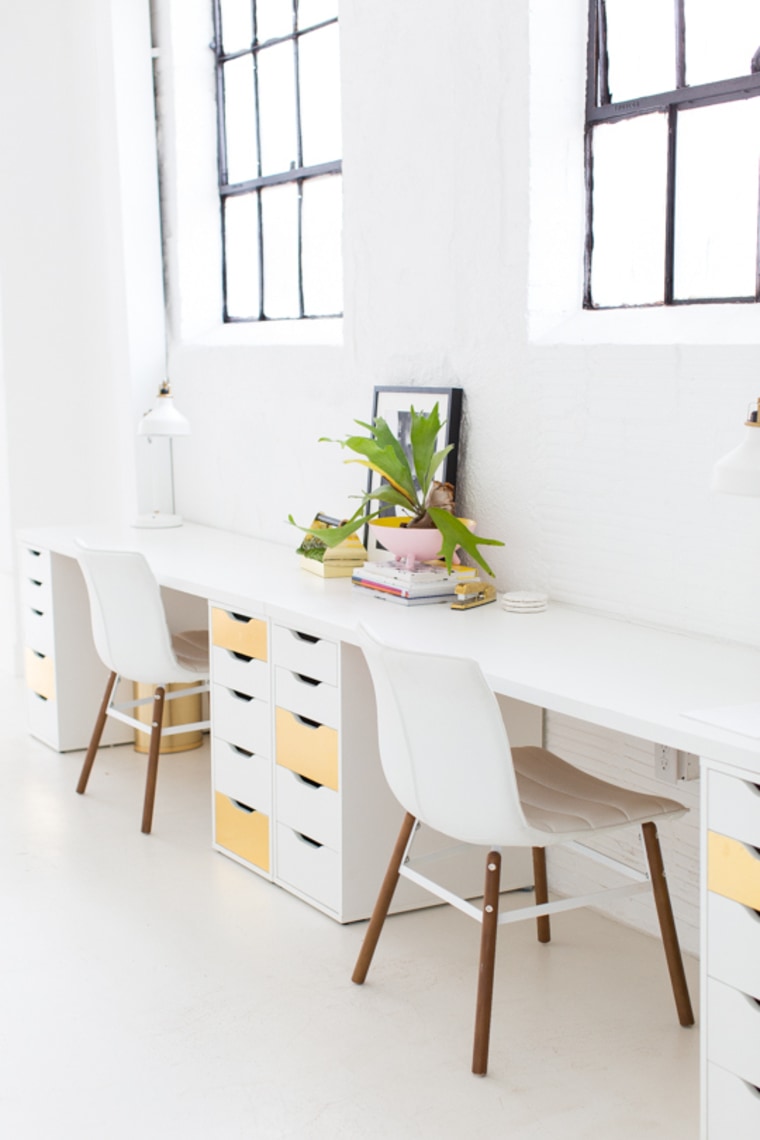 7. Create a unique, decorative knick-knack out of a perfume bottle. Keep your favorite bottles "preserved" on your vanity long after you finish up the perfume inside them. Consider using fun faux flowers and spots of gold leaf, and customize to your heart's content. Find the DIY here.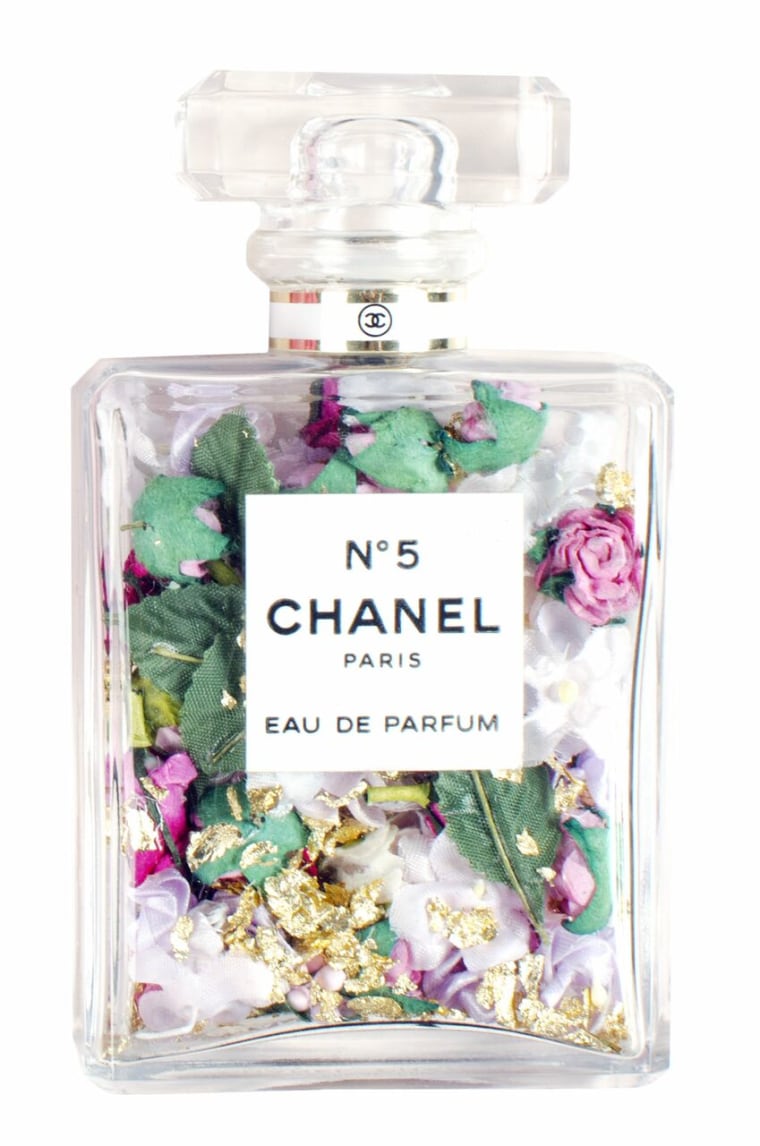 8. Use plaster to create these gorgeous conversation piece votives. Don't look so worried. You'll be using faux flowers to create the final plaster shape. We're loving the elegant result.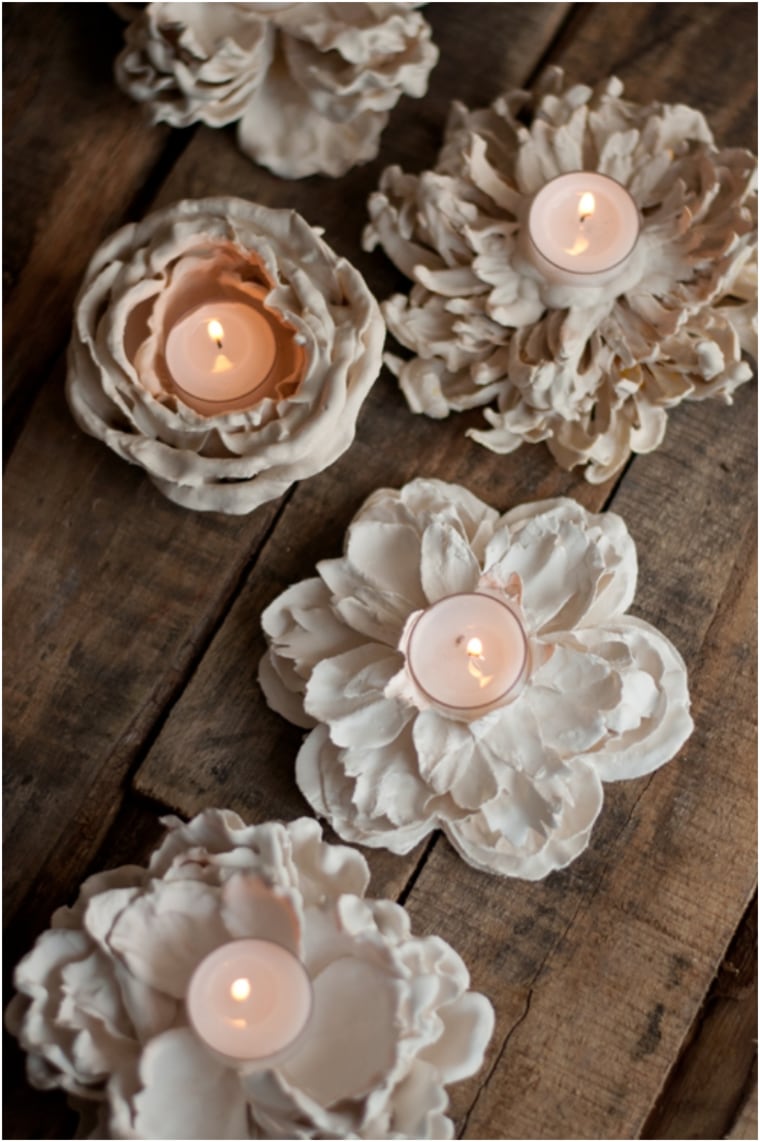 9. Add some springy color and high-style pizzazz to your dining room with dip-dye tassels. Plain fabric trim gets a boost with neon fabric dye in this fun DIY. Find the instructions here.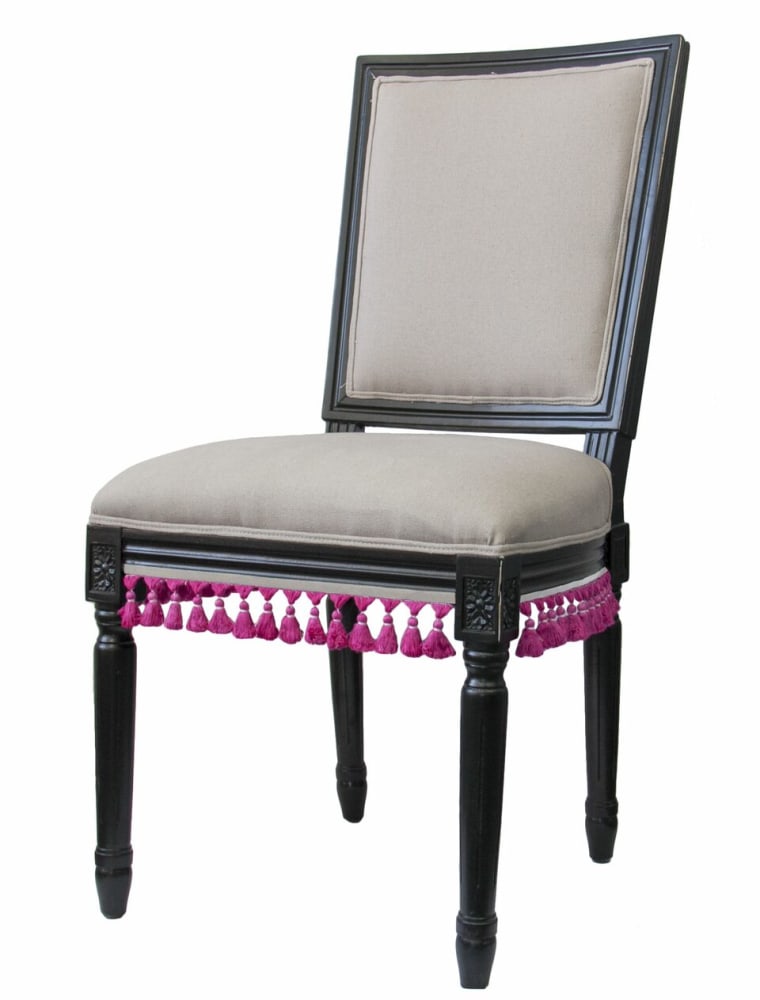 10. Let your tech reflect the season, too, with these springy desktop and smartphone wallpapers. All are out-of-the-box original and available for free download. See the DIY here.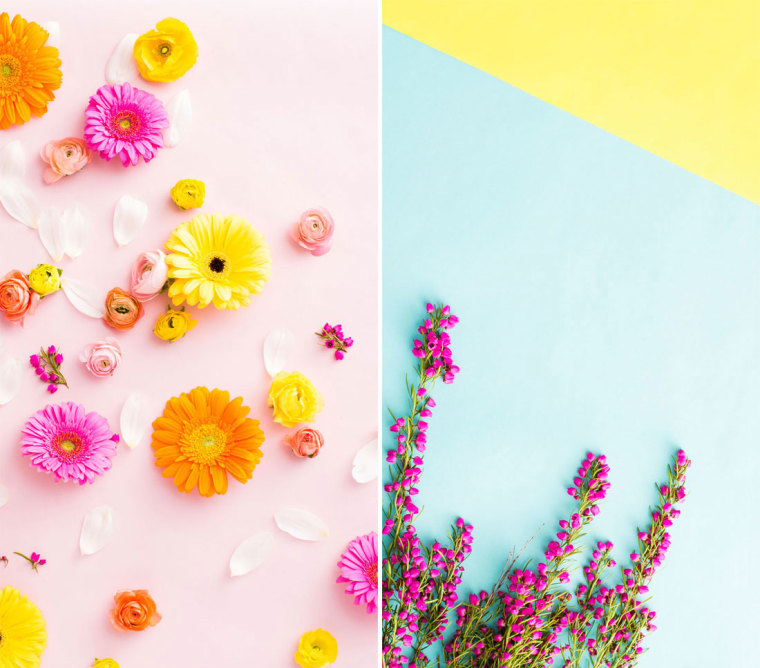 11. Give an armchair a cheerful makeover: Colorful fabric paint, a few foam pouncers and voila! You'll be looking at a runway-worthy piece of furniture. Find the DIY here.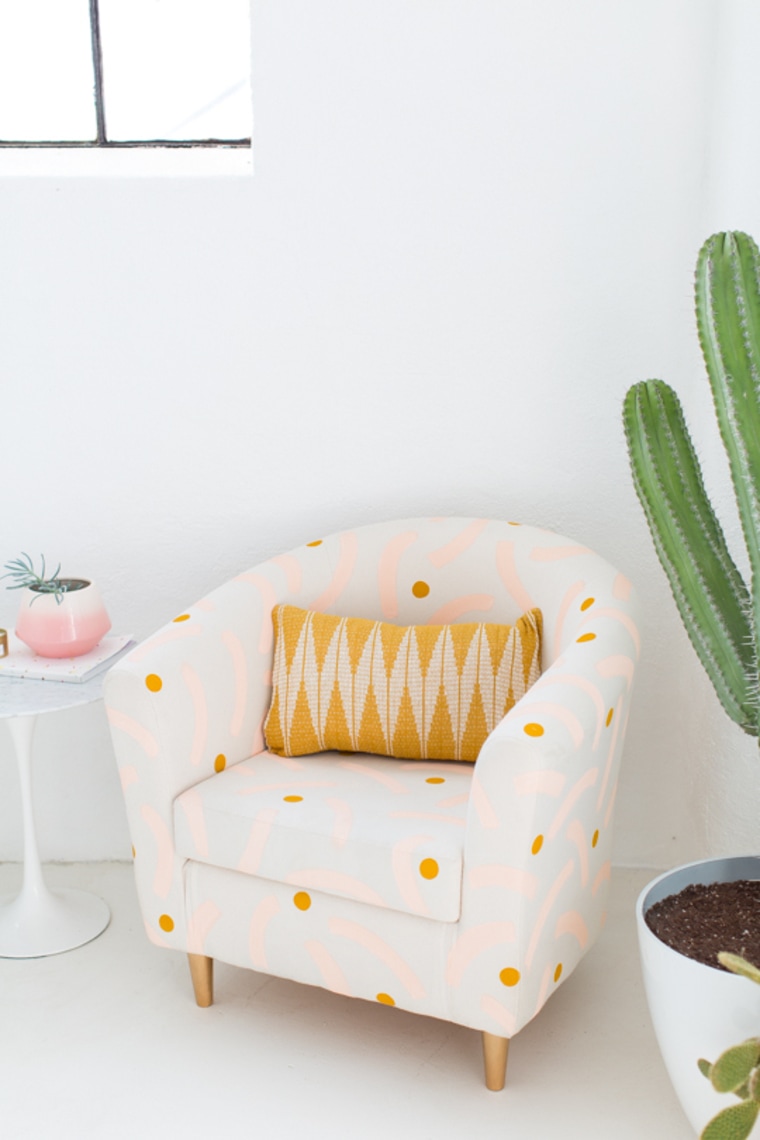 12. Paint an old-school bust with paint for a quirky, modern result. Because the best DIYs are the ones that require just two supplies. Find the DIY here.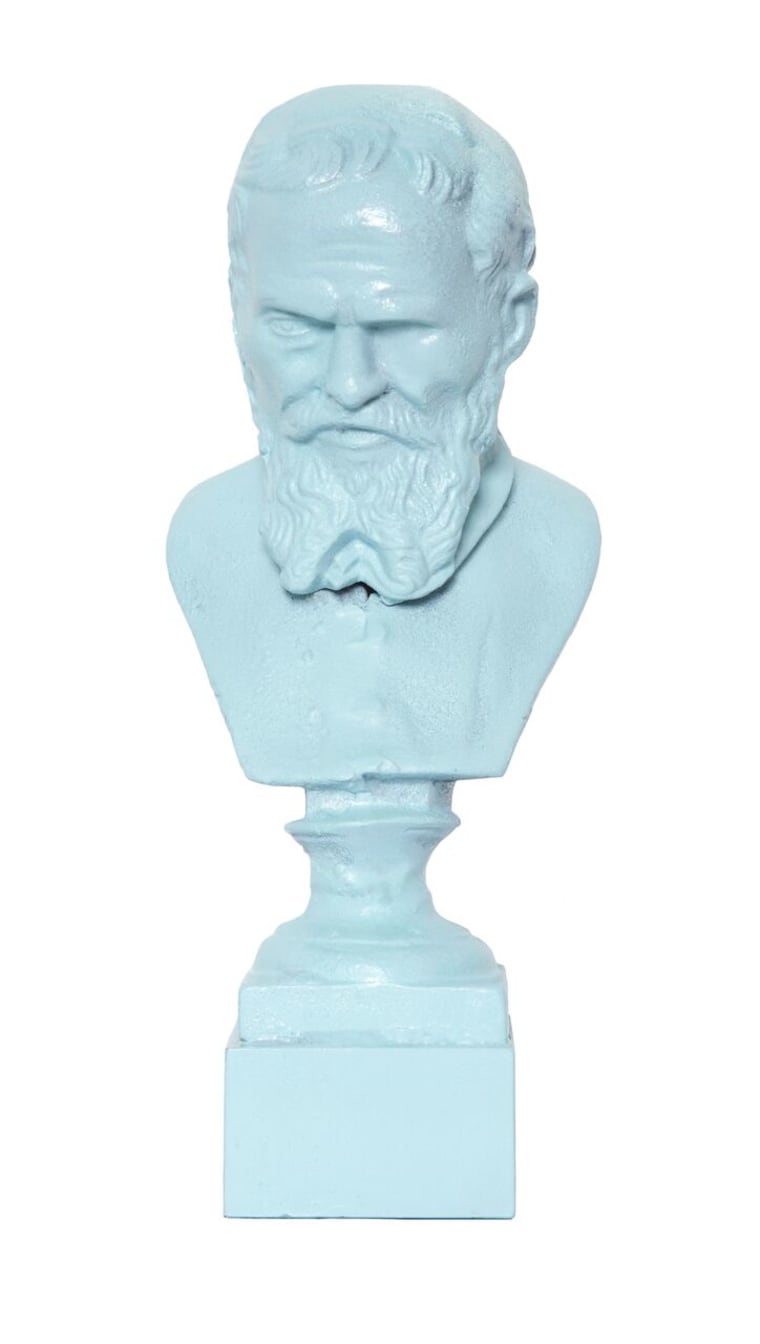 13. Make your own air freshener. Did we mention this project involves vodka? It involves vodka. It's also good for you, replacing harsh chemicals with natural liquids, and it's cost-effective, too. See the DIY here.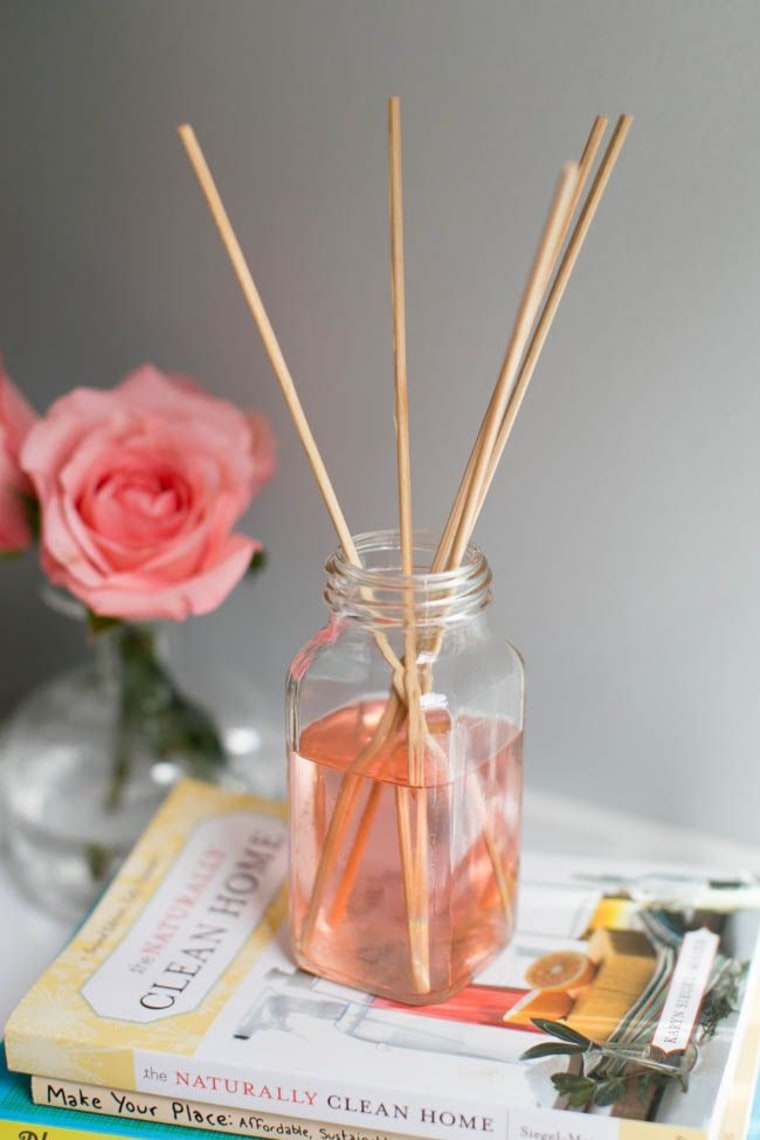 14. Paint your own watercolor wall art. Using a simple masking technique, anything is possible — from shapes to letters and beyond. Find the DIY here.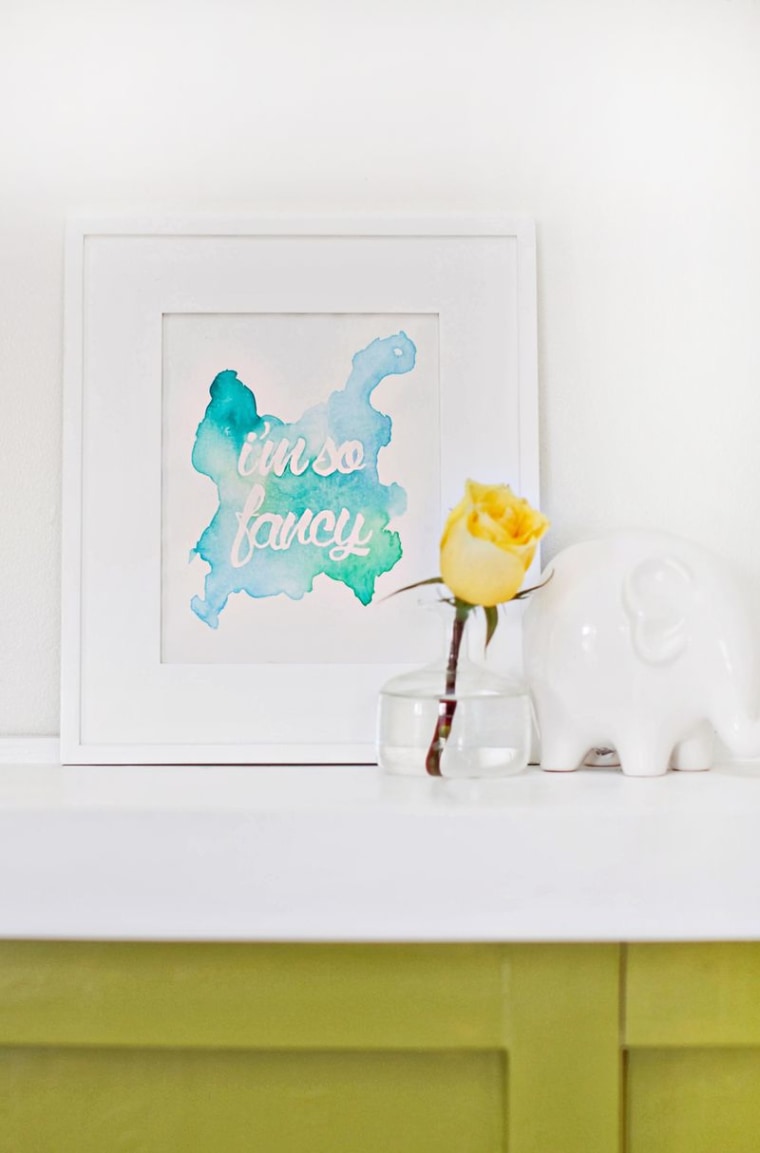 15. Make some lovely tissue paper poppies to last the entire season (and then some). We doubted our own flower crafting abilities, too, before we tried our first bouquet. Now, we're hooked. Find the DIY here.
16. Craft these playful gilded darts and bring some fun into your home. Whether they're used on a pinboard or collected in a glass jar as a simple decorative accent, your guests are sure to take note of these guys. Find the DIY here.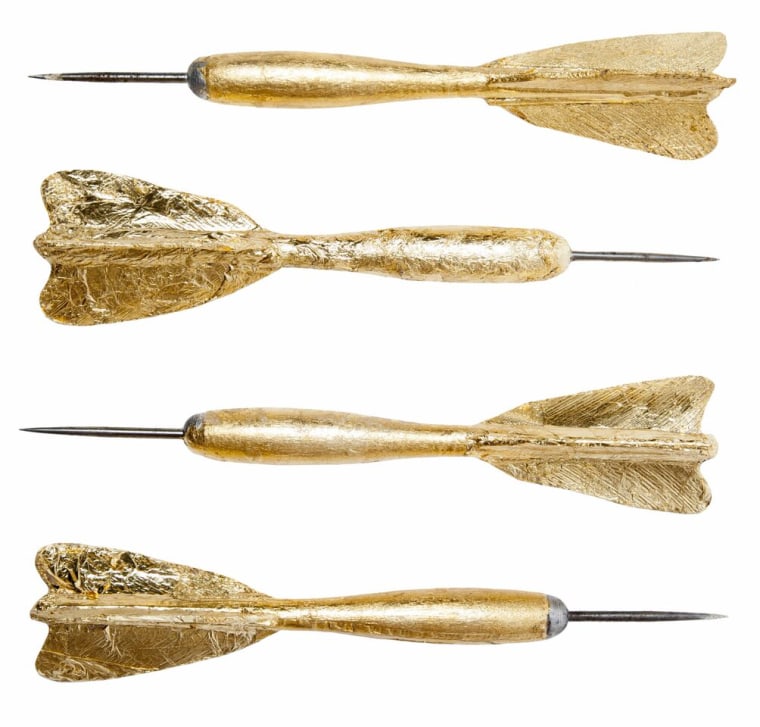 17. Put together a few fabric-covered vases. What makes this project so inexpensive is the fact that you start with a blank fabric "canvas" — meaning you can, in fact, mimic the patterns in the image below. Find the DIY here.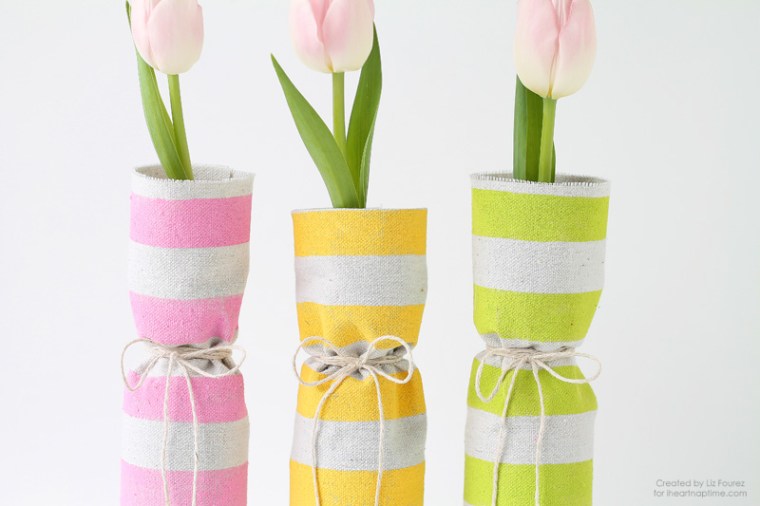 18. Craft a modern spring wreath for your front door. It's tough to make something rustic and cheerful all at once. But it looks like the site "Earnest Home Co." has managed to do just that in one of their latest DIY tutorials, combining the loveliness of air plants with a foundation of chic grape vine. Find the instructions here.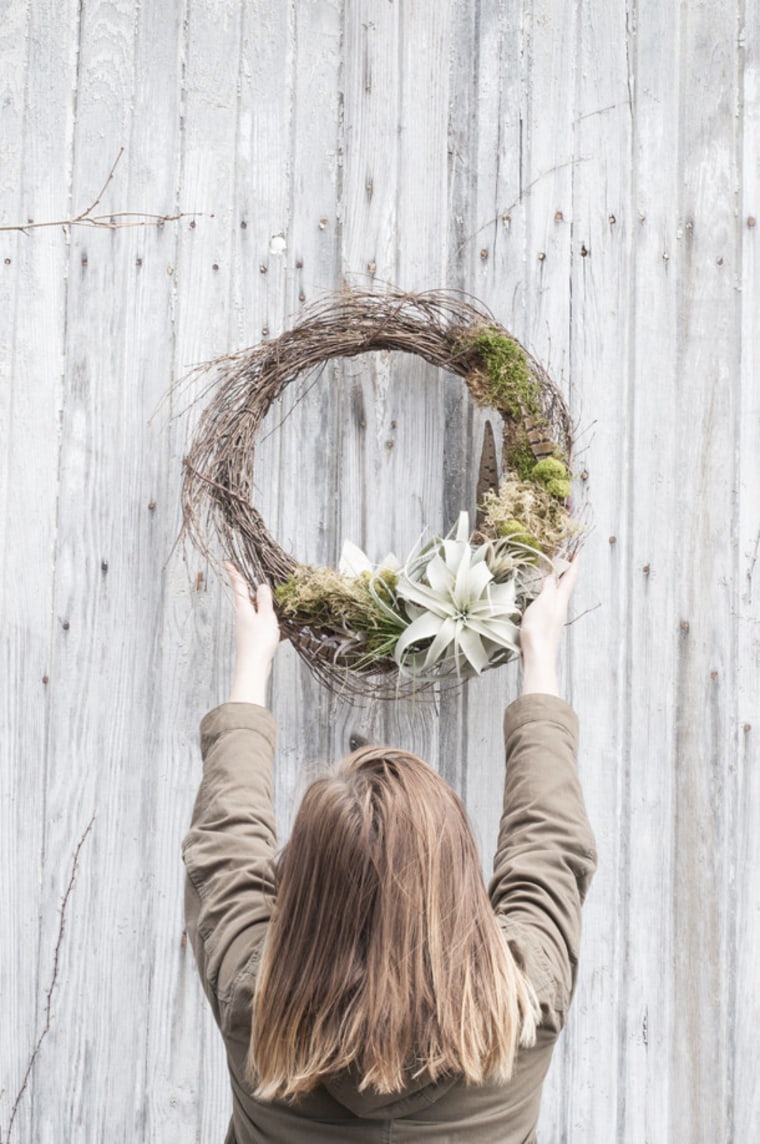 19. Add a splash of spring color to your closet with DIY fabric hangers. It couldn't be easier — or cheaper — to throw these fun hangers together. All you need to make it happen are plastic hangers, some printed fabric of your own choice and a touch of glue. Find the DIY here.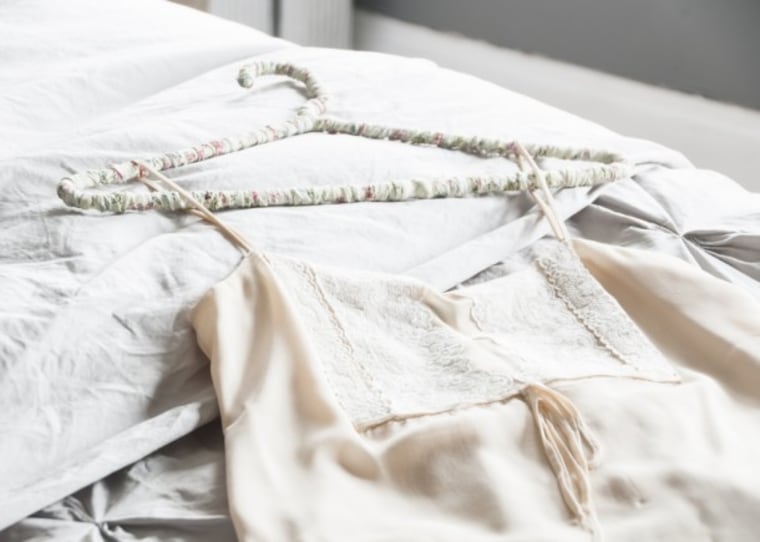 20. Bedside style for $3? Yes, please. Believe it or not, this entire project is under five dollars. Who knew discarded wine crates from your local liquor store (plus a bit of stain) could be so pleasing to the eye? You don't need to be a pro painter to get the job done, either — "perfectly imperfect" is what you're going for. Find the DIY here.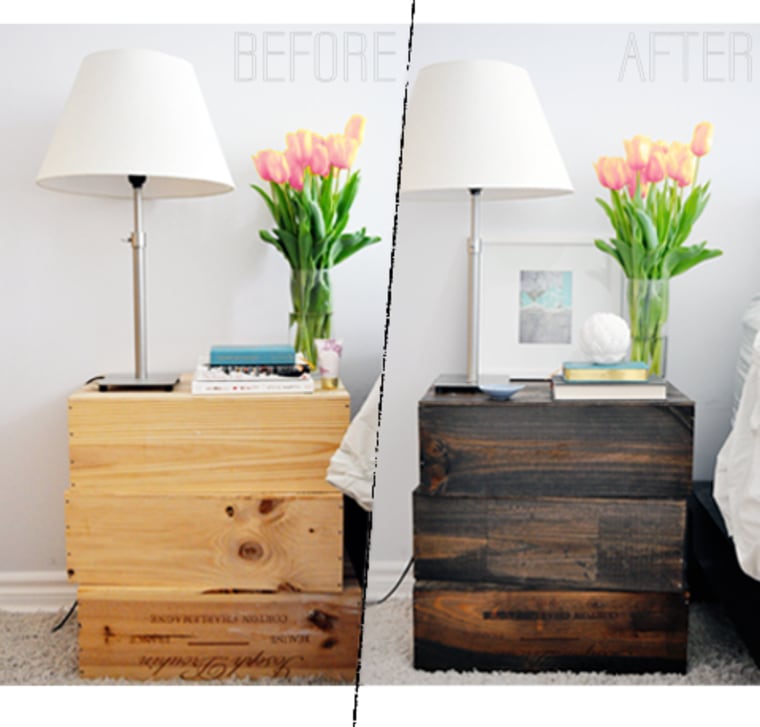 21. Hang neon terrariums from, well, wherever! It's spring, after all. You don't need an excuse to hang plants from the ceiling. Find the DIY here.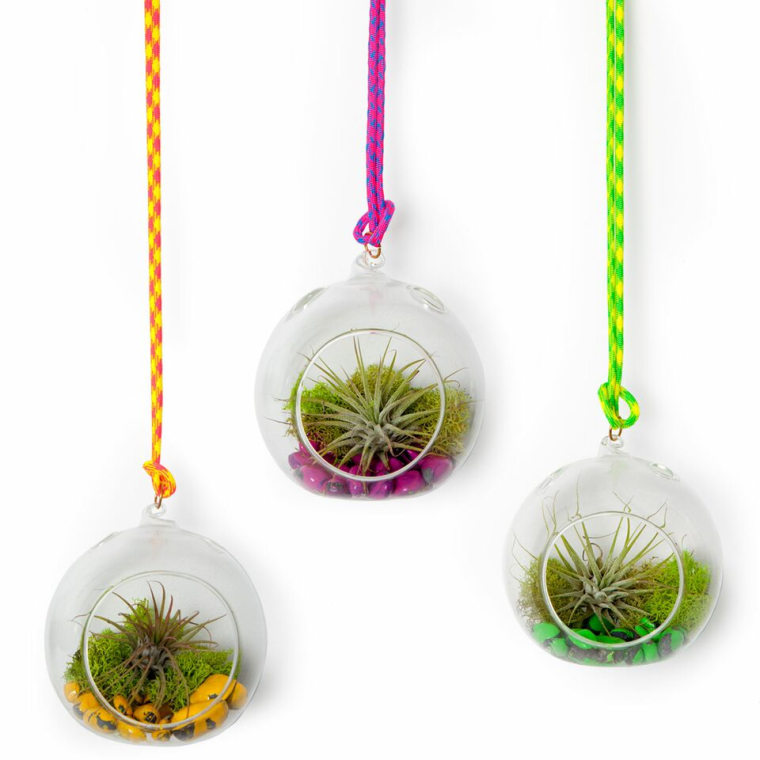 22. Sip your lemonade in style with these rope tumblers. Nautical-inspired stencils do all the work for you, so you can focus on picking a fun and flashy color. Decisions, decisions! Find the DIY here.