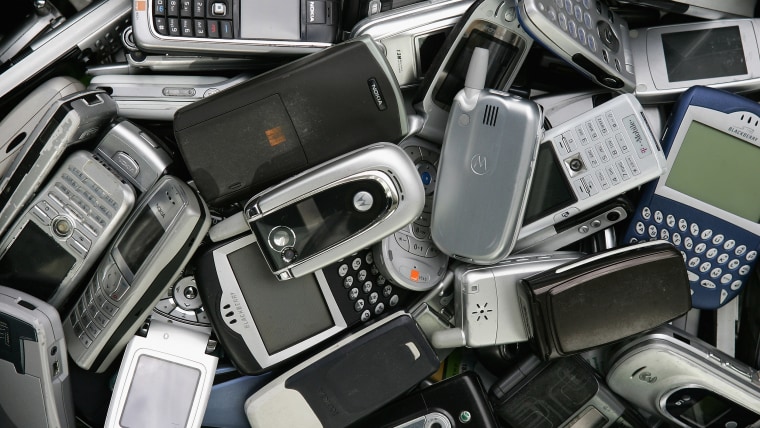 Need to unload old cans of paint or a stash of expired medicine? Have an old cell phone or a bunch of empty make-up containers? Find out how to safely recycle those and other tricky materials in your home.
Dump expired medicationss responsibly
Have a stash of forgotten medicine sitting in a bathroom drawer? Instead of flushing them down the toilet—a move the FDA strongly discourages—follow the disposal instructions on the label. If none are available, drop off expired pills during your next local drug take-back program or during one of the several DEA-sponsored National Prescription Drug Take Back Days scheduled throughout the year. 
If you can't make it to a drop off, remove drugs from their original containers and strip away any personal information, like your name or address. Mix with something icky, like used coffee grounds or kitty litter. Bag it up, then put it the trash. To help keep your stockpile of medicine current, check your inventory twice a year and ditch anything past its expiration date.
Donate an old cell phone
Ready to upgrade your phone? Instead of stashing the old one in a drawer, donate it to a worthy cause. Verizon Wireless, for example, sponsors a program called Hope Line, which gives used cell phones to survivors of domestic violence. You can also send gently-used phones to Cell Phones for Soldiers, which recycles them and uses the money to help active duty military members and veterans call home for free.
Give new life to empty makeup containers

Beauty regimens don't have to wreak havoc on the environment—most cosmetics are packaged in recyclable plastic containers. Some stores will even help out with your eco-conscious efforts. Origins, for example, will recycle any empty cosmetic tubs, bottles and jars, Aveda accepts some caps and lids and M.A.C. will recycle any of its primary packaging, and reward free lipstick for six returned containers.
Recycle old batteries
Americans throw out a staggering 180,000 tons of batteries each year, according to the nonprofit recycling organization Earth 911. To help cut back on the waste, drop off single-use batteries at a household hazardous waste (HHW) collection center or find a facility that accepts them. To see who will recycle rechargeable batteries, check out the handy locator provided by Call2Recycle, a battery and cell phone collection program.
Collect used motor oil

To recycle your used engine oil, place it in a clean plastic container with a tight lid and bring it to a local collection center. Not sure if there's one in your town? Check with a service station, car dealership or auto repair shop. Just be sure the container has never held chemicals, food or beverages and that the oil isn't mixed with anything else.
Turn in used propane tanks
Getting rid of a propane tank is no easy task. Garbage collectors won't pick it up and dumping it is illegal in some places due to the explosion risk. Your best bet is to simply exchange it when buying a new tank or bring it into a hardware store or propane dealer for reuse or recycling. Scrap metal dealers might also accept them for recycling.
Recycle empty paint cans
When finished with that can of paint, let it dry out, then turn it in for scrap metal. If there's leftover paint in the can, follow the manufacturer's guidelines for proper disposal. Never pour it in the trash or down storm or sewer drains—it can contaminate water and may even be illegal. Another option is to check your local recycling or Household Hazardous Waste collection center to see if they will accept unused paint.
Handle CFL bulbs with care
Be careful when recycling compact fluorescent lamp (CFL) bulbs—they contain a small amount of mercury. But they are recyclable. To keep bulbs from breaking en route to the recycling center, wrap them in newspaper or bubble wrap.
Purge pesticides (and their containers)
If not disposed of properly, pesticides can poison animals and fish. Do your part by dropping off substances at an HHW collection site or at an area landfill that accepts them. And don't forget the containers—they're also recyclable, according to the EPA.
Keep household cleaners out of the trash
Since toxic household cleaners can't be recycled, take them to an HHW facility, which will safely dispose of the products. Always avoid pouring unused or unwanted cleaners down the drain, toilet or tossing them in a trash can.
Give away old knives
It's hard to know what to do with old knives, since they're inherently dangerous. Professional organizer Allison Flinn suggests donating them to thrift stores or a local soup kitchen or shelter. Many will accept gently used kitchenware, which is then offered to families or individuals transitioning to housing. 
A version of this story originally appeared on iVillage.