Don't have enough space in your home for every kid to have their own bedroom? No problem!
In fact, a shared kids bedroom can actually be a really fun place — especially when it comes to design. Below, see some of our favorite rooms to inspire your decor:
Whimsical wallpaper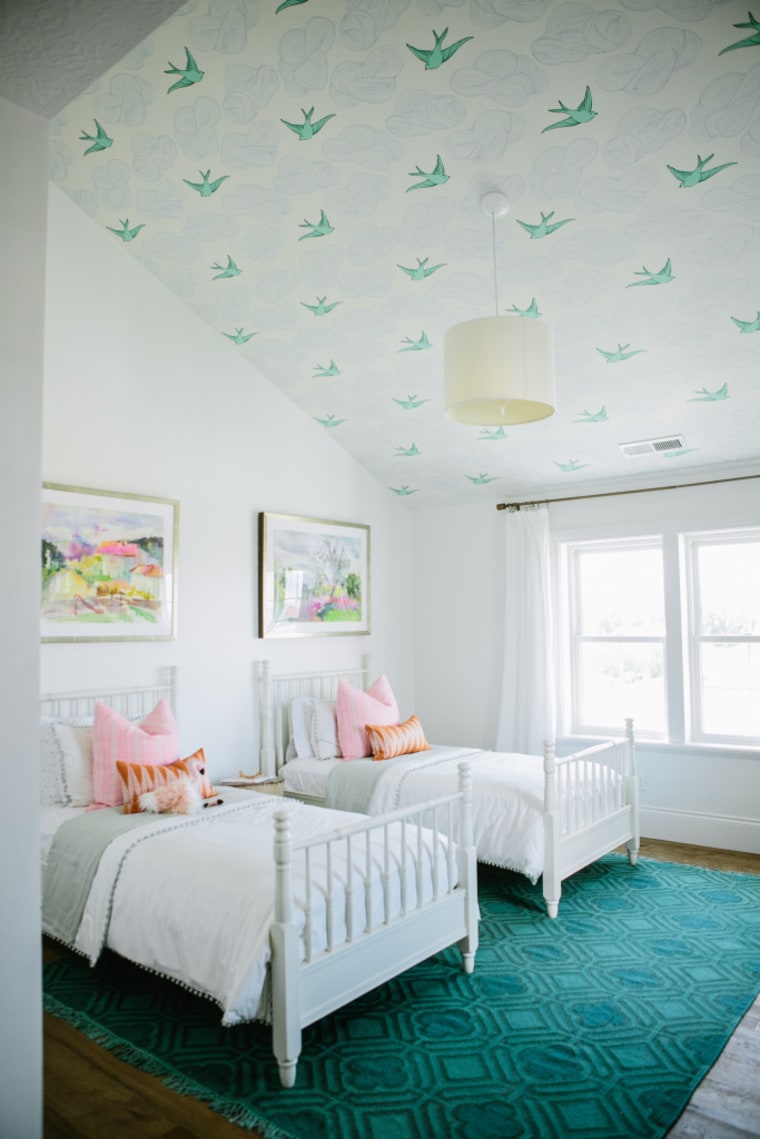 For this farmhouse bedroom, the designers used a playful Hygge and West bird-patterned wallpaper on the ceiling to create a fun and colorful design that the girls could grow into. See more at House of Jade Interiors.
A colorful creation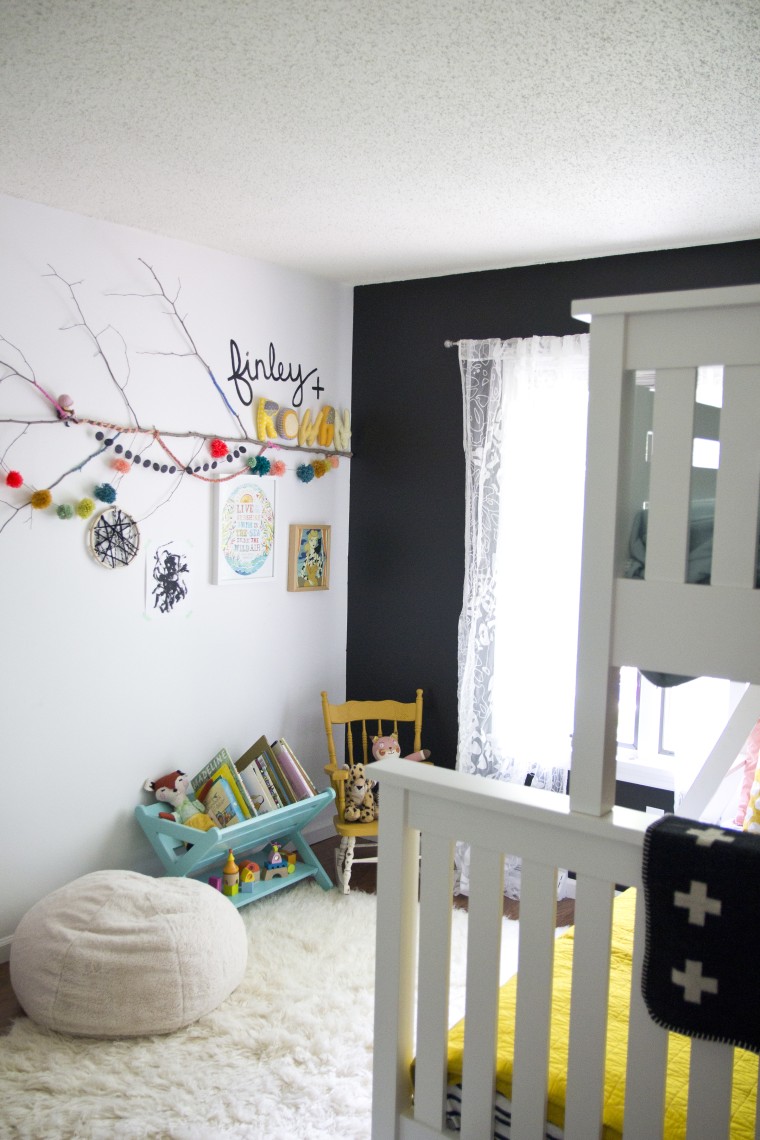 Thanks to the help of bright pieces from Land of Nod, this blogger created pops of color in her daughters' otherwise neutral space. We also love the black and white color scheme on the walls and furniture. See more at Jen Loves Kev.
RELATED: Natalie Morales welcomes you inside her dressing room
Sleep, play, live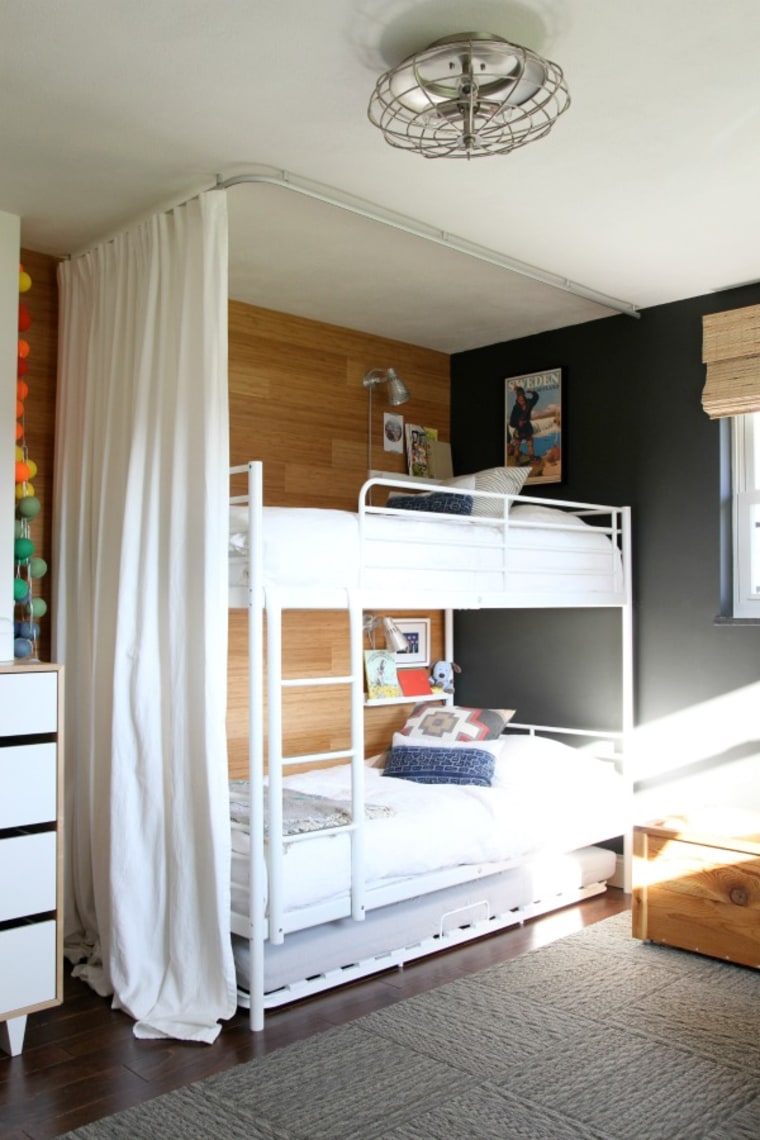 This blogger wanted to maximize the floor space because the bedroom acts as both a place for them to sleep as well as play. Floor-to-ceiling curtains hang around a set of bunk beds to create a feeling of a hideout, and a rug made out of carpet squares provides a comfy place for the brothers to play. See more at House*Tweaking.
Super cute superhero room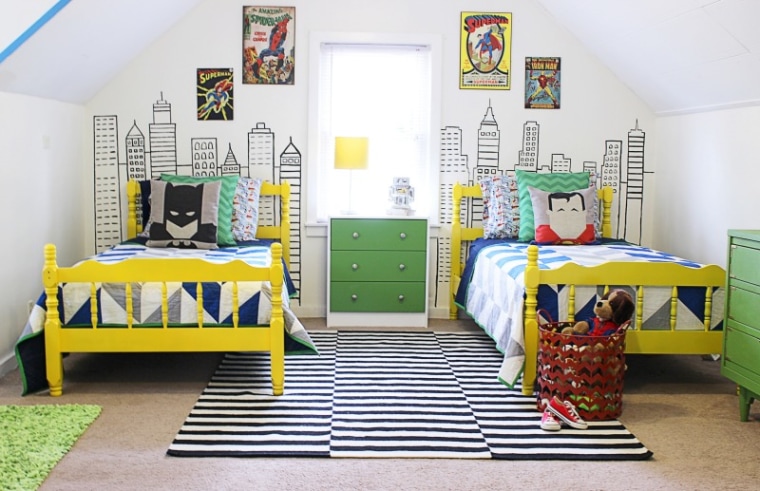 A hand-drawn, graffiti-style skyline on the wall gives this shared boys' superhero room some fun action. We're also loving the bold pops of color, including the bright blue trim that the blogger had on hand from an "Oops" paint she got from a store. See more at Classy Clutter.
A magical theme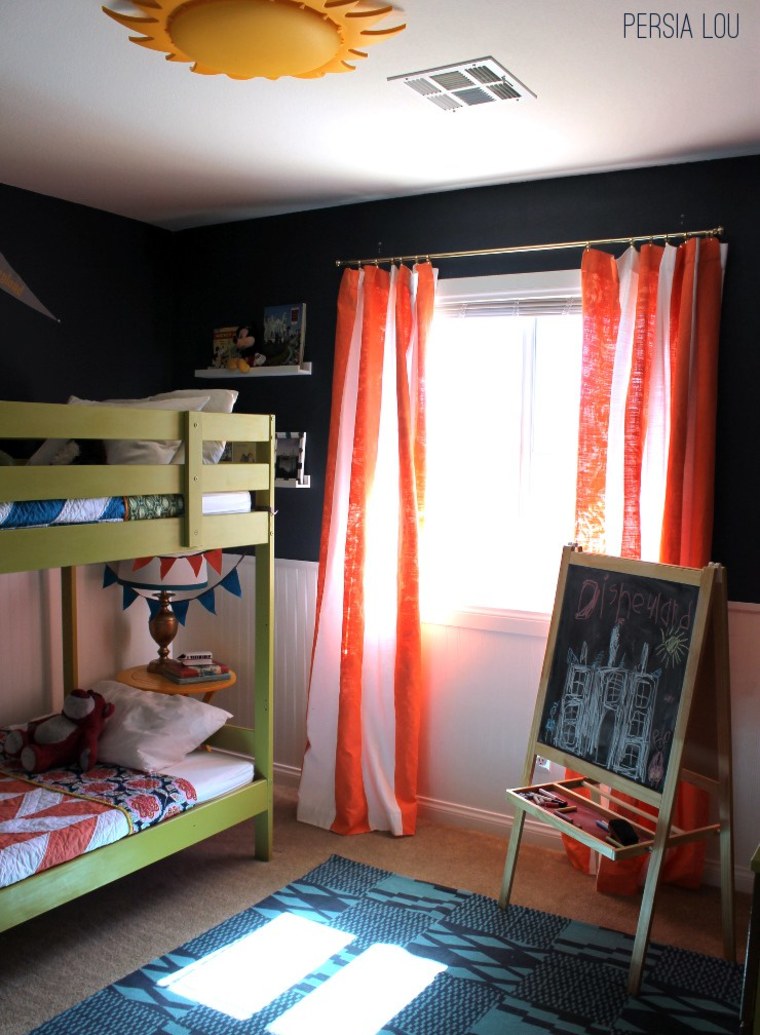 This blogger used vintage Disneyland posters as inspiration for the color palette and design for her boy and girl's room. She even painted coral stripes on the curtains to mimic the pirate ship sails from the theme park's Peter Pan attraction. See more at Persia Lou.
RELATED: See this 6-year-old's bedroom get a fairy-tale makeover
Sweet shared nursery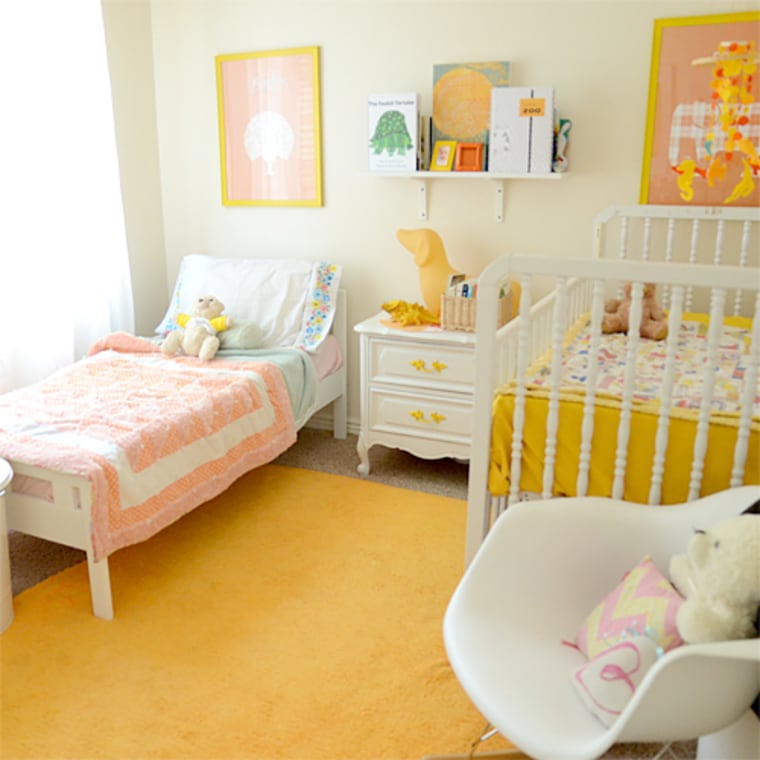 For under $400, this room came together beautifully. We love the bright and cheery yellow and orange color scheme and sweet vintage vibe that's happening here. See more at Melissa Esplin.
Boy meets girl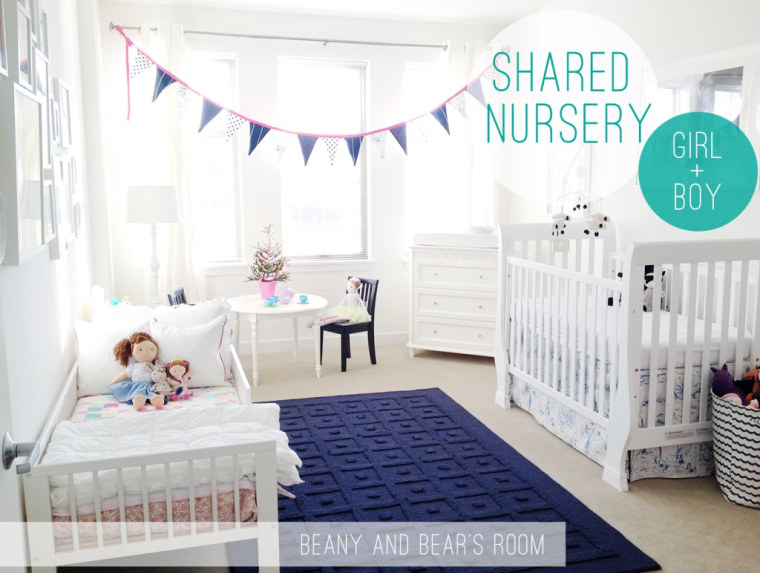 When this blogger moved her son and daughter into a room together, she made it a point to not take away her little girl's girly style. With a bold navy rug as the anchor color, she incorporated hints of pink to accent the room. See more at Splash of Something.
Camper cool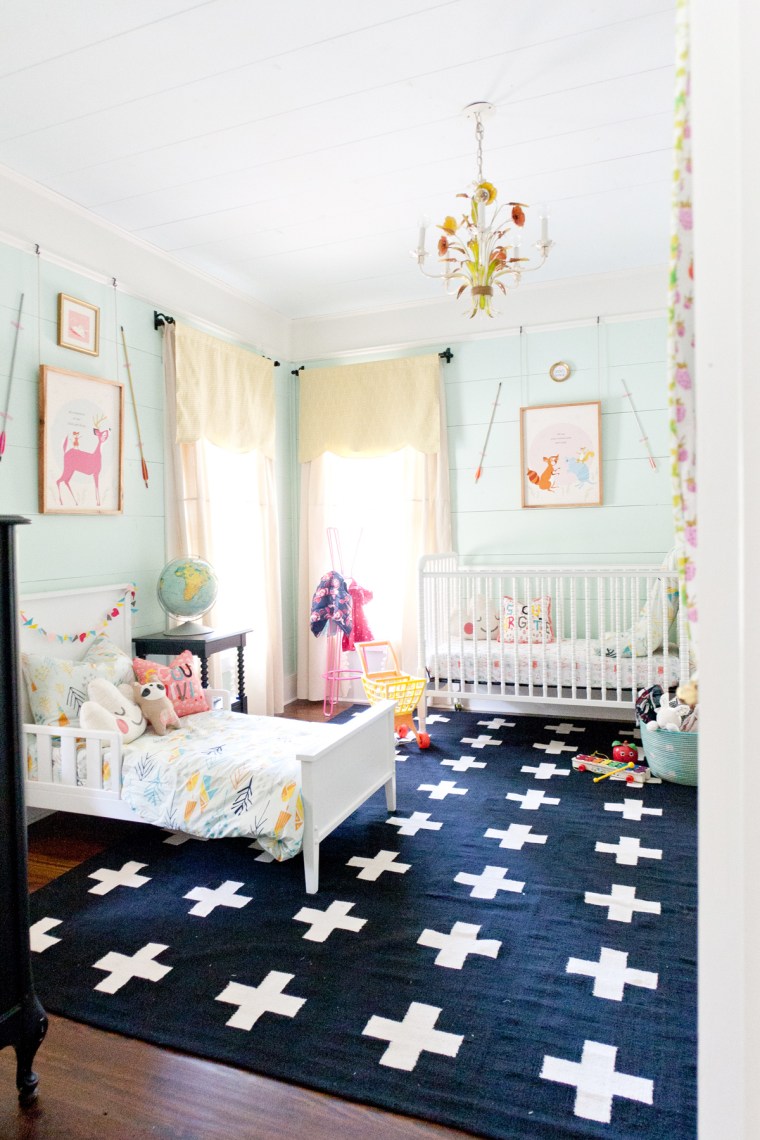 What's better than being at summer camp? Getting to live in an adorable room like this one that was inspired by cabin decor. This blogger turned her girls' room into a fun camp-themed space complete with arrows taped to the wall and "scout" pillows on their beds. See more at Lay Baby Lay.
Built-in beds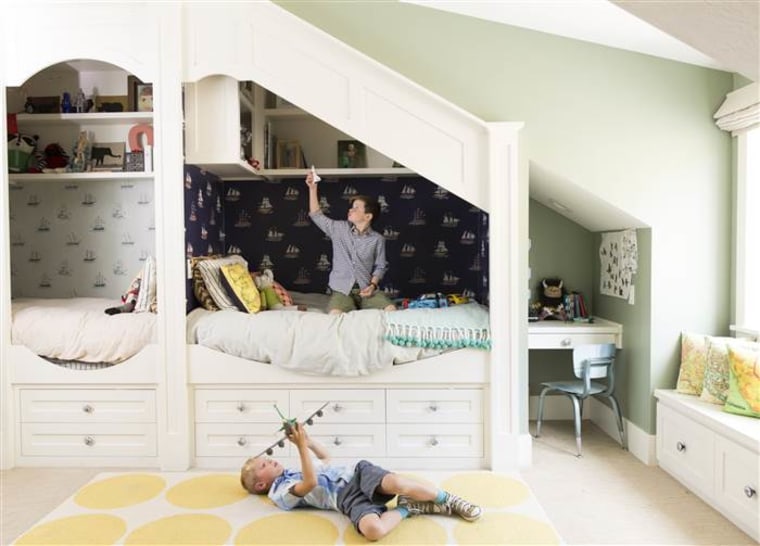 A trip to Denmark inspired this homeowner to create built-ins for her children's beds after seeing the modern style of the Scandinavian country. The boys each have their own area to call home in their shared room. See more at TODAY.com.
Gone country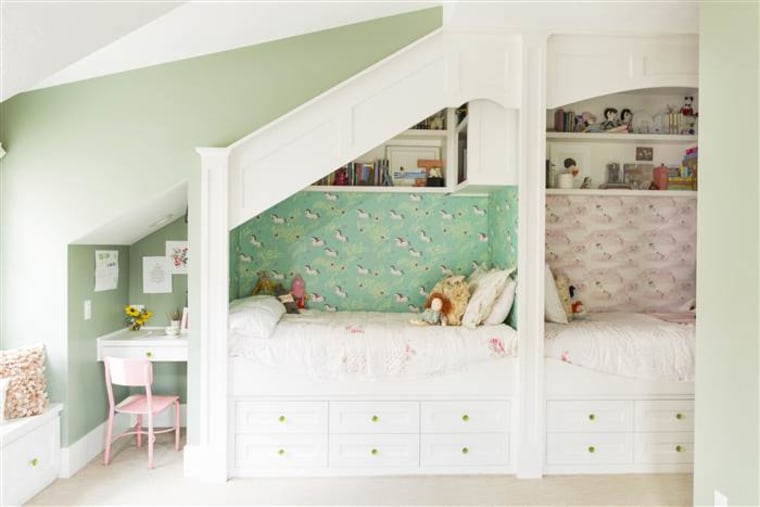 In the same house as above, the girls' room features a more feminine style with a pretty pastel pallate and sweet patterned wallpaper in the nooks. See more at TODAY.com.
Working together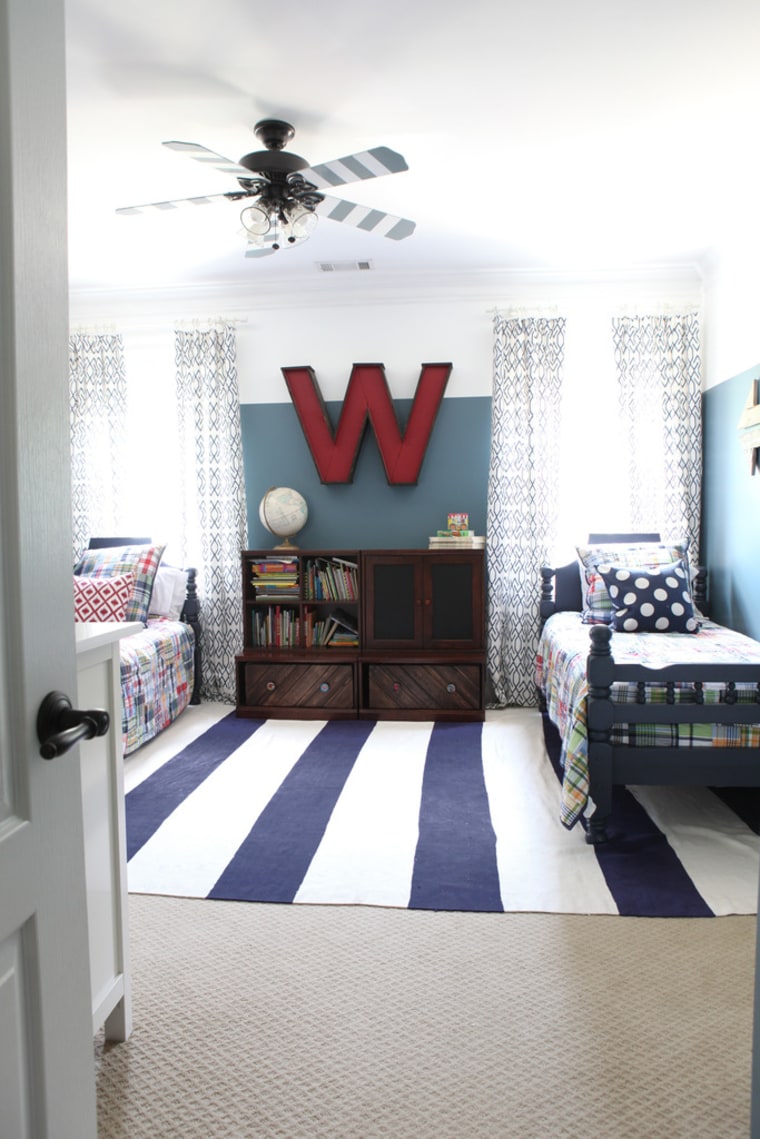 Mixing patterns can be about as tricky as combining siblings into a shared space, but when it works, it works. This blogger dared to be different and used a mixture of patterns including plaids, stripes, and polka dots for her sons' room, and the result is one cohesive look. See more at Bower Power.