A New Jersey mom received the gift she wanted the most for Christmas, wrapped in a big red suit with a white beard and glasses.

Leslie Ruggiero thought her son, an Army mechanic serving in Afghanistan, would be spending Christmas thousands of miles away from their home in Brick, N.J. On Christmas Eve, Leslie and the other maternity ward nurses at Ocean County Medical Center were told Santa Claus was there to thank them for working during the holidays. Santa handed Leslie a red envelope that brought her to tears: It was a postcard from her son, Army Spc. Travis Ruggiero.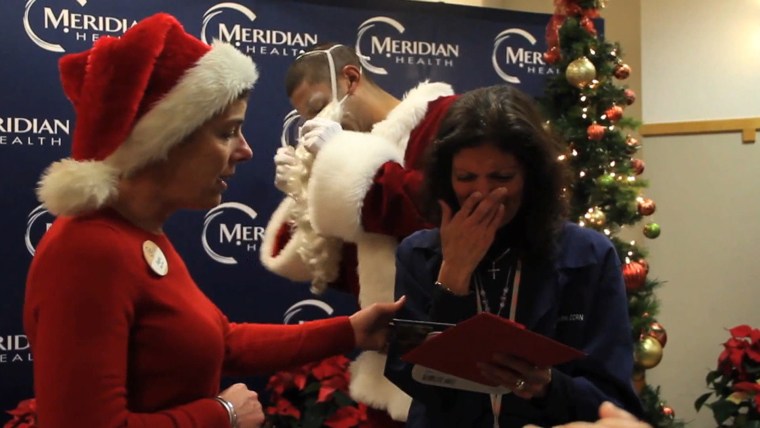 As she clutched the card in tears, Santa took off his red hat, beard and oversize glasses. It was Travis, who made it home for Christmas, even though he was not due home until March.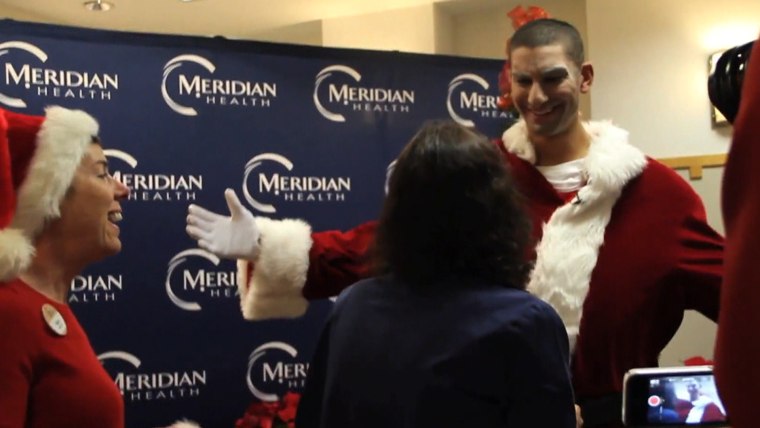 The two shared a big hug.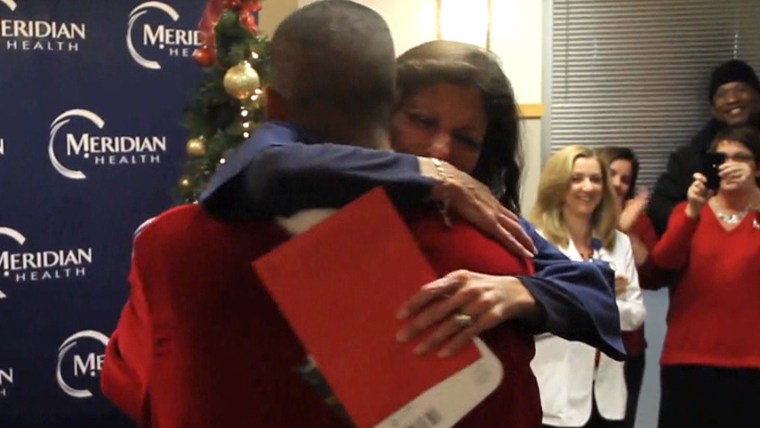 "It started off as such an uneventful day,'' Leslie told Savannah Guthrie on TODAY Thursday. "(I) got to work (during) the holiday season, and then it's amazing how just one little incident can just change your life, your day, forever. I'm still in awe that he pulled this off."
After declaring it "the best Christmas present ever," like a true mother she playfully pushed on his stomach to make sure it was Santa-suit padding and not extra pounds from his six months in Afghanistan. Travis, 29, managed to surprise her despite nearly having his cover blown in his small hometown.
"There were a couple close calls,'' Travis told Guthrie. "You've just got to be good with secrets."
Earlier this month, he returned to his base in Fort Knox, Ky. He had been granted 21 days of leave, so he decided to make a surprise visit home. He returned to Brick this past weekend, laying low at the home of his cousin, Brandon Capella, before surprising his mom in the Santa suit he rented. 
Watch more surprise holiday military homecomings
"I was in town for maybe 15 minutes and I was already on my way to (the) WaWa, and my aunt was in the parking lot,'' he said. "I just kept on driving, and I even texted my cousin. I was like, 'I just saw your mom.' I've been in town for 15 minutes and I'm seeing family. Maybe I'm paranoid because I was so close. Even at the major intersections in Brick, I'm just like looking around seeing what cars look familiar, making sure nobody spots me."
This year continued his streak of making it home for the holidays no matter where he is stationed.
"It meant everything because we have a very supportive family, a big family, (and) like every family it just gets bigger and bigger, and this year was going to be different for me,'' Leslie said. "A time of such joy, it's also a time to reflect on those less fortunate and the soldiers serving abroad, especially my son. I was just saying, it's just not the same. He's been away from home for years, but always made that effort to be with family for Christmas."
Once Travis was done hugging his mom, he finished his duties as Santa.
"Me and a friend got together and put together about 50 grab bags (with) cookies, candy, (and) candy canes, so after everyone left we made our trip around the hospital passing them out to patients and nursing staff,'' he said.