That steaming bowl of soup or hot cup of mocha might sound like a good way to warm up on a chilly day, but watch out! Some of these liquid treats are on the "10 Foods to Avoid" list unveiled by the Center for Science in the Public Interest on Thursday.
CSPI says the collection represents "the worst America's food manufacturers and restaurants have to offer" and illustrates why so many people are struggling with obesity, diabetes, and heart disease.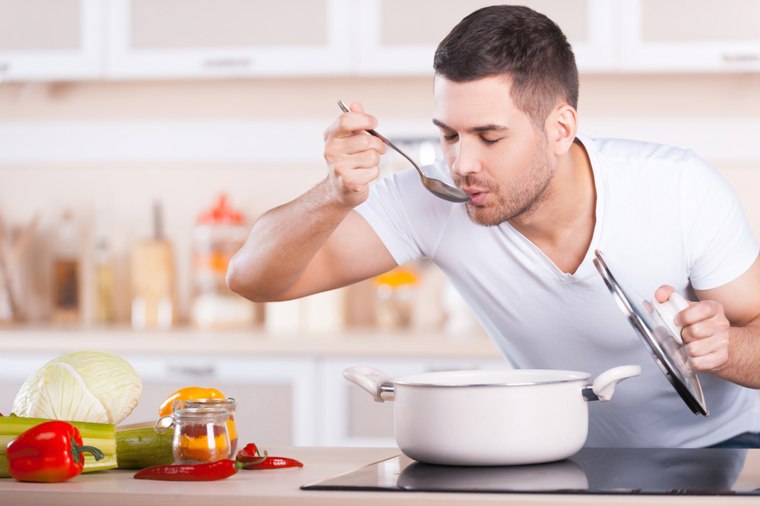 "Eating an occasional can of Campbell's Soup isn't going to kill anyone. Neither is the odd 1,000-calorie burrito or 2,000-calorie plate of macaroni and cheese," said Michael F. Jacobson, executive director of CSPI, in a statement.
"But for too many Americans those aren't special-occasion splurges… they're everyday staples."
Read more: The 'fattest' chain restaurant meals win a dubious honor
Many people don't realize how many calories are in their favorite restaurant dishes, especially because of the tremendous portions, said Elisa Zied, a registered dietitian nutritionist in New York and author of "Younger Next Week." When it comes to packaged foods, people often don't factor in how much they eat at one sitting, she added.
Here are the foods that stood out to the CSPI:
1. Stouffer's Satisfying Servings (16 oz.) White Meat Chicken Pot Pie: Eat the whole pie and you've consumed 1,180 calories and 26 grams of saturated fat.
2. Five Guys Hamburger: At 700 calories, it's richer than a McDonald's Big Mac.
3. Campbell's Regular Condensed Soup: the CSPI calls it "liquid salt," noting that consuming the whole can adds up to 2,030 mg of sodium. The American Heart Association recommends you take in no more than 1,500 mg in an entire day because too much salt is bad for your health.
"So many people easily consume double or triple the amount recommended," Zied cautioned.

Campbell spokeswoman Carla Burigatto noted 550 products across the company's portfolio of foods meet the FDA's healthy levels for sodium, including its line of Campbell's Healthy Request soups.
Yes, soup for you! Healthy ways to customize store-bought brands
4. Chipotle Chicken Burrito: At 1,020 calories, 16 grams of saturated fat, and 2,400 mg of sodium, it's the equivalent of six Taco Bell Chicken Soft Tacos, according to the CSPI. Chipotle may have a fresh, wholesome image, but its portions are enormous, Zied noted.
5. Cheesecake Factory Chocolate Tower Truffle Cake: 1,900 calories — just for dessert.
6. Uno Chicago Grill's Deep Dish Macaroni & 3-Cheese: At almost 2,000 calories, "it's like eating a Family Size box of Stouffer's Macaroni & Cheese (serves five) with a stick of butter on top," the CSPI says.
7. Olive Garden's Tour of Italy: Chicken Parmigiana, lasagna and fettuccine Alfredo on one plate add up to 1,450 calories. Add bread and a salad to your meal, and the total rises to 1,700+ calories.
8. Starbucks Venti (20 oz.) White Chocolate Mocha: At 580 calories, "it's worse than a McDonald's Quarter Pounder with Cheese," the CSPI says. Coffee might be the most surprising item on the list for many people because they don't think about liquid calories, Zied said.
9. Häagen-Dazs Ice Cream: An average half-cup serving packs 300 calories. But who eats just half a cup?
10. Cold Stone Creamery's Oh Fudge! Shake: Opt for the 20 oz. size and you're at 1,360 calories and 52 grams of saturated fat — "the saturated fat content of two 14-oz rib eye steaks plus a buttered baked potato," according to the CSPI.
To choose your foods wisely, read the labels and figure out how many servings you really eat, Zied said. When dining out, order appetizer portions and look at menus ahead of time online to make the best choice, she added. 
Keep portions small and fill up with a salad or veggies before the main dish arrives. And when you're done, pop in a mint to punctuate the end of the meal, Zied suggested.