If you're using your fitness tracker to lose weight, you may be disappointed. A new study finds that people using a fitness tracker lose fewer pounds than those who don't use the tech. But don't toss the device yet.
"For some people these types of things are extremely motivating and might be exactly what they need; for other people they may be ineffective," said John Jakicic, chair of the health and physical activity department at the University of Pittsburgh, and an author of the study.
Related: Fitness band frustration: Users complain of weight gain with trackers
Over 24 months, researchers followed 471 people — ages 18 to 35 with BMIs from 25 to less than 40 — who were part of one of two groups. One group ate a low-calorie diet and exercised; the second followed the same plan but also used activity trackers.
The tracker, worn on the upper arm, measures accelerometry (different movements and speed of your gait), heat flux, skin changes (sweat), and other responses to calculate energy expenditure. While both groups lost weight, those using activity trackers lost less. People who did not use the trackers lost a little over 13 pounds (5.9 kg) while participants who used the trackers lost 7.716 pounds (3.5 kg).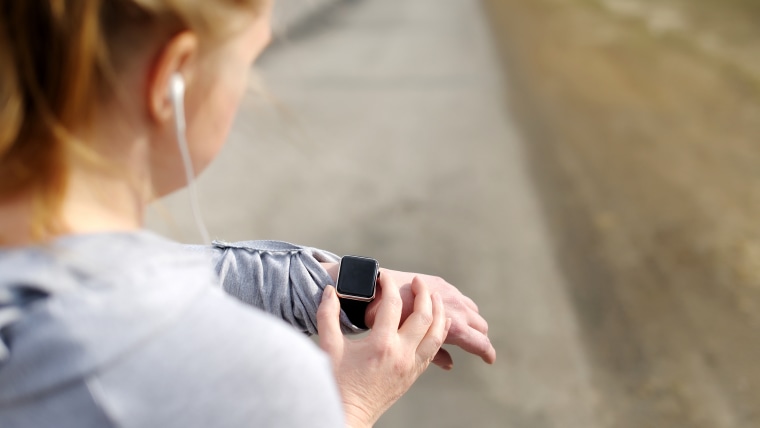 "The weight loss was greater in the people who didn't use them," said Dr. David Geier, a sports medicine doctor and orthopedic surgeon in Charleston, S.C., who wasn't involved in the study. "Why did the group that didn't use them lose more weight?"
'I can eat this cupcake'
The study doesn't answer that question. But activity trackers monitor movement and ignore diet; when people see how many steps they've taken, they may use it as an excuse to eat.
Related: Tracking your fitness: Why 10,000 steps may not be enough
"Activity trackers … may give some people a false sense of how active they are. 'Look how active I was today I can eat this cupcake,'" he said.
Weight-loss experts say that's common.
"There is this psychological shift when patients see calorie count or the amount of physical activity; they allow themselves to eat more because they have done some sort of physical activity," said Dr. Adrienne Youdim, at the Center for Weight Loss at Nutrition at the Lasky Clinic in Beverly Hills, who did not participate in the study.
And if the target goal is 10,000 steps but a person is only at 3,000, she might feel discouraged and give up.
"It is demotivating because they see how hard it is," Jakicic said.
Related: Calorie counting: The secret to losing weight by the numbers
The device in the study differs from popular wrist devices, but the researchers believe the results apply to any activity tracker.
"These devices provide information on activity and energy expenditure but provide very little meaningful information that can really result in behavior change," he said via email.
Track activity, not pounds
Does this mean people should throw out their fitness trackers?
No — just be smart about them.
Don't use them as an excuse to eat more, for example.
"If you think about a 30-minute brisk walk, depending on how much you weigh or the intensity, it could only burn 100 calories," Youdim said.
Related: Will this smart sports bra replace your usual fitness tracker?
Instead, use a fitness tracker to be more active; to reduce diabetes and heart disease risks, for example.
"It is not one-size-fits-all," he said. "Weight loss management ... is way more complex."
The positive takeaway: "Small changes make a difference," said Youdim.
The study was published Tuesday in JAMA.