For women, a yogurt a day may keep hypertension away, a new study suggests.
Researchers found that women who consumed five or more servings of yogurt a week had a lower risk of being diagnosed with high blood pressure compared to those who rarely consumed it, according to the new study presented at the annual meeting of the American Heart Association.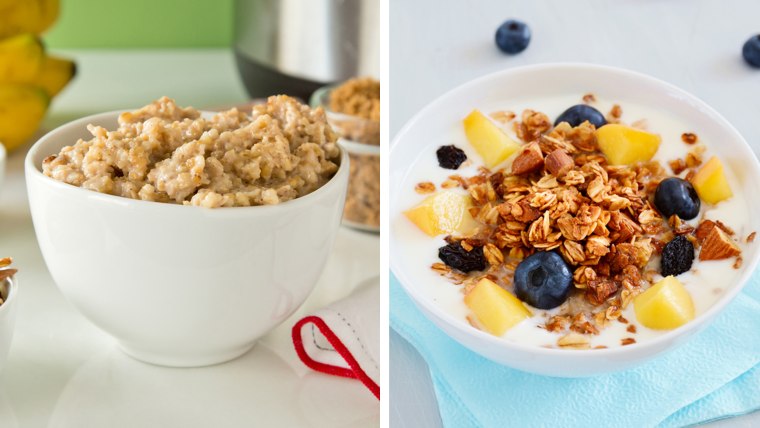 "We followed over 170,000 participants for up to 30 years," said the study's lead author, Justin Buendia, a researcher at the Boston University School of Medicine. "This study supports the importance of a healthy diet and dairy intake, especially yogurt, on blood pressure."
Buendia and his colleagues from B.U. and Harvard University scrutinized the medical records of people who were participating in the Nurses' Health Study and the Health Professionals Follow-up Study. During the 18 years of follow-up, high blood pressure was newly diagnosed in 74,609 of the study participants.
After accounting for a host of other possible factors — including age, race, family history of high blood pressure, physical activity, caloric consumption, and intakes of protein, fruits and vegetables, milk and cheese — the researchers found that women who consumed five or more servings of yogurt a week had a 20 percent reduction in the risk of being diagnosed with hypertension.
Related: Full fat yogurt trend
The consumption of other dairy products, such as milk and cheese also had a protective effect, but not as great a one as yogurt.
There are a couple reasons for the link, Buendia said:
It may be the impact of a component of yogurt, casein-derived tripeptides. These substances "have been shown in both animal and human studies to lower blood pressure via one of the systems that regulates blood pressure, the renin-angiotensin system," Buendia said.
Compared to milk and cheese, yogurt contains more calcium and potassium, minerals that have been associated with lower blood pressure.
Related: Fermented foods like yogurt may improve health
The yogurt effect was enhanced when people's eating habits closely resembled the DASH (Dietary Approaches to Stop Hypertension) diet. The combination of high yogurt consumption along with a DASH-like diet led to a 31 percent reduction in the risk of hypertension.
Related: DASH voted the best diet of 2016
"From the data, it seems that 'a yogurt a day' is a good guideline for better health," says Madelyn Fernstrom, NBC Health and Nutrition Editor. "This represents long-term risk reduction. That means you can't expect a serving of yogurt, or any food, consumed now to have much of an impact."
A key point — the new study reports an association; it doesn't absolutely prove that yogurt caused the lower risk of high blood pressure, notes Dr. Seth Martin, a cardiologist and an assistant professor of medicine at the Johns Hopkins School of Medicine.
The research was funded by the National Dairy Council. But Martin calls it "an excellent study conducted by a really fantastic group," Martin says. "The challenge is to get at causality with any of these cohort studies. It's always possible that there is something else about the people who eat a particular thing that will explain the results."
While the new findings can't say with absolute proof that yogurt lowers blood pressure, they are interesting, said Dr. Kathryn Berlacher, an assistant professor at the University of Pittsburgh Medical Center and director of the women's cardiology section at UPMC's Magee-Womens Hospital.
The probiotics in yogurt may make it a more potent way to lower blood pressure, compared to other dairy products, she said.
"That might make the nutrients in yogurt—potassium, calcium and magnesium—more bioavailable," said Berlacher, who is not affiliated with the new research.
In other words, the probiotics in yogurt might make it easier for our bodies to use these important nutrients.
Berlacher would welcome more research on the topic, especially studies that looked at whether eating more yogurt would have a larger impact.
Or, she asks, is there a point at which you'd be consuming too much and it does more harm than good?